Buy 3 Henna & Get 1 Free
Regular price

$ 39.97 USD

Regular price

Sale price

$ 39.97 USD

Unit price

per
This package includes 4 units of color you select
Share
Customer Reviews
Write a Review
Ask a Question
Filter Reviews:
hair
color
henna
brown
results
experience
company
roots
package
shampoo
I recommend this product
Wine Red Henna
Excellent colour and coverage. I mixed this with black coffee for a stunning chestnut shade that gradually produced deep red tones. With apple cider vinegar added, it covers all my grey and with cold water and vinegar rinses, there is minimal colour bleeding. I recommend adding aloe Vera powder for added moisture.
03/30/2022
Holly

United States
I recommend this product
Wonderful…Even helped my curls
My hair looks amazing! I like the color but it also looks healthier than it has in years. I had curly hair prior to pregnancies and since using henna my natural curl shape is stronger and holds its shape like it hasn't since before my pregnancies.
03/23/2022
katharina s.

Canada
I recommend this product
Almost Perfect
So my color came out absolutely gorgeous. Nice brown…quite dark in the beginning but it lightened up nicely over the weeks. My hair felt amazing and the process was easy enough that I can repeat it every 6-8 weeks or so. I went ahead and ordered another bulk package. My only hesitation for not giving it 5 stars is that I noticed a lot of broken ends in my hair recently. I'm not sure if it has to do with the henna color or maybe just the weather or something else. I admit I don't use the highest quality shampoo so maybe the henna and my shampoo don't play well together. Next time I color my heist with henna I'll also use Henna Guys' shampoo and conditioner as well as one of their hair masks.
03/11/2022
Dana H.

United States
I recommend this product
Absolutely LOVE The Henna Guys
I'm so glad I found The Henna Guys! For years I was using another company that only offered one red color and came in a block (which I then had to shred into powder--what a pain!). I looooove the henna from The Henna Guys. The henna powder is super easy to work with and I love that each package comes with gloves and a shower cap! My color (orange red) always comes out beautifully and my hair is incredibly shiny, soft, and nourished. Plus, the color lasts for months when you use a sulfate free shampoo! I only need to touch up my roots :)
02/11/2022
Catherine M.

United States
I recommend this product
Mahogany Henna
Perfect color for me, just a pictured, and much easier to apply than other brands I've bought.
02/09/2022
KELLY M.

United States
I recommend this product
Best Henna by Far
So I have bought henna from multiple companies now, and I thought all henna was basically the same... and boy was I wrong. This henna mixes up smooth, and seems to have much more dying power than other hennas. I'm never going back to buying the stuff at the supermarket again. My hair came out amazing.
01/25/2022
Dorothy S.

United States
I recommend this product
Medium brown henna
My experience with the henna product was a good one. I used coffee and added apple cider vinegar to help cover the gray, which was starting to show all the time as I couldn't get henna from my previous source. I left it on for about three hours, and it covered my roots well. I used conditioner to help rinse it out and waited two days to shampoo my hair. I'm pleased with the results. I think I'll order amla and cassia and possibly use chamomile tea next time as well to lighten the color. It will also give me more volume to help cover my hair.
01/20/2022
Heidi H.

United States
I recommend this product
I used 100 grams of Deep Red and 100 grams of Auburn for my hip length straight hair. The color was a bit more orange than I wanted, but it's going to be a bit of playing and figuring out mixtures that work for me. Overall I loved my first experience with Henna and I already have made a few more purchases of other herbs to aid in my hair health.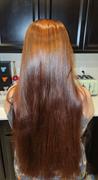 01/07/2022
J D.

United States
I recommend this product
So many compliments on my new color!
My mostly gray hair is now a beautiful auburn and i have received so many compliments. I am so happy with my Henna Guys purchase!
12/30/2021
Carolyn S.

United States
I recommend this product
Hair looks and feels naturally beautiful
I have natural salt and pepper color hair. I combined equal parts mahogany and medium brown henna. The usually grey hair came out a soft copper and added that tone and a lot of shine and softness to the rest of my hair. I will probably try using the dark brown in place of medium brown and mix it with the mahogany to get more of a reddish brown color. It's fun to experiment and I love that henna colors and conditions hair without using chemicals.
12/22/2021
Colleen L.

United States
I recommend this product
Haven't gotten depth of color yet….but still trying
I do like the henna guys products. I switched to henna to try and keep my graying hair healthier. It has really helped my coarse gray but even with Jet Black and Indigo I still can't get a deep brown on the gray that doesn't go super red. I will not stop trying, cuz my hair is healthy enough to keep experimenting.
12/19/2021
Angela M.

United States
I recommend this product
Super
Good product, excellent attention
12/15/2021
Laura M.

United States
I recommend this product
Lady Red wine
I have used this color for the past 5 years. I did some research went I went my perm grow out, On natural color and found that you all have the best natural hair color. I'm a senior and when my gray hair started to show. I decided to look for a color that would match my skin tone which is tan. It really works well on my hair I also wear clothes that boost my hair color of my. hair.
11/22/2021
Joanne M.

Canada
I recommend this product
Absolutely stunning
activated for 10 hrs, let it sit for 3 hrs. was a lot of time and energy investing in this but my scalp definitely started to heal after and the problems i had with my scalp is finally going away in one use! i'm soo thankful i got 12 packets! i'm set for the year
11/22/2021
Amy S.

United States
I recommend this product
Great CS, Fast Delivery
I really like this hair color kit. I just wish I didn't have to do the color in 2 separate steps. It stresses my hair and scalp. I would like to combine the indigo power with the henna powder so it's one process on my hair but I want good results. I will likely buy again in the future. In the meantime I'll try to perfect my use of the product.
11/03/2021
Mark B.

United States
Good price for ongoing use
Great option and a super deal for people continually dyeing their hair.