✓ Gluten-Free, raw & natural Burgundy red hair dye
✓ Blend of henna, indigo, red clay & herbs
✓ Triple sifted powder for non-clumsy paste
✓ Always a fresh batch, ethically produced
✓ Made in small batches using natural ingredients
✓ Comes with shower cap, gloves & application instructions 
✓ This beautiful color works best with light to medium hair and just like our other natural henna hair dyes, it usually does not show on dark hair. 
Note: Burgundy henna is made with improved ingredients now, which requires an overnight dye release process, that means, after mixing henna powder, please leave it for dye release for at least 8-10 hours for optimal results. 
Ingredients and how they work: 
Henna (Lawsonia inermis) : Acting as the base of the henna hair dye, this is the key ingredient, which comes from henna plant leaves to providing the bright red tones for a beautiful burgundy color. Henna helps provide the color and also acts as a natural conditioner for the hair.
Indigo Powder (Indigofera tinctoria): Made from a plant, the indigo powder is naturally blue-toned. This special ingredient helps enhance and change the tones of henna, naturally red so that there is a larger variety of henna hair dye colors available to you.
Red Clay: Red clay adds in a kick of its red tone to the dye, while giving the hair essential minerals found in it. This raw ingredient is important to help create the deep red tones found in our burgundy henna hair dye. Minerals in red clay help cleanse out the hair and scalp.
How to apply burgundy henna?
Find application instructions here 
Helpful Tip: Please use fresh brewed black coffee liquid to mix henna for optimal results, you can use color safe, sufalte & paraben free shampoo after 48 hours of rinsing henna. It helps with getting the color stick to hair better and prevents color wash up.
Important Note: Henna hair dyes are different than conventional hair coloring products, it does not contain chemicals that are required to change the color of your dark hair, or develop color faster, with that being said, it takes around 2-3 hours minimum for the application process. Please reach out to us before placing an order if you have any questions about the application process.

Allergy Warning: Although, our Burgundy henna hair dye is made with 90% pure henna, 8% Indigo powder & 3% red clay, but some people may still be allergic to natural products, to rule that out for this product, please do a strand/skin test before full-on application of Burgundy henna.
Customer Reviews
Write a Review
Ask a Question
Filter Reviews:
hair
results
color
hair dye
hair color
Henna Guys
shade
grays
dyes
Burgundy
01/19/2020
sara b.
United States
Burgundy Hair Dye
Awesome color! Fades wonderfully! Every wash it stays a beautiful color and I wash every other day. Went well over burgundy garnier hair dye. Last waaaay longer then chemical dyes! I will never go back to chemical dyes again! Why would I? Unhealthy and doesn't last! This henna dye is a commitment though!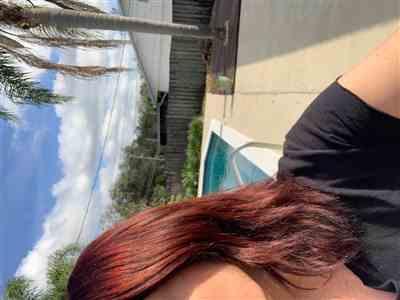 12/25/2019
LULU .
United States
La mejor hasta ahora
Tengo años usando henna natural para cubrir mis canas y el resultado es un tono cobre en la cana y un bello tono rojizo en mi cabello ***** pero solo se nota en la luz solar. Pero The Henna Guys en tono Burgundy hasta ahora es la mejor, la cana tomó un tono rojo oscuro y se camufla perfectamente con el resto de mi cabello ***** rojizo. Simplemente me encantó, lo recomiendo sobretodo si tus canas están esparcidas y no en mechones blancos.