Auburn Henna Hair Dye
Regular price

$ 12.97 USD

Regular price

Sale price

$ 12.97 USD

Unit price

per
Looking for a hair color that goes with everything, yet is too spicy to be called neutral? Gorgeous color, natural-looking depth, and face-flattering richness can be yours with a little help from nature. If you've been searching for an ethically produced, all-natural hair color in a stunning mix of warm brown and red tones, say hello to our Auburn Henna Hair Dye. 

Tinged with just the right amount of ginger color, this versatile hue lets you effortlessly achieve a timeless auburn look on light-to-medium locks. Unlock envy-inducing golden tones in your blonde hair, get rich, dark highlights as a classic brunette, or experience nutty depth on naturally red hair. 
Auburn Henna Hair Dye from The Henna Guys:
🌿 Conditions and adds shine
🌿 Means no more irritation, bruises, or burns
🌿 Covers grays and colors your hair naturally
🌿 Boosts manageability and promotes hair growth
🌿 Improves overall hair health with continuous use
🌿 Indigo (Indigofera tinctoria): Blue-toned indigo powder is mixed with henna powder, a red-orange tone, in specific ratios to help create this auburn henna hair dye. Indigo powder, a plant-based hair dye, creates shades of browns and blacks when mixed with henna.
🌿 Henna (Lawsonia inermis) Pure henna, milled from plant form into a powder before undergoing a triple-sifting process, forms the base of our henna hair dyes. We create different shades by blending henna with other natural ingredients.
🌿 Red Kaolinite Clay: Red clay purifies the scalp and helps boost hair volume.  
Allergy Warning: Although our henna hair dye is made with natural ingredients, sensitivities and allergic reactions to even natural products are possible. If you do not know your allergies, always start by doing a strand/skin test before applying any henna.
Disclaimer: Individual results may vary. These are 100% natural products, and benefits are not guaranteed. The outcome may be affected by other factors like the type of shampoo or conditioner being used, as well as any other chemical hair treatments in the present or past that may affect results. 
 * These statements have not been evaluated by the Food and Drug Administration and are not intended to diagnose, treat, cure, or prevent any disease or health condition.
Click here for detailed application instructions.                          [Download Pdf]   
🌿 Colors naturally
🌿 Promotes hair growth
🌿 Helps improve manageability 
🌿 Conditions hair and adds shine 
🌿 Continuous use helps improve overall hair health
Here is why we're the top-selling henna brand in North America. Our products are:
🌿Ethically-produced
🌿Triple-sifted powder for a smooth paste
🌿A blend of henna, herbs, and other natural ingredients
🌿 Made in small batches for maximum freshness
🌿Gluten-free, natural, raw vegan, and Plant-based ingredients
🌿Shipped with a shower cap, pair of gloves, and application instructions

Share
Customer Reviews
Write a Review
Ask a Question
Filter Reviews:
hair
color
henna
auburn
results
shade
The Henna Guys
brown
grays
dyes
I recommend this product
Amazing
I had previously used the "Natural Red" and opted for this Auburn instead hoping for a darker red without the orange, but also not "fake" looking like many red dyes out there. I am so inlove with the results. It is exactly what I wanted and everytime I "henna" my hair it is so soft and healthy looking. I cannoy believe I ever wasted time or money on drugstore box dye.
05/30/2022
Karla

United States
I recommend this product
Is this how henna is supposed to be?!!
If you're used to Lush's henna but upset because they changed the formula, this is your review. I have my first batch of Henna Guys henna in my hair right now. I have used Lush's Rouge for 7 years, mostly to cover gray. I never write reviews but after the ease of putting this on, I knew I had to, even before the color develops. No more grinding a huge block of henna! This stuff is already in a powder and mixes SO SMOOTH! It cut down my application time from an hour to just a few minutes. It went on so easily and I didn't have the random clumps flying around my bathroom. If the color is anything like the application, then I'm ready to model.
05/22/2022
Heather P.

United States
04/18/2022
Carla M.

United States
I recommend this product
Awesome
I am very pleased with the quality of your products.. GRATEFUL
04/08/2022
Lissa Z.

United States
I recommend this product
Amazing
This colors works perfectly with my medium brown hair. It's so pretty!
03/09/2022
Miranda J.

United States
I recommend this product
It's a work in progress
I am still trying to achieve the colour on the front of the packet. Full disclosure, my roots are very grey, and although this product covers them fantastically, it isn't dark enough and I am left with a very bright, glowing wine red colour, which just doesn't look natural. So I have been, and still am, playing around with adding Indigo to darken it up. As of yet, I haven't found the magic formula, but fingers crossed, this afternoon that will all change, I am cooking another batch right now. Regarding the actual henna, it seems very nice and works well. I do add aloe powder to it also, to help add some moisture to my hair, otherwise it is very dry. The postage is super quick and I am very grateful for that, overall I would recommend this particular henna and the customer service is superb
12/26/2021
Barbara K.

United States
I recommend this product
Auburn Henna
Everyone loves the color including me.
12/06/2021
Kristen C.

United States
I recommend this product
First Time Henna Dye User
I was apprehensive about trying henna hair dye, but I needed to find other solutions to chemical hair dye. Henna dye is my now go-to solution. Applying it was easy, but time consuming (but that's sort of the point and I prefer it to take time to work). That being said, it's something you definitely have to schedule for. However the results are well worth the wait. I highly recommend using essential oils to mask the smell (I wish I did). At first, my thought was "meh, it'll be fine" but as the days go on all I can smell is dried henna and coffee grounds, which gets nauseating after a while (to be clear, nothing seems wrong with the product!). I think adding Cyprus oil will make my hair smell more pleasant, which I'll certainly do next time I dye my hair.
11/07/2021
Jennifer

United States
Love!!!
Love this product!
10/27/2021
Sylvie G.

France
The quality, the panel of colors, the healthy side of henna natural product
10/27/2021
Darcy R.

United States
I recommend this product
Love It
I've always used the medium brown henna but decided to try the auburn this time for something a little different. The color is so pretty and looks so natural. I get complements all the time on my hair color now.
10/20/2021
Kristy f.

United States
I recommend this product
auburn hair
This was my first time using henna. I have natural auburn hair that needed a little boost. I had heard about henna and decided to try it out. The color is gorgeous! I'm not too fond of the smell however. I did add some essential oils but I think it was the coffee that I mixed with the powder that made it a little too strong. Also, super messy as it's said to be. I made the mistake of making it too thick. I missed some places but luckily it blends in to my natural color.My hair is already much shinier than it was before. I will definitely repurchase for next time.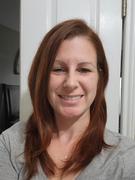 10/12/2021
briar

United States
I recommend this product
s still getting compliments
quality color shipping reliability are great, scent is something you have to be able to deal with it is not that bad, trust me chemical hair dye smells so much worse than a natural smelling coffee/henna mixture.
09/29/2021
Darlene R.

Canada
I recommend this product
Auburn Henna Dye
It is a bit tricky to use the first time because it is so thick- next time I will add more liquid so it goes further. I understand it will darken in color the more applications you apply which is good because it was very coppery and less auburn than I wanted. I love the feel of my hair now and am excited to use something that is good for me and my hair!!!
09/27/2021
Fertinia G.

United States
I recommend this product
Love It
My second time using the Auburn Henna. I am ecstatic with the results. The fiery red that streaks through my hair is amazing. It's the best choice I ever made regarding my hair.
09/06/2021
Fertiana G.

United States
I recommend this product
❤️ It
Arrived quickly and I love the results. I couldn't wait to apply. Finally, I did and actually kept it on overnight. The next morning the results were very similar to the pic kn the package. The grays that I had were a beautiful red/auburn color. Very satisfied and will continue to watch as the henna continues to work. I believe this will be my permanent choice. Thank you.