The Henna Guys
Mahogany Henna Hair Dye
Mahogany Henna Hair Dye
Achieve the perfect mixture of red and brown with our mahogany henna hair dye which is 100% natural and chemical-free. Made in small batches and with raw ingredients, our henna dyes will add dimension and life to your hair, without leaving it dull. To create the base, we start off with body art quality henna and indigo, which is then put through three tiers of sifting. The triple sifting ensures that the product undergoes quality control and can provide our user with a rich and smooth paste. We then add in other essential ingredients and herbs which help boost the effect of the henna dye process while providing your hair with benefits. Our henna dyes work best on light to medium toned hair and may not properly color dark hair.
Ingredients and how they work:
The red tone of this henna dye comes from the henna leaf plant itself. The leaves are turned into fine powder form that can be easily added into the product. Henna is also known to help condition and add sleekness to the hair.
Indigo (Indigofera tinctoria)
To help overturn the red tones of henna into shades like mahogany, we add a blue toned powder, known as indigo. This plant-based ingredient works with henna to create a number of brown and black tones for our henna hair dyes.
Amla (Phyllanthus emblica)
In order to make your mahogany shade stand out and more visible, we add in amla. The herb, derived from the Indian gooseberry, helps brighten the color when in process of dyeing, as well as making it sure it that the color stays locked in for as long as it can.
False Daisy (Eclipta alba)
False daisy gives your hair an envious gloss and shine that can be seen from far away. It works to coat the hair strands with its natural shine minerals and properties.
Rose Mallow (Hibiscus rosa sinersis)
To keep your color intact, your hair should be strong and that's where rose mallow comes in. An important herb in the mixture, it adds strength to your hair, so it can withstand even the worst of hair days.
Neem (Azadirachta indica)
With neem in the mixture, your scalp will never be flaky or dry. It's natural conditioning powers are essential in keeping the henna hair dye color stand out by keeping your hair sleek and smooth.
How to apply Mahogany henna?
Find application instructions 
here
Customer Reviews
Filter Reviews:
hair
results
color
hair dye
hair color
compliments
Henna Guys
smell
Mahogany
09/12/2019
Selena T.
United States
Awesome results
I chose mahogany and the color came out perfect. My hair feels healthy and the shine is perfect. It made my hair look and feel fuller. In a customer for life! Thanks guys!
08/02/2019
Colette M.
United States
07/12/2019
Christina J.
United States
Better product
I used this after being disappointed with another brand. I was very satisfied with the color result. As with most all natural hair dyes, it bleeds for a long time, but I'm happy to live with this as long as the color is good. For reference, I have medium brown hair with some leftover highlights. I let the powder steep in coffee for over 12 hours …got optimal dye release. I found it to be not as strong smelling as another brand I used. It smells the way a henna product should smell, in other words. Rinsing takes a while but color development was quick. I got exactly what was pictured: a deep, rich, reddish brown. I had used henna a month before this so that might have added a layer of depth, but that product only left my hair brassy. I got full color out of this. I used conditioner to help rinse it out and left it alone for about 36 hours until the next shampoo. Would recommend to others.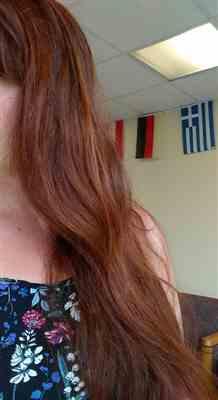 Conditioning properties
It is a product of my interest wherein I can invest my valuable energy and time, and is also worth spending. It has long process for its application and furthermore you have to give it a chance to sit on your hair for 3 hours. It gave me a bright mahogany hair colour withgood sustaining and conditioning properties. Adored it.
Made my hair gleaming
Best henna hair colour so far! It gave an ideal normal mahogany tone to my hair which looks very rich. I have natural light brown hair and this henna powder worked flawlessly on my hair. It has made my hair gleaming, thick and radiant. The shading is perfect and it doesn't require frequent applications. Cherished it.