Orange Red Henna Hair Dye
Our Orange-Red henna hair dye is 100% pure henna powder that is excellent for covering grey hair, or coloring your hair red from blonde, light brown, or medium brown hair to orange, red or natural red. Individual results may vary depending on your original hair color.

🌿 Henna (Lawsonia inermis): Pure henna, milled into powder form before undergoing a triple-sifting process, forms the red-orange base of our henna hair dyes. We create different shades by blending henna with other natural ingredients.
Allergy Warning: Although our henna hair dye is made with natural ingredients, sensitivities and allergic reactions to even natural products are possible. If you do not know your allergies, Always start by doing a strand/skin test before applying any henna.
Disclaimer: Individual results may vary. These are 100% natural products, and benefits are not guaranteed. Outcome may be affected by other factors like the type of shampoo or conditioner being used, as well as any other chemical hair treatments in the present or past that may affect results. 
 * These statements have not been evaluated by the Food and Drug Administration and are not intended to diagnose, treat, cure, or prevent any disease or health condition.
Here are the detailed application instructions
🌿 Colors naturally
🌿 Promotes hair growth
🌿 Helps improve manageability 
🌿 Conditions hair and adds shine 
🌿 Continuous use helps improve overall hair health
Here is why we are the top-selling brand in North America.
🌿
Gluten-Free, Raw & Natural Hair Dye
🌿 Chemicals free, silky smooth
🌿 100% Natural & Pure Henna Powder
🌿 Triple Sifted Powder for Non-clumpy Paste.
🌿 Always a Fresh batch, Ethically produced
🌿 Includes a Shower cap, Gloves & Instructions
We know you love what we sell, so why not get paid for sharing our brand? We actively seek passionate people to help promote our products, and in return we provide an extremely generous commission program which pays up-to 27% commission that provides an excellent, continuous, and attractive source of additional income. We will provide access to your own software that tracks every lead, sale and commission payment due to you. Everything you need to start is available right now...
Sign up below to become an ambassador to our awesome brand.
Already an affiliate? Click here to log into your dashboard.
Customer Reviews
Write a Review
Ask a Question
Filter Reviews:
hair
color
henna
results
shade
dyes
look
Orange Red
beard
The Henna Guys
11/20/2020
Elly R.
Australia
Orange red henna
I love this dye. I just wish the postage wasn't so pricey as I live in Australia. But other than that I recommend this to anyone. I have medium brown hair and it works amazing
11/11/2020
Meaghan F.
Canada
My hair has never looked better
Even though this is a long process the results were very worth it. I have used many different kinds of henna dyes and this one by far has given me the best result. I brewed 2 bags of camomile tea with some lemon juice and mixed that with 1 package of orange red henna and 1/2 package of cassia powder. :)
10/23/2020
Angela U.
United States
10/15/2020
Veronica V.
United States
Beautiful color
This is the best product for dye your hair
10/04/2020
Elly R.
Australia
Great stuff
Fantastic. Love this product a bit smelly but the results out way the smell. I have this fine hair and after one application I noticed thicker hair, less breakage and loss. This is a top product.
09/25/2020
Holly K.
United States
09/15/2020
Jaz
United States
The ginger hair of my dreams
I have always wanted red hair and have previously used pretty much every ginger box dye as well as "professional" dyes to try and achieve that natural ginger look but nothing got me even close to the results that I've gotten with the orange red henna from henna guys. My hair is naturally light blonde so the color really comes through for me and does not fade at all. In addition to beautiful color, I really do believe the henna has made my hair healthier overall. My hair seems to be growing faster than it normally does since using henna and my naturally fine hair seems to have a bit more volume and shine for at least the first couple of weeks after application. I have applied now three times over the last 3 months and have not seen any issues with color buildup or darkening on the ends with reapplication. As someone who used to change hair colors every month or so, I am sold on henna guys orange red henna, it's the only color I ever want my hair to be.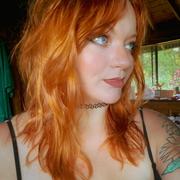 09/10/2020
Christine P.
United States
I love it!
I love the results I get from the orange red henna. It covers my grey well. It does not however look orange like the model, on my hair. My only fault with it is, I wish I didn't have to mix it the night before I want to use it. My schedule is hectic and I don't always know when I have 3 hours to leave it on.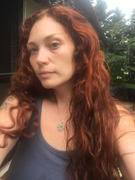 08/08/2020
Crystal R.
United States
Vibrant Color
My daughter was desperate to dye her hair red but couldn't find the shade she wanted in the store. I ordered her this henna and it was exactly the orange/red she wanted. That was weeks ago and the color is still vibrant. She gets compliments on it regularly.
08/08/2020
Michael F.
United States
07/15/2020
Dalyce J.
United States
So far so good
I like the results as a first time user. I guess the proof in the pudding will be the amount of time before I need to reapply. My hair doesn't grow very fast but color fades quickly. We'll see...
07/06/2020
Jessie H.
United States
So pleasantly surprised!!
Great, except the gloves broke and I stained my hands. No big deal, I bought gloves for next time!! Super happy with the shade it's almost perfect to the salon color I had before COVID happened, and it's better for my hair!!
06/03/2020
Jennifer S.
United States
Great
I love applying henna to my natural red hair to give it a pop!
05/08/2020
R.P.
United States
Really pretty
I have done a lot to my hair but my norm for the last few years has been to bleach it and then dye it a bright pink or orange. When I get bored of maintaining that, I henna it and let it be until the pink or orange calls my name again. Henna and bleach don't tend to play nice together but because my hair has been bleached months prior to using henna, I tend to get the most vibrant results possible with no obvious issues. My natural hair color is a mix of dark blonde and light brown. Those roots do not usually take as vibrantly as the bleached hairs (obviously) but they do still get a nice orange tint and in pictures the difference between the bleached hair and the roots is not super huge. I have never seen it fade fully back to the bleach blonde but it will fade to a dark blonde with a touch of an orange tint. Leaves my hair feeling pretty good, better than it should with all of the damage I have caused it. I know some who cannot stand the earthy scent of henna, but I find it much more tolerable than box dyes. Can be messier than box dyes but once you get the hang of it, it isn't too bad. It will stain the heck out of your skin, sink, etc. so you will want to be careful with it and wear gloves.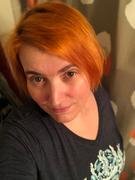 05/06/2020
Rachel C.
United States
I love this product
My skin has been extremely sensitive all my life. I am allergic to strong laundry soap, deodorants, makeup, sun protection products, certain brands of hair color, and the list goes on. This is my third time using Henna and my hair is so shiny and my natural curls are springing back. No more burning/blistering scalp! I am 50% gray, and it covers beautifully! I get so many compliments!