Light Brown Henna Hair Dye
Regular price

$ 12.97 USD

Regular price

Sale price

$ 12.97 USD

Unit price

per
Natural beauties, this hair dye is for you! Yes, you can keep your light brown color while covering grays naturally. Want to go from blonde or dirty blonde to a soft shade of brown? Try our light brown henna hair dye. Enjoy the subtle shimmer of this cool brown hue with hints of warm gold.
This natural hair color proves that you don't need harsh chemicals to get the color and shine you've always wanted. It's a timeless shade that flatters faces with its warmth and golden-brown tones.
Light Brown Henna Hair Dye from The Henna Guys:
🌿 Conditions and adds shine
🌿 Means no more irritation, bruises, or burns
🌿 Covers grays and colors your hair naturally
🌿 Boosts manageability and promotes hair growth
🌿 Improves overall hair health with continuous use
Ingredients and How they work
🌿 Henna (Lawsonia inermis): Pure henna, milled from plant form into a powder before undergoing a triple-sifting process, forms the base of our henna hair dyes. We create different shades by blending henna with other natural ingredients.
🌿 Indigo (Indigofera tinctoria): Blue-toned indigo powder is mixed with henna powder, a red-orange tone, in specific ratios to help create this rich medium brown henna hair dye. Indigo powder, a plant-based hair dye, creates shades of browns and blacks when mixed with henna.
🌿 Amla (Phyllanthus Emblica): Amla powder, a derivative of the Indian gooseberry, brightens and helps preserve your new color. Amla also assists with hair growth and stronger roots.
🌿 Bhringraj (Eclipta alba): Also known as false daisy, this herb promotes hair growth and conditions the hair and scalp.
🌿 Neem (Azadirachta indica): The ground leaf of the neem tree helps strengthen roots. Neem is an excellent cleanser and conditioner for the scalp and hair.
Allergy Warning: Although our henna hair dye is made with natural ingredients, sensitivities and allergic reactions to even natural products are possible. If you do not know your allergies, always start by doing a strand/skin test before applying any henna.
Disclaimer: Individual results may vary. These are natural plant-based products, and benefits are not guaranteed. The outcome may be affected by other factors like the type of shampoo or conditioner being used, as well as any other chemical hair treatments in the present or past that may affect results.
 * These statements have not been evaluated by the Food and Drug Administration and are not intended to diagnose, treat, cure, or prevent any disease or health condition.
Click here for detailed application instructions.                         [Download Pdf]
🌿 Boosts manageability
🌿 Promotes hair growth
🌿 Colors your hair naturally
🌿 Conditions hair and adds shine 
🌿 Continuous use improves overall hair health
🌿 No more irritation, bruises, or burns
Here is why we're the top-selling henna brand in North America. Our products are:
🌿Ethically-produced
🌿Triple-sifted for a smooth paste
🌿 Made in small batches for maximum freshness
🌿A blend of henna, herbs, and other natural ingredients
🌿Gluten-free, natural, raw vegan, and natural plant-based ingredients
🌿Shipped with a shower cap, gloves, and application instructions
Share
Customer Reviews
Write a Review
Ask a Question
Filter Reviews:
hair
color
henna
results
brown
coffee
apple cider vinegar
water
grays
time
I recommend this product
LOVE THIS NATURAL RED!!!
First time and I just love it!
04/17/2022
Faten B.

United States
I recommend this product
Great product
I'm very happy with the results
03/25/2022
Suzy C.

United States
I recommend this product
Hmmm
Very nice product but even adding apple cider vinegar could not get my stubborn grey roots to pick up the color. Very high quality company and super supportive staff. Thanks henna guys!!!
03/15/2022
Lanie S.

United States
03/10/2022
Jelena R.

United States
I recommend this product
Love it !
I love how my hair looks after using Henna. First of all doesn't have chemicals which is the most important and my hair looks more healthier. Light brown matches my natural hair color and covers solid the grey hair!
02/27/2022
Colleen B.

United States
I recommend this product
Love it!!!
I've been a Lush Henna user for years, but will be going with henna guys from now on. I like this henna so much better because it's ready to go (don't need to cut it), way less expensive, and rinsed out SO easily - there weren't all these oils in it that made the henna difficult to wash out. The only thing I like better about lush henna is it's smell, but that's temporary no matter what!
02/20/2022
Terry G.

United States
02/09/2022
Lindsay

United States
I recommend this product
Varied results
I have used henna in the past and loved it, so when I had a horrible dye job at the salon I knew henna would heal my hair and cover it. I use the light brown and did a test strip which came out beautiful brown, but when I did the rest of my hair the next day it came out red with dark brown ends. Now sure as to why, I would still recommend but use with caution.
01/30/2022
Mary R.

United States
I recommend this product
Great color!
I have naturally red/Auburn hair but now that I am older and have been colouring for sometime wanted to get away from the chemical box products. I did a total of four difference test strands mixing Auburn with the light golden brown and at the end of the process decided to go with straight light golden brown and achieved the reddish Auburn that I'm used to.
01/30/2022
Terry G.

United States
I recommend this product
Light Brown
It's great to finally find a henna that doesn't turn my dishwater blonde to shocking orange =) Thanks!
01/23/2022
Jodi R.

United States
I recommend this product
Henna hair dye
Awesome product. Love how it turned out
01/17/2022
Dina O.

United States
01/05/2022
Evelyn C.

United States
I recommend this product
Fading
The color at roots fade very quickly...I have to do roots every week.. I only wash my hair twice a week. Is this mormal? What can I do?
12/26/2021
Laurie C.

United States
I recommend this product
Lovely light brown
I have grown tired of having to go every six weeks to the hair salon for highlight touchups and the cost of them. I wanted to go more natural light brown and cover up a few grays. It really came out a beautiful lovely light brown. I added brewed coffee to the Henna and let it set for 40 minutes to cure. I applied with my gloved hands. I had watched a lot of videos and taking peoples advice on set up. I was ready for the mess and it was no problem. I wore in my hair for 2 1/2 hours then rinsed out. I am excited to have an option that I can do at home that is more natural and can cover the grey hair too.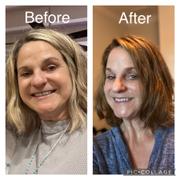 12/23/2021
Lexi

United States
I recommend this product
Love it!!!
These guys have nailed it! I was so freaked out about how much hair would be in the catch after using even natural hair dye brands from the health food store - they still have chemicals. I was nervous about how the henna would turn out but it is so fabulous and my hair color worries are solved forever! What a Christmas present! :) I used the light brown henna with 2 tsp apple cider vinegar and left it on for 3 hours and got the most perfect dynamic results. I put it all over my roots, the gray coverage is perfect, and I streaked the rest of my hair to leave some of my natural color to mix in the final result. No red tones at all. Love it so much, no scary amounts of hair loss and I am just ecstatic. Thank you Henna Guys!!!! I am now a customer for life. :))
12/21/2021
Michelle A.

United States
I recommend this product
beautiful hair color
i have been using this since my 20s i liove The natural beauty of this product and it lasts in my hair for weeks it is so much better than coloring your hair my hair is thicker it's always shiny I always get compliments on it I will continue to use this product I am 61 and I have hair of a teenager