Indigo Powder For Hair
Regular price

Sale price

$ 8.97

Unit price

per
 Indigo Powder For Hair
Indigo powder dye contains a bluish pigment that comes from the leaves of plants known as Indigofera Tinctoria. This plant is grown in a tropical environment. Indigo Powder smells like fresh peas; when mixed with water, it smells more like nature - like a freshly mowed lawn. When used in combination with henna on hair, it can produce light brown, medium brown, dark brown, and jet black hair colors. It works best with henna.
🌿 Works best with henna on grey, light brown, & medium brown
🌿 Conditions & adds shine to your hair
🌿 Adds manageability & helps with hair growth
🌿 Continuous use improves overall hair health
🌿 No more irritation, bruises, or burns 
Click here for detailed application instructions. 
Indigo Powder is safe to use as its without any harmful chemicals. It's a natural dye that has been used for centuries for dyeing hair dark brown or black. More shades can be achieved by mixing with Henna Powder, Cassia Obovata, Amla Powder, etc. Indigo dye not only helps color the grey naturally, but it also adds a shine and conditions the hair. Indigo powder has proven to be an excellent naturally-occurring dye that is used globally as an alternative to chemical hair dyes.
Allergy Warning: Although our indigo powder is 100% natural and does not contain any chemicals, some people may still be allergic to certain plants and natural products. To rule that out for indigo, please do a strand/skin test before doing a full application of Indigo Powder.
WARNING:  Consuming this product can expose you to chemicals including lead which is known to the State of California to cause cancer and birth defects or other reproductive harm.  For more information go to www.P65Warnings.ca.gov/food.
Share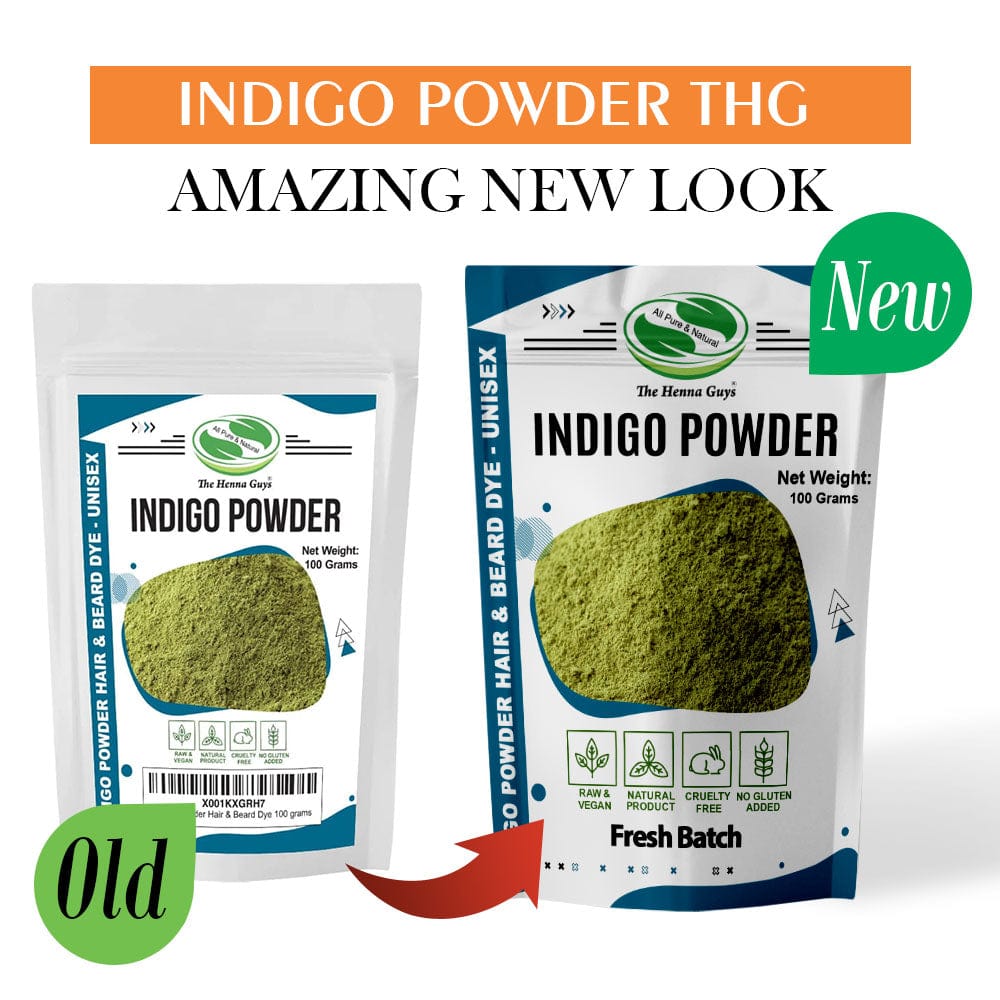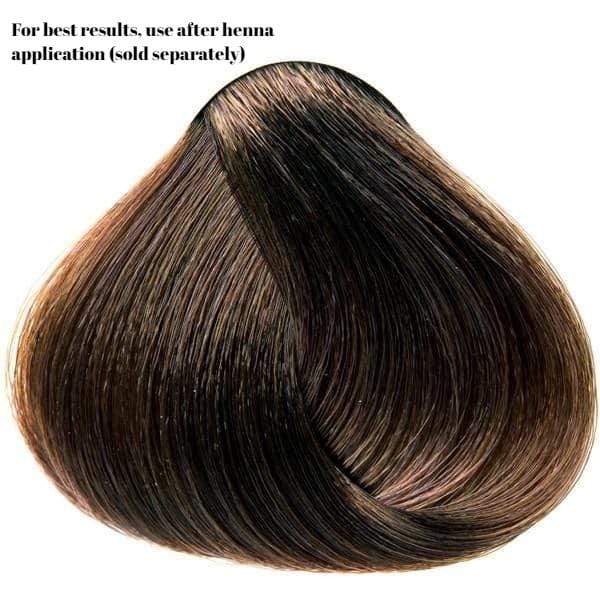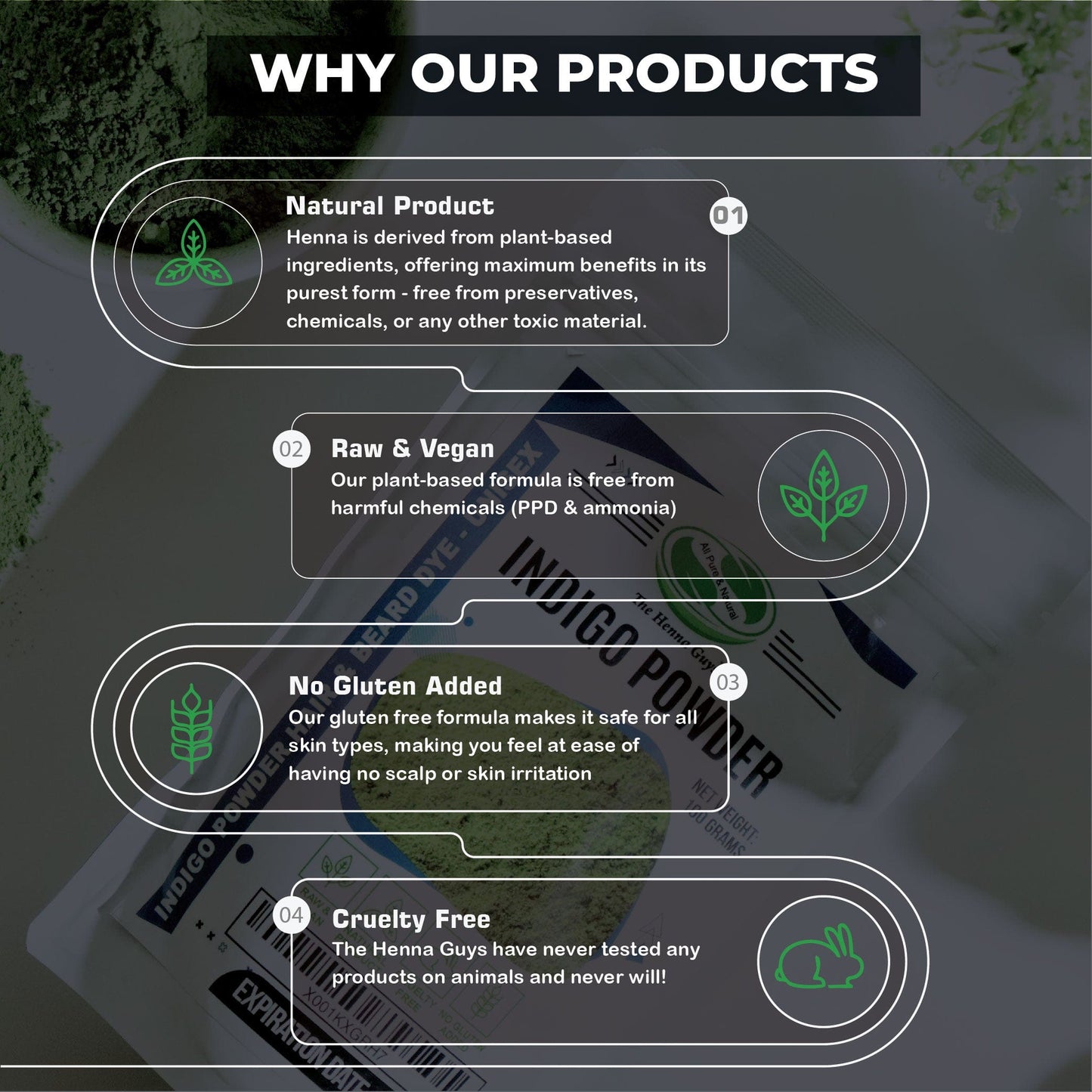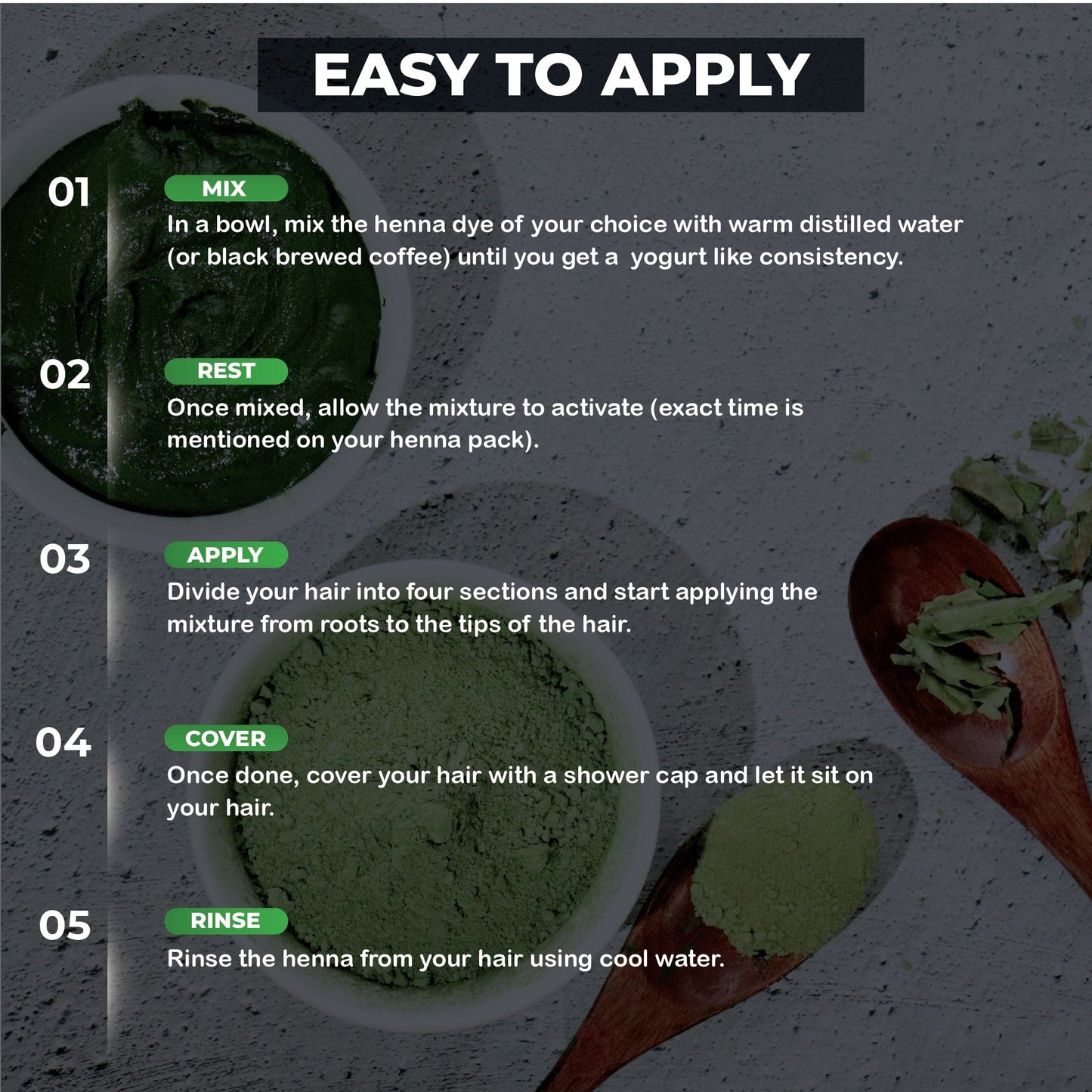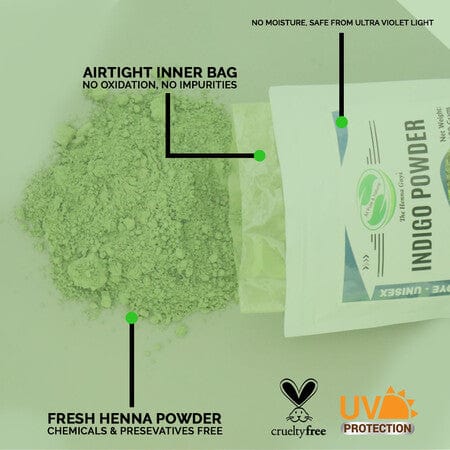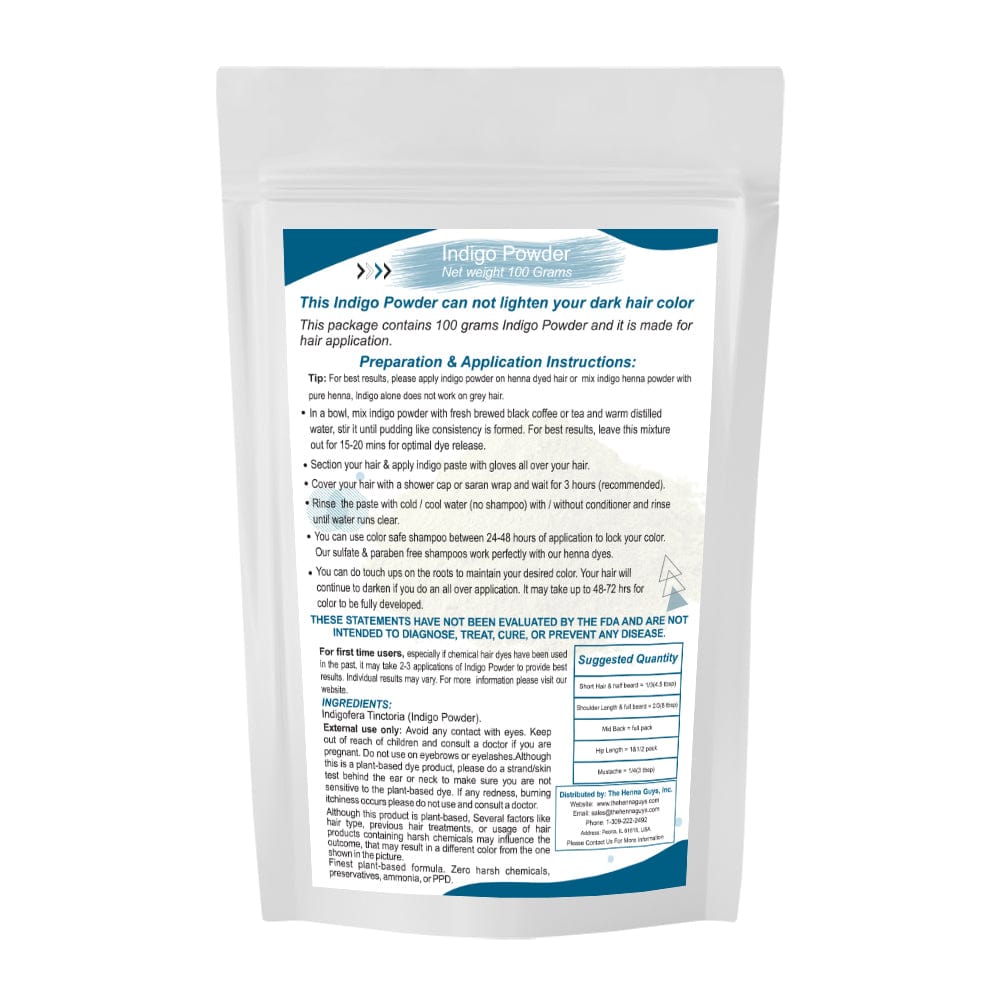 Customer Reviews
100
reviewers would recommend this product
Write a Review
Ask a Question
Filter Reviews:
hair
color
indigo
indigo powder
smell
henna
shade
results
brand
The Henna Guys
05/18/2023
Jose A.

United States
Wow it works
Great thanks
02/09/2023
Beverly J.

United States
I recommend this product
Indigo powder
Very good. Love the product
01/10/2023
COLETTE K.

United States
I recommend this product
Great quality Indigo!
Love this Indigo! I use it in conjunction with Henna to dye my hair.
08/04/2022
ELENA

United States
I recommend this product
SE DEJO DE CAER MI CABELLO
Cansada de probar todos los productos de grandes marcas por mucho tiempo, mi cabello se caia , no crecia y muy danado! Tengo casi 50 y he usado este producto por alrededor de 3 años y wooww mi cabello luce hermoso y finalmente me a crecido :)
04/06/2022
Wendy A.

United States
I recommend this product
Love índigo @wa_naturals
Love the product
11/04/2021
Sofía G.

Iceland
I recommend this product
Excellent
Outstanding….I just needed to open the silver sealed packaged and find the smell, colour and texture of this indigo powder to know I got a PREMIUM QUALITY product for a very fair price. The shipping and processing service are excellent in this shop. This is my first purchase here but it won't be the last. Looking forward for my next purchase in this shop.
06/10/2021
karol k.

United States
Indigo is sexy!
Indigo works wonders for hair. After a lot of Googling, the secret to covering greys was discovered. 1. Dye your greys with Pure Henna Powder. 2. I waited 2 days then mixed Medium Brown Henna (2 tablespoons) and added in 1 Tablespoon of Indigo Powder For Hair with a dash of salt and voila, beautiful brown hair! I followed the directions, mixing the Brown and Indigo separately and combined them when they were both set. This is safe enough to use frequently so you can experiment to get the right color, without damaging your hair, and it is super inexpensive! A $34.00 supply (3 bags: Pure Henna, Medium Brown and Indigo) should last about 6 months because I am focusing on the grey roots only.
05/28/2021
Mary H.

United States
I recommend this product
Hair color
This is a great product. Love color love how it makes ur hair feel. This product is great for ur hair no damage just nourishes ur hair and puts beautiful color and sheen in ur hair. This product well worth the money if u would like to keep ur hair in great condition.
02/15/2021
Johanna H.

United States
I recommend this product
Indigo
I've been using this for quite a while now, along with henna, and I am very happy with the quality of the product. With a little practice, it gives lovely, and reliable results.
01/08/2021
Shauna R.

United States
I recommend this product
Love the indigo.
I have bought other brands before, but this one is superior. It colors so well and does not make my scalp itch like the other brands did.
09/29/2020
Shauna J.

United States
Great indigo!
This is the best of 4 different indigos that I have used. Great coverage even for gray.
09/25/2020
Marsha S.

United States
very good stuff
I like the product. It works great on gray hairs. I combine indigo, henna, and alma powders.
09/13/2020
Bulbul A.

Bangladesh
Works like a charm
This is my second order. And I am happy with the performance. Shipping was extremely fast. Really love this. I wish the Indogo Powder would stick atleast for two weeks. Its kinda annoying I would have to redo my hair every fortnight. But other than that, it does really blacken my hair. So I am happy that I am stuck with orange colored hair anymore which I was for the last 8 years.
09/08/2020
stephanie s.

United States
Henna Guys Indigo is amazing to help darken, add depth and cover grays!
Superior quality, awesome gray coverage!
08/14/2020
Yadira R.

United States
Love the henna guys
I love it, I will continue buying your dyes products. My hair feel fuller, stronger and my grays are cover. My Next purchase is going to be the jet black color.
08/03/2020
TOBIN T.

United States
HELP!
This is the 3rd time using this product. I have not been able to get my hair as jet black as I would have liked. I think I need a better explanation as to what pudding consistency is? Like hot pudding on the stove thin or like pudding cups consistency. This last time as I was rinsing it out of my hair it was gritty and grainy sand like texture so I don't feel like I mixed the powder with enough liquid.