Organic Indigo Powder
Regular price

Sale price

$ 15.97

Unit price

per
USDA Certified Organic Indigo Powder
Indigo powder has been harvested from the indigofera tinctoria plant and used as a dye for thousands of years. Whether you're already a fan or are looking for a time-tested, natural way to cover grays or darken your hair, our certified-organic indigo for hair offers a chemical-free alternative to conventional boxed hair color.
Best used as part of a two-step coloring process or mixed with our pure henna, the indigo powder works best on gray or brown hair. Even better, indigo conditions your scalp and helps promote hair growth while giving you the color boost you're after. Make this multifunctional, completely natural hair dye the newest addition to your collection of organic hair products!

Whether you're looking for healthier locks or a total hair transformation, you'll love our USDA-Certified Organic Indigo Powder. You won't just look amazing; you'll feel great knowing your indigo is free from pesticides, GMOs, PPD, and other undesirables. It's pure beauty at its best.
Certified Organic Indigo Powder from The Henna Guys:
🌿 Conditions and adds shine
🌿 Means no more irritation, bruises, or burns
🌿 Covers grays and colors your hair naturally
🌿 Boosts manageability and promotes hair growth
🌿 Improves overall hair health with continuous use
Ingredients and How They Work
🌿 Certified Organic Indigo (Indigofera tinctoria): Blue-toned indigo powder is mixed with henna powder, a red-orange tone, in specific ratios to help create this rich medium brown henna hair dye. Indigo powder, a plant-based hair dye, creates shades of browns and blacks when mixed with henna.
Mix the indigo with warm, distilled water into a yogurt-like consistency; for a deeper black color, use black brewed coffee or black tea instead of water. 

Once mixed, allow the indigo to activate for 15 minutes. You'll know it's activated once it forms a blue-purple sheen on top.

Divide your hair into 4 sections. Starting at the root, apply the indigo powder down to the tip until all your hair is covered. Cover your hair with a shower cap or plastic wrap, and let the indigo sit on your hair for at least 3 hours. The longer you leave it on, the darker the color will be. 

Rinse the indigo out of your hair with cool water until the water runs clear. 

Enjoy your new hair color! 
For best results, use after a pure henna application or mix with pure henna.
🌿 Boosts manageability
🌿 Promotes hair growth
🌿 Colors your hair naturally
🌿 Conditions hair and adds shine 
🌿 Continuous use improves overall hair health
🌿 No more irritation, bruises, or burns
Here is why we're the top-selling henna brand in North America. Our products are:
🌿Ethically-produced
🌿Triple-sifted powder for a smooth paste
🌿A blend of henna, herbs, and other natural ingredients
🌿 Made in small batches for maximum freshness
🌿Gluten-free, natural, raw vegan, and 100-percent natural
🌿Shipped with shower cap, gloves, and application instructions 
Allergy Warning: Although our henna hair dye is made with natural ingredients, sensitivities and allergic reactions are possible. Help prevent reactions by doing a strand/skin test before applying our henna.
Disclaimer:
Individual results may vary. These are 100% natural products, and benefits are not guaranteed. Outcome may be affected by other factors like the type of shampoo or conditioner being used, as well as any other chemical hair treatments in the present or past that may affect results. 
 * These statements have not been evaluated by the Food and Drug Administration and are not intended to diagnose, treat, cure, or prevent any disease or health condition.
Share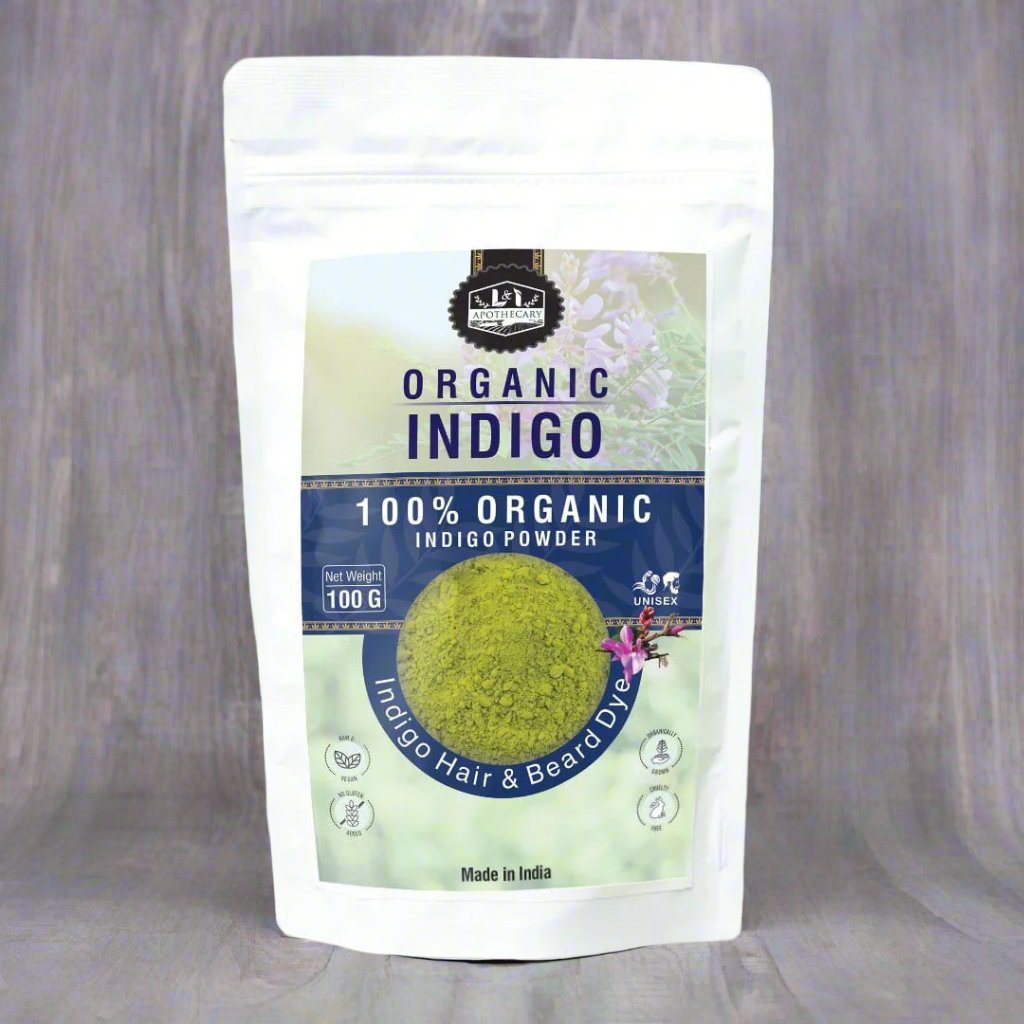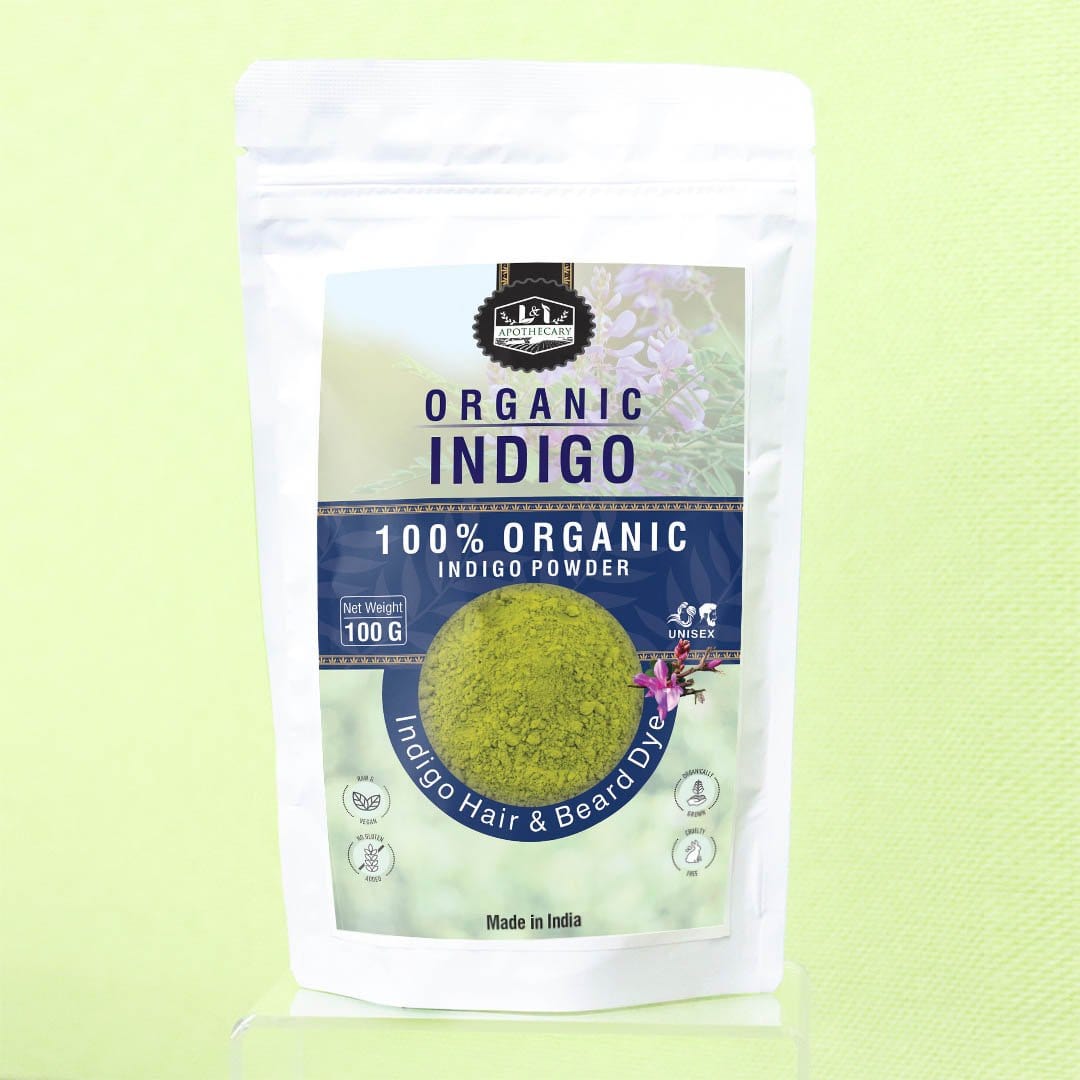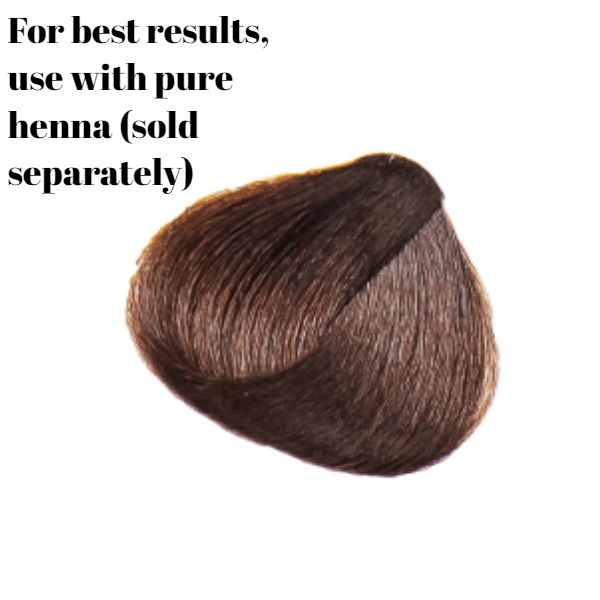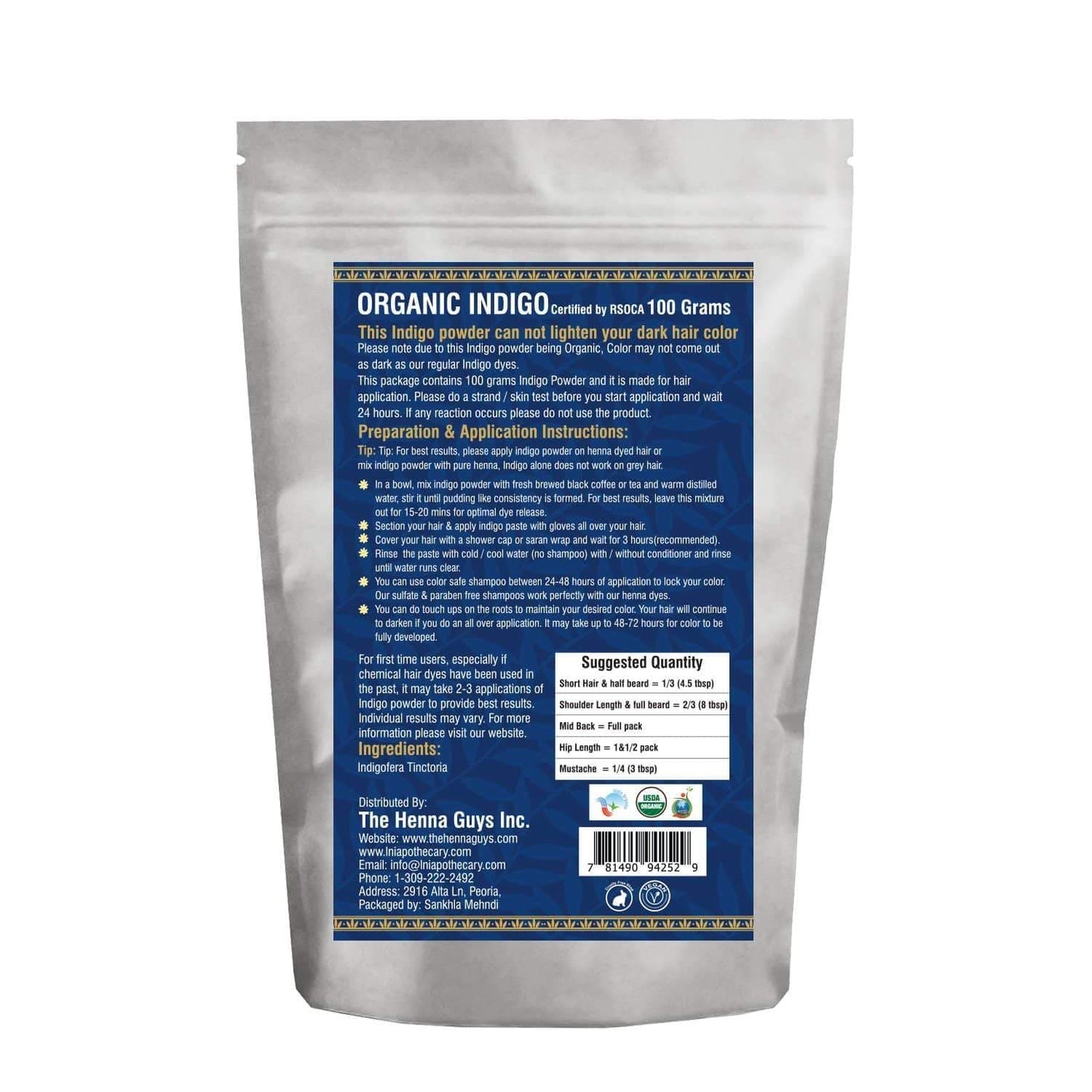 Customer Reviews
67
reviewers would recommend this product
Write a Review
Ask a Question
Filter Reviews:
henna
hair
indigo powder
indigo
process
color
results
scalp
chemicals
powder
11/28/2022
Silvia U.

United States
Helps me get dark brown color I want
This indigo powder I mix with my Dark Brown henna to keep my hair from going red (not what I'm after). It helps me get the dark brown hair color I want. Also, do not have time for the 2-step process. I mix the two hennas you get in a ziplock bag. I measure out about 7tbs henna/5tbs indigo, for my medium lengh hair. I leave the henna overnight with water, the next day I add the indigo. Mix it all up and color my hair, then wait 3 hours. My hair color turned out really well.
11/01/2021
Tara S.

United States
I recommend this product
Organic Henna and Indigo
Perhaps because it is organic, your henna+ indigo that I mix myself didn't traumatize my scalp as did a previous brand I was using-not organic. I had some mild itching the first day but then it stopped. I felt your product was smoother and my overall experience was more enjoyable. The color is slightly different but I like it. Thank you.
10/25/2021
Barbara J.

United States
INDIGO Powder
I placed my order on 10/10 and have not received it yet.
01/25/2021
Anna G.

United States
I recommend this product
It gives you a color and good for your hair
Product is fresh. It colors my gray hair and leaves my hair silky
01/14/2021
Greenwade M.

United States
I recommend this product
Henna & Indigo Jet Black hair color
The Henna and Indigo did not turn my hair jet black and I'm very disappointed in the product with all the time it took and the results were not as it should have been. I will not order this again.
08/03/2020
Diane N.

United States
Love my chemical free hair color!
Very easy to use, and my hair looks and feels very healthy! :)
06/16/2020
Vasu P.

United States
Henna dark brown
Color was very nice
05/27/2020
Leanne

United States
Glad I didn't give up!!
The first two times I used henna, going to be honest - I wasn't getting the results I wanted. It was A messy, time consuming process. I emailed the company asking for suggestions on my extremely stubborn grays (I'm 36 and completely gray, and thinning). They suggested using the straight indigo powder after the pure henna. I did a little experimenting myself and found the concoction that worked for me and my hair. I'm so glad I didn't give in to coloring my hair with chemicals again! With the right concoction of the henna, dark brown and indigo I managed to get my grays a deep rich brown, highlighted with some dark coppery tones. It's almost like I had it professionally done. Thank you henna guys for your wisdom and knowledge of your products!! I'm a lifer!!!
05/26/2020
Sonya A.

United States
I love the fact that
I love the fact that its organic and it works. I have gotten a lot of complaints on the color. I will continue to use.
Highly recommended
Finest indigo powder without any additives or chemicals. I used it with henna and added a little amla powder in it and it worked wonders! It nourished my scalp and made my hair to look healthy and voluminous. It also improved the texture of my hair.
Satisfied
I applied this indigo powder over henna to increase its staying power. It made the colour of henna firm and rich. It didn't cause me any allergies and the quality of the powder was also very fine. My hair has become softer and shinier.
Simply amazing
Awesome quality! The product is simply amazing! I have discovered it absolutely unadulterated with recuperating propertiesbenefitting my hair. I've seen decrease in hair-fall since I began using this item. It has nourished my scalp with the beneficial nutrients and has made my hair healthy. I'm totally happy with it.
prevented infection
This product hasreduced my scalp itching and has prevented infection. Moreover, it has also soothedmy scalp by conditioning it. After its application,it smoothened the tangles, madethe hair thicker, more manageable and lustrous. I would definitely use it again in the future
perfect black tone
Amazing quality and perfect black tone! The fragrance is mild strong but is totally fine and the application is really easy. It didn't give me any allergies or itching after its application. My hair look very healthy and voluminous. I'll recommend it to everyone for sure.
Highly Recommended
I will repeat the business with the henna guys. wonderful product.