Pre shave Oil - Unscented
Regular price

Sale price

$ 22.97

Unit price

per
Moisturizing Pre shave Oil Unscented, This one is for all who like it original
With goodness of skin love oils, give your skin a chance with our fragrance free shaving oil. Equally great for men & women.
How to Use: Take few drops of oil or as required, massage it well on desired shaving area for around a minute, once ready, use your favorite shaving butter / cream to prepare shave and shave accordingly. It works great with our shaving butters (made with shea & cocoa butter)
Benefits:
Irritation & burn free shave

Works great with any type of razor

Perfect oil consistency ensures gliding razors

Ultimate comfort & no more razor burns

Works like a charm on tough & rigid hair
How to Use: Take a pea size oil, rub into your palms and apply it on your shaved area just as you would use a regular aftershave, it will help with any aftershave issues if any.
Benefits:
On top of being all natural which is a great benefit in itself, here is what a continuous use bring about.
Soothing & cooling effect

Moisturizing & Anti aging

Ultra hydrated & smooth skin

Delays aging & formation of wrinkles
3. As a Beard Conditioning Oil
How to Use: Use few drops of oil or as required per size of the beard, rub it into your palms and apply on beard thoroughly by massaging it into beard. Using this as a regular beard oil brings various benefits.
Benefits:
Smooth & silky beard

Shining & Frizz Free beard

No Itching or Scratching

100% Natural & organic

Soaks in quickly & instant shine
Caution and Allergy Warning
Contains oil extracted from tree nuts. Always test product on small swatch of skin before using. External use only. Avoid any contact with eyes. Please stop usage if redness or irritation occurs and consult a doctor. Keep out of reach of children.
Take a few drops of oil, massage it on desired shaving area to prepare for the shave, once ready, use shaving cream or shaving butter to get a mild leather, shave on and enjoy the soothing aftershave experience.
Grapeseed Oil
Avocado Oil
Jojoba Oil
Argan Oil
Marula Oil
Share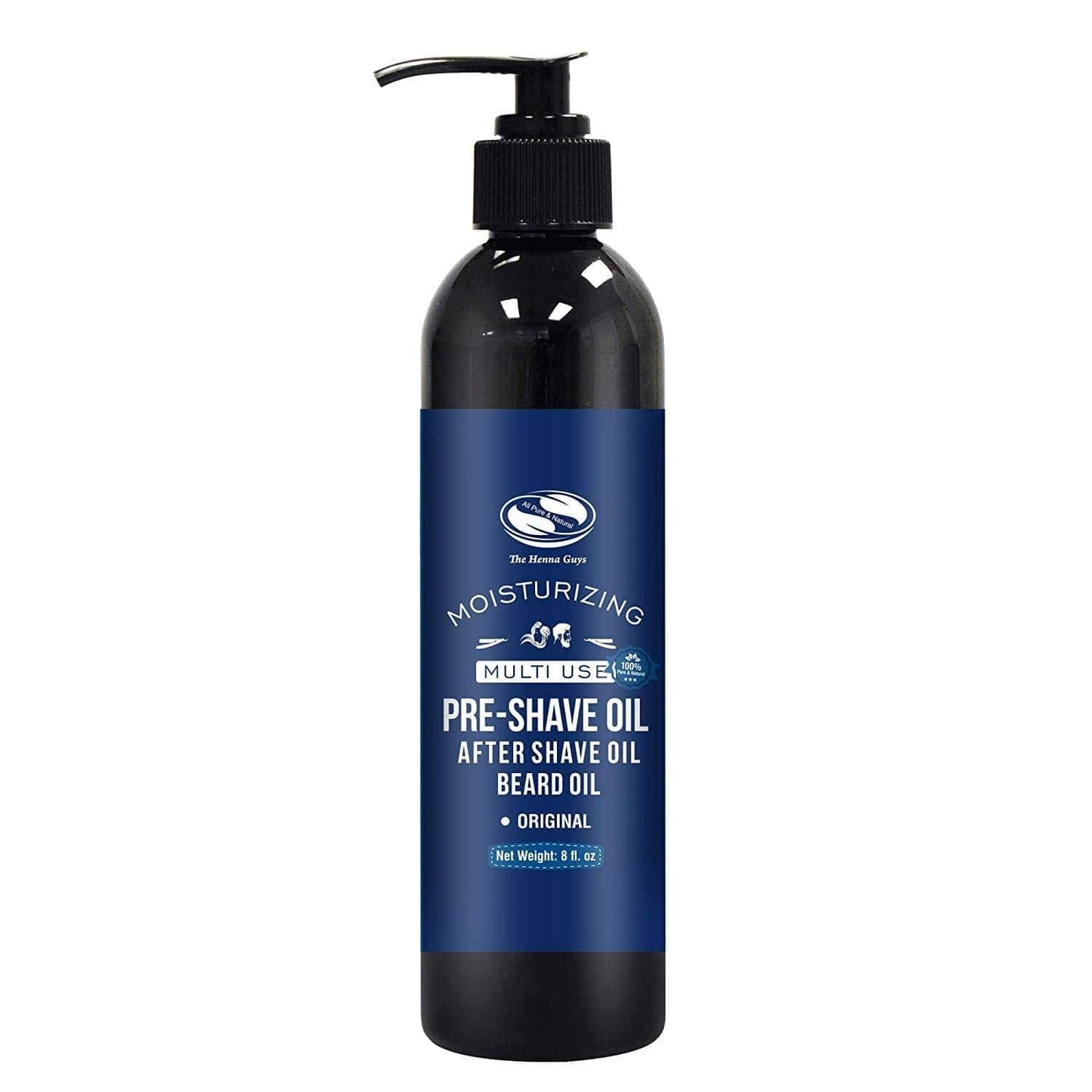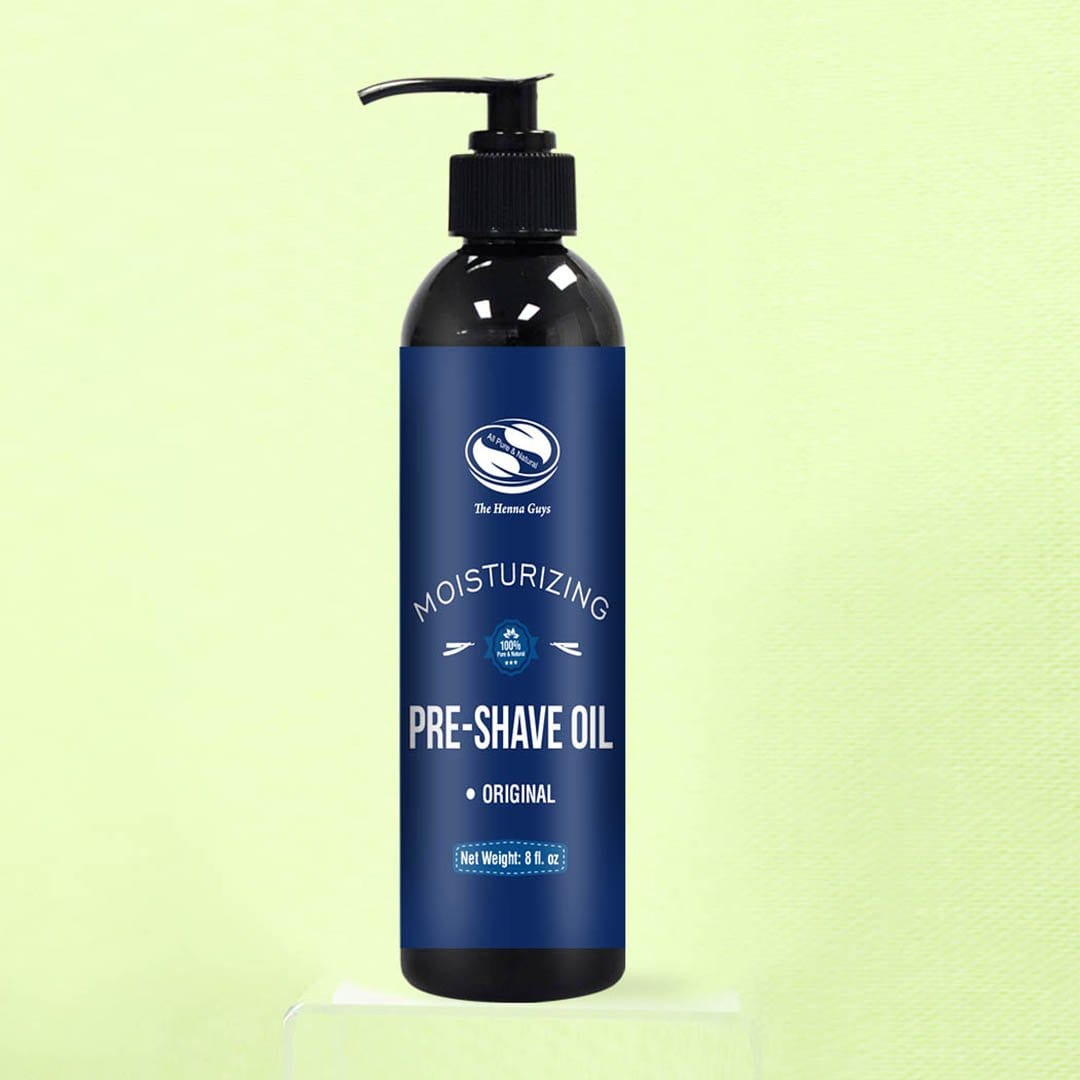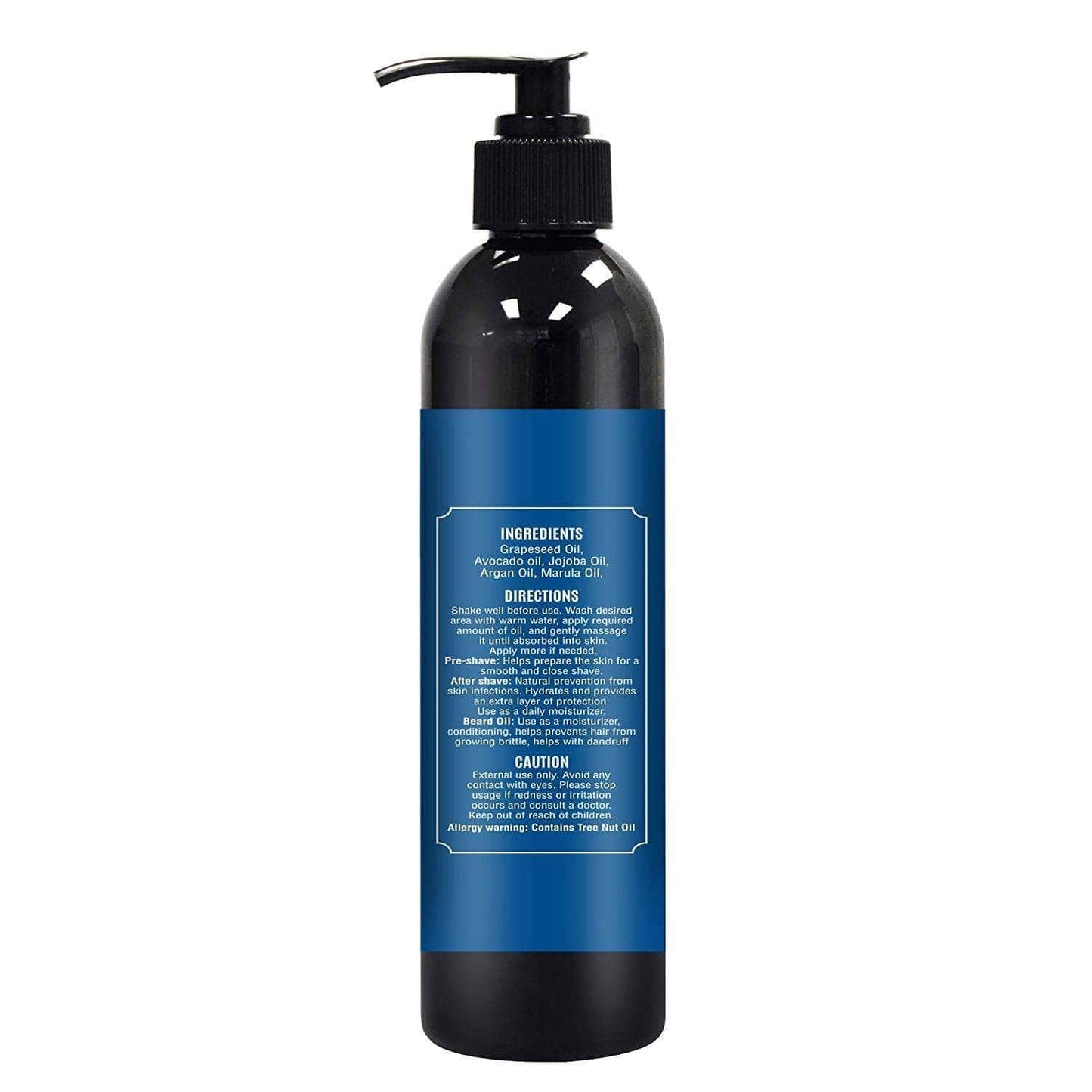 Customer Reviews
Write a Review
Ask a Question
Filter Reviews:
skin
scent
Henna Guys
fragrance
shave
oils
feeling
results
quality
something
Very annoying experience
This unscented pre-shave oil has been the best for me! Earlier the products with scents gave me a very annoying experience as they got mix with my deodorant and confused my brain all day instead of calming it. I would never switch back to scented skin care products! Love it.
Nice concoction henna guys
Even though its unscented, it gives a refreshing feeling and the skin remains moisturized throughout the night. Even unscented contains all essential oils and antiseptic properties. Plus I have never felt any irritation, aching or razor burns.
It is very pure
I've been searching for an organic unscented pre-shave oil for my entire life and I am very glad that I've found it at last. It is very pure and it suited my skin perfectly and caused me no allergies or irritation afterwards! Would recommend it to everyone!
5 stars for henna guys
For various reasons, I use unscented pre shave oil. I often apply it after shave as well for moisturized and smoother skin. This helped me get rid of all pimples and there are absolutely no aching or irritations.
Good job making it henna guys
I am amazed how its unscented while retaining its freshness and of course, preservative free. It always makes me enjoy shaving and the end results are smooth, fresh skin that glows nicely all day.
Very satisfied
I tried unscented pre shave oil for fun, and was very satisfied with the results. It really carried no scent and the lubrication was just perfect. It exfoliated my skin and helped retain moisture, giving a fresh look. Awesome!
Just enjoying
I don't want fragrance of shave longer all day long. Just enjoying the scent during shave is enough for me. That's why I use unscented pre shave oil and properly lubricate even after shaving. This let's my skin grow no germs or bacteria. Ever since I started using henna guys unscented pre shave oil, I haven't had to deal with any fungus infections. 5 stars from me.
So happy
I am so happy to have found unscented pre-shaving oil. I don't prefer any scented skincare product. The lingering fragrance often get overpowered and I feel so uncomfortable with it. I am a woman of integrity and I love the scent of my perfume! Mixture of scents isn't a code of mine! So this unscented oil I just amazing!
Spotted every time
I am a woman and unfortunately I went through some hormonal crisis. Before I knew, I started growing beard and moustache. My greatest fear was to get spotted every time I shaved. I was looking for something unscented. Every other product that I used left some scent. My guy friend told me to try Henna guys unscented pre shave oil and I think I have found the right pre shave oil. Its unscented and gives soft, smooth and shiny skin. Absolutely satisfied!
I felt natural
My kids used to get irritated by the scent of pre shave oils. After browsing days in out I found henna guys unscented pre shave oil. I here to tell you how natural I felt after shaving and there was no scent, just a feeling of refreshness. Now I don't have to worry about my kids complaining. Weldon henna guys.
07/23/2019
Parthasaradhi B.
My life saviour
When you shave every single day in your 30's, there do comes a time when you stop liking any scent. I am the same. I would sometime shave twice a day and no matter how attractive, splendid or nicely scented shaving cosmetics are, I am fed up with each one of them. This unscented henna guys pre shave oil is my life saviour
Good experience
This pre-shave oil worth the value! It made my skin soft, smooth and moisturized. It allowed me a close shave! Unlike other low quality pre-shave oils, it didn't stick to my razor and rinsed off easily. I liked its property of being unscented!
Moisturized skin
This is something ultimate dry skin pre-shave oil which gave me a comfortable and healthier feeling of a smooth and moisturized skin. I've been using it since last week and it is just amazing! I can now shave several times a week without getting my skin dried. Above all, it is unscented! Recommended.
Skin care product
I always wanted a pre-shave oil which should be unscented! I don't like the lingering fragrance of any cosmetic or skin care product. I used many oils, creams and foams but the scents of those always followed me throughout the day. Besides, I've found its quality to be really good. I'll continue using it in the future.
Been so happy
I am so relieved to have found unscented pre-shaving oil. I do not like scent so one can tell, life is not easy for someone who is so different. But not anymore, ever since my encounter with the henna guys unscented pre-shaving oil, I have been so happy and my skin, even more so. It carries the quality of all natural ingredients and does not possesses any odor. Perfect for someone like me!
Best Ever decision
I never prefer scented products to use on my skin. It was the reason to try unscented pre-shave oil but I have to say that it was my best ever decision! The softness and smoothness it gave after shaving was never expected by me to get from a product like this. Thank you henna guys!