Shaving Butter - Lemongrass & Eucalyptus
Regular price

Sale price

$ 15.95

Unit price

per
Gentlemen! Time to leave your gooey gels and start using the Henna Guys Lemongrass and Eucalyptus Shaving Butter.
Designed for those that are long looking for an easier glide, this shaving butter is perfect to give you a soft, smooth, and precise shaving experience. Recommended for oily, dry, and combination skin.

Made with natural & organic shea butter
Naturally Moisturizing and soothing shaving experience
Made with 100% pure essential oils for an amazing feel
Made in small batches to ensure fresh product
Irritation free shaving & aftershave experience
Best fit for men women with sensitive skin
Some of the key ingredients include:

Shea Butter: Used as a natural moisturizer to reduce shaving irritation and skin dehydration. Shea butter is also good for anti-aging properties.
Essential Oils: We use the purest of essential oils to naturally moisturize ahead of razor gliding. Some of the oils include Olive Fruit Oil, Eucalyptus, Lemongrass, Sunflower seel, and Jojoba oil.
Enzymes: Helps in the skin exfoliation, and helps close skin pores.
Aloe Juice: Used to help hydrate, soothe, and replenish skin.
Wet your facial hair with warm water
Apply a layer of shaving cream on your beard
For better result, use pre-shaving oil to prepare your skin for a close shave
Wash your face with warm water once done
Stir well before usage
Caution:
For External use only. Avoid direct contact with eyes.
No Foam: Unlike traditional shave, our shaving butter doesn't create a mess while you shave. It is a non-greasy product for smooth and luxurious shaving.
Perfect for everyone: Formulated with natural products, this shaving butter gives you a smooth and irritating-free shaving experience.
Ensure a smooth shaving: Natural and organic ingredients like Shea butter, lemongrass, and eucalyptus oil are carefully designed to ensure a smooth shaving.
Affordable Price: Save your precious income for other luxurious in life. Our shaving products are cheaper compared to the market.
What's more: Just just the shaving butter for one time and you'll feel the difference. 
Share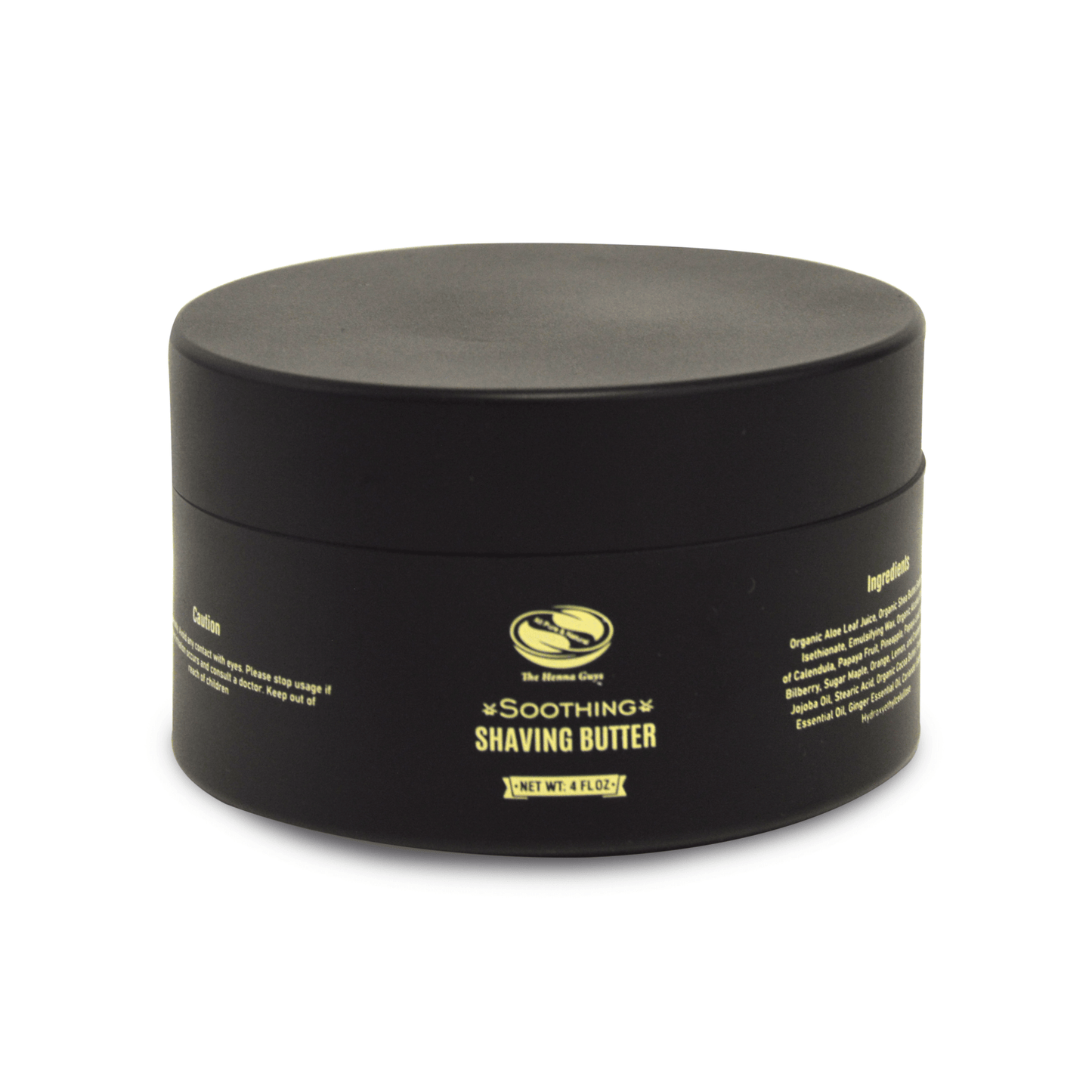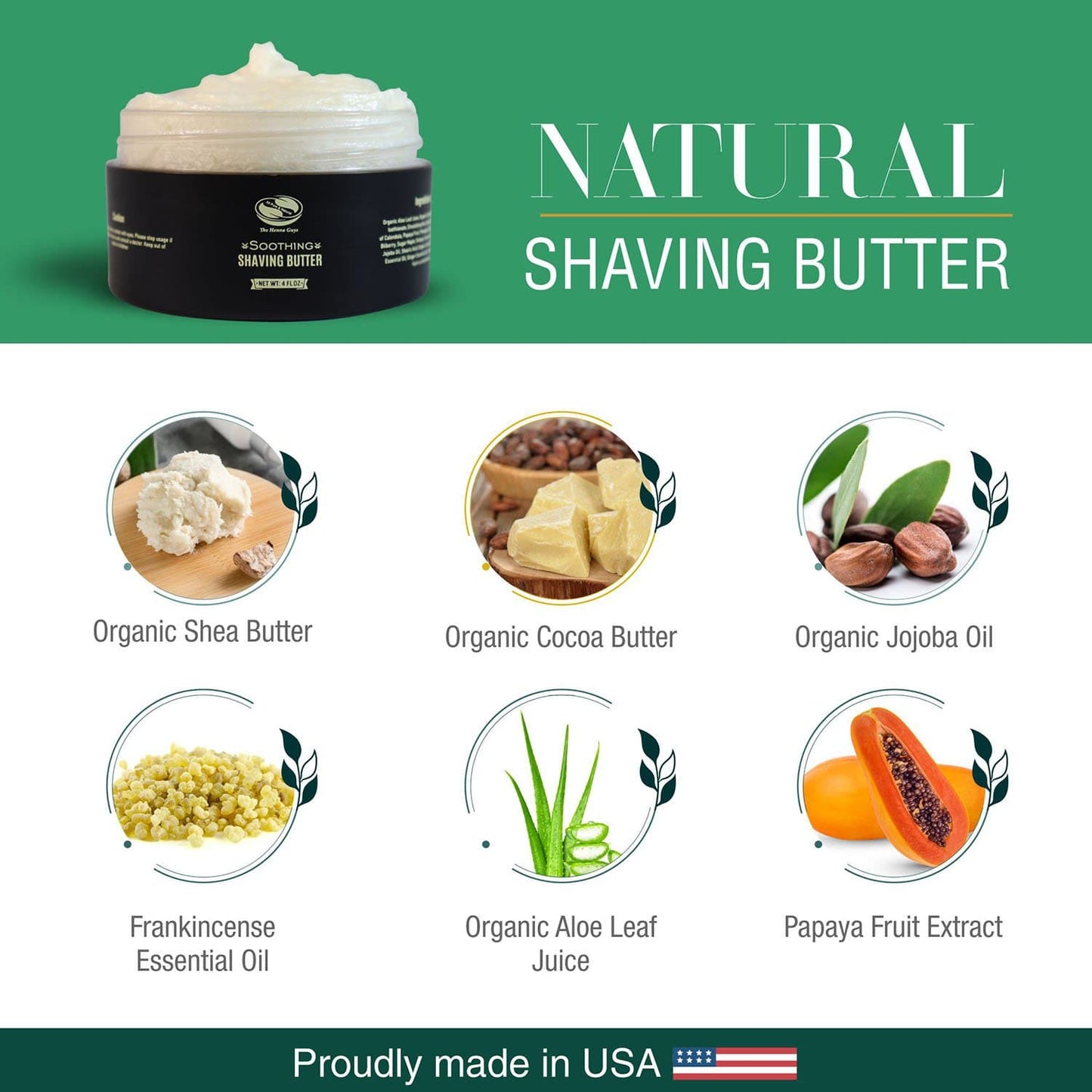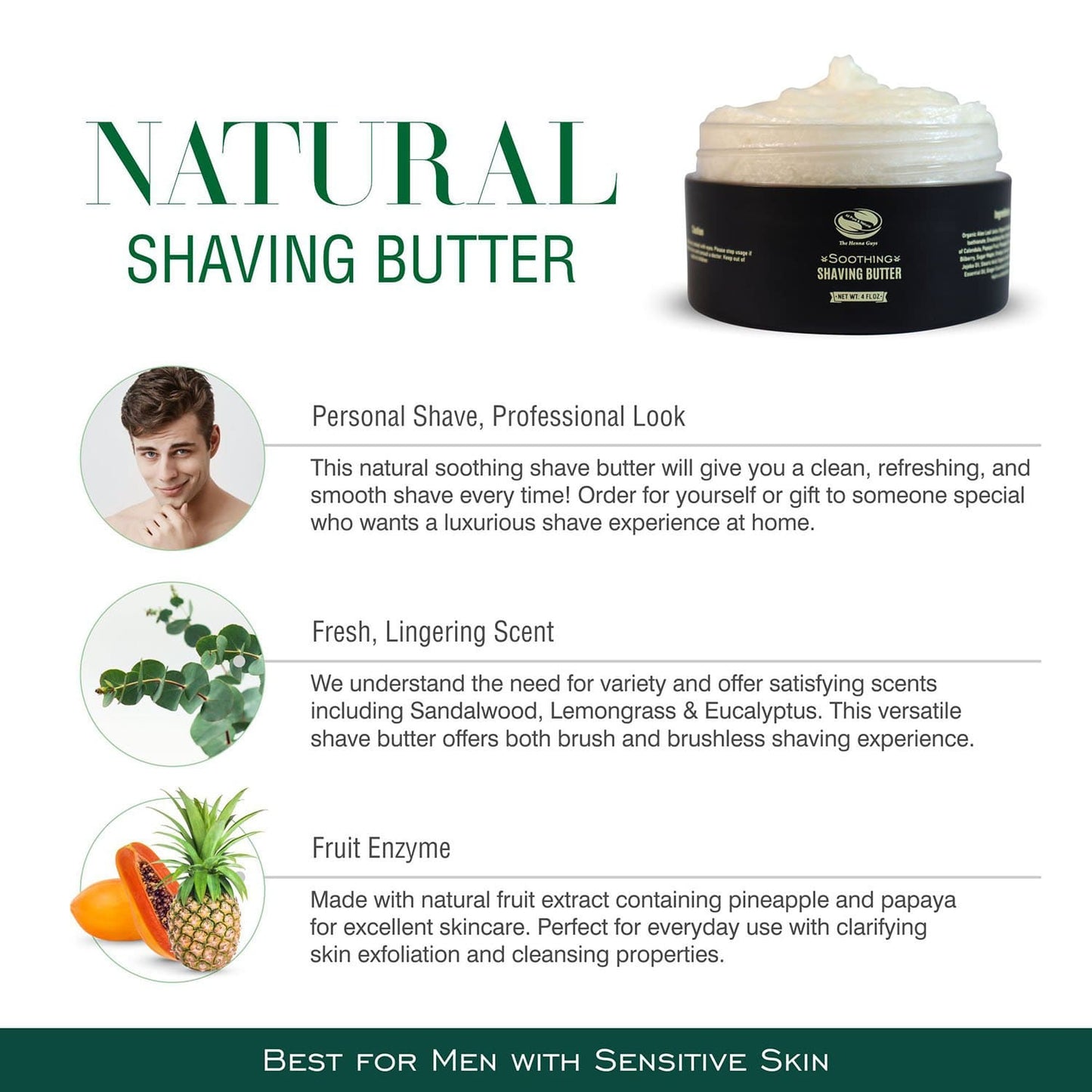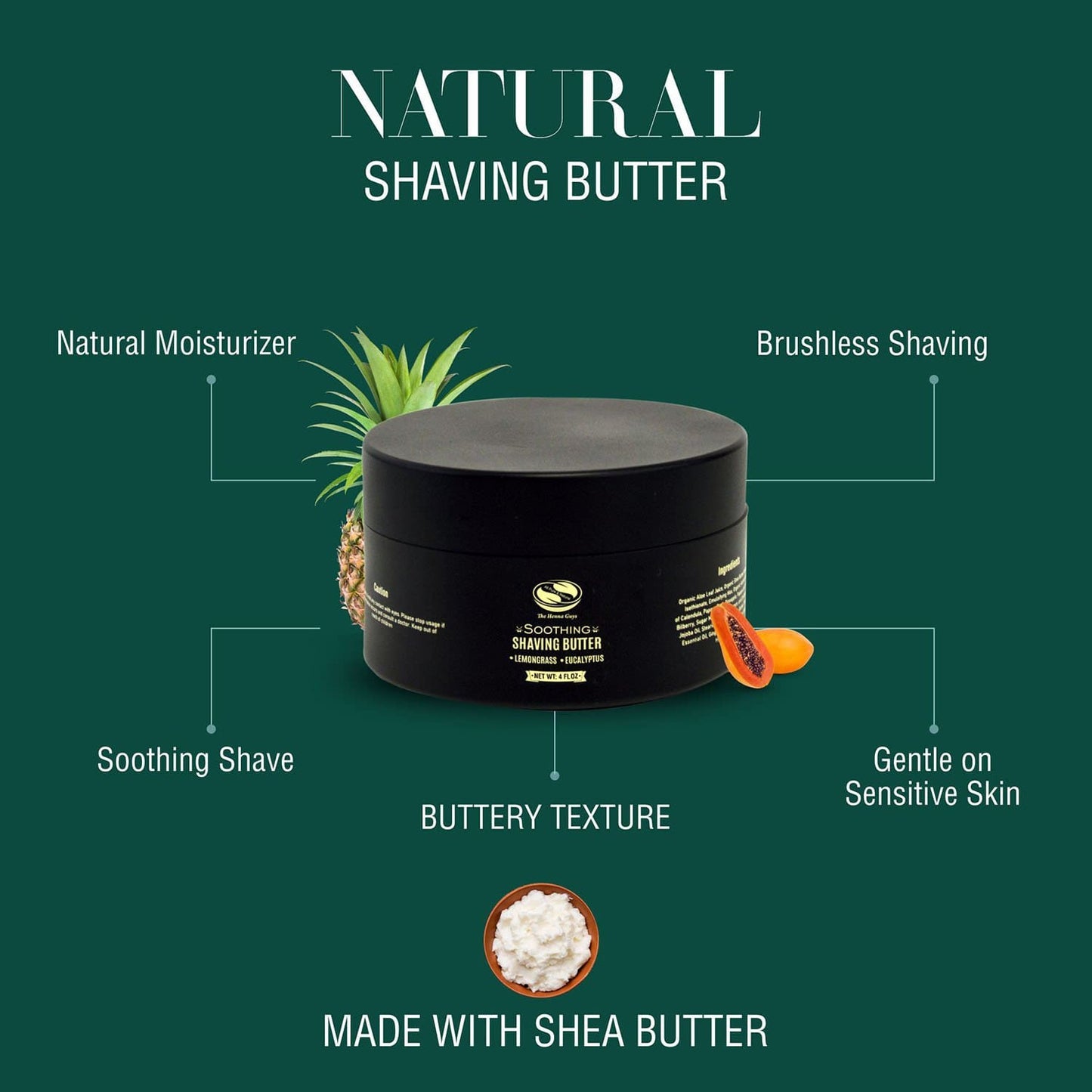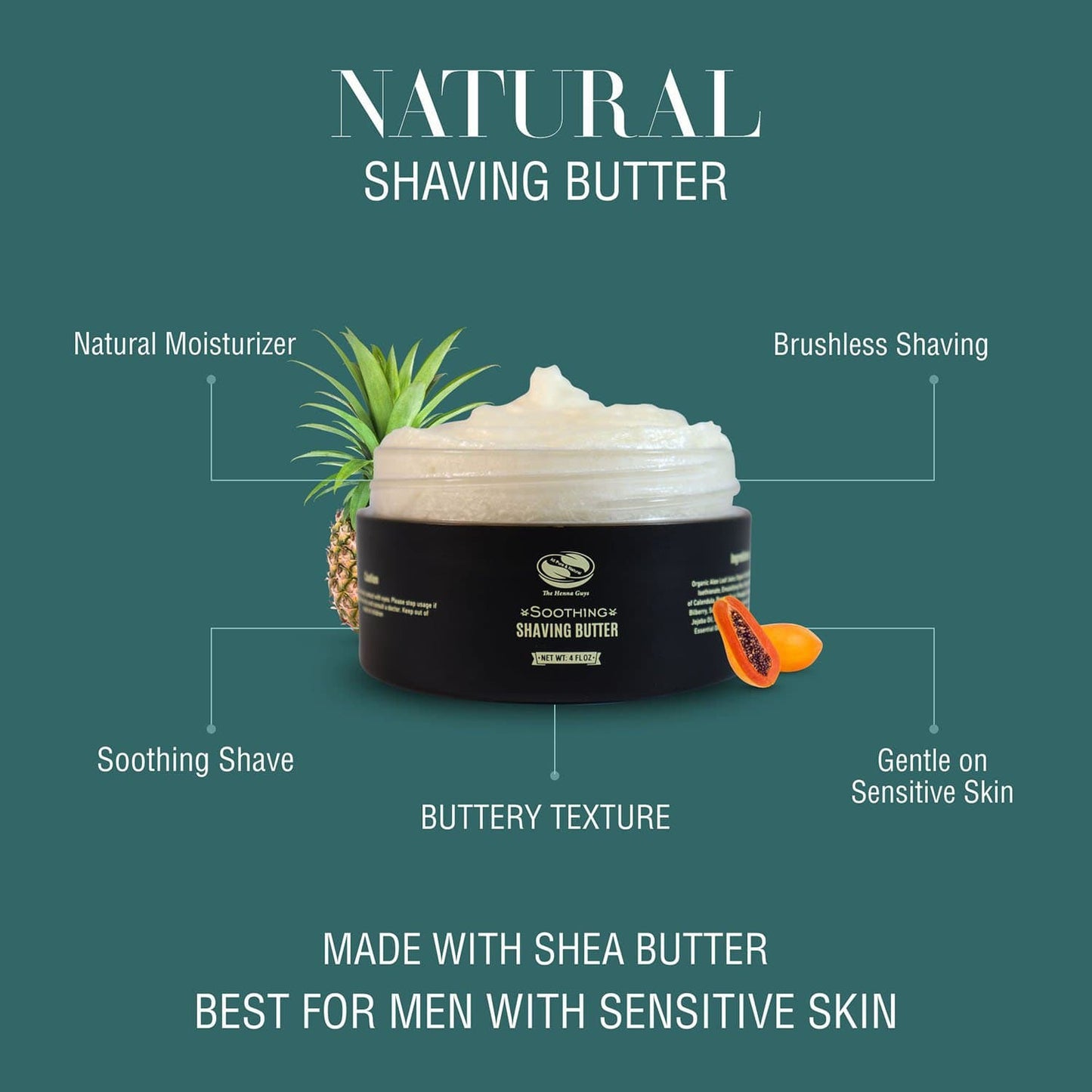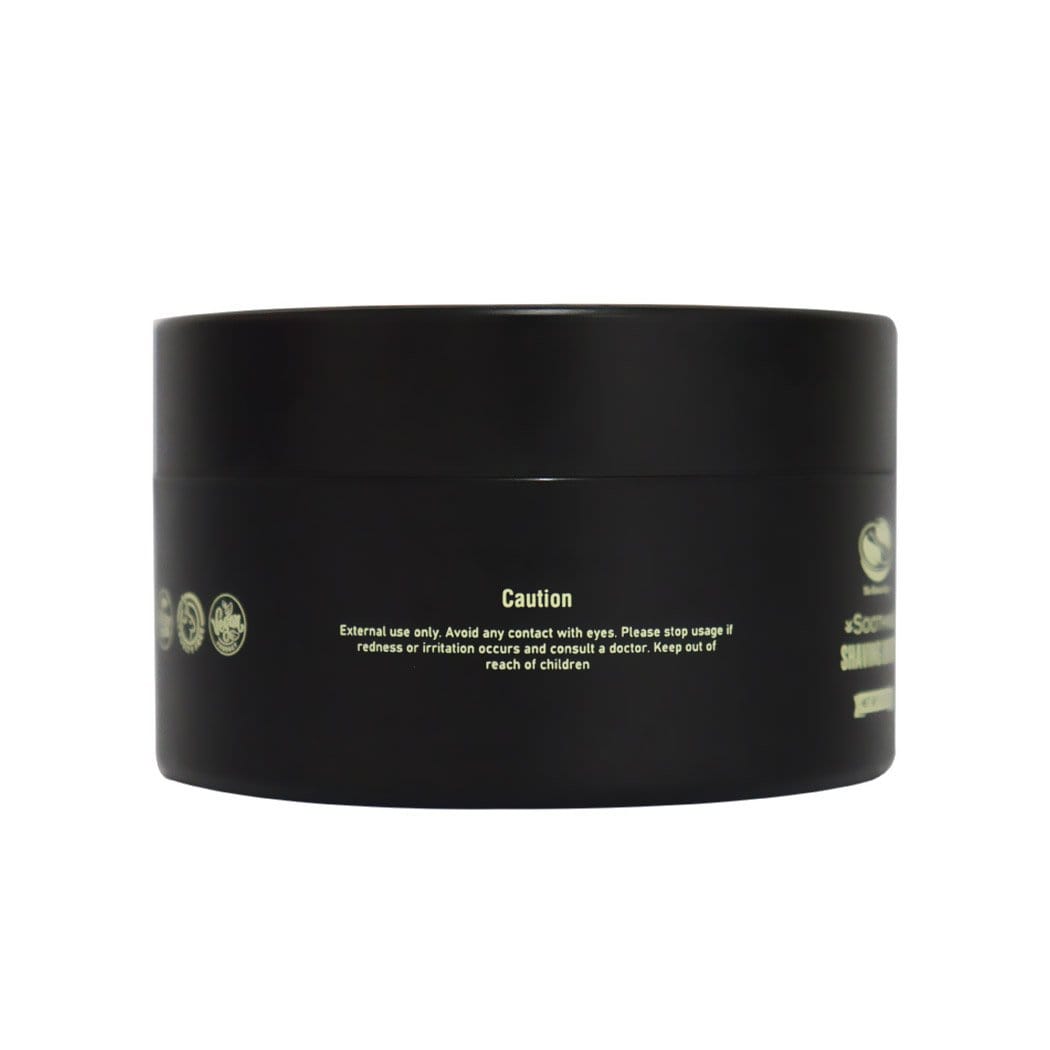 Customer Reviews
Write a Review
Ask a Question
Filter Reviews:
butter
skin
Lemongrass
Henna Guys
shave
ingredients
eucalyptus
shaving products
irritation
results
07/13/2021
Victoria D.

United States
I recommend this product
Fiancé LOVES it
Bought a sample size pack for him to try last Christmas and he loved it so much we ended up getting a full size! He says he feels such a difference compared to the generic shaving cream he used before. Smoother skin and closer shave! Definitely recommend for yourself or as a gift!
01/07/2021
Mik M.

United States
I recommend this product
Using as normal lotion
Great stuff. No allergic reactions. Smells nice. Appears to moisturize and absorb quickly.
10/01/2020
Troy S.

United States
Great product
I had always used foam when shaving, but since my first shave with shaving butter I will never go back. Easy application with the brush. A little goes a long ways. Close shave every time. Smells great on you.
08/11/2020
David H.

United States
It's amazing!
My wife and even my dogs love the smell! I can't get them off of me!
Appreciate
I really appreciate the trend of paraben free cosmetics and I am so grateful to henna guys for making paraben free shaving butter. Plus the presence of shea butter along with natural extracts and lemongrass essential oil and eucalyptus essential oil makes it yield a very clean, clear smooth and softer shave. It goes without saying there is no substitute to organic, no matter how big of promises paraben makes. What enchanted me about henna guys shaving butter was its pure organic list of ingredients with my favorite essential oils. After using it 4 months, there are absolutely no side effects. It's lemongrass and eucalyptus gives me refreshing and soft shave every time.
Awesome organic shaving butter
I've been using it since a month and there are no complaints at all. It has provided me a close and clean shave and most importantly, it allowed me to see hair clearly unlike the shaving foams which provide a thick foam on skin and we need to shave all areas again and again if there are only a few hair left. Efficient!
So amazing
So fortunate to have made the discovery of cruelty free. I am so sensitive about it, more sensitive than my skin. It's leather is so amazing, it softens my skin and exfoliates giving me a natural smoothness without making me prey to razor burns.
My skin has become young again
My pimples vanished slowly. So thankful to henna guys. Lemongrass and eucalyptus is best combination and its leather is just perfect, not too frothy, just in balanced proportions.
Lemongrass shaving butter is antiseptic
Clean look, smooth skin, lemongrass fragrance, long lasting shave and moisturized skin, I couldn't ask for more. And of this without having to burn in aching and irritation. I feel no urge to scratch my face after shaving as henna guys lemongrass shaving butter is antiseptic.
I am so happy
I picked up lemongrass and eucalyptus shaving butter by chance. I knew nothing about it but just reading the ingredients made me want to try it. The results were beyond my imagination. I felt no razor burns, no irritation and not even aching. I am so happy to have tried henna guys shaving butter.
Total skincare item
I am extremely cautious about my shaving products. Since I have very sensitive skin, I explicitly pay heed to all ingredients of a product. I have been using The Henna Guy's shaving butter for three months now, and I have not experienced any allergies. Rather, lemongrass has taken care of myself from parasite and bacterial contaminations. It's a total skincare item!
awesome results
What awesome results! I could see so clearly where I was shaving and how much hair is left undone. It made my skin softer than ever and I really liked lemongrass as protective gear against razor burns. It's so easy to apply and there were no standing hair afterwards. I always enjoy shaving with henna guys shaving butter.
I love
It's so difficult to find 100% natural shaving butter and much more difficult to trust the claim. I was doubtful at the start but once I bought the Henna guys shaving butter, I had to change my opinion. I have been using in for 3 months now and I guarantee its 100% natural. I love eucalyptus based products, they are antiviral and it's aroma gets me every time.
Awesome
Awesome shave, it gave me such a nice feeling. Henna guys have done remarkable job by providing me with organic shaving butter. I recommend everyone to use lemongrass and eucalyptus shaving butter. This combination is very balanced and perfect for every skin type. Just awesome.
My favourite
Shaving butter have always been my favourite. I am fond of using shaving products from different companies to find out the best. I used the lemongrass eucalyptus shaving butter last week and found it truly amazing. It gave me a very good shaving experience without any nicks or burns! The scent is also very light and refreshing. Satisfied.
The thing I love
The thing I love the most about this lemongrass shaving butter is that it is light, thin, and transparent! It is just like a moisturizing lotion and allow me to see the missed spots easily instead of going through the all area again. It is very convenient to use.