Organic Dark Brown Henna Hair Dye
Regular price

Sale price

$ 19.97

Unit price

per
Be your best brunette with our organic Dark Brown henna hair dye. Elevate your hair color with rich chocolate tones and impressive depth. We've blended henna and indigo with color-enhancing amla, nutrient-rich false daisy and conditioning neem for the perfect natural hair color. Organic Dark Brown works best on gray, light-brown, or medium-brown hair.

Here's what you won't get with our organic hair dyes. The henna, indigo and other herbs in our organic line were grown without pesticides. Our USDA-certified organic henna also contains no GMOs, harsh chemicals or unnatural ingredients so you can feel good about looking great!

Organic Dark Brown Henna Hair Dye from The Henna Guys:

🌿 Conditions and adds shine
🌿 Means no more irritation or burns
🌿 Covers grays and colors your hair naturally
🌿 Boosts manageability and promotes hair growth
🌿 Improves overall hair health with continuous use
 🌿 Made with organic ingredients in a controlled environment
INGREDIENTS AND HOW THEY WORK
🌿 Organic Henna (Lawsonia inermis): Pure henna, milled into powder form before undergoing a triple-sifting process, forms the red-orange base of our henna hair dyes. We create different shades by blending henna with other natural ingredients.
🌿 Organic Indigo (Indigofera tinctoria): When applied alone, pure indigo powder imparts a green- or blue-tinged tone to darker hair and is colorless on white and gray hair. When mixed with henna powder, indigo creates various shades of auburn, brown or black. However, red undertones usually appear in all colors but black.
🌿Organic Amla (Emblica Officinalis Gartn): Amla, a type of Indian gooseberry, boosts overall hair and scalp health when used as a hair mask or as an ingredient in henna hair dye. It promotes scalp circulation,  helps strengthen roots and the scalp,  enhances color, encourages hair growth, reduces the chance of premature graying and pigmentation loss, and helps improve manageability.
🌿  Organic Bhringraj (Eclipta alba): Also known as false daisy, bhringraj promotes hair growth and helps reduce thinning. Bhringraj has antifungal and antimicrobial properties and helps boost scalp health. It softens and conditions hair, reduces the likelihood of hairfall, and helps prevent early graying.
🌿  Organic Neem (Azadirachta indica): This natural antiseptic is packed with nutrients to help ward off hair and scalp dryness, dandruff, premature graying and poor scalp circulation. Neem is thought to stimulate hair growth and help reduce environmental hair damage.
Find application instructions here     [ Download PDF ]
Our Dark Brown Henna is a two-step process.
Process 1: Pure Henna
In a glass bowl, mix pure henna with warm distilled water until you get a yogurt consistency. 

Once mixed, allow the henna to activate for 8-10 hours. If it hardens after 8-10 hours, simply add a few drops of water to loosen it again.

Divide your hair into four sections (this makes it easier to apply the henna to all your hair). Start from the roots of your hair and work your way down to the tips, making sure the strands are entirely covered. Once done, cover your hair with a shower cap (or saran wrap), and let the henna sit on your hair for 3 hours. 

After the 3 hours, rinse the henna from your hair using cool water until the water runs clear. 

Prepare the Dark Brown powder while your hair dries.
(Please be aware that after this first step, your hair will look/be red. Don't be alarmed. The second step will give you the brown color you're going for)
Process 2: Dark Brown
In a glass bowl, mix the dark brown powder with warm, distilled water until you reach a yogurt consistency. (If you want a richer brown, you can use black brewed coffee or black tea instead- it doesn't matter if its caffeinated or not). 

Let the dark brown mixture activate for 40 minutes. If it hardens, just add a few drops of water (or coffee) to loosen it up.

Divide your hair into four sections. Start applying the henna from root to tip, making sure all your hair is covered. 

Cover your hair with a shower cap/saran wrap, and let the mixture sit on your hair for at least 3 hours (the longer you leave it on, the darker the brown will be). 

Rinse hair out with cool water until the water runs clear. 

Enjoy your new hair color!
TIPS AND NOTES
Helpful Tip: Please use the two-step process for optimal results. Wash hair with color-safe, sulfate- and paraben-free shampoo 48 hours after applying henna to help the color adhere
Important Note: Henna hair dyes are different from conventional hair coloring products. These natural dyes do not contain chemicals that lighten hair or rapidly develop color. Please reach out to us before placing an order if you have any questions about the application process.
🌿 Colors naturally
🌿 Promotes hair growth
🌿 Helps improve manageability 
🌿 Conditions hair and adds shine 
🌿 Continuous use helps improve overall hair health
Here is why we're the top-selling henna brand in North America. Our products are:
🌿Ethically produced
🌿Triple-sifted powder for a smooth paste
🌿A blend of henna, herbs and other natural ingredients
🌿 Made in small batches for maximum freshness
🌿Gluten-free, natural, raw vegan and 100-percent natural
🌿Shipped with shower cap, gloves and application instructions 
Allergy Warning: Our henna hair dye is made with natural ingredients. However, sensitivities and allergic reactions can occur, even to natural products. Rule out allergies or sensitivities by testing your dye on skin or a strand of hair before applying henna.
Disclaimer:
Individual results may vary. These are 100% natural products, and benefits are not guaranteed. The outcome may be affected by other factors like the type of shampoo or conditioner being used, as well as any other chemical hair treatments in the present or past that may affect results. 
 * These statements have not been evaluated by the Food and Drug Administration and are not intended to diagnose, treat, cure, or prevent any disease or health condition.
Share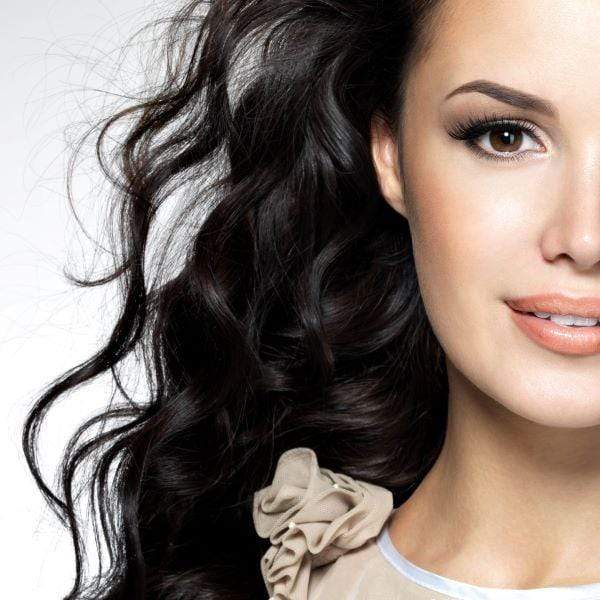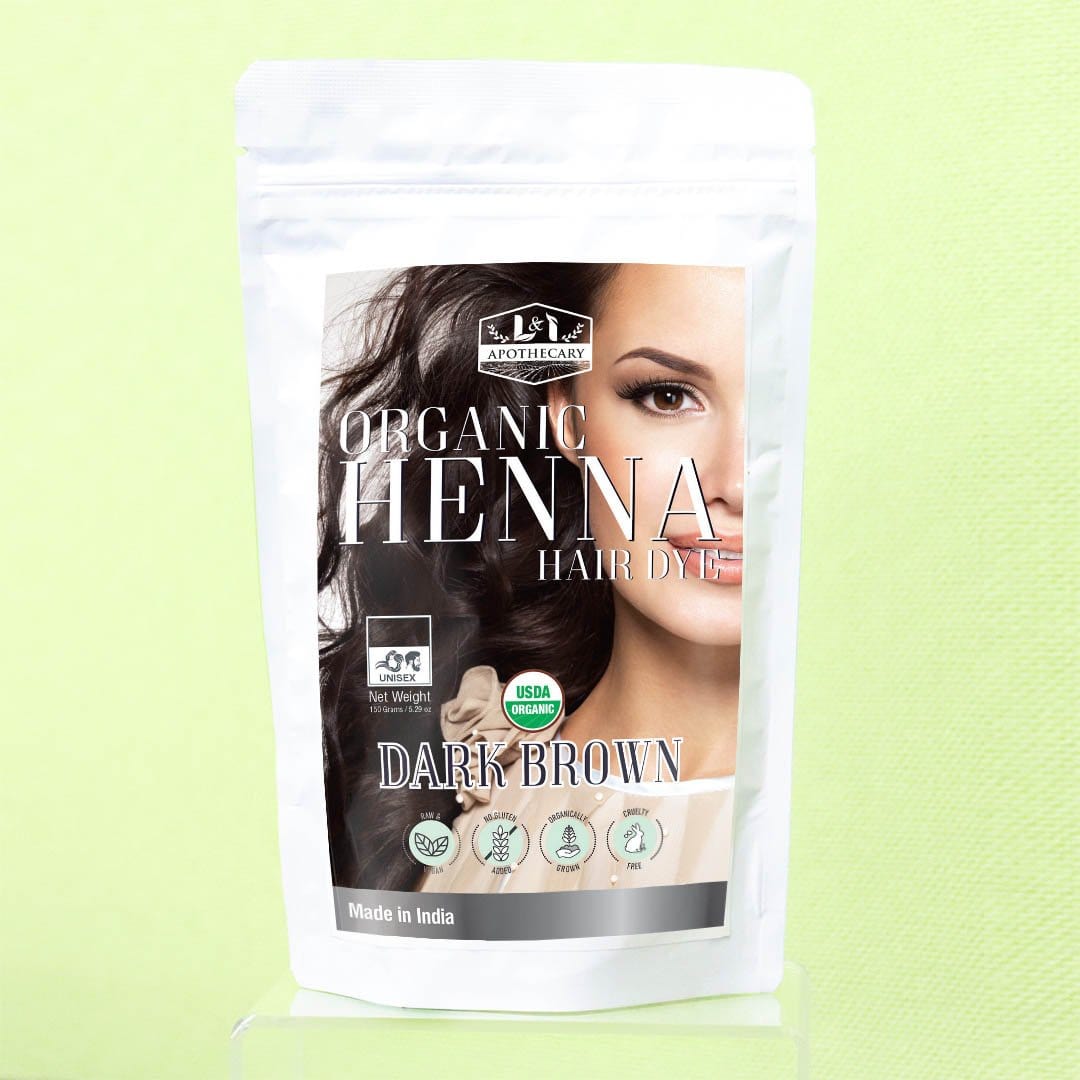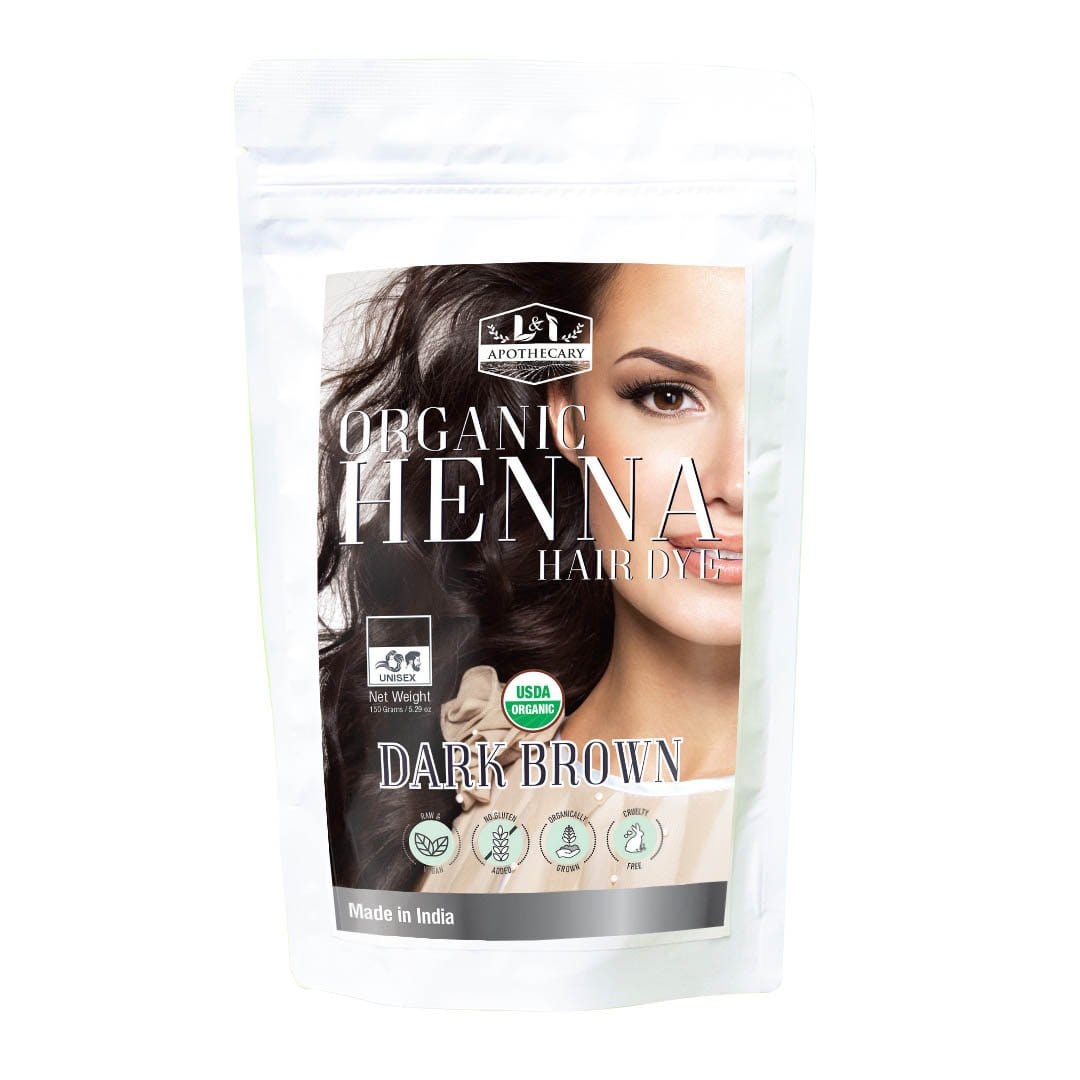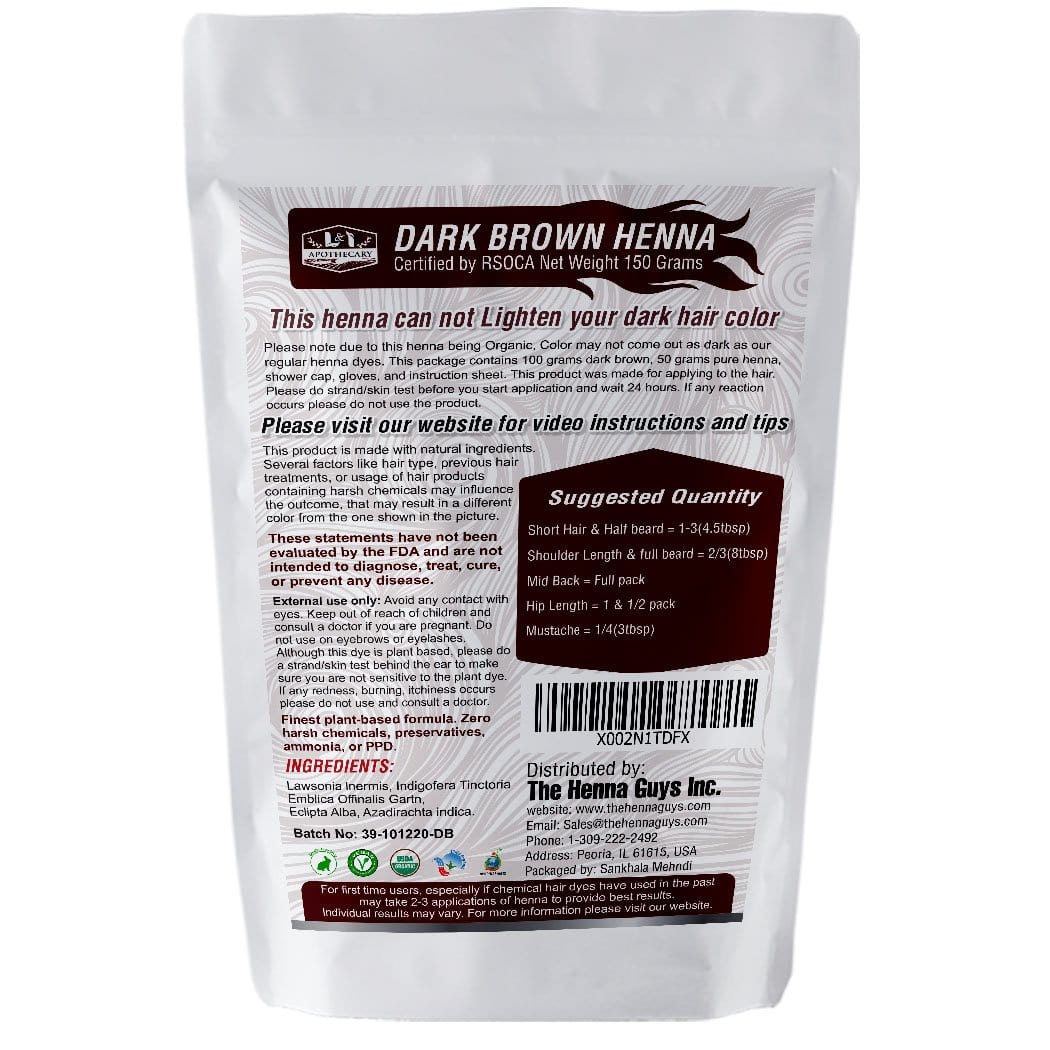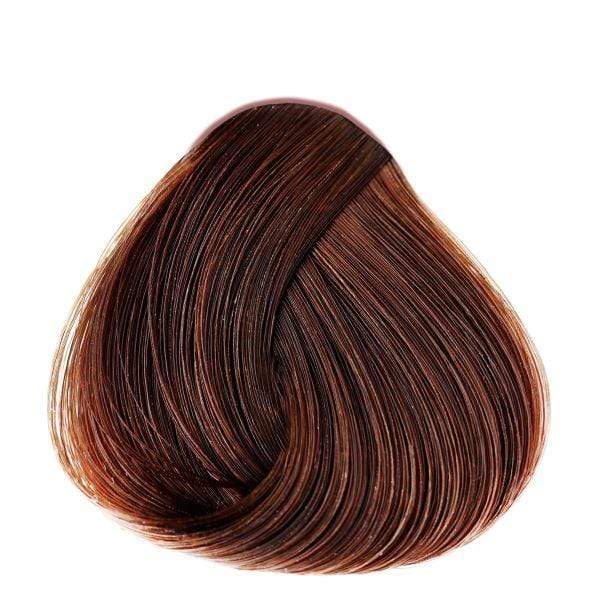 Customer Reviews
71
reviewers would recommend this product
Write a Review
Ask a Question
Filter Reviews:
hair
size packet
brown henna
texture
step
colors
reason
pack
henna
12/02/2022
Elizabeth P.

United States
I recommend this product
Gray coverage
The dark brown did not cover grays for long (1 week) and now they appear pinkish in color???? I don't know if I can henna again in such a short period of time. More information and video would be helpful for those looking to cover grays. Based on my needs don't know if I can recommend product.
11/28/2022
Silvia U.

United States
This henna covers my gray hair
This is the first time a henna actually covered my gray hair. I have about 70% gray. Other hennas I've tried left me with a pale brown color, you could still see the gray! Henna guy henna completely covers my gray. For years I used conventional hair color (toxic) until the day when I developed this allergic reaction that lasted for months...I was horrified that it would never go away. I am never going back to regular hair dye.
02/28/2022
Sana C.

United States
I recommend this product
Brown henna
Have been buying organic brown henna, good product. It comes with one large and a small size packet in each box. For some reason the colors of the henna in each packet is different including the texture. Definitely prefer the one that is in a smaller pack. Why is that so? It also gives a different hue and goes on smoother .
03/01/2022
The Henna Guys
The Dark Brown is a 2-step process. There is pure henna in one packet and dark brown powder in the other packet.
08/11/2021
Pauline W.

United States
I recommend this product
Customer service is no good
You guys ****, I sent a question via email and did not receive response. I did check my spam. Pauline Wilson 714@yahoo.com Also no one ever answered the phone, tried many times.
03/12/2021
K S.

United States
I recommend this product
Excellent product
I had some initial issues receiving the wrong item which was corrected by the customer service promptly. I have tried the Organic Dark Brown Henna Hair Dye and very happy with it. The process is tedious but the result is excellent.
03/08/2021
Shradha P.

United States
I recommend this product
Good
The Product I received had excellent quality however I thought it would be able to cover my grays to a dark brown color which it didn't. It was a result that I would get after wearing a regular henna. My expectations was that it would be more towards the darker brown apparently it wasn't the case. But I will continue to buy the product due to the excellent quality.
01/19/2021
Lien T.

United States
I recommend this product
Natural ingredients and soft hair after use
I love this natural organic ingredients. My color lasts longer and hair is so soft, not like using chemical hair dye. The only con is it will take about 6 hours to color your hair. I will definitely use it again and discontinue to use chemical hair dye.
01/01/2021
Serena B.

United States
Superior Quality
It is an excellent natural product that made my hair healthy, strong and shiny. Plus, the color is amazing.
03/06/2019
The Henna Guys
Thanks for the review! We really appreciate it! - The Henna Guys
Excellent product
It's a very good product , my hair looks very strong and healthy , covered gray hairs very well . I applied it for 2-3 hours.