Shaving Butter - Sandalwood
Regular price

Sale price

$ 15.95

Unit price

per
Give razor burn and irritation to the boot with this natural shaving butter. Experience a clean, comfortable shave thanks to essential oils and other natural, nourishing ingredients. Our Sandalwood Shaving Butter:
Is made with organic shea butter
Naturally moisturizes and soothes
Is made with 100% pure sandalwood essential oil
Is made in small batches to ensure freshness
Provides an irritation-free shaving and after-shave experience

Excellent for men and women with sensitive skin

Money-back Guarantee
Our shave butter is formulated to tackle the roughest, most rigid hair while being gentle on the skin. Shea butter and jojoba oil moisturize hair and skin, while pineapple and papaya enzymes exfoliate and aloe juice soothes. These ingredients are skincare superstars!
🌿 

Organic aloe leaf juice

🌿 

Sodium cocoyl

🌿 

Emulsifying wax

🌿 

Organic alcohol

🌿 

Extracts of calendula, papaya fruit, pineapple, papaya leaf, sugar cane, bilberry, sugar maple, orange, lemon, and cranberry

🌿 

Organic jojoba oil, stearic acid, organic cocoa butter, organic shea butter, frankincense essential oil, ginger essential oil, coriander essential oil
Key Featured Ingredients:
Shea butter has been valued as a skincare ingredient throughout the ages. We use shea butter in our shaving cream because it:

Is a natural moisturizer
Has anti-aging properties
Reduces shaving irritation
Provides skin-soothing hydration
Jojoba oil is packed with hair-loving nutrients that provide these benefits during shaving:
Razors glide smoothly over moisturized skin
Helps soften hair follicles for a close shave
Provides a protective layer to avoid cuts or burns
Contains anti-aging properties
Aloe juice, or aloe leaf juice, helps soothe, hydrate and renew skin while offering these additional benefits:
Organic aloe leaf juice is free of harmful additives and is true to nature
Promotes soothing and hydrating skin
Helps to reduce the appearance and frequency of acne
Excellent source of nourishing antioxidants and vitamins
Absorbs into the skin easily and helps soothe sunburn
Papaya and pineapple enzymes perform these essential skin tasks:
Slough off dead skin cells
Help minimize pores
Have clarifying properties
Allergy Warning: Although our henna hair dye is made with natural ingredients, sensitivities and allergic reactions to even natural products are possible. If you do not know your allergies, Always start by doing a strand/skin test before applying any henna.
Disclaimer: Individual results may vary. These are 100% natural products, and benefits are not guaranteed. The outcome may be affected by other factors like the type of shampoo or conditioner being used, as well as any other chemical hair treatments in the present or past that may affect results. 
 * These statements have not been evaluated by the Food and Drug Administration and are not intended to diagnose, treat, cure, or prevent any disease or health condition.
Our shaving butter DOES NOT contain foaming agents. It does not foam or lather as much as conventional shaving creams.
If you feel a slight stinging or burning sensation during the application, don't worry; it's a sign that the papaya and pineapple enzymes are busy exfoliating your skin.
Here is why we're the top-selling henna brand in North America. Our products are:
🌿 Ethically produced

🌿 Backed by a 100% satisfaction guarantee

🌿 Made in small batches for maximum freshness

🌿 Gluten-free, natural, raw vegan, and 100% natural
Share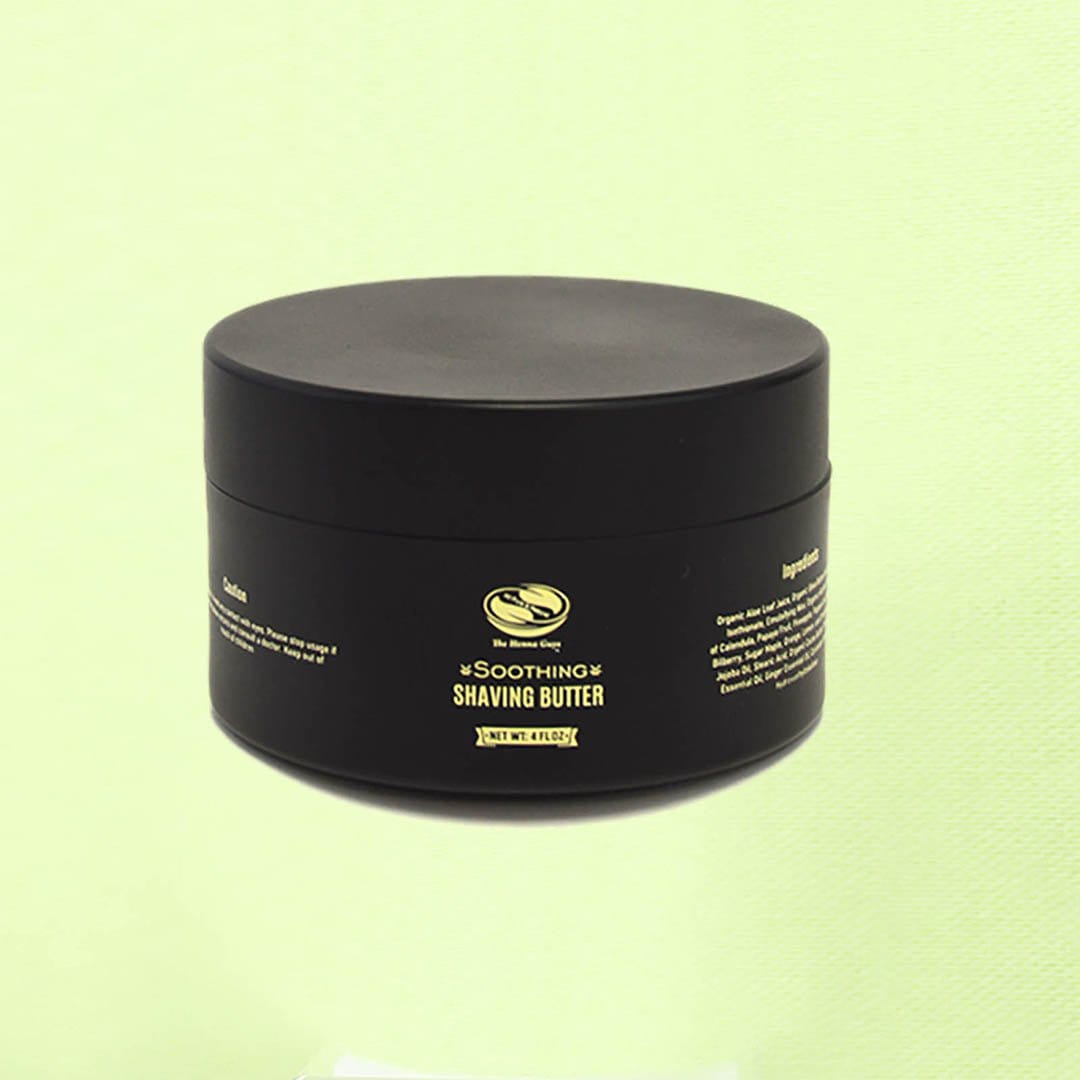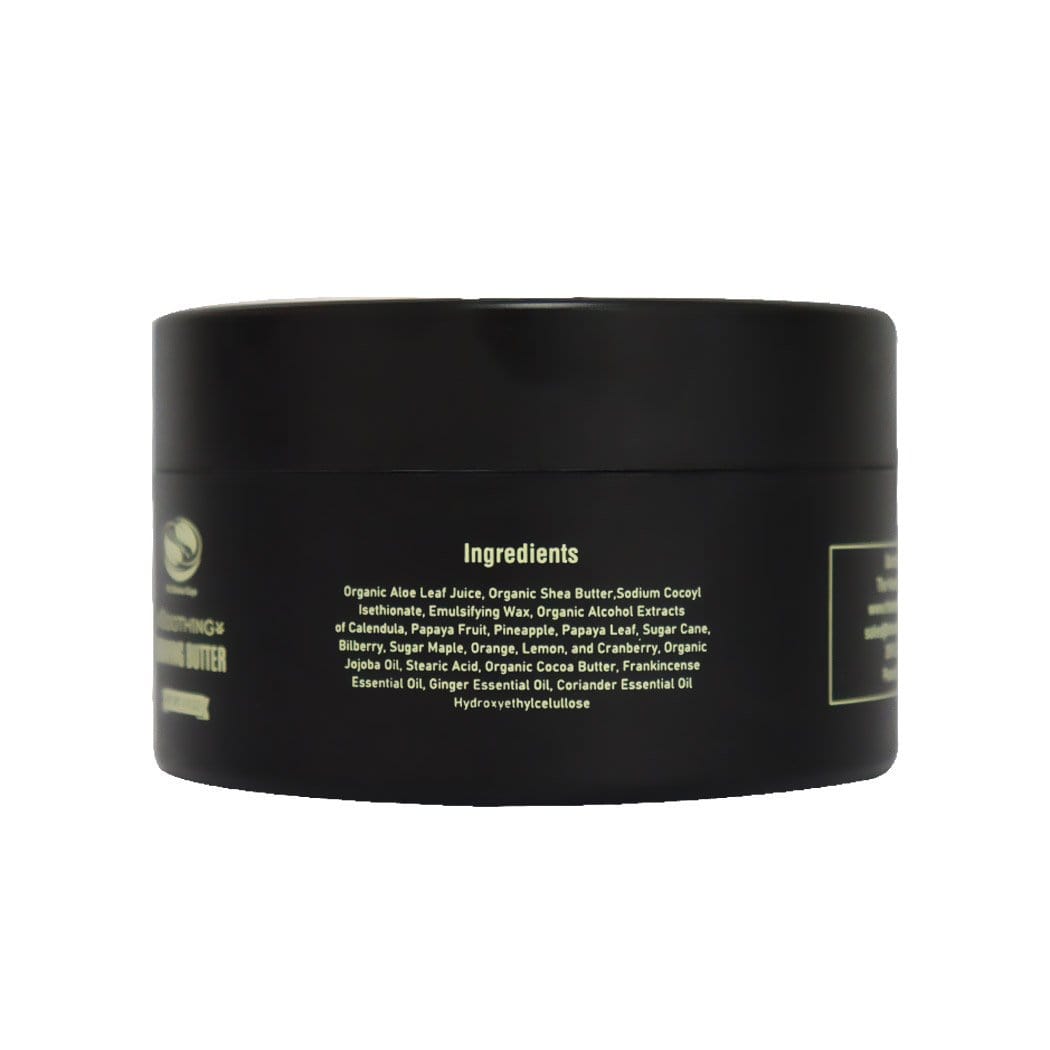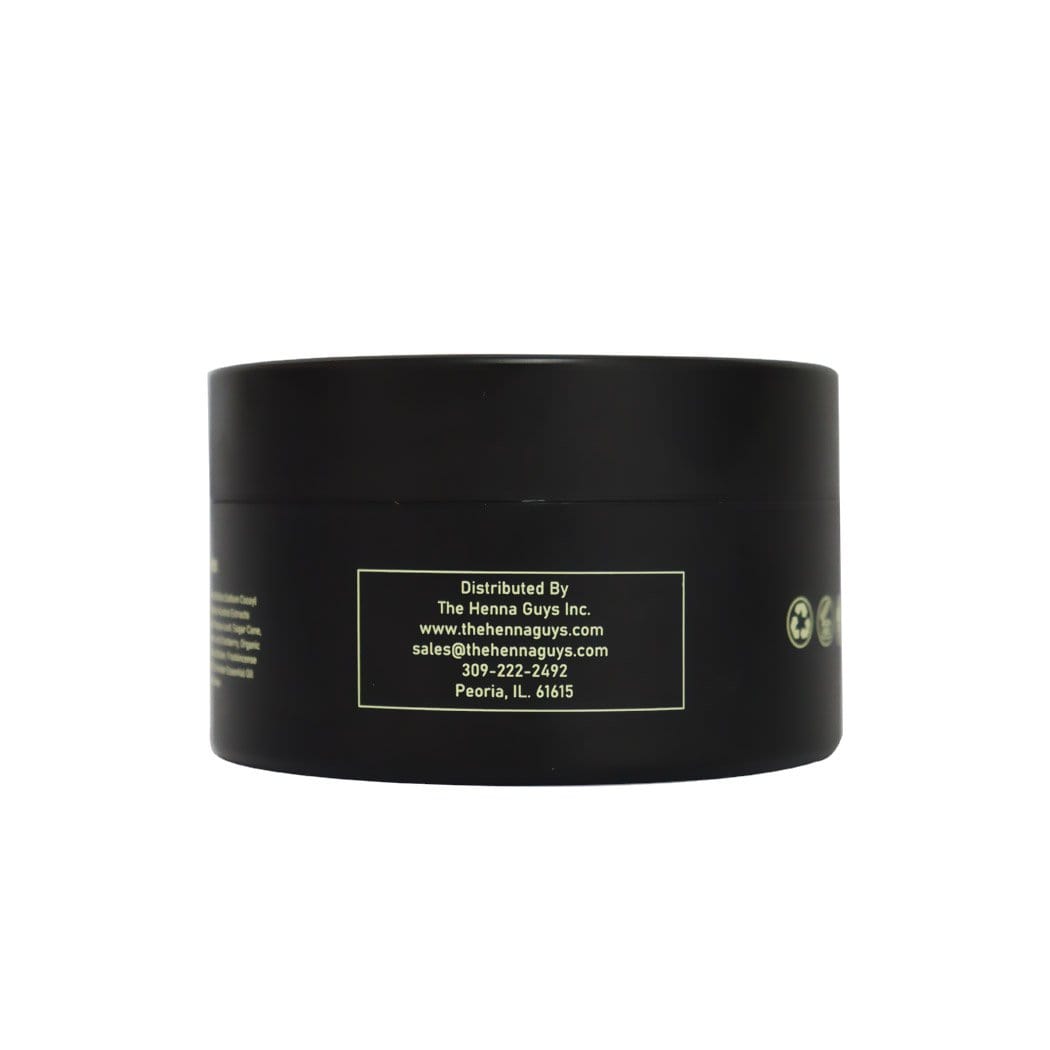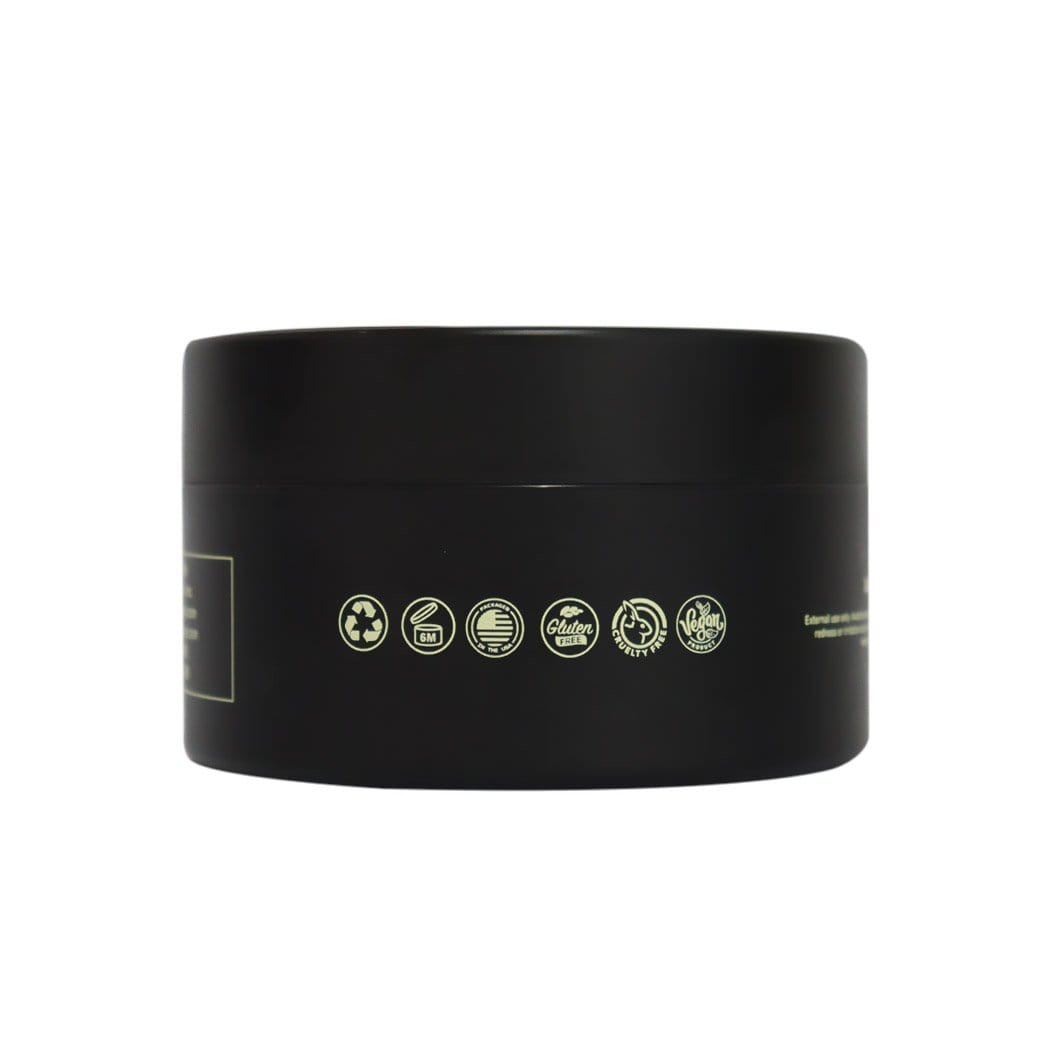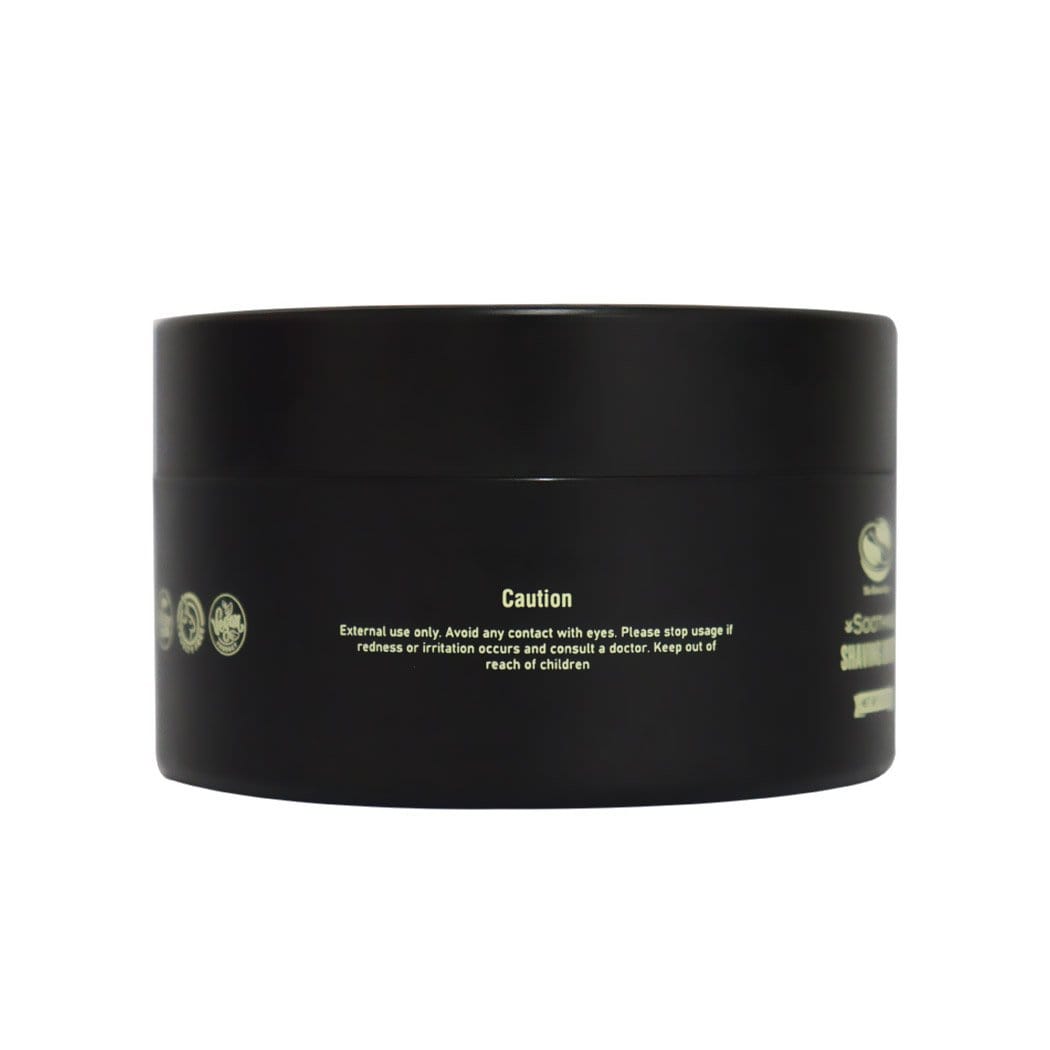 Customer Reviews
Write a Review
Ask a Question
Filter Reviews:
skin
butter
Henna Guys
shave
Sandalwood
shaving cream
guys
price
market
razor
12/22/2021
Jens R.

United States
I recommend this product
Plastic container ruins this for me
Organic shaving butter now in a plastic container? After years of enjoying this great shaving butter, I won't buy more because fat plus plastic equals significant hormone-disrupting chemicals applied to my skin
08/28/2021
Kathleen F.

United States
I recommend this product
Love this stuff!!
This shaving butter is so smooth and smells AMAZING! It does say it might be harder to rinse off your razor, but I actually found that to be a plus. The next time I went to shave, the residual on the razor allowed me to use less from the jar. I feel like it will last a long time. And I got a very smooth shave! Highly recommend!!
04/27/2020
Debbie

United States
Amazing
Everyone in the family loved it. I also use it as a body lotion. It smells so good and works so well for everyone.
Natural skin care products
It is very difficult to find natural skin care products nowadays. All companies in the market claim to be natural but most of their product are very far from being natural.Being disappointed, I decided to try one last product from a different. The company was the henna guys! By using their shaving products for more than 6 months, I've reached to a conclusion that they are 100% natural with no side effects at all! Recommended.
I am like
What a smooth shave, man. I am like totally feeling alive and my face is softest face ever. There is still traces of sandalwood scent. I am soaring high, I hadn't had this much enjoyable shave in ages. Count me in fandom of henna guys.
Great quality within reasonable price!
It is just perfect for my sensitive skin. It has great moisturizing properties which don't let my skin dry or irritated. The scent is very light and isn't overpowering at all. I recommend it to everyone having whether sensitive or normalskin!
Now my skin looks divine.
I heard so many talk about how their wrinkles vanished within six months of using henna guys sandalwood shaving butter. I decided to try. First I like this jar size, it's price is reasonable and more than that, it quality is top notch. It made my pores disappear which were hanging like open doors.
Sandalwood scent is love
My skin is so sensitive and had this huge issue with razor burns. But ever since adopting henna guys shaving butter I have not dealt with any such issues. My skin retains its glow and I get rid of thick hair just fine.
Moisturized skin
I can't help but stare at my shaved face ever since I started using henna guys sandalwood shaving butter. Not only do I get clean clear shave but also moisturized skin all day long. My shave tan is getting healed and skin complexion is improving all thanks to sandalwood shaving butter.
Now I enjoy shaving everyday
Sandalwood is the best for pimples skin. I started having pimples all of sudden, my physician said it was because my skin had become oily. Then I started using henna guys sandalwood shaving butter and the results were astonishing. Using sandalwood butter for 2 months completely erased the traces of pimples.
Fantastic
Fantastic and aesthetic color of shaving butter is what I live for. The best part about shaving is the feeling of smooth skin where no hair bump against my fingers. Henna guys sandalwood shaving butter gave me just that. Now I have begun to enjoy the process of shaving with calming sandalwood aroma.
Only Henna products
A friend of mine is always on about sandalwood and its benefits so I had to try. Must say it gave me heavenly experience . I already use the Henna guys shaving butter and I am in love with all their products. Their products carry no harmful chemicals or preservatives. Shaving butter with sandalwood not only gave soft shave, it also removed my sun tan.
Price just reasonable
Honestly, I find sandalwood shaving butter to be one of the best. Unlike other brands, I find the price just reasonable and the quality is very satisfying. The essence and refreshed feeling is priceless. Started using it a year ago, and there are no complaints thus far. Henna guys product really are organic. Try it
Very good quality
Very good quality shaving butter! The scent of sandalwood is not so overpowering. I'd a smooth shaving experience leaving my skin so soft and smooth to touch. Moreover, it just moisturized my skin and caused me no burns or cuts. It saved my skin from becoming a field of razor bumps.
I am so glad
I found the henna guys shaving butter just awesome! I came across this while browsing a panacea for my pimpled skin which burns like **** when shaving. I was filled with astonishment when in less than a month I got rid of pimples. It has been 5 months, I have been using sandalwood shaving butter and I am so glad to finally find my perfect shaving partner. Thank you Henna guys for providing me the panacea to pimples along with wonderful shave.
Just Amazing
Got sandalwood shaving cream a week ago. I must say that this cream is unusually amazing as compared to other shaving products available in the market. I've really felt a difference in my skin after shifting from usual shaving cream to this wondrous sandalwood cream.