Pre shave Oil - Sandalwood, Remedy for Razor bumps & Ingrown hair
Regular price

Sale price

$ 22.97

Unit price

per
Moisturizing Pre shave Oil with sandalwood essential oil
✓ Skin Loving Grapeseed, Avocado, Argan & Marula Oil
✓  Soothing Shaving & After Shave Experience
✓ Works Great with Straight & Safety Razors
✓ Excellent Unisex Pre shave oil for individuals with sensitive skin
✓ No more bruises, bumps & razor burns
✓ Works Great, even with most rigid hair
✓ Cruelty-Free, Paraben-Free, Preservative-Free
How to Use: Take few drops of oil or as required, massage it well on desired shaving area for around a minute, once ready, use your favorite shaving butter / cream to prepare shave and shave accordingly. It works great with our shaving butters (made with shea & cocoa butter)
Benefits:
Irritation & burn free shave

Works great with any type of razor

Perfect oil consistency ensures gliding razors

Ultimate comfort & no more razor burns

Works like a charm on tough & rigid hair
How to Use: Take a pea size oil, rub into your palms and apply it on your shaved area just as you would use a regular aftershave, it will help with any aftershave issues if any.
Benefits:
On top of being all natural which is a great benefit in itself, here is what a continuous use bring about.
Soothing & cooling effect

Moisturizing & Anti aging

Ultra hydrated & smooth skin

Delays aging & formation of wrinkles
3. As Beard Conditioning Oil
How to Use: Use few drops of oil or as required per size of the beard, rub it into your palms and apply on beard thoroughly by massaging it into beard. Using this as a regular beard oil brings various benefits.
Benefits:
Smooth & silky beard

Shining & Frizz Free beard

No Itching or Scratching

100% Natural & organic

Soaks in quickly & instant shine
Caution and Allergy Warning
Contains oil extracted from tree nuts. Always test product on small swatch of skin before using. External use only. Avoid any contact with eyes. Please stop usage if redness or irritation occurs and consult a doctor. Keep out of reach of children.
Take a few drops of oil, massage it on desired shaving area to prepare for the shave, once ready, use shaving cream or shaving butter to get a mild leather, shave on and enjoy the soothing aftershave experience.
Grapeseed Oil
Avocado Oil
Jojoba Oil
Argan Oil
Marula Oil
Sandalwood Essential Oil
Share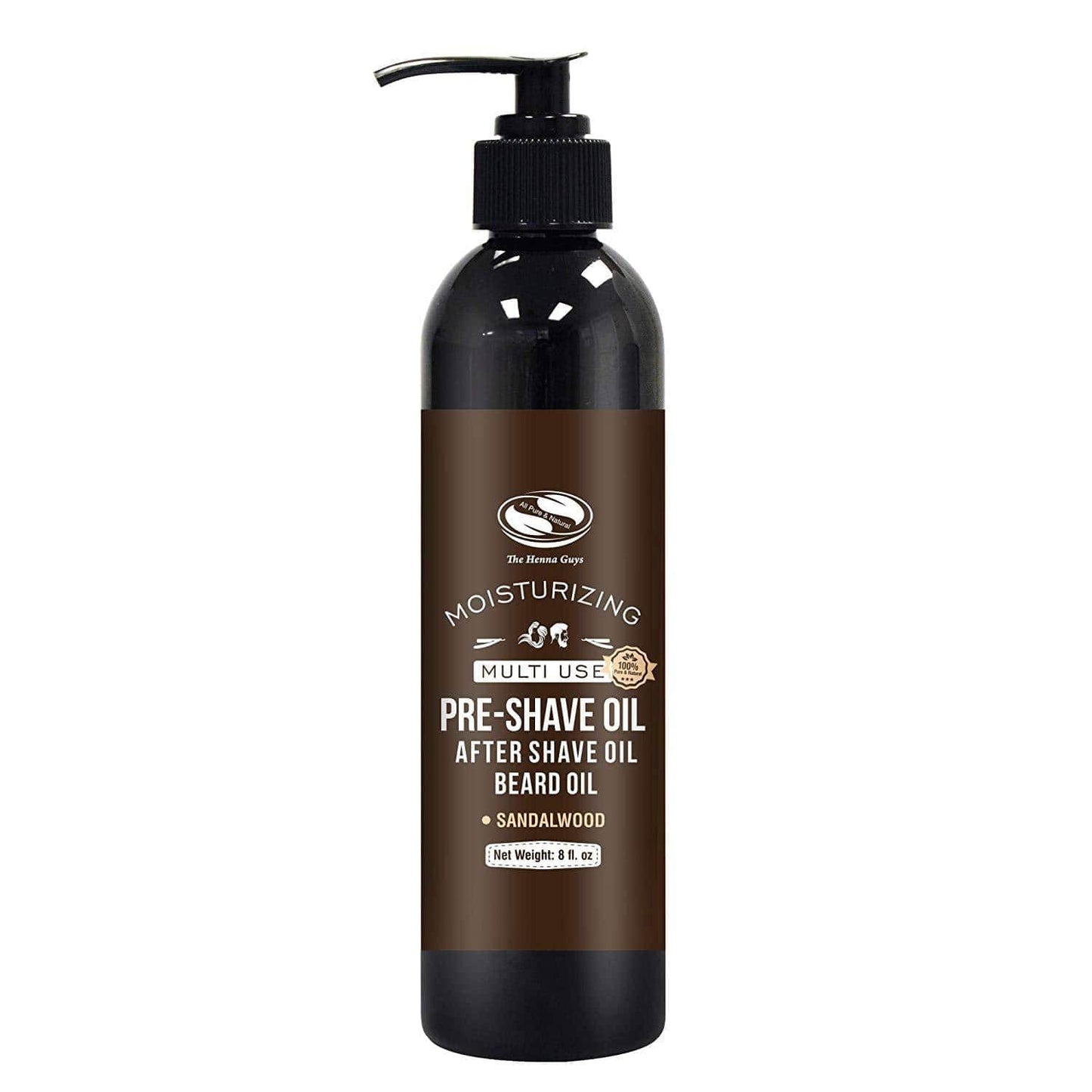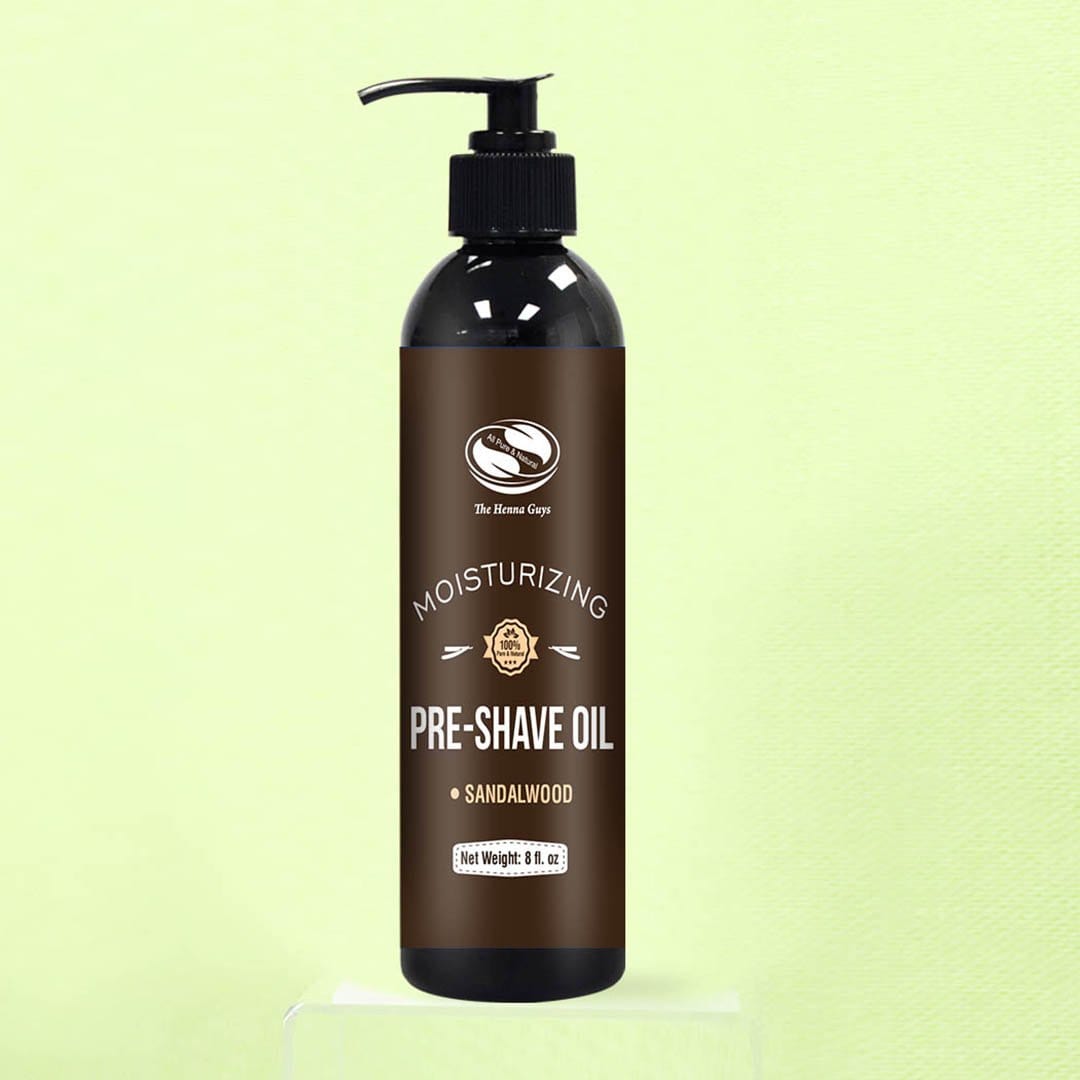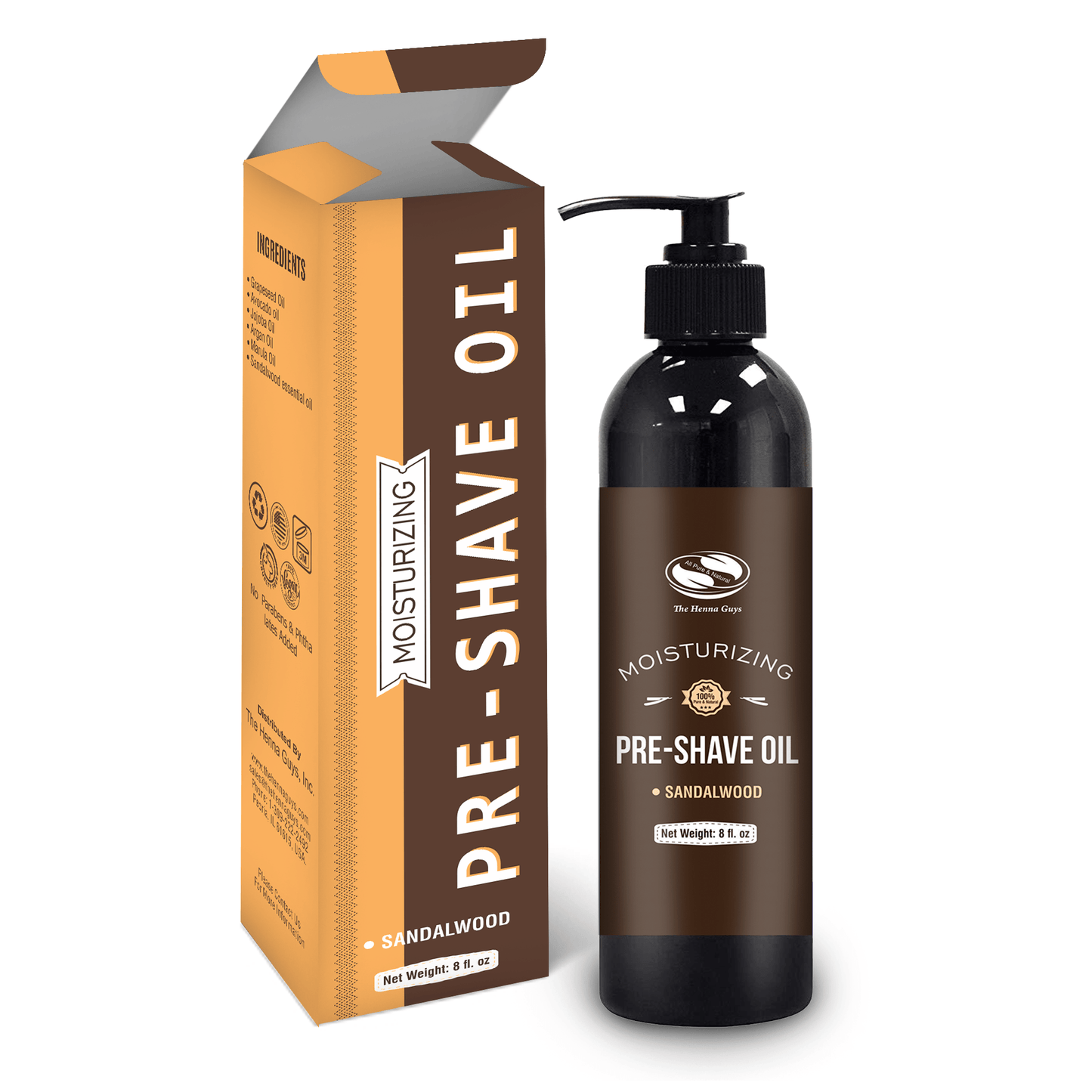 Customer Reviews
100
reviewers would recommend this product
Write a Review
Ask a Question
Filter Reviews:
skin
Henna Guys
Sandalwood
scent
guys
shave
results
hair
nutrients
henna guys sandalwood pre
I recommend this product
Great pre-shave wonder!
Has given me the smoothest shaves I've had in years! Thanks, guys!
03/14/2021
Charlie C.

United States
I recommend this product
Razor burn got you down?
I have really enjoyed shaving with the pre shave oil. For years I have been shaving and often get razor burn unless I use some type of pre shave oil. So far I have shaved twice using the oil and it has not only reduced the razor burn, it makes for a smooth shave experience. I would recommend this product to anyone looking to reduce the negative aftermath of shaving, or just looking to enhance their routine.
Moisturized my skin
Best Pre-shave oil! I am so going to stick to Henna guys sandalwood pre shave oil! It moisturized my skin without leaving it greasy! I had a smooth and close shave after applying it to my skin. Furthermore, the sandalwood fragrance is very sweet and appear to be as of natural fresh sandalwood.
Finally, cruelty free and vegan!
I have been trying to get cruelty free pre shave oil. What's more, its my lucky scent. Its aroma therapy does wonders to me and my skin does not get dry all day long. Long live henna guys!
feels completely natural.
This pre-shave oil is exactly what I needed. I just love the scent of sandalwood and finding it the form of shaving oil means a lot to me! Besides, it has amazing moisturizing properties which gives me smooth and clean skin after shave.
protected my skin
It lubricated so well, even though I have very thick hair, I massaged sandalwood pre shave oil and it resulted in burn free shave. Also, the combination of organic oils with out any chemical or preservatives protected my skin. Thank you the henna guys, saved my life.
Try and see for yourself folks
I never would have believed without trying for myself.,what sandalwood essential oil is capable of. Organic composition got my attention and after using henna guys pre shave oil for a year, I feel I should have given it a try earlier.
pure organic lubricant
One of the best pre shave oil out there, henna guys providing completely natural and pure organic lubricant. I so wish I had gotten to know henna guys a little earlier. To make it up, I recommend all my friends and fellows to switch to henna guys sandalwood pre shave oil.
Solve my dryness problem
It's aroma is sweet and calming. Sandalwood pre shave oil has healing abilities. I used to get rashes because my skin is dry. After I used henna guys sandalwood pre shave oil, not only did it solve the dryness problem, it also healed those little cuts from previous shaving. Now I gladly shave everyday
Moisturized skin
Just ask your grandma the benefits of sandalwood for skin. I use sandalwood pre shave oil every time my skin `gets dry. Sandalwood gives me such moisturized skin and it exfoliates all dead skin leaving smooth skin. After using henna guys sandalwood pre shave oil my face retains sweet scent of sandalwood all day long.
amazing nourishing
Thispre-shaving oil has become my daily skincare product because of its amazing nourishing properties.It has liberated me from razor nicks and cuts by providing a smooth and close shave. My skin became so soft and smooth after its first use. Thanks to you Henna guys for giving such a great product!
07/23/2019
Victor M.

United States
Excellent shaving oil
This is actually very good as pre shave, shave and post shave oil. Will not go back to cream or gel.
Smooth
I discovered henna guys pre shave sandalwood oil in super market the other day. Its spray nozzle got my attention. I bought 2 oz bottle to try it out and now I am an addict to sandalwood scent. It gave me a natural feeling of smoothness and I could see how well it exfoliated my skin. The small bottle comes in handy since I travel a lot.
face trouble
I have thick beard and rough skin and I face trouble when shaving as other pre shave oil do not properly lubricate my skin through thick hair. I switch from one product to another, desperately searching for the best brand. But not anymore, I bought Henna guys sandalwood pre shave oil and it yielded best results. I am so gonna stick to Henna guys pre shave oil. Plus the sandalwood scent is just like the real sandalwood powder. Best!
Superb
When I first time used henna guys pre shave oil I thought 'superb. ' Really, I can recall how smooth my skin felt afterwards and there was no irritation. It was my first time using sandalwood pre shave oil, I enjoyed it delicate scent. Its awesome and organic. It's a must use shaving oil for everyone. So grateful to henna guys for coming up with organic pre shave oil.
Restored my skin
Good quality pre-shave oil! I applied a thin layer of this oil on my skin before shaving.Due to its natural ingredients, itsoothed, moisturized, softened, hydrated, and restored my skin. My skinbecame very soft and smooth just I expected it to be. Recommended.