Pre shave Oil - Lemongrass & Eucalyptus
Regular price

Sale price

$ 22.97

Unit price

per
Try our naturally moisturizing multi-use oil that is perfect for most of your hair needs! Whether it be prepping your skin for a smooth shave as a pre shave oil , or an aftershave for a post-shave moisturizing session, or just part of your daily beard or hair conditioning routine, our oil works hard to soften your skin & hair and leave it smooth as silk.
our pre shave oil is formulated with naturally moisturizing, skin & hair loving oils like jojoba oil, grapeseed oil and avocado oil, our special formula ensures oil consistency & texture is not too thin that it does not create enough gliding or not too thick that it clogs the razors. It works great with straight or safety razors. Pre shave oil works by moisturizing skin and softening hair follicles which results in reduced friction with razor resulting in smooth, irritation free shaving and cuts & bruise free aftershave experience.
If you're looking for a multipurpose oil that's cruelty free, made with natural ingredients, and great for those with sensitive skin, our three in one oil is for you!
How to Use: Take few drops of oil or as required, massage it well on desired shaving area for around a minute, once ready, use your favorite shaving butter / cream to prepare shave and shave accordingly. It works great with our shaving butters (made with shea & cocoa butter)
Benefits:
Irritation & burn free shave

Works great with any type of razor

Perfect oil consistency ensures gliding razors

Ultimate comfort & no more razor burns

Works like a charm on tough & rigid hair
How to Use: Take a pea size oil, rub into your palms and apply it on your shaved area just as you would use a regular aftershave, it will help with any aftershave issues if any.
Benefits:
On top of being all natural which is a great benefit in itself, here is what a continuous use bring about.
Soothing & cooling effect

Moisturizing & Anti aging

Ultra hydrated & smooth skin

Delays aging & formation of wrinkles
3. AS BEARD CONDITIONING OIL
How to Use: Use few drops of oil or as required per size of the beard, rub it into your palms and apply on beard thoroughly by massaging it into beard. Using this as a regular beard oil brings various benefits.
Benefits:
Smooth & silky beard

Shining & Frizz Free beard

No Itching or Scratching

100% Natural & organic

Soaks in quickly & instant shine
Caution & Allergy Warning
Contains oil extracted from tree nuts. Always test product on small swatch of skin before using. External use only. Avoid any contact with eyes. Please stop usage if redness or irritation occurs and consult a doctor. Keep out of reach of children.
Take a few drops of oil, massage it on desired shaving area to prepare for the shave, once ready, use shaving cream or shaving butter to get a mild leather, shave on and enjoy the soothing aftershave experience.
Grapeseed Oil

Avocado Oil

Jojoba Oil

Argan Oil

Marula Oil

Eucalyptus Essential Oil

Lemongrass Essential Oil
Share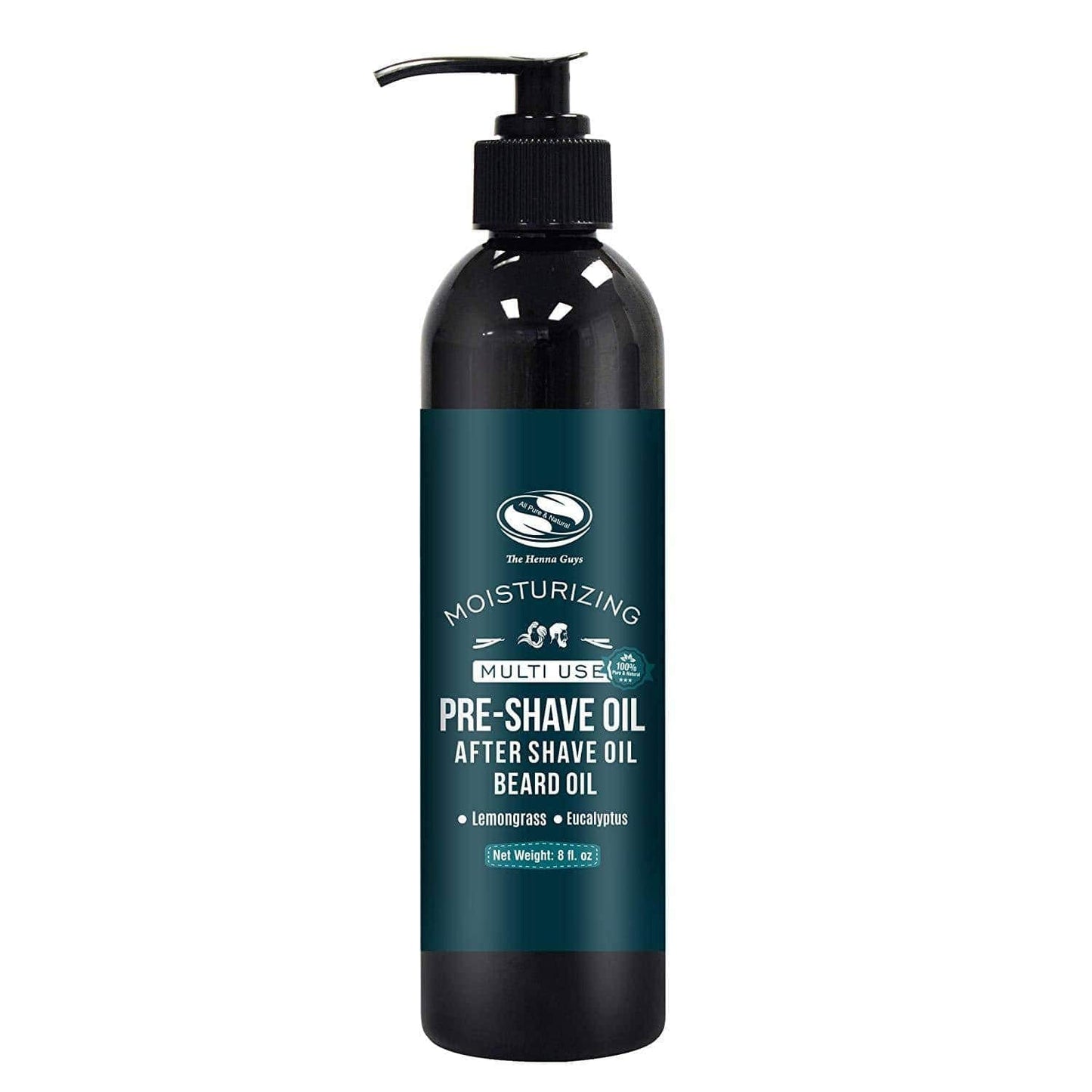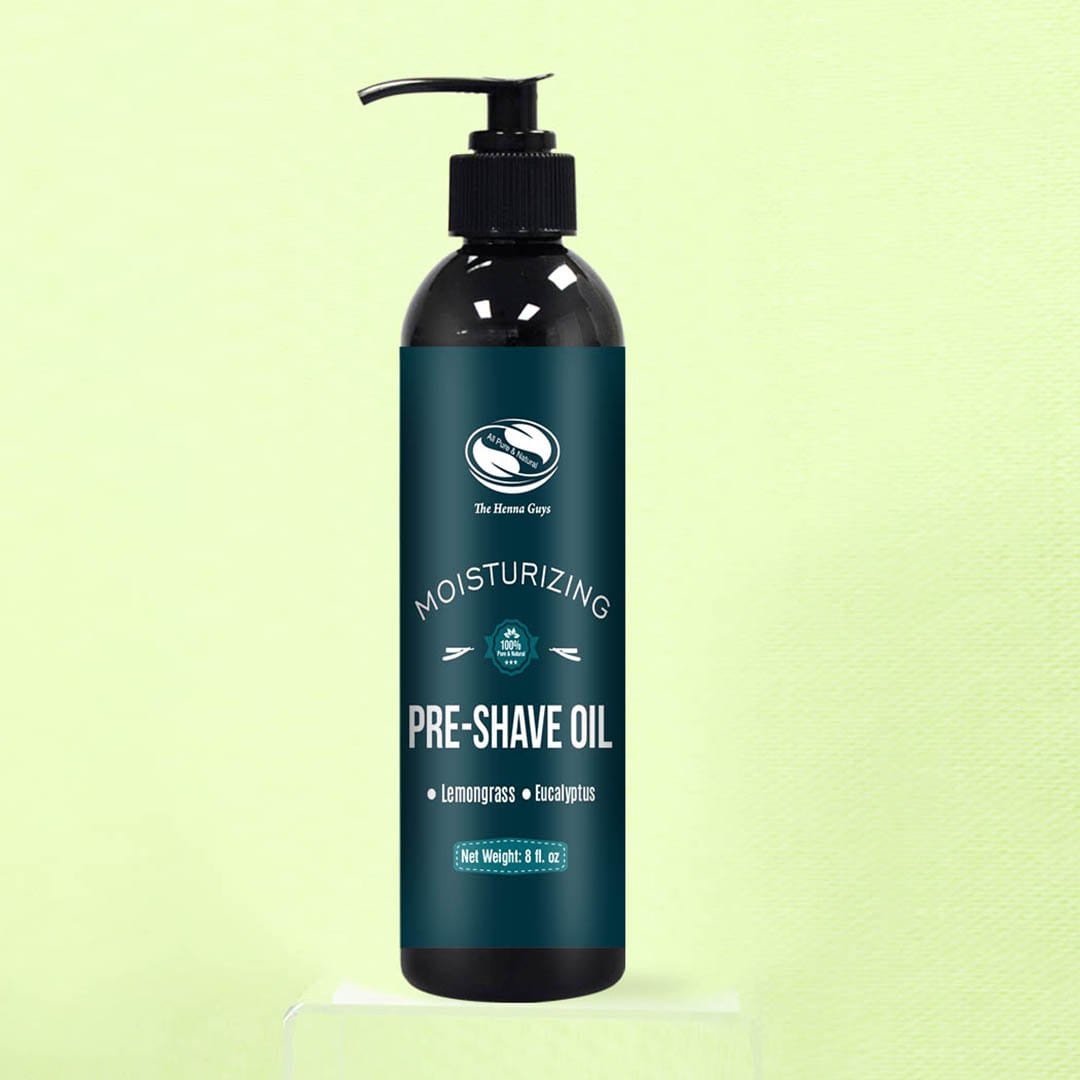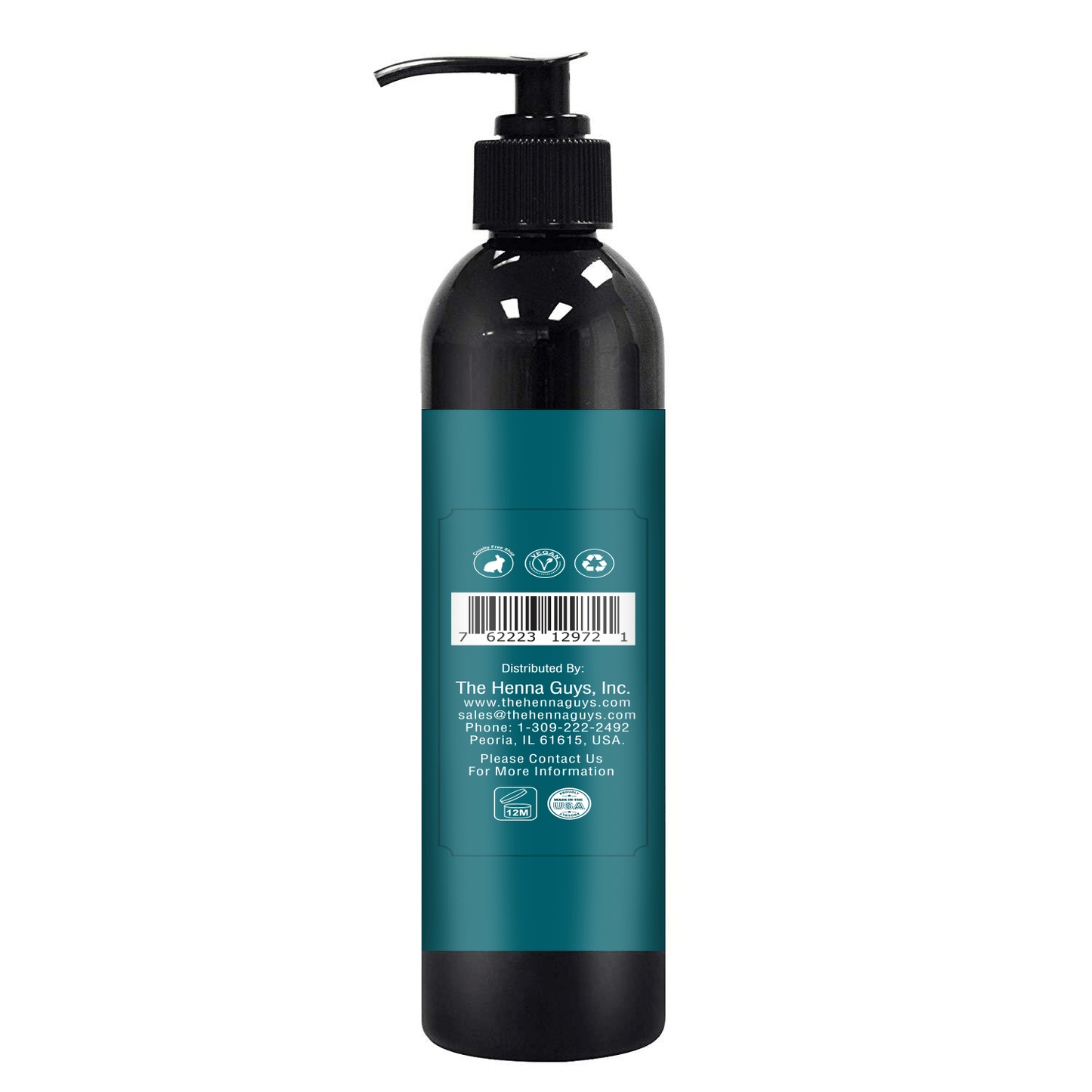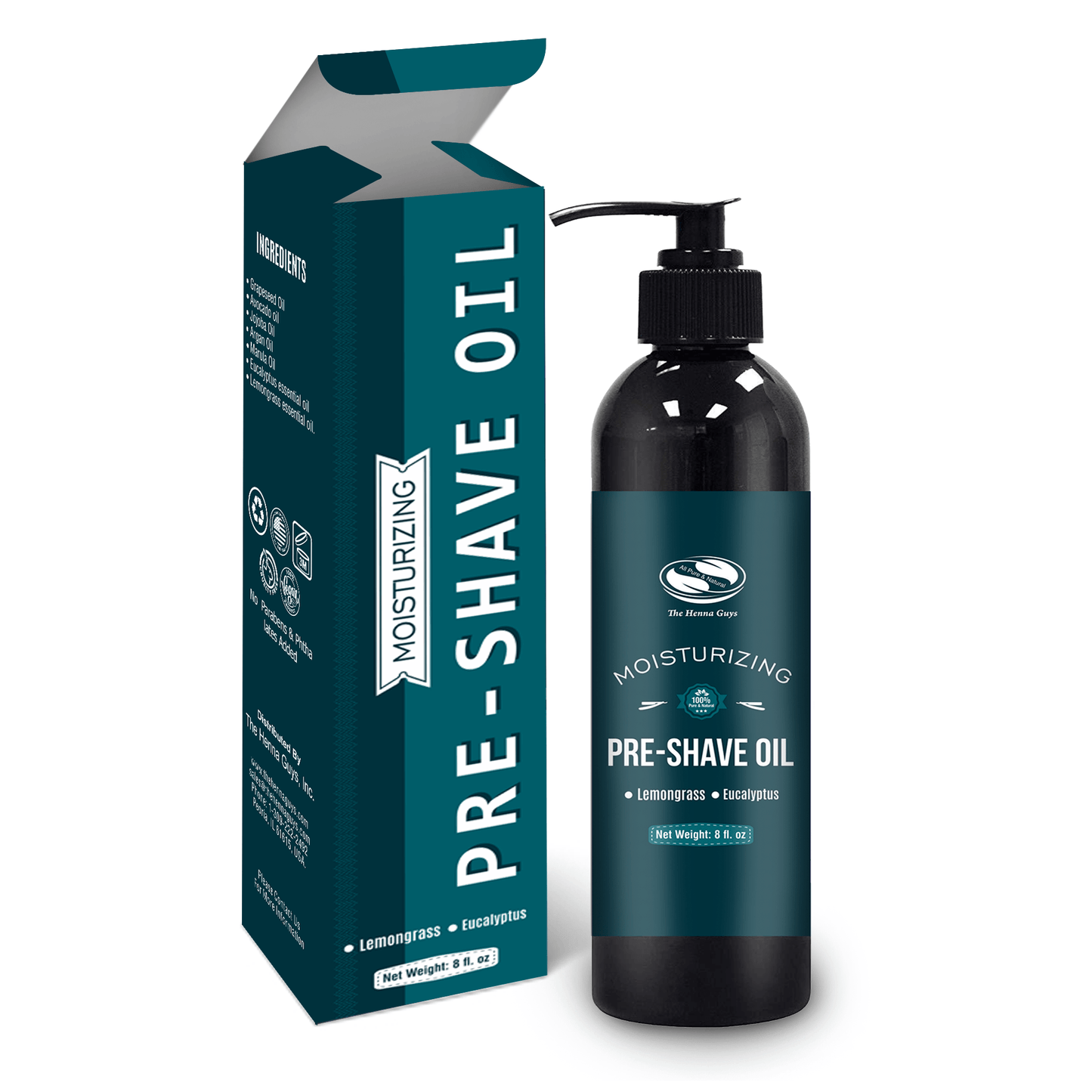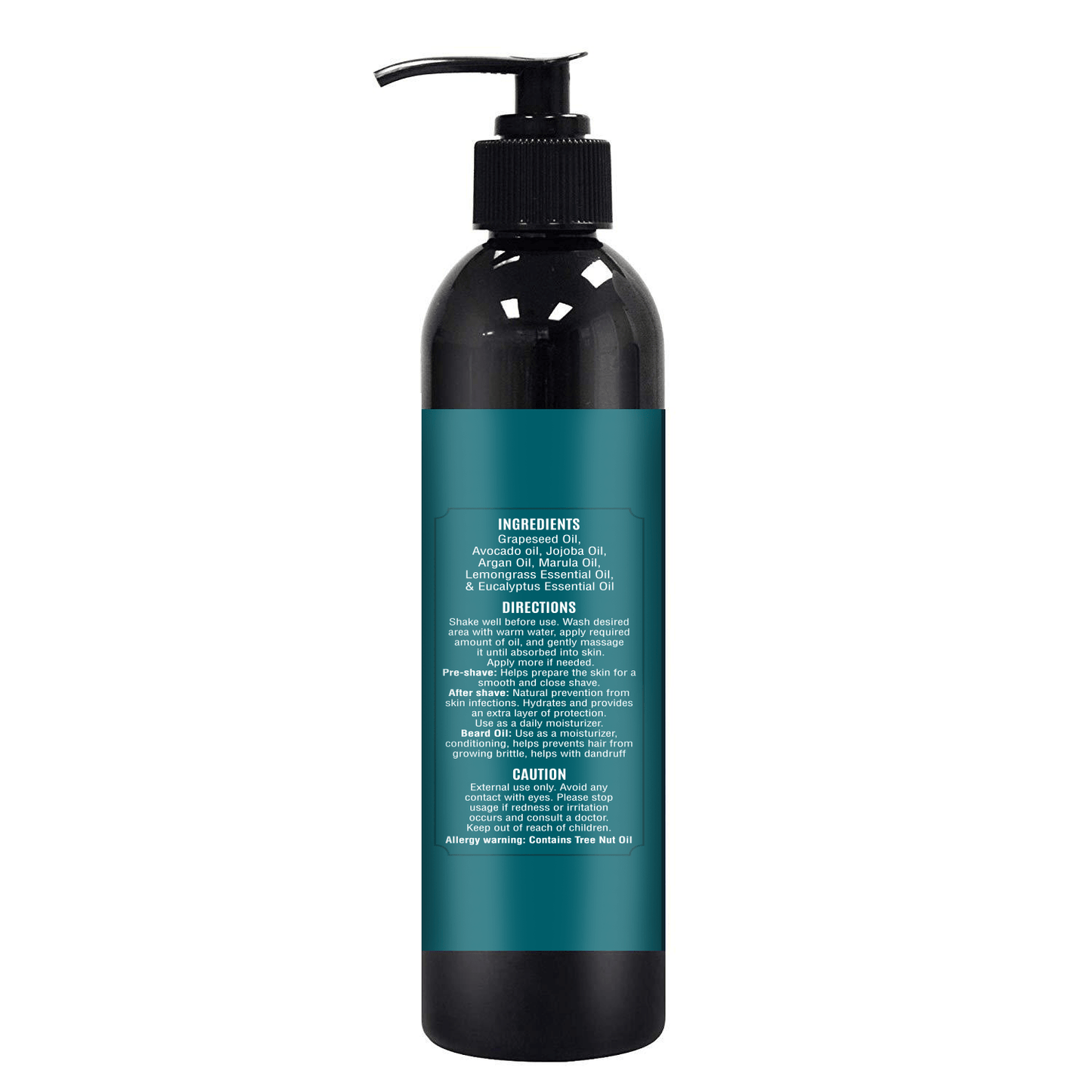 Customer Reviews
100
reviewers would recommend this product
Write a Review
Ask a Question
Filter Reviews:
Lemongrass
skin
shave
eucalyptus
Henna Guys
properties
irritation
scent
experience
bacteria
I recommend this product
Best Ever
I have tried numerous Pre shave oils and this is the absolute best. Makes shaving so much smoother.
08/02/2020
Brian G.

United States
"I'm a believer"
I have never had such a smooth shave. The pre shave oil feels great on my skin and it smells fresh and healthy. I also use the shaving butter with shea butter. The shaving butter adds to the Smooth experience. I like that it doesn't lather-up . I look forward to my new shaving routine. Try it Guys 5 stars
01/11/2020
Erik R.

United States
Excellent product
My wife gave me this pre-shave for Christmas. I was skeptical: I use Cremo for shaving and couldn't see how any additional slickness would help. I was even more skeptical when I got the first squirt from the bottle, and it felt just like cooking oil. But it's great. It works really well as a base for the Cremo to thicken it up and keep it from washing away so quickly. And I get a smooth, close shave, with many fewer nicks and much less irritation. I was worried the oil might cause breakouts, but this isn't an issue at all. Highly recommended.
Pre-shave oil are just awesome
I've been noticing a reduction in my skin breakouts and dryness since I am using this product. The antibacterial and antifungal properties of this lemongrass pre-shave oil are just awesome! I do not get any burning, redness or pimples after the shave. In addition to this it hasn't made my skin dry like all other skincare products which have antibacterial properties! Highly recommended.
My favourite
This product has become my favourite now! Its antibacterial and antifungal properties have got me! The calming scent of lemongrass and eucalyptus is a plus! It gave me soft and smooth shave without any hassle. There was no foam of this butter so I could easily see my missed hairy areas clearly instead of shaving all over again!
I liked henna guys
It's antiseptic properties with sweet scent of lemongrass gives the best feeling after shave. I so appreciate their spray bottle that allow not a single drop go to waste and easy to use as well. Among all shaving oils, I liked henna guys pre shave oil the best
This pre-shave oil is just superb!
It has solved my all problems of shaving. I used to get irritation and acne after shaving and also the itching afterwards was very annoying. I switched from shaving to other methods of hair removal. But after trying lemongrass and eucalyptus pre-shave oil, I am compelled to opt for shaving again as it is the quickest method of hair removal.
naturally blends
I live for smooth, clean and glowing shave. I used every pre shave oil from henna guys. I recently got myself this lemongrass and eucalyptus. Its priceless. I like it scent as well plus the eucalyptus naturally blends with my skin. I suggest everyone to go for this pre shave oil.
Strongly recommended
With just one shave I changed my opinion about henna guys pre shave oil. I now do not have to face acne, nor irritation. Anti septic and anti inflammatory properties are extra bonus. Plus the razor cuts help so quickly now than ever.
Nice scent
I am so in debt to henna guys for saving my neck, had they not sent my order at time I would have been dead by now. I hurried to shave, it was one of those very important day for me and it felt divine not feeling any razor burns. Then I hosted my best buddies wedding reception with a fresh look and nice scent. Gratitude
Don't Worry about every shave
Sensitive skin is such nuisance, I had to worry about every shave and no popular pre shave oil brand completely addressed my skin issues. My brother recommended me lemongrass and eucalyptus combination of henna guys saying it yields best results. I too found it completely natural and now I don't get any irritation or aching after using this pre shave oil. Thank you henna guys
#My greatest
I had to massage pre shave oil to make it reach all crust and troughs of my rough skin and there would be places left where it used to burn like ****. But henna guys lemongrass and eucalyptus pre shave oil has addressed my greatest concern. Its thickness makes a good lubrication and I feel no burns afterwards.
Absolutely loved
I absolutely loved the mixture of lemongrass and eucalyptus in pre-shave oil. They both possess magical antibacterial and antifungal properties.I was looking for a product which could save me from skin infections without drying it up after shaving and this product is exactly what I needed! Smooth shav with no pimples! Recommended.
07/23/2019
Victor M.

United States
Very good shaving oil.
Excellent ...same experience as the sandalwood oil.
best for my skin
I chose henna guys shaving oil for two obvious reasons; it's available with lemongrass and eucalyptus as base, second; it's cruelty free. I am a vegan and its against my vows to use non-vegan products no matter how insignificant. In addition, I find lemongrass and eucalyptus mix best for my skin. It has resolved my acne issue.
Great product
My greatest problem is how quickly bacteria grow in summer which is why I switch to Henna guys lemongrass and eucalyptus pre shave oil. I always buy Henna guys products and I have tried their every pre shave oil. I am totally in love with their natural products. They sure live up to their claim, 100% natural!