Medium Brown Henna Beard Dye
Regular price

Sale price

$ 14.95

Unit price

per
Our medium brown henna beard dye is made with all-natural and vegan ingredients. We use a chemical-free formula so that you can safely dye your hair, beard or mustache without worrying about skin burns or irritation, often a result of the additives or chemicals in dyes.
Here is what you can expect from our henna beard dye
No more chemical reactions

No Itching, irritation, or burning

Covers the grey naturally

Helps your overall hair health
Money-back satisfaction guarantee
Why is our henna unique
To make the base of our henna hair dye, we create the perfect ratio of raw henna and indigo powders. Additional herbs are added to the product to enhance the color. Our triple cloth sifted mixture is made in small batches and packaged in double insulated bags for freshness. With an all plant-based formula, this hair dye will leave you with quality results.
Note: This Medium Brown Henna Beard Dye works the best on light hair and may not show results on dark hair.
Here is why we are the top-selling brand in North America.
✅ Gluten-Free, raw, & natural hair dye
✅ Chemicals free, silky smooth
✅ Blend of henna, indigo, amla, & neem.
✅ Triple sifted powder for non-clumpy paste
✅ Always a fresh batch, ethically-produced
✅ Comes with shower cap, gloves, & application instructions 
Ingredients and how they work:
To start off the base of the dye, use red-toned henna powder, which is made from all-natural henna leaves. The henna has natural conditioning abilities and can provide a wide range of shades when mixed with other ingredients.
Indigo (Indigofera tinctoria)
To help alter the red tones of henna, we add ratios of Indigo powder, which comes from the indigo plant. Indigo has a natural blue hue, and when mixed with henna, it creates many shades of browns and blacks.
Myrobalan (Terminalia bellirica)
With its faint yellow color, myrobalan is essential in creating the medium brown shade. The powder is made from a tree seed and helps manipulate the colors of the dye.
Amla (Phyllanthus emblica)
Brighten your color and help keep it intact with the herb amla, a derivative of the Indian gooseberry. It works wonders with its natural properties to help you achieve better color results.
False Daisy (Eclipta alba)
False daisy adds a natural glow and shine to your facial hair, so it looks attractive and healthy.
Neem (Azadirachta indica)
Neem works to condition the facial hair so that it looks maintained and sleek.
Click below to view printable application instructions.
Share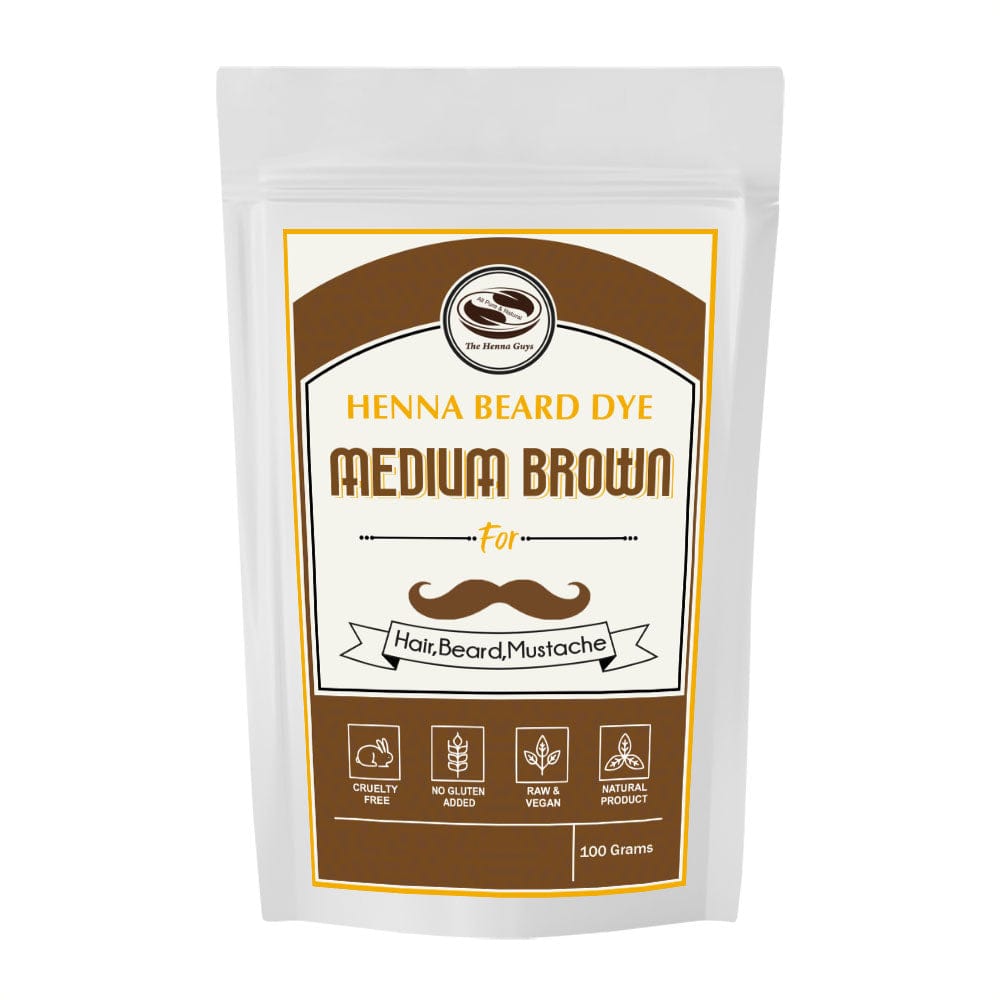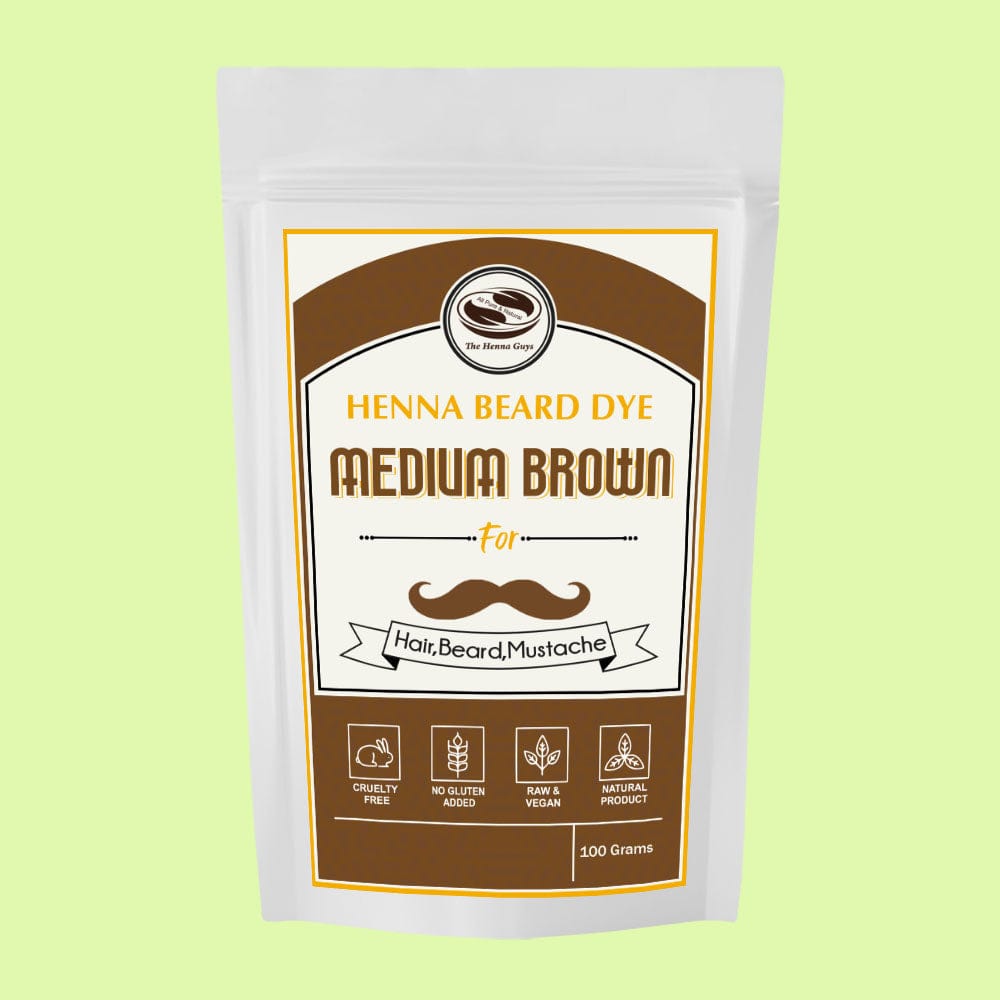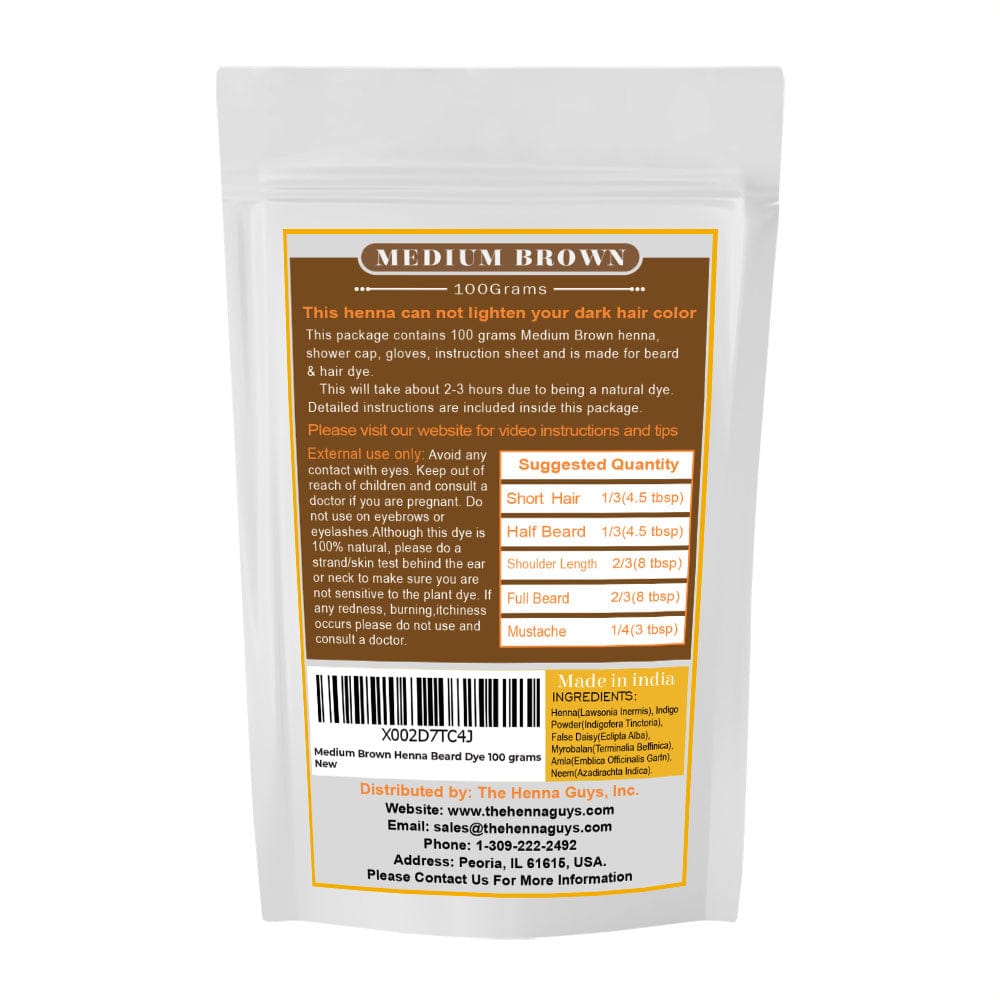 Customer Reviews
100
reviewers would recommend this product
Write a Review
Ask a Question
Filter Reviews:
beard
Henna Guys
skin
hair
color
results
shade
Medium Brown
application
quality
03/22/2022
Michael C.

United Kingdom
I recommend this product
No itch colour
Very time consuming and a little messy but overall totally satisfied with the coverage and how kind it was to my skin. Have tried JFM and other colourants but suffered days of burning, itching and peeling. My only thought was it's a little light to be called a Medium Brown. Might try a darker shade or perhaps mix shades if that's possible/advised? Michael
02/18/2022
Luke V.

United States
I recommend this product
Enough!
Love the product. But PLEASE STOP MESSAGING ME! I'll get more when I need it…
08/05/2021
Michael T.

United States
I recommend this product
Medium brown
The medium brown beard dye came quickly in the mail a couple days later I applied it and I was pleasantly surprised on how good it worked. I had been using a different brand with Harsh chemicals. Henna didn't irritate my skin at all. Highly recommended.
06/15/2021
Stephanie E.

United States
I recommend this product
White beard NO MORE!
My husband initially used the light brown, but his white parts of his beard just weren't getting the tint he wanted. So, we tried the medium brown, painted the white parts of the beard 1st and let set before adding rest of the henna to his hair and beard. He is happy with the way the medium henna tinted his white parts so that they weren't so noticeable.
02/09/2021
Michael S. Hewett

United States
I recommend this product
Excellent as Always
I have now tried three different colors for my beard, and each color has been wonderful quality, and very easy to use.
01/07/2021
Thomas S.

Canada
I recommend this product
Happy with results!
Really good. I'm anxious to do it a second time as I will be a little more thorough in the application. I will also try adding the apple cider vinegar to better cover grey and perhaps some essential oil, as I can't say I loved the smell. But most importantly, I did not have any itching- that makes me most happy. Thanks!
10/26/2020
Jean-Pierre D.

France
Très bon produit
la teinture pour barbe au henné brun moyen est très bien même si je trouve qu'elle tire un peu trop sur le roux.. Mais franchement, c'est très bien.. La couleur semble naturelle (brun avec des reflets roux et non pas un brun mat) même si la tenue ne dure pas très longtemps. Normal, puisque la moustache est la barbe sont tout le temps au contact de l'eau (brossage des dents, toilette quotidienne,..) J'en suis content. C'est bien mieux que les teintures aux produts chimiques.; Bref, je le reconnande...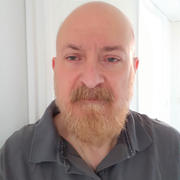 09/29/2020
André J.

Switzerland
My beard turned red
The product is easy to prepare and to apply. I also had no problem to rinse it and it does not stain the skin. But although I followed the procedure and prepared the mixture with black coffee, my beard turned red and I did not managed to achieve a medium brown color.
08/14/2020
RAYMOND C.

United States
Henna
overall I like it. I've tried others and this is the best one as the others irritates your skin.
07/01/2020
Jimmy S.

Australia
Ciro Gagliano
Excellent worked very well
06/02/2020
Dan B.

United States
Excellent Product
I've tried other henna products and yours is much better. The application is easy, the instructions are clear, and you provide everything needed for a successful application. I have a lot of gray beard so getting a natural looking color can be difficult. Your product did the job!! Thanks
03/18/2020
Rick B.

Canada
My feedback
My experience was positive. The product lived up to the company's commitments and my expectations. I'm a customer in for the long term. Rick Buchamer Vancouver B.C.
12/01/2019
Juvenal A.

United States
Amazing!!!
Very good experience!
Good Results
My husband likes it a lot. It's very easy to use. It fades away slowly. But with little touch-ups, it remains as it is. I ordered a few times and the packages were safely delivered every time they arrived. Glad about that.
Great Results
I have been using The Henna Guys to touch up my facial hair for about two years now, and I am completely satisfied with it. I have tried to switch to other brands because the prices were a lot cheaper but they performed poorly, so I went back to using The Henna Guys. This lasts longer, the result is pretty amazing. It does not wipe off easily, and it looks natural. For the results that I get while using it, I don't mind the cost.
Best Beard Solution
Why not say it's perfect??? This is by far the best solution for dying beard/mustache. It looks more natural than all other brands. Without the harsh reactions of chemical dyes. It doesn't take much to get a good look. Thank You to The Henna Guys. Completely satisfied with this product.