Light Brown Henna Beard Dye
Regular price

Sale price

$ 14.95

Unit price

per
Vamp up your facial hair, and look, with our Light Brown Henna Beard Dye, free of chemicals or additives. This vegan formula helps you get an attractive sandy brown color and leaves you with no side effects or bad reactions. Our mixture includes raw ingredients, in their most natural form, that help bring you a high-quality dye with henna and indigo powder as the color base. Then, we add in herbs that will further enhance the dyeing process, as well as the end result and look of the facial hair. Prepared in small batches, our product mixtures are guaranteed fresh and go through high levels of quality control. We package our Light Brown Henna Beard Dyes in double insulated bags so that level of freshness stays put, even after you open the bags. This henna beard dye is most effective on light tones and the dye may not show up on dark tones.
Here is why our Light Brown Henna For Beard is a highly reviewed and hot natural beard dye.
✅ Gluten-Free, Raw, & Natural Hair Dye
✅ Chemicals Free & Gluten Free
✅ 100% Natural & Plant-Based
✅ Triple Sifted Powder for Non-Clumpy paste
✅ Always a Fresh Batch, Ethically-produced
✅ Comes with Shower Cap, Gloves, & App Instructions
Ingredients and how they work:
Henna works as the base of the dye, giving it natural tones of red. The plant-derived ingredient also helps in providing facial hair with some conditioning action.
Indigo (Indigofera tinctoria)
Indigo powder is important to help create such a lovely shade of light brown. This blue-hued powder, which is made from a plant, works with the henna to create different shades of browns and blacks.
Amla (Phyllanthus emblica)
To ensure that your color looks bright and adheres to the facial hair, we add in amla powder, which comes from the Indian gooseberry.
False Daisy (Eclipta alba)
Help improve the overall look of the look of the end result with false daisy. This herb is important because it adds immense shine and gloss to the facial hair.
Rose Mallow (Hibiscus rosa sinersis)
Rose mallow is added to the product so that your facial hair looks healthy and fresh. This ingredient mildly cleanses the facial hair so that it looks fresh.
Neem (Azadirachta indica)
Get a sleek and smooth look for your facial hair with neem added into our product. These leaves provide intense conditioning to the hair.
Click below for application instructions.
Helpful Tip: You can use color-safe, sulfate & paraben-free shampoo after 48 hours of rinsing henna. It helps with getting the color stick to hair better and prevents color wash up.
Important Note: Henna hair dyes are different than conventional hair coloring products, it does not contain chemicals that are required to change the color of your dark hair, or develop color faster, with that being said, it takes around 2-3 hours minimum for the application process. Please reach out to us before placing an order if you have any questions about the application process.

Allergy Warning: Although our Light Brown Henna Beard Dye is made with 100% natural & plant-based ingredients, some people may still be allergic to plant-based products. To rule that out for our dark brown henna, please do a strand/skin test before full on application.
Share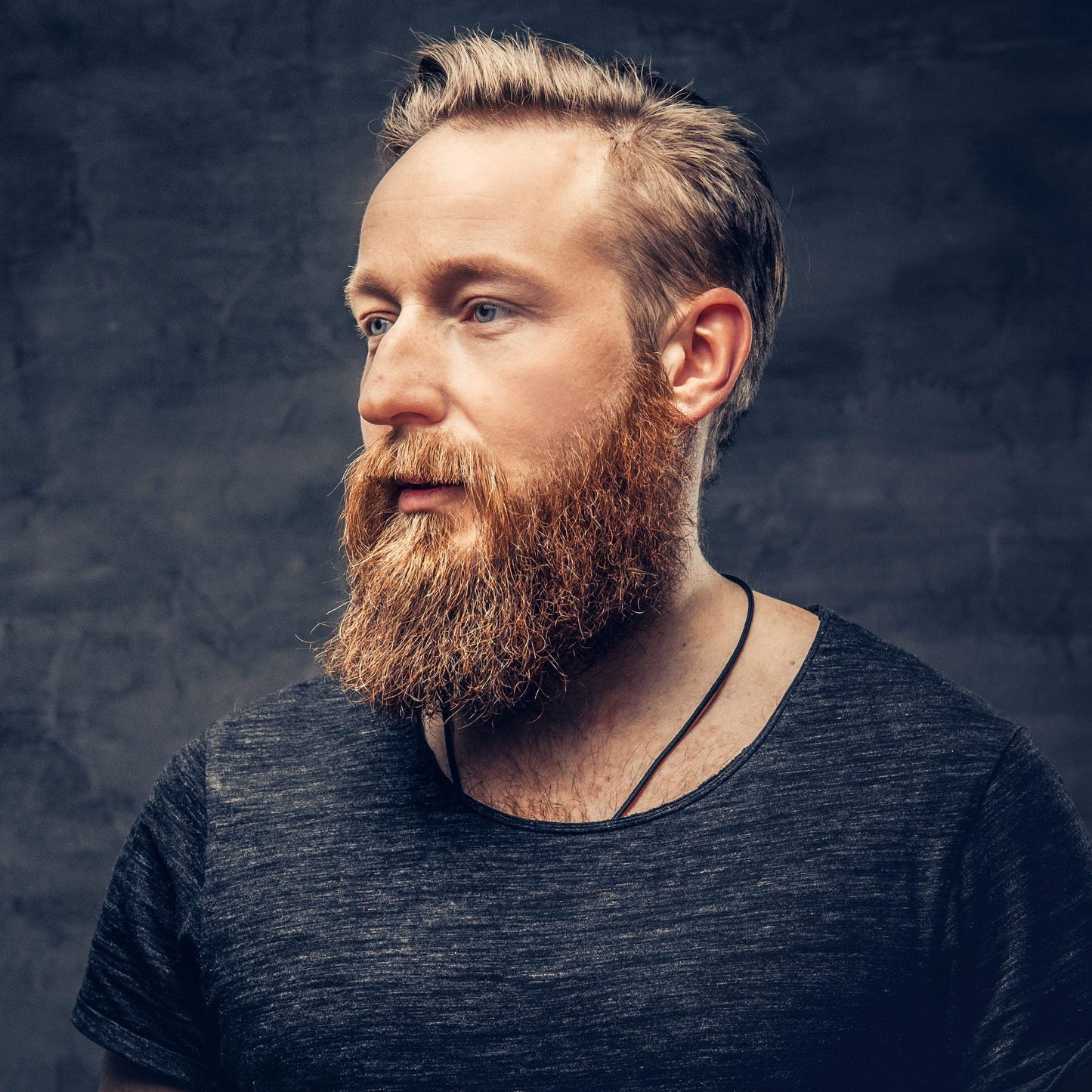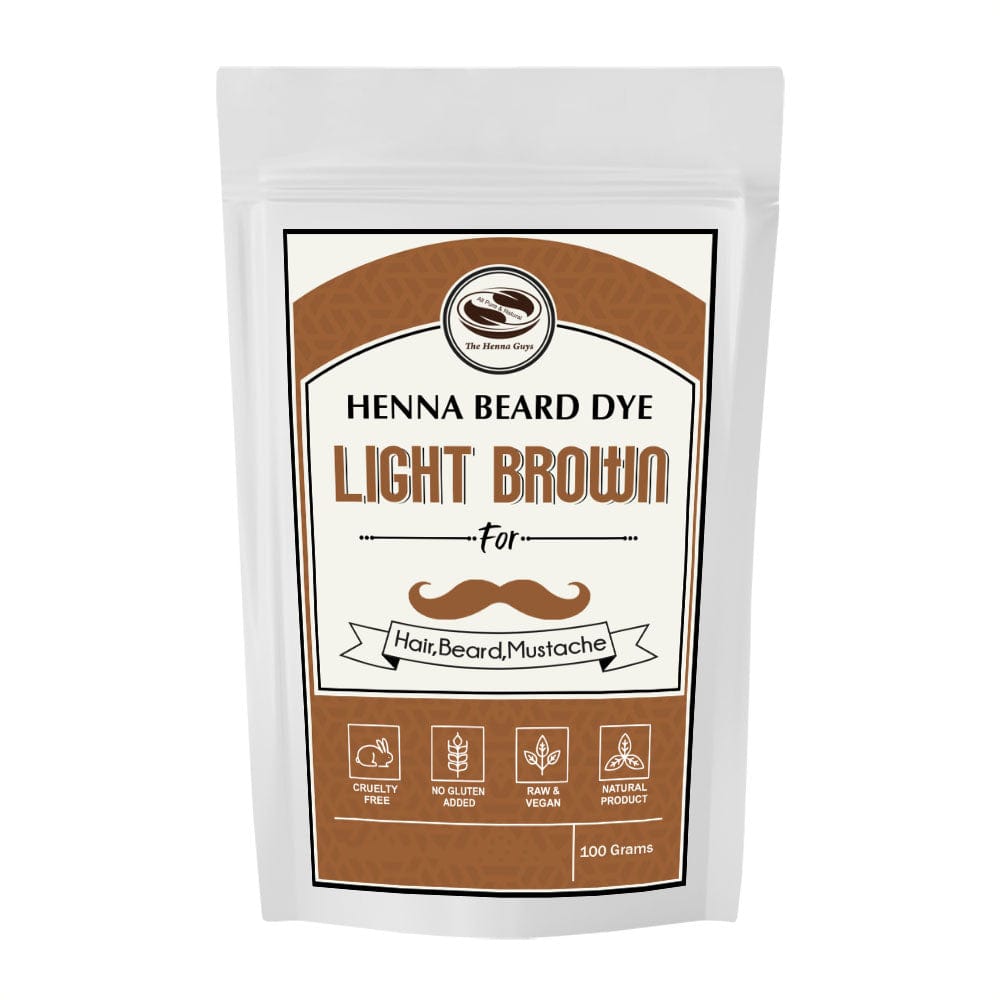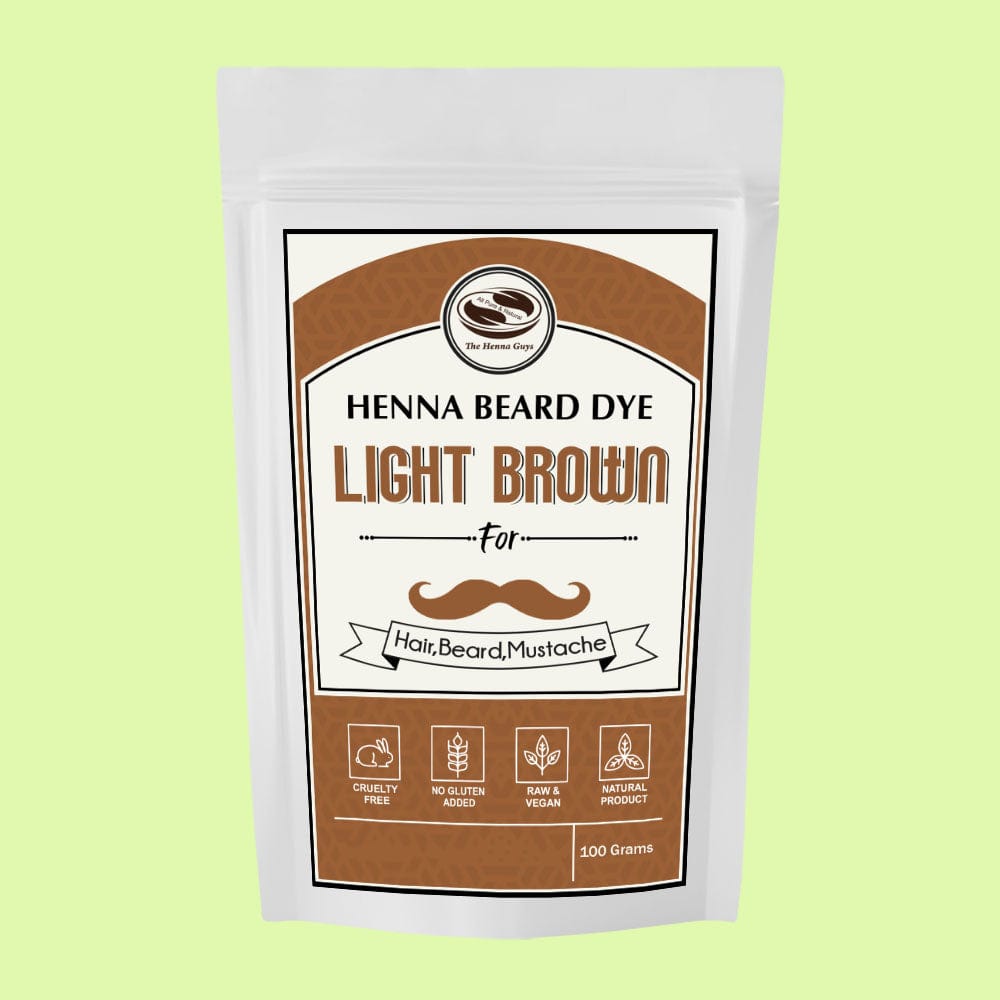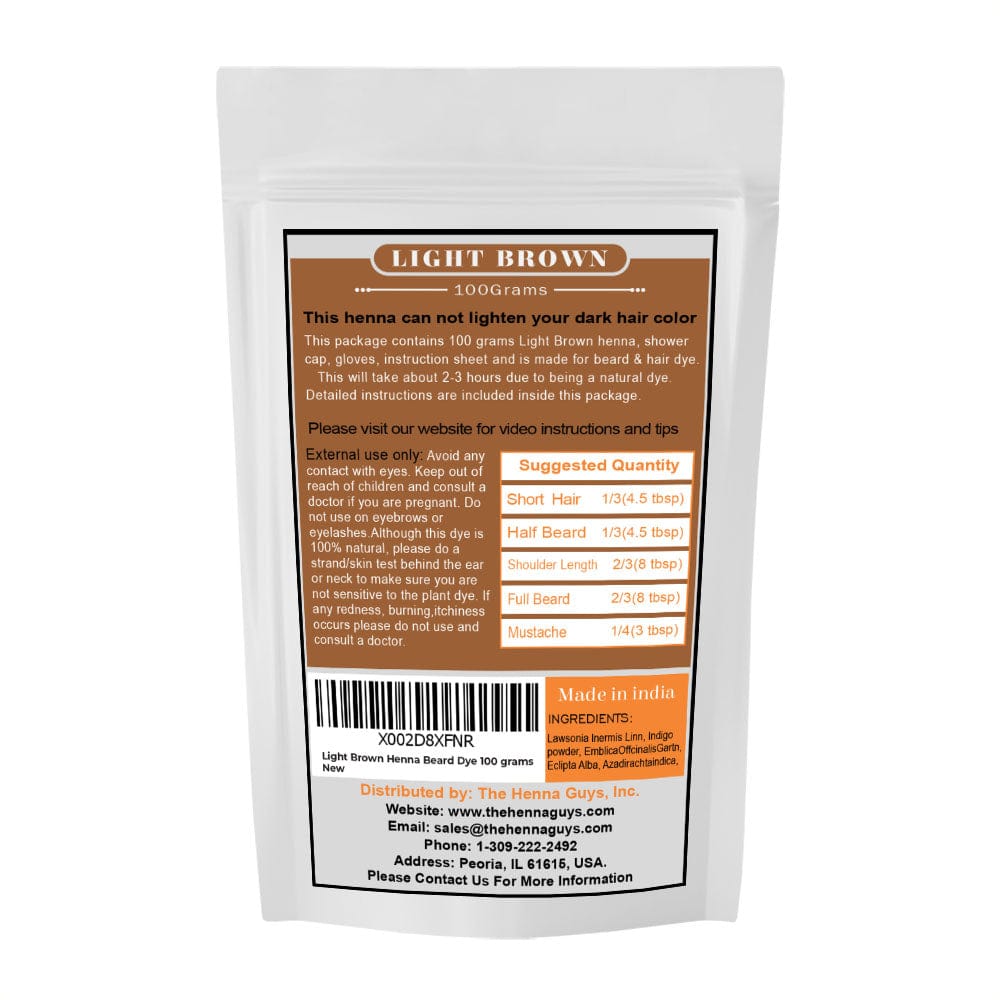 Customer Reviews
83
reviewers would recommend this product
Write a Review
Ask a Question
Filter Reviews:
beard
color
results
skin
face
Henna Guys
look
hair
life
husband
06/13/2022
brian s.

Canada
06/03/2022
Gabriel S.

United States
I recommend this product
Henna beard dye
It looked scary at first because it's all green when applied, but the green rinsed out. I applied the henna for 3 hours, the dye took some where between 1 and 2 days after that to fully darken. It took a little more time and effort but the end result is more effective and natural than anything I've ever tried before!
04/13/2022
Derick S.

United States
I recommend this product
Beard Color
It was great. color last a long time
03/24/2022
Rita G.

United States
I recommend this product
Beard henna color
Did not like it
02/26/2021
Chas H.

United States
I recommend this product
So far so good..
The time frame does not bug me, I just apply before a sesh on the computer o other task I am working on and forget about it. .. Still working on my technique.. Didn't have apple cider vinegar so I used rice, because they both share the same relative acid content and I reckoned that was what we were doing with the vinegar. I have applied 3 times.. First time I SWEAR I read everything, applied, sat down and right in front of me it said to allow to sit 45 minutes first.. Opps.. Still imparted some ok 'start' to some color.. Applied the correct way the next night, and then the next night again, and it really is a lovely shade of 'natural' looking brown.. Heck, I may get ***** (just kidding, but may) this weekend and try the whole head. This isn't as fast or easy as chemical, but it also doesn't burn and the color looks much more organic instead of forced. 'Color' me impressed so far.. It is really hard to darken up the side burns even using the chemical stuff, but this darkened them up a little better and everything was EVEN instead of some really dark on the upper lip and barely anything at all on the sides.. for some reason I have about an inch under my nose that gets SUPER dark when chemicals wont take elsewhere and it almost made it look like I was spoofing ******.. Which wasn't cool.. Not so with this stuff.. In real life I would not care.. I went completely white after a botched surgery when I was in my mid 30's... Doesn't bother me, kind of like it BUT I do a lot of video work and it washes my face without the color. Oh, by the way, I do video green screen, and the light brown looks VERY nice and natural on video.
01/10/2021
Stephanie E.

United States
I recommend this product
White beard NO MORE!
my husband recently had a severe facial dog bite, therefore the beard...pretty white and felt it aged him. We did this light brown everyday x 3 for the 2 hours or more to get a good strong result. We used the recommended apple cidar vinegar and coffee to mix with the henna. Hubby is very happy with results of color, the color has held its color for this last week and no itchy and irritated skin! I've played with henna before, but this henna was easy to work with, had great color options and we will be referring them to others. Price was great for what you recieve...if we henna his beard once a week we have enough product for about 3 months. That is a good deal!
09/15/2020
Bradley H.

United States
needs more work
I am willing to take 3 hours to dye my beard. However, I was not happy with the red hue that it left in my hair. I tried darkening it with coffee but that didn't work either. I am 58 and have graying hair. The gray areas turn red instead of light brown.
01/29/2020
David S.

United States
Very pleased so far...
I had been using another product (JFM) that left my face irritated, itchy and broken out. I was ready to just shave offf my beard, but decided to try Henna. After a few weeks, I am very pleased with the results. No irritation, no itching, the color is more natural, and stays natural longer. I am hoping that the once a week treatments begin to stretch out a little, but I am still very happy with the results. Addind a few drops of Lavender oil to the mixture makes the wife happy, too!
Works Great
Gentlemen if you use the Chemical laden color gel that destroys your face with scratches, dry skin, and broken beard, I have a solution and that is The Henna Guys bread dye for men which is all natural and contains no chemical. Easy to apply and lasts longer. Using it has brought my skin back to life after years of use of the chemical gel beard for men. I highly recommend this product to all men and I have been using for months now.
Light Brown is my color
The Light brown color is a perfect match for me. I've noticed the ladies checking me out more since I've started using it. The product doesn't burn or blister my face like many other brands. Highly recommended!
Working fine for me
Been using over a year, works fine for me. The product will rub against the collar, Wash off before you go to bed, I can't use those dyes without breaking out so this is a good solution. Brushes on with a mascara type brush and works great. Will last reasonably well if you are wanting a long effect. I needed for theatrical purposes and it did great.
This works very well
My husband hated how his goatee was so much grayer than the rest of his hair. Uses a small amount in his mustache and goatee...mostly on the outside edges. Looks really good and stays for weeks. This is an amazing product as my husband really needed it. We will use this product in the future.
QUICK AND EASY TO APPLY
My husband uses this on his beard and mustache. He has been using it for a long time and this is great product for him to use because he is allergic to chemical hair dye that causes itching and irritation. Amazing product by The Henna Guys. I would love my husband to use this product again.
05/31/2019
Abdurrahman E.
Works like a charm
This actually works great! My beard looks fuller and the gray is gone.. I'm happy with the product because it did exactly what it claimed and my beard looks so much better! Thank You The Henna Guys.
Works great on My beard
works as easy as they claim. It is so easy to use and apply, it is worth it to me to buy again - a lot of these products end up Jet Black, but this product actually gives me a Light Brown look and I really like it - I wish it would stay on more permanently.
05/07/2019
Abdurrahman E.
Amazing work
Goes on easily, looks natural, washes off slowly with time. On the one hand, I'd like it to last a little longer, but it's so easy to put on, it's no big deal to reapply after a couple of weeks. The results are exactly as I was expecting. This product is really making my day GREAT. Love this brand.