Jet Black Henna Beard Dye
Application Instructions Download PDF
Say goodbye to chemical hair dye and hello to a fresh new look with our vegan jet black henna beard dye. Prepared in small and fresh batches, it is made up of chemical-free and 100% natural plant-based ingredients and provides amazing color quality.
No more chemical reactions

Cover your gray hair naturally

Two-step process 
100% Natural Product
Money-back satisfaction 
 Our jet black henna beard dye is made up of two pure and simple ingredients, henna and indigo powder, derived from plants. This two-step process of henna hair dye will result in the darkest of blacks, leaving everyone in awe, while also providing the hair with beneficial conditioning
Here is why we are the top-selling brand in North America.
✅ Gluten-Free, raw & natural hair dye
✅ Chemicals free, silky smooth
✅ It comes with pure henna & Indigo powder.
✅ Triple sifted powder for non-clumpy paste.
✅ Always a fresh batch, ethically produced
✅Comes with shower cap, gloves & application instructions 
Ingredients and how they work
Used as the base coloring agent, we use henna made from hand-selected henna leaves. It is then made into powder form to get the full potential of the red hues it provides. Henna acts as a conditioner so that your facial hair looks dapper and attractive.
Indigo (Indigofera tinctoria)
To manipulate and change the red tones of henna to a jet black color, we use a large ratio of indigo powder in the mixture. This ingredient, which comes from the Indigo plant, helps use create dark-toned, natural dyes.
Click below to view printable application instructions.
We know you love what we sell, so why not get paid for sharing our brand? We actively seek passionate people to help promote our products, and in return we provide an extremely generous commission program which pays up-to 27% commission that provides an excellent, continuous, and attractive source of additional income. We will provide access to your own software that tracks every lead, sale and commission payment due to you. Everything you need to start is available right now...
Sign up below to become an ambassador to our awesome brand.
Already an affiliate? Click here to log into your dashboard.
Customer Reviews
Write a Review
Ask a Question
Filter Reviews:
color
beard
hair
Henna Guys
stuff
dyes
jet black
results
skin
chemicals
10/27/2020
Dante R.
United States
This item works even if you got sensitive skin
I bought the jet black henna mix packet and I was skeptical at first I used to use just for men until I started getting horrible irritations due to it! I used this product for the first time a couple of days ago mixed The henna with Black coffee Mixed it to a batter like consistency and let it sit for 8 hours applied afterwards this stuff has a real natural earthy smell to it afterwards used the entire batter on my beard then moved on to step 2 mixed the black coffee w the indigo powder to a batter like state and let it sit for 20 mins to activate then applied. I let each application sit in my beard for 2 hours each and guys this stuff works! 2 days later no irritation no breakouts and I got my black beard back I do have to do another application in a couple of days to get some of the grey still left in my beard. Seriously though guys if you have sensitive skin get this product A+ all the way. -Dante Reeder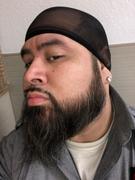 09/25/2020
Spencer T.
United States
Jet Black Henna Beard Dye
Overall, I like the Henna because it's the only 100% natural product that doesn't break me out. I've tried Jet for Men, Bigen, etc and it all breaks me out. However, every time I mix the Henna and put it on, then mix the Indigo and leave it on for several hours, it NEVER gets my beard black. It is a red tint color. I've tried the Indigo without the Henna and the same thing happens. Iced watched the YouTube videos and mixed it with black coffee verse water and still come out with the red tint and not black beard. I'm not very grey and confused Please let me know what I'm doing wrong. I like the product but it's NOT dying my beard Jet Black. Any help would be greatly appreciated. Sincerely, ST 704-277-6596 spencertruesdale@yahoo.com
08/17/2020
Olusegun O.
United Kingdom
Great product
This is the only dye I'll be using going forward. I get it ordered to the UK each month
07/25/2020
Carlos M.
United States
It Works
Using the henna properly does color your beard. Avoid fully washing your face and beard because it will l not last as long. The color will last on average 9 days.
07/12/2020
Julian N.
United States
Jet Black
I've been using your products for years now. I never had one single issue with the company, delivery, or henna. Thanks Guys. Julian.
07/07/2020
vince m.
United States
Excellent !!!!!!!
Its a great product makes my hair darker then other products i tried now i know who to go to thx. I will be ordering the same product again soon
06/13/2020
Olusegun O.
United Kingdom
05/20/2020
Algernon P.
United States
05/17/2020
aurora a.
United States
Great product! Good customer service!
Great product! Good customer service!
05/09/2020
Joseph S.
United States
I think it work very good.
Very good and I'll recommended to everyone I know.
04/10/2020
Melaku g.
United States
Loved the product it was
Loved the product it was fairly dicking sons
04/05/2020
Jerome K.
United States
BLACK OPTIONS
I'm happy with the jet black henna but I wish their was a natural black option
03/13/2020
Timothy W.
United States
Works wonders.
Far better than the brand I was using before I tried The Henna Guys. I'm finally happy.
02/17/2020
Timothy W.
United States
First time user pleased.
Good product. Lives up to its claims. No harsh chemicals used, so no chemical reactions.. hair came out the color I wanted. I'll be sticking with this company's products.
01/11/2020
Lance V.
Canada
Works no more burn from Just 4 men yaaa
Longer process but other stuff burns me so I`m very happy this does not. looks great.
prevent dandruff
I bought this product 3 months ago and since then I am using it regularly. Henna has helped me to prevent dandruff and also aided in reducing the itching of the scalp by nourishing it. Henna stimulated my hair growth by acting as an excellent conditioner. I would recommend everyone to use natural henna for hair growth and get benefitted from its fabulous qualities.