Dark Brown Beard Dye
Regular price

Sale price

$ 15.95

Unit price

per
Dark Brown Henna Beard Dye is made with 100% natural plant-based ingredients. It's a blend of pure henna powder, indigo powder, and other herbs. It works by coating your hair with lawsone (the red pigment in henna) which is then turned into brown color by indigo (the blue pigment in indigo). Other added herbs help enhance the color, condition, and shininess of your hair and beard. Our Dark Brown Henna Dye for beards works best on light hair.
Dark Brown Henna Beard Dye benefits:
🌿 Colors and covers grays naturally
🌿 Conditions and adds shine to hair

🌿 Improves manageability 
🌿 Promotes hair growth
🌿 No more irritation, bruises, or burns

🌿 Continuous use improves overall hair health
Why You Should Switch To Henna Today
No More Chemical Reactions: You don't have to worry about fumes, irritation, rashes, and bruises caused by chemical reactions of boxed hair dyes. Our all-natural, raw, vegan, and gluten-free hair dyes are perfect for every man who is allergic to chemical hair dyes or just wants to experience the many benefits of plant-based hair dyes.
We Believe in Only the Best: When it comes to henna or natural hair dyes, there are plenty of brands out there. The Henna Guys brand is focused on consistently providing quality, integrity, and the best customer service.

Here is why our Dark Brown Henna For Beard is a highly reviewed and hot natural beard dye:
🌿Gluten-free and raw vegan

🌿 Chemical- and gluten-free

🌿 100% natural and plant-based

🌿 Triple-sifted powder for a smoother paste

🌿 Made in small batches for consistent freshness 
🌿 Ethically-produced

🌿 Comes with shower cap, gloves, and instructions
What's Included and Ingredients
Your order of all-natural dark brown beard dye includes the following: 
100 grams dark brown henna
50 grams pure henna
Step-by-step instructions
Gloves
Shower cap
If your kit is missing any of these items, let us know and we'll replace it for free. 
*Dark brown is best used when using the two-step process. It's a somewhat lengthy process but totally worth the hassle. We back our product completely and provide full refunds & free products until satisfied.

Ingredients and how they work
Ingredients and how they work:
🌿 Henna (Lawsonia inermis): This bright red hue powder is made from the leaves of henna plants. In addition to acting as the color base, this ingredient also provides the hair with superb conditioning power.
🌿 Indigo (Indigofera tinctoria): Indigo powder is a blue-toned ingredient that is made by a plant. When mixed with the red tones of henna, it can provide a range of dark browns and blacks depending on the ratio of the two powders. Dark Brown Henna Hair and Beard Dye is available due to the combination of this important ingredient with henna.
🌿 Amla (Phyllanthus emblica): In order to darken and help elongate the color, we add in amla. This special ingredient comes from the Indian gooseberry and makes the henna hair dye process more valuable.
🌿 False Daisy (Eclipta alba): False daisy helps enhance the henna hair dye effect by adding gloss and revitalizing the hair with its repairing and reconstructive properties.
🌿 Rose Mallow (Hibiscus rosa sinersis): To help add strengthening effects within the henna hair dye, we add in rose mallow. This herb also has special cleansing properties so that the end result is shiny and silky hair.
🌿 Neem (Azadirachta indica): Naturally deep condition your hair and scalp as the henna hair dye are working its color magic on you. Neem provides condition properties that can improve the overall look and feel of your hair.
Click below to view printable application instructions.
Helpful Tip: Please use the two-step process for optimal results. You can use color-safe, sulfate & paraben-free shampoo after 48 hours of rinsing henna. It helps with getting the color stick to hair better and prevents color wash up.
Important Note: Henna hair dyes are different than conventional hair coloring products, it does not contain chemicals that are required to change the color of your dark hair, or develop color faster. With that being said, it takes around 2-3 hours minimum for the application process. Please reach out to us before placing an order if you have any questions about the application process.

Allergy Warning: Although our Dark Brown Henna Beard Dye is made with 100% natural & plant-based ingredients, some people may still be allergic to plant-based products. To rule that out for our dark brown henna, please do a strand/skin test before full on application.
Share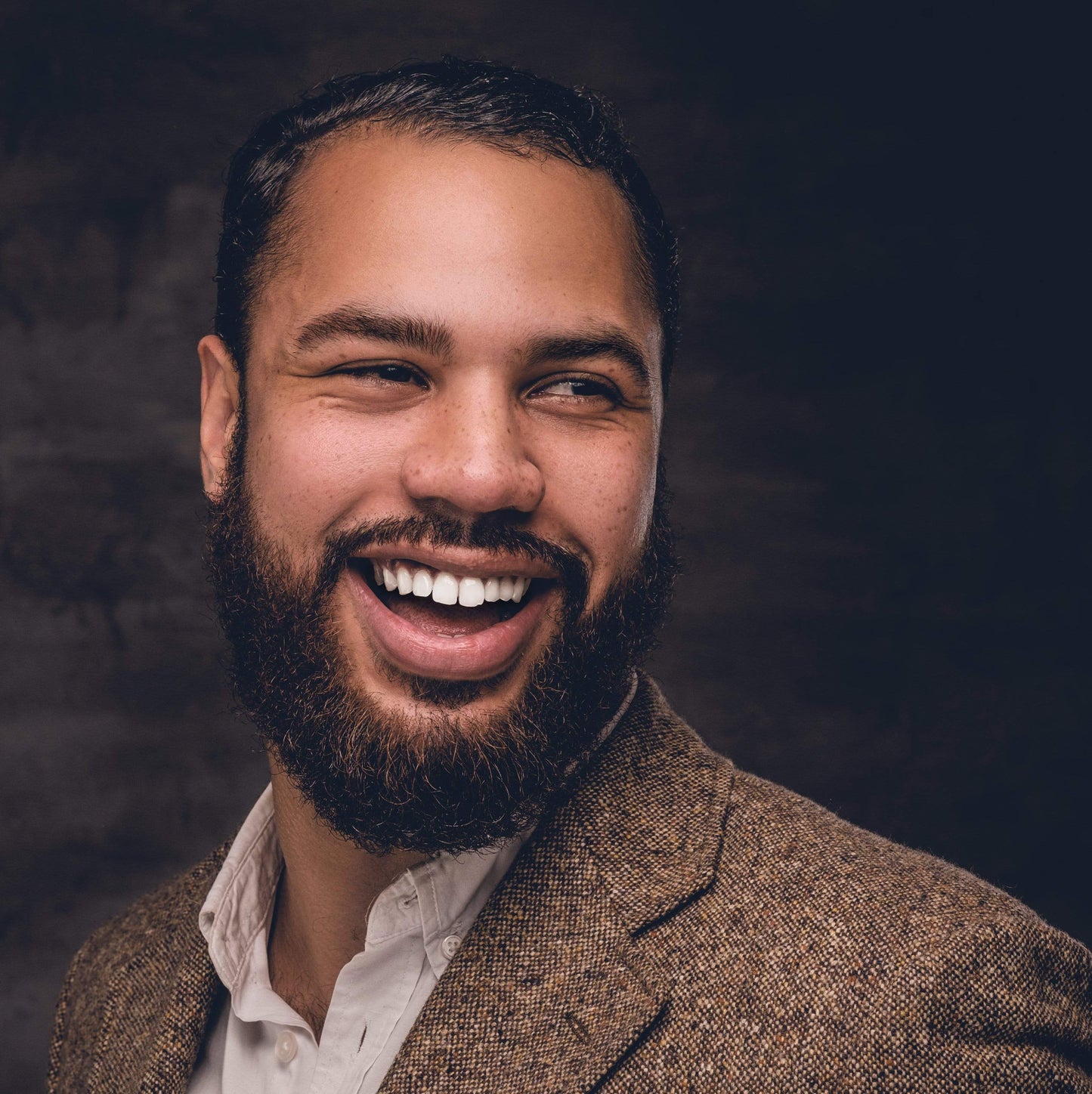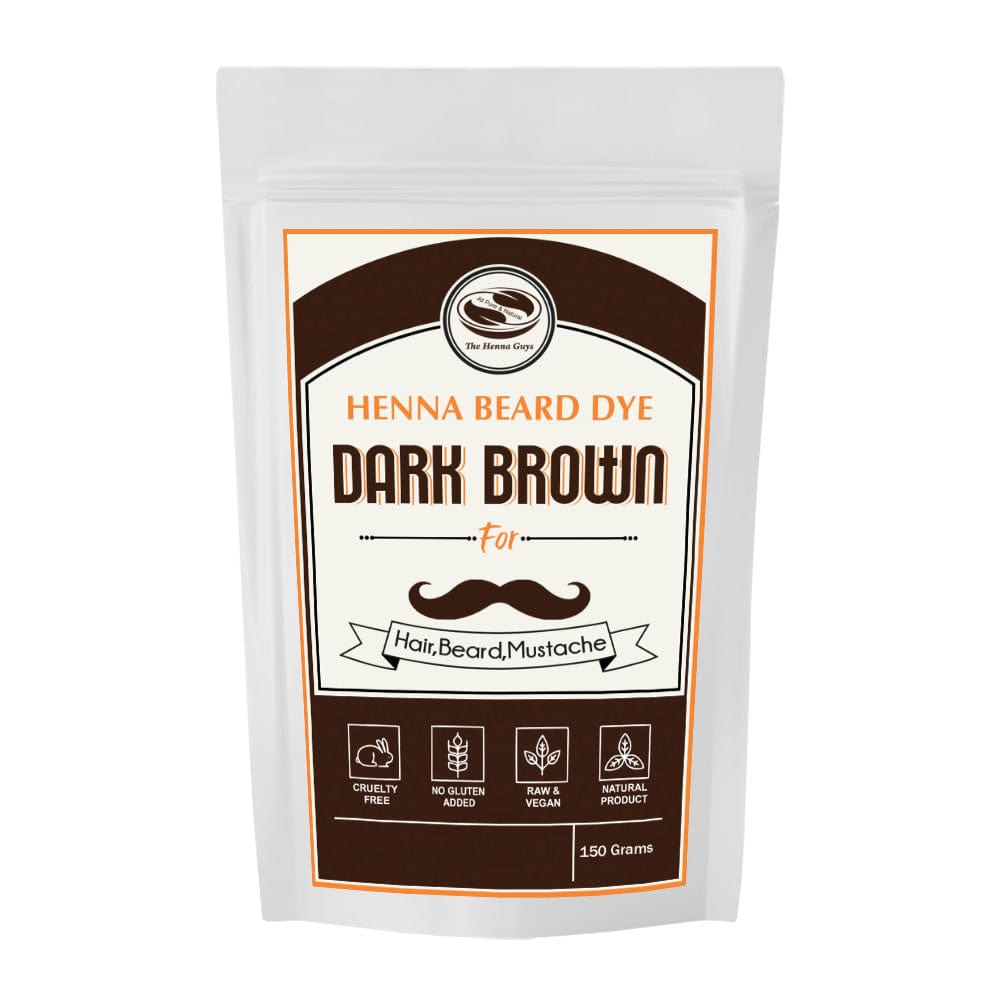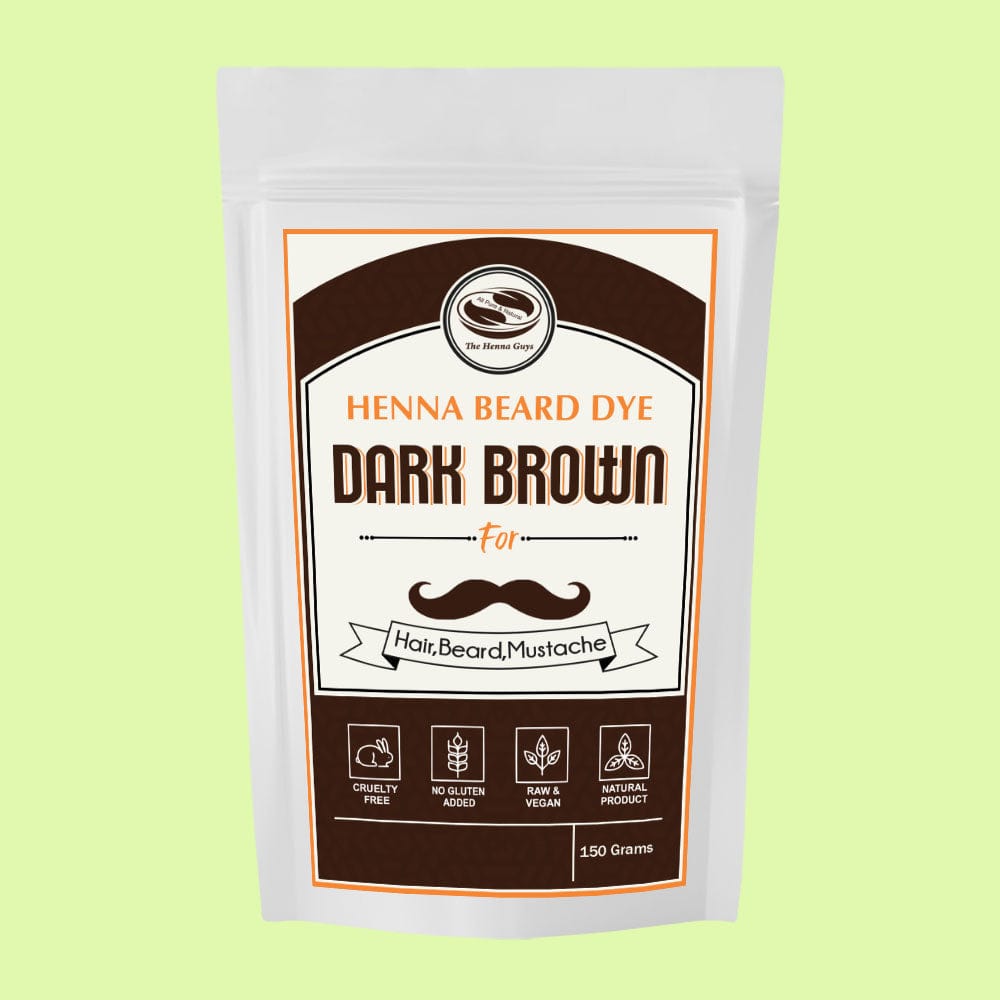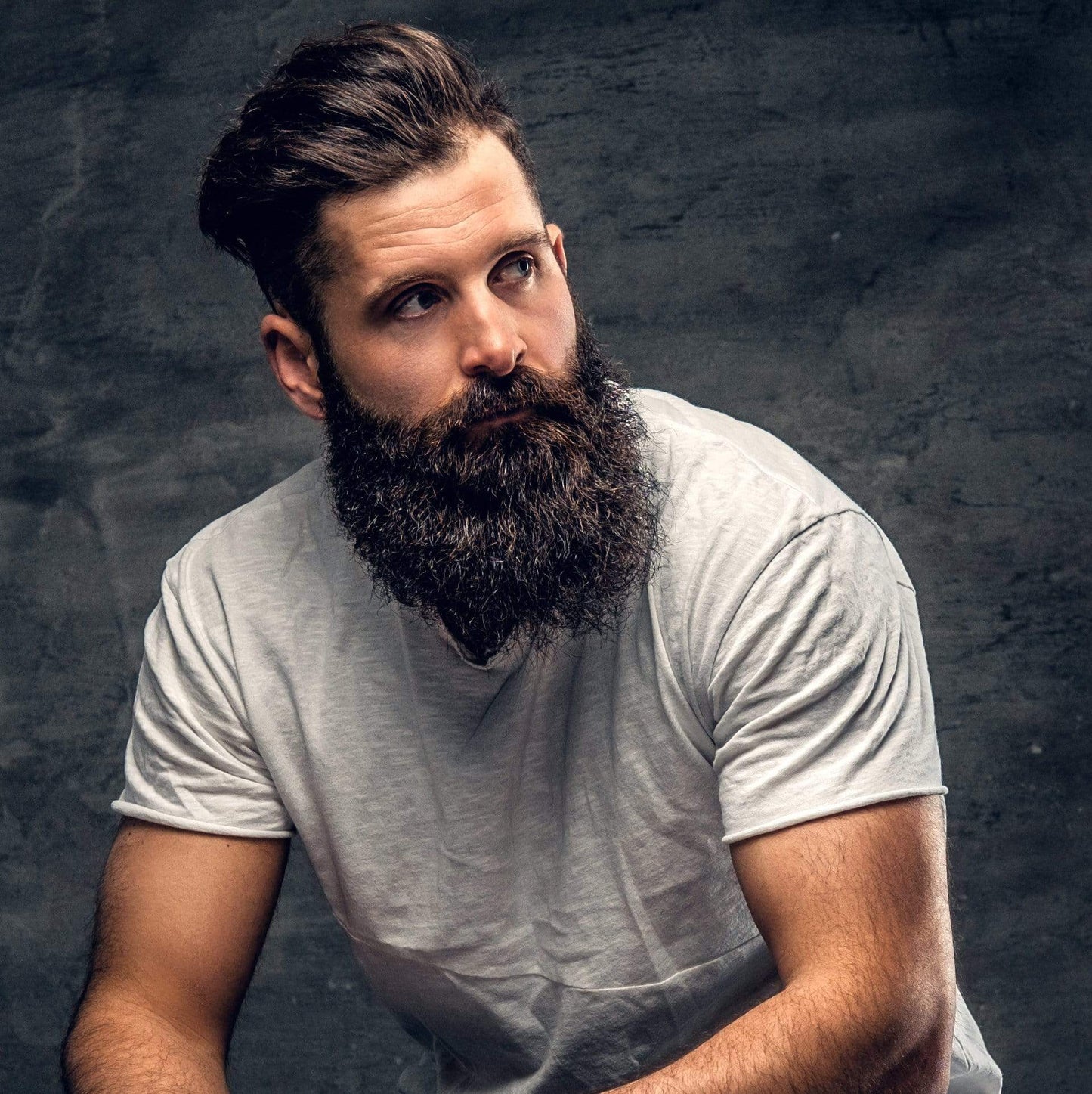 Customer Reviews
78
reviewers would recommend this product
Write a Review
Ask a Question
Filter Reviews:
beard
Henna Guys
color
dyes
skin
hair
results
shade
look
stuff
12/09/2022
Abdi

United Kingdom
I recommend this product
Not really dark brown
it didn't really turn out to be dark brown, more like orange
12/25/2021
George

United States
12/24/2021
Domingo A.

United States
I recommend this product
Great product
I had so much issues with other product and the chemicals Finally found the perfect dye without chemicals . This company is my favorite I recommend it...
12/13/2021
Amanda C.

United States
I recommend this product
Gentle treatment
Very good, easy to use.
10/16/2021
Steve H.

United States
I recommend this product
Good stuff
Like many others, I developed a skin sensitivity to standard dyes. I started using this product and it works great. It IS NOT hassle free. Two step process, Long pre-mix times, long hours with goop on your face, but the results are amazing. I have a very greyed beard and this darkens it nicely. I keep my beard trimmed short so I get about a week on a dye job. I did try a one-step henna dye - it did not work for me. I am back for good.
10/11/2021
Mark S.

United States
I recommend this product
Way too much red
Not good at all my beard turned red and I couldn't get rid of the color
09/09/2021
Jimmie

United States
I recommend this product
Good price, great results
You must schedule time to prep and apply the dye but it works very well. Worth the effort for the lack of carcinogens vs commercial quick-dyes. Minimal staining of skin that scrubs off easily with an apricot scrub. Darkens my brown beard hairs and turns the white ones to a deep yellow-to-light brown, which is still a far cry better than random white patches. Lasts for a good 3 weeks. Follow the directions.
08/12/2021
Charles B.

United States
I recommend this product
My Only Option
It was fair. The process is very long to dye a beard. I only did it because I was highly allergic to other dyes. The great news is that I had no reaction to the product while I was getting nasty blisters from others. The end result was fair. It covers my gray well, but left an orange tint. It's dark brown from a distance, but orange upon a closer look.
01/04/2021
David H.

United States
I recommend this product
Excellent Product
Easy to use....Great Product
05/07/2020
Raj P.

United States
03/24/2020
Babul M.

United States
Nice results
I'm not gonna lie the process is very long 8-10 hrs letting thr henna sit and activate. 2-3 hrs after applying the henna then another 2-3 hrs for the dark brown color paste. Although a very long process the results were great! I am very happy with the color.
Looks Natural
The Henna Guys has been my favorite choice for dyes for the last 3 years. I always buy from this company for dying my hair, beard, and mustache. I bought the dark brown shade last month and just like other products, it delivered complete satisfaction. My beard is softer than before and no one can guess that I have actually used a dye.
Loved this Shade
I absolutely love this shade by the Henna Guys. The dark brown shade is better than my expectations and it lasts for a longer time than many chemical dyes offered by some expensive brands. The color looks natural and it also nourishes the facial hair to make them smooth, shiny and soft. I will use it again. Thanks a lot.
Flawless Gray Coverage
Previously, I was using an expensive brand of dye for covering up my grays in mustache and beard. One of my friends told me about the Henna Guys and I thought I should also give it a try as their dyes are available at very reasonable rates. I placed an order for the dark brown dye and it was delivered very fast. I applied it as per the mentioned instructions and it gave impressive outcomes. The dye gave excellent coverage for gray hair and added shine.
Cost-Effective
I bought this dye online about two weeks ago and it was shipped shortly. I was not expecting such great results from a reasonably-priced dye but it was great indeed. It made my beard soft, moisturized the facial hair and did not cause any negative effects.