Shaving Kit Set For Men
Regular price

Sale price

$ 49.97

Unit price

per
2 fl. oz Shaving Butter made with natural ingredients that DOES NOT lather as conventional shaving creams added with a hint of original frankincense & ginger essential oils; 2 fl. oz Pre-Shave Oil formulated with naturally moisturizing, skin & hair loving oils like jojoba oil, grapeseed oil, and avocado oil; 2fl. Oz Aftershave Balm; 1 handcrafted shaving brush with wooden handle for easy use, wrapped in an organic bag that is ready to give gift sets for men, gift for him 
These shaving kits are formulated to provide your shaving experience like no other. It has been designed to help with the closest, smoothest shave with irritation, nicks, & cut-free experience. Our pre-shave and shaving butter are made with natural organic ingredients that protect, hydrate, and soften the skin/beard that helps glide the razor that reduces the pull and tug while shaving. Our shaving kit will help reduce ingrown hair, razor burns, and cuts.
Men of any age or skin type, from rigid skin & hair to most sensitive skin, our pre-shave oil works equally great to protect your skin from razor burns, red bumps, ingrown hair, nicks, or cuts. Skin-loving oils like jojoba oil provides an extra layer of protection while leaving the skin hydrated post-shave. If you are looking for a gift for men, look no further. He will enjoy this very much
Apply our pre-shave oil first. Once moisturized, apply the shaving cream with the wooden shaving brush and shave away with the smoothest shave! This works by moisturizing your skin and softening hair follicles that result in reduced friction with razor resulting in smooth, irritation, cuts, & bruise-free shave experience. Leaves skin refreshed & moisturized
Pre-Shave Oil - grapeseed oil, avocado oil, jojoba oil, argan oil, marula oil, essential oils (for scent)
Aftershave Balm - organic aloe leaf juice, organic alcohol, organic coconut oil, emulsifying wax, glycerin, organic lavender flower water, msm, dmae bitartrate, organic calendula flower extract, organic bilberry fruit extract, organic sugar cane extract, organic sugar maple extract, organic orange peel extract, organic lemon peel extract, organic cranberry fruit extract, organic jojoba seed oil, hyaluronic acid, glycolic acid, malic acid, tartaric acid, citric acid, vitamin e, sunflower seed oil, ecithin, stearic acid, xanthan gum
Shaving Butter - organic aloe leaf juice, sodium cocoyl isethionate, emulsifying wax, organic alcohol extracts of calendula, papaya fruit, pineapple, papaya leaf, sugar cane, bilberry, sugar maple, orange, lemon, and cranberry, organic jojoba oil, stearic acid, organic cocoa butter, organic shea butter, frankincense essential oil, ginger essential oil, coriander essential oil, hydroxyethylcelullose
✓ SATISFACTION GUARANTEED
Our shaving kits are designed with all-natural ingredients, no additives or harsh chemicals which will provide the best smoothest shave you ever had. If not, you will get a 100% refund. No questions asked.



Disclaimer: Individual results may vary. Benefits are not guaranteed as results will vary depending on the individual's skin. If you have allergies or sensitivities, please read the ingredients list carefully prior to use. Always perform a patch test when trying a new product. For external use only.
Share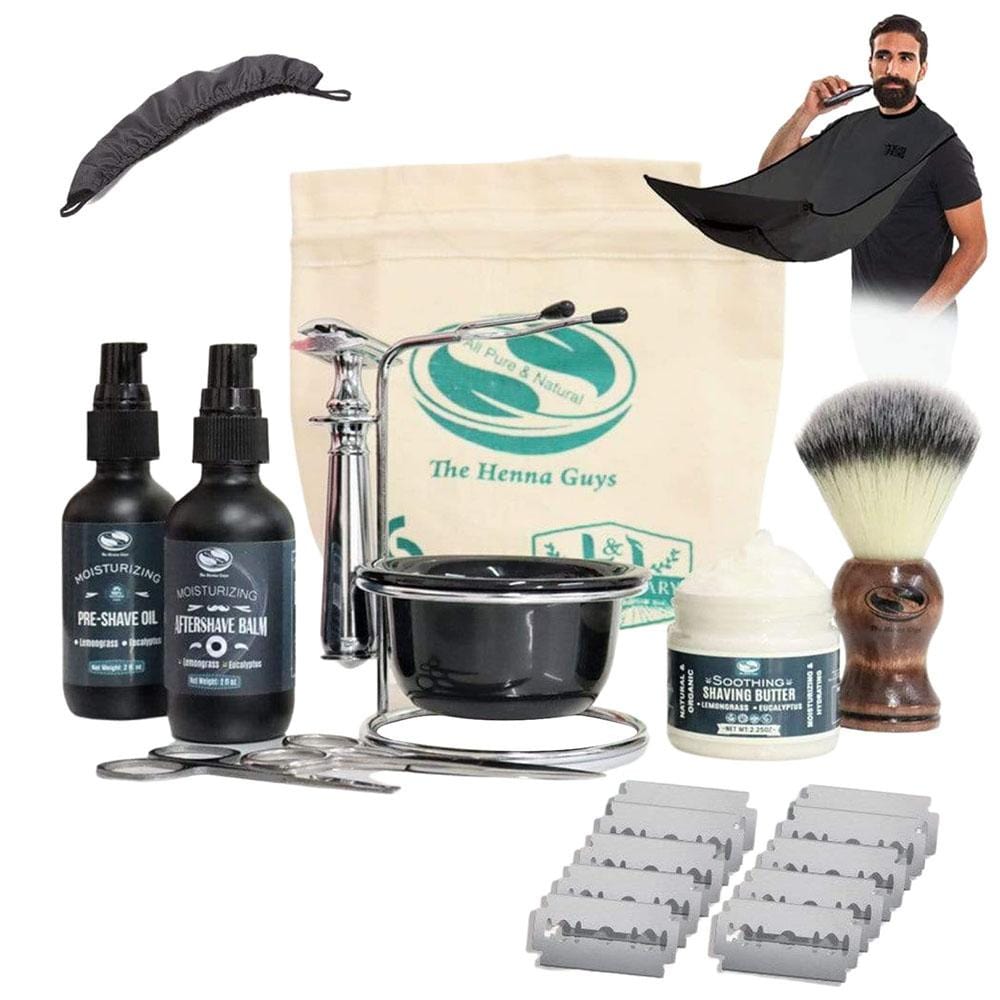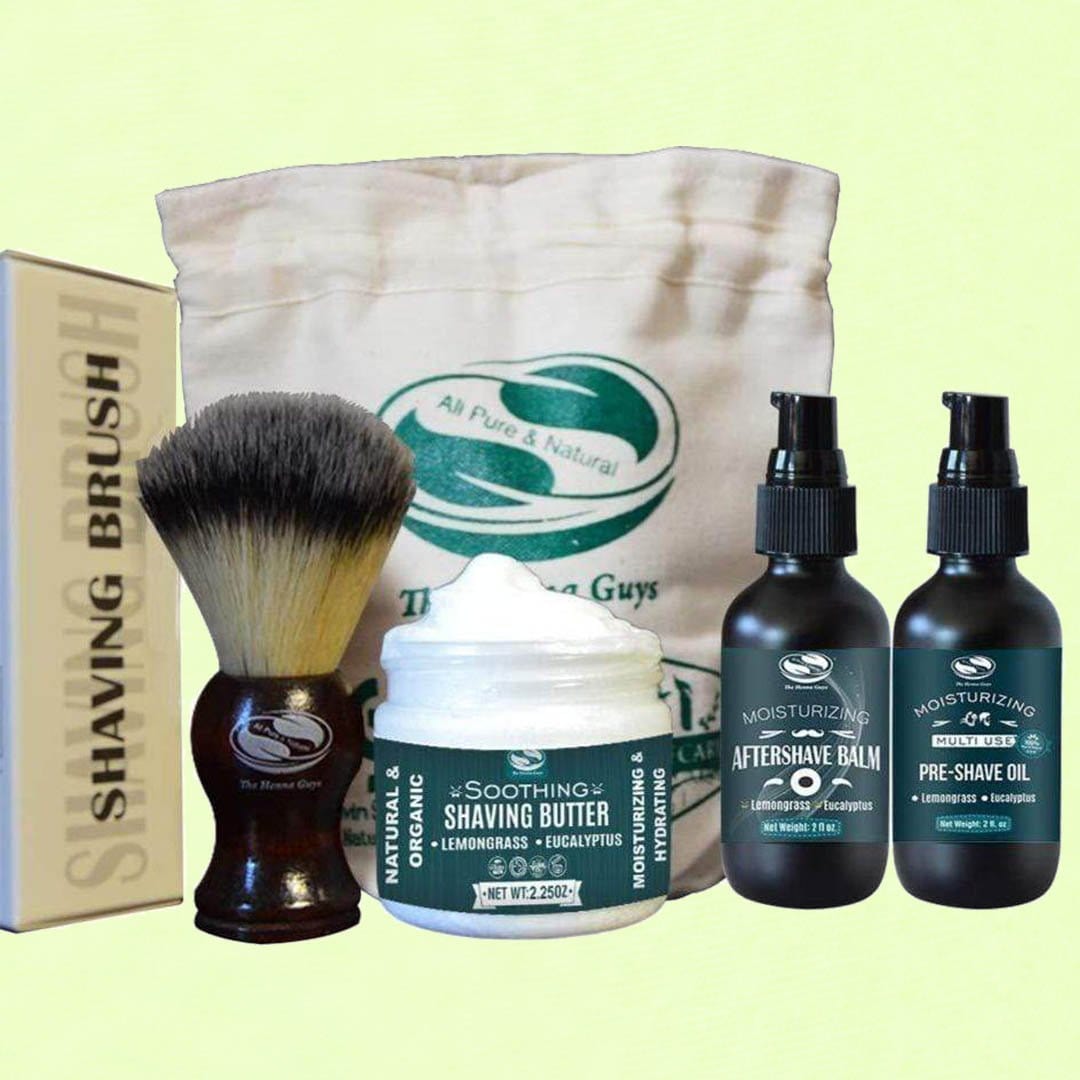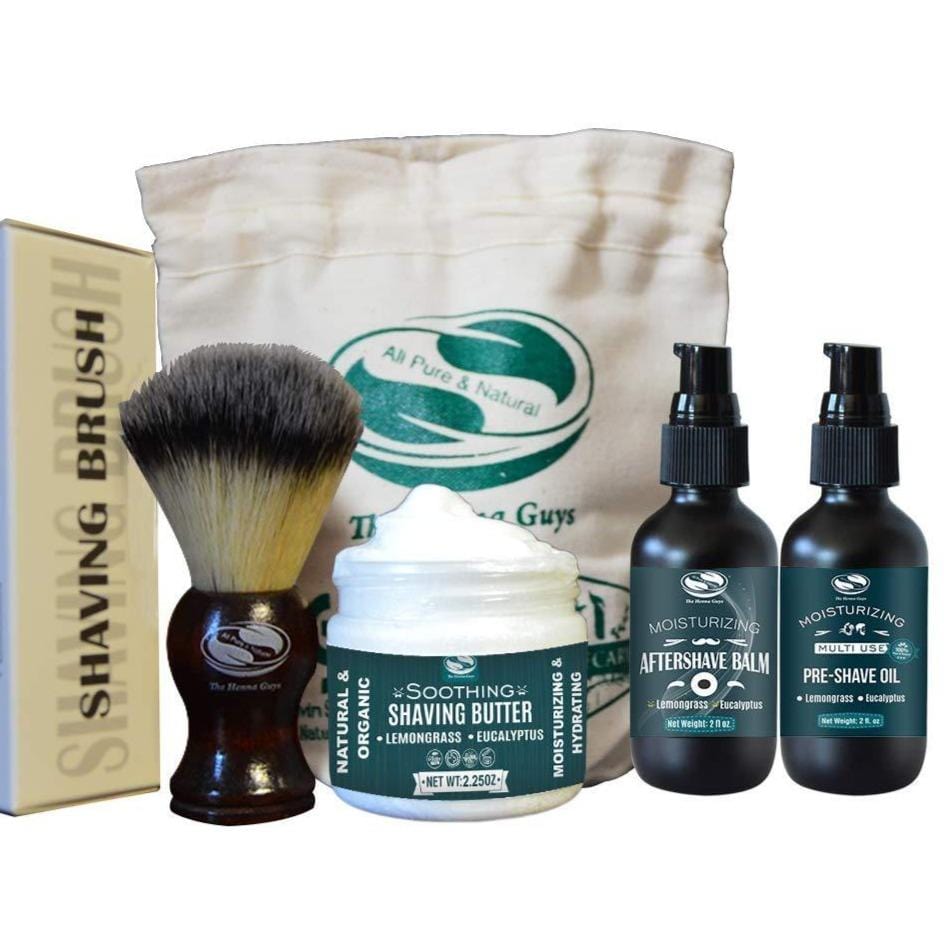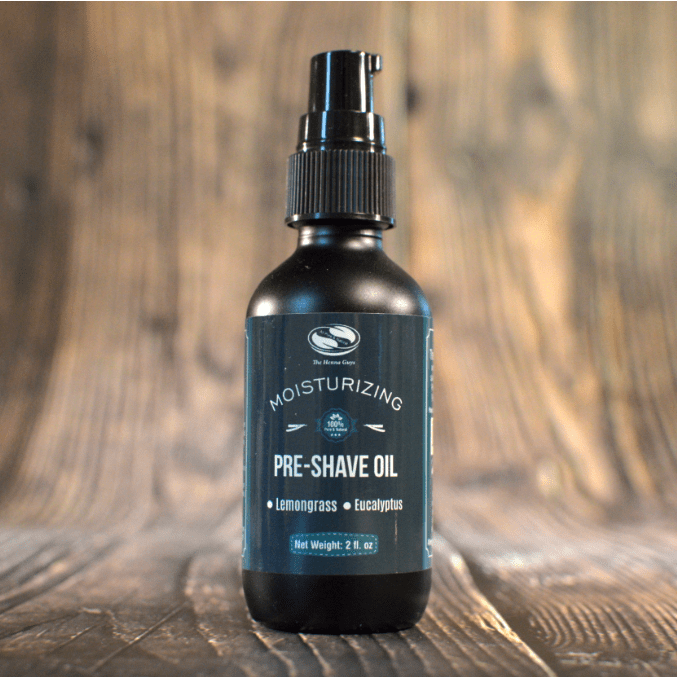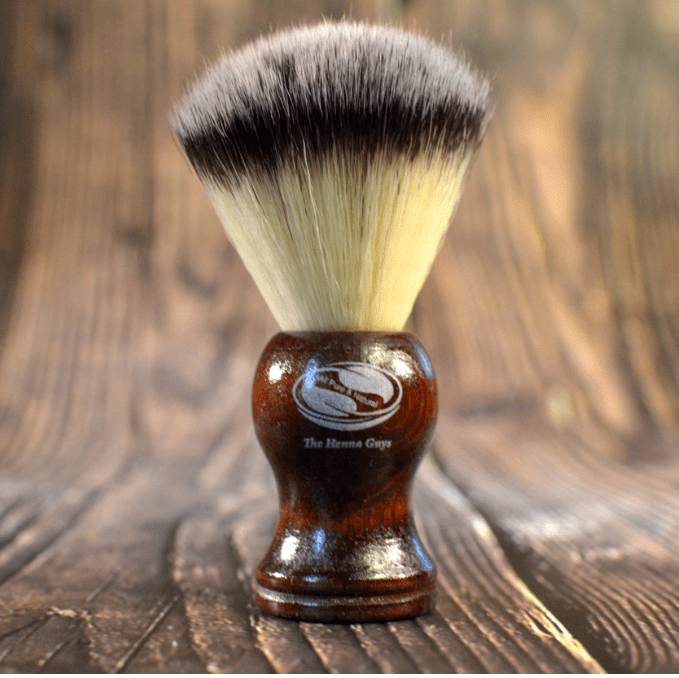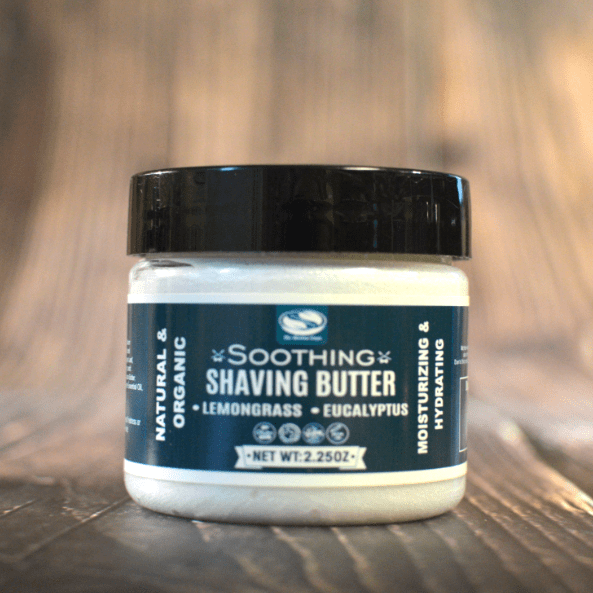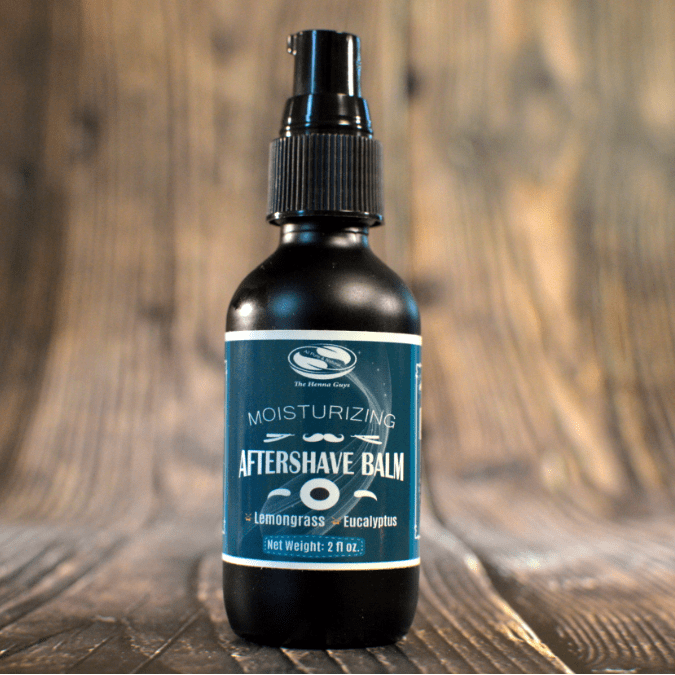 Customer Reviews
91
reviewers would recommend this product
Write a Review
Ask a Question
Filter Reviews:
husband
experience
shaving ket
skin
Everything
gift
sizes
containers
birthday gift
Brushes
06/24/2021
Vincente T.

United States
I recommend this product
Not worth the price
For the price I paid, this wasn't really worth it. I could get regular shaving cream for a 7th of the cost in a quantity that would last me 3 times longer. I can't speak for the impact of the product itself, but it also comes in plastic packaging which is much smaller than alternatives, which means more plastic per unit of product. This is not good for the environment. Doubly so when the alternatives I use make use of metal rather than plastic packaging. I probably wouldn't have bothered to post this review, but I was upset that through my purchase, the company acquired an email address which I keep strictly limited to direct personal communications. They began spamming me with emails, even after I had unsubscribed from further messages.
12/22/2020
Elizabeth

United States
I recommend this product
love
it's a great product for a gift, my boyfriend loves it, these brushes feel good on his skin and work really well. Their shaving kit is a perfect bundle for a lovely and smooth shave. I would say do not hesitate to buy from The Henna guys.
12/22/2020
Julian

United States
I recommend this product
superb
I have a great experience with shaving ket, I especially like the bread wash, comb, and brush, this brush is good for my skin,
12/22/2020
David

United States
I recommend this product
Recommended
I actually liked this product a lot. Came on time and for the price you get a lot of stuff. Left my beard looking healthy and much more kept. I honestly don't have a complaint about the product. The sizes of the bottles/containers could be bigger but for the price I'm really not one to complain
12/22/2020
Ella

United States
I recommend this product
amazing
I ordered this as a birthday gift for my husband, it awesome experience with him, its perfect for my husband
12/22/2020
Sophia

United States
I recommend this product
highly recommanded
it is great for my husband when shaving he loves it, it's very easy to use
12/22/2020
James

United States
I recommend this product
Recommanded
everything is very easy to use gave it as a gift my wife loves it.
12/22/2020
Lucas

United States
I recommend this product
best product
I loved everything about this product
12/22/2020
William

United States
I recommend this product
Excellent
This is exactly what I was looking for. Before this, I was using conventional shaving tools including pre shave and after shave formulations. But honestly, items in this kit work awesome and more over natural origin and very safe for skin.
12/22/2020
Emma

United States
I recommend this product
best experience
it was a great experience with my husband, he likes it, he is comfortable with using
12/22/2020
Mia

United States
I recommend this product
fantastic
I bought for this my husband, it was my great experience, we like this shaving ket,
11/27/2020
Bob

United States
Got it as a Gift & Loving it
High-end shaving experience. Smooth and irritation free