Ceramic Backflow Waterfall Incense Burner
Regular price

Sale price

$ 25.97

Unit price

per
Relax and Rejuvenate your mind and body with this backflow waterfall Incense burner. The L & I Apothecary Backflow Incense Burner is designed to help you burn incense cones or sticks with a beautifully relaxing waterfall effect.

The décor is made out of ceramic with a fine touch of blue and white finishing, as well as a lovely transmission of the dark brown base. A wonderful way to fill your home, office, or personal space with restorative aromatherapy.
This waterfall incense burner is sure to help you find the peace you need to relax, unwind, or sleep more soundly. We also include extra cones so you won't have to rush out to the market, just to enjoy your favorite fragrance.
Perfect as a gift or for personal use
Wood-Burning Aroma
Waterfall-Style Smoke Flow
Hand-Crafted Ceramic Holder
150 Multicolor Incense Cones Included
Easy to Setup and Indoor Safe
Modern Design for Boho Styles
How to Use the Incense Burner
Light up the top of the circular incense cone
Place the cone on the burner, and wait for a few seconds
The smog will slowly steam and you're all set for refreshment
Enjoy the lovely sight of the waterfall incense effect
Important Note:
Once the cone is fully burned, it will leave ash and yellow liquid first
Wash the water, naturally, the ash will fade away
Features of Incense Burner
Backflow Incense Waterfall
With the L&I Apthecary ceramic incense burner, you'll get perfect visualization of a waterfall effect, that slowly tumbles into the air - Like a pool. It is one of the warmest sights that one can watch all day. All you have to do is light up the burner and leave the rest to the holder.
Perfect Gift
Want to gift something special to your loved ones? Try out this Ceramic Backflow Waterfall Incense Burner. This decoration item is a perfect organic gift, that not only provides fragrance - but also clears your environment from everyday pollution.
Decorative
Why go with a traditional incense holder that looks boring and tiresome in your room? This ceramic multi-color increase waterfall burner will not only mesmerize the way you look at the smoke, it surely is a decorative experience in your home.
Various Usage
You can use this burner anywhere in your home. Use it in the living room, office, yoga room, hotel, bedroom, bathroom, or any other place where you want to please the atmosphere.
Material: Ceramic
Cones: 120 Cones (Multicolor)
Incense Sticks: 30 Sticks
In the Package: Waterfall Incense Burner, Cones, Incense Sticks, Cleaning cloth, tweezer, and 1 Piece of Mat.
More Products: Resin Waterfall Burner
Share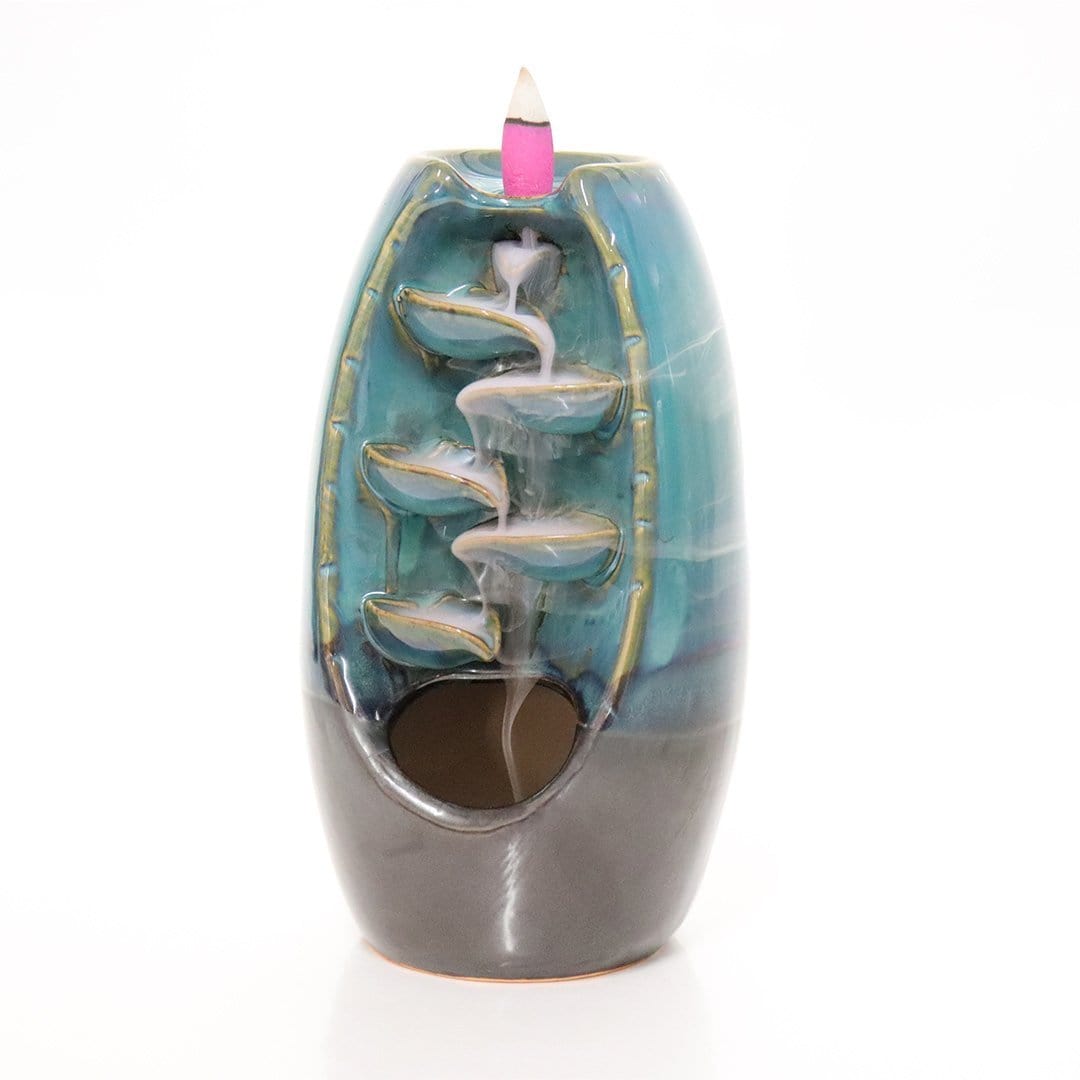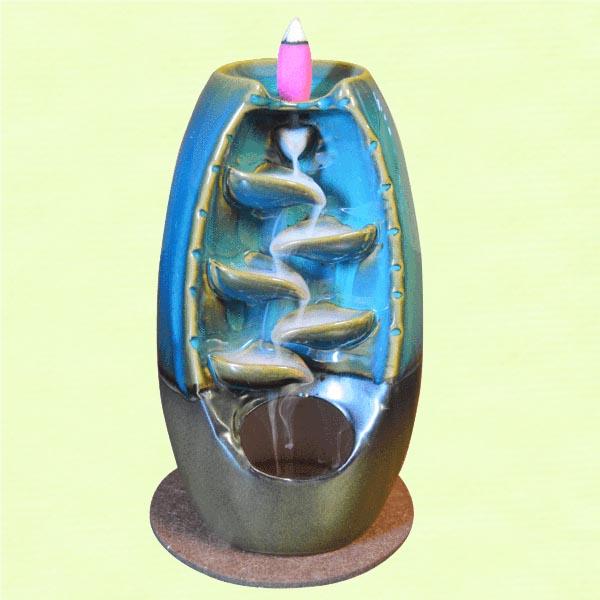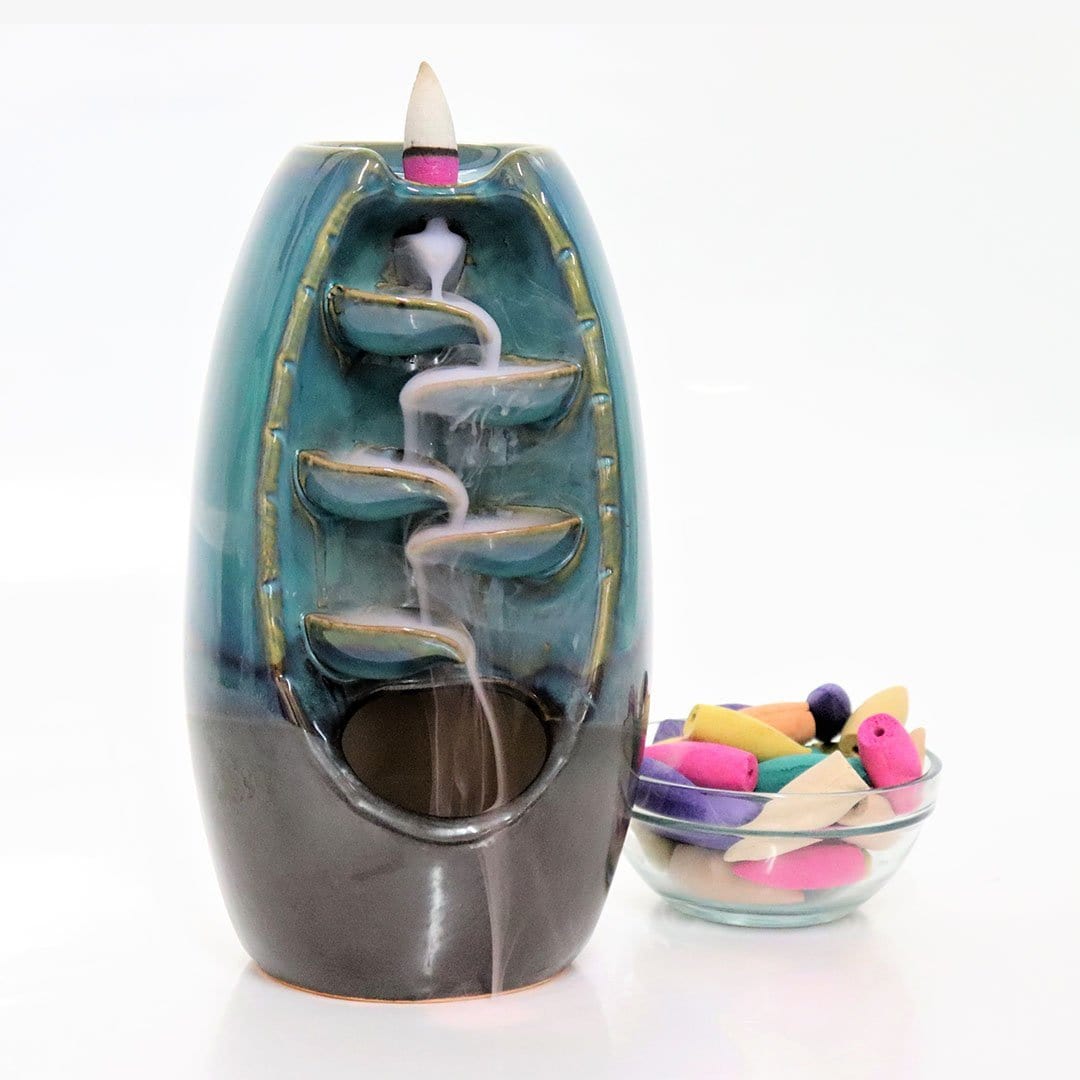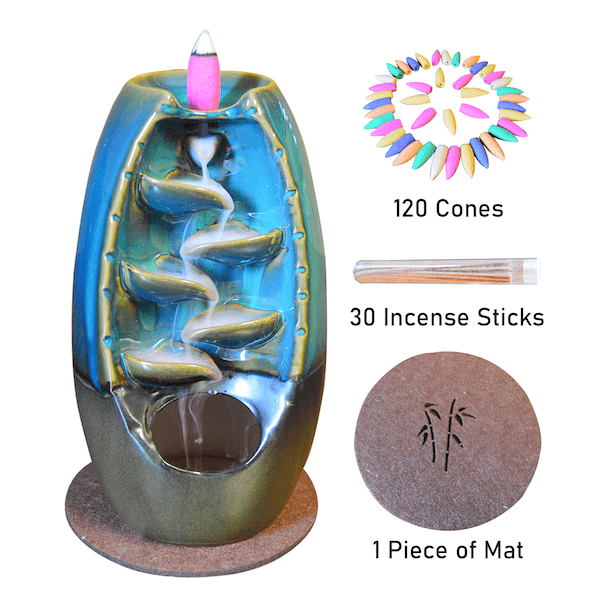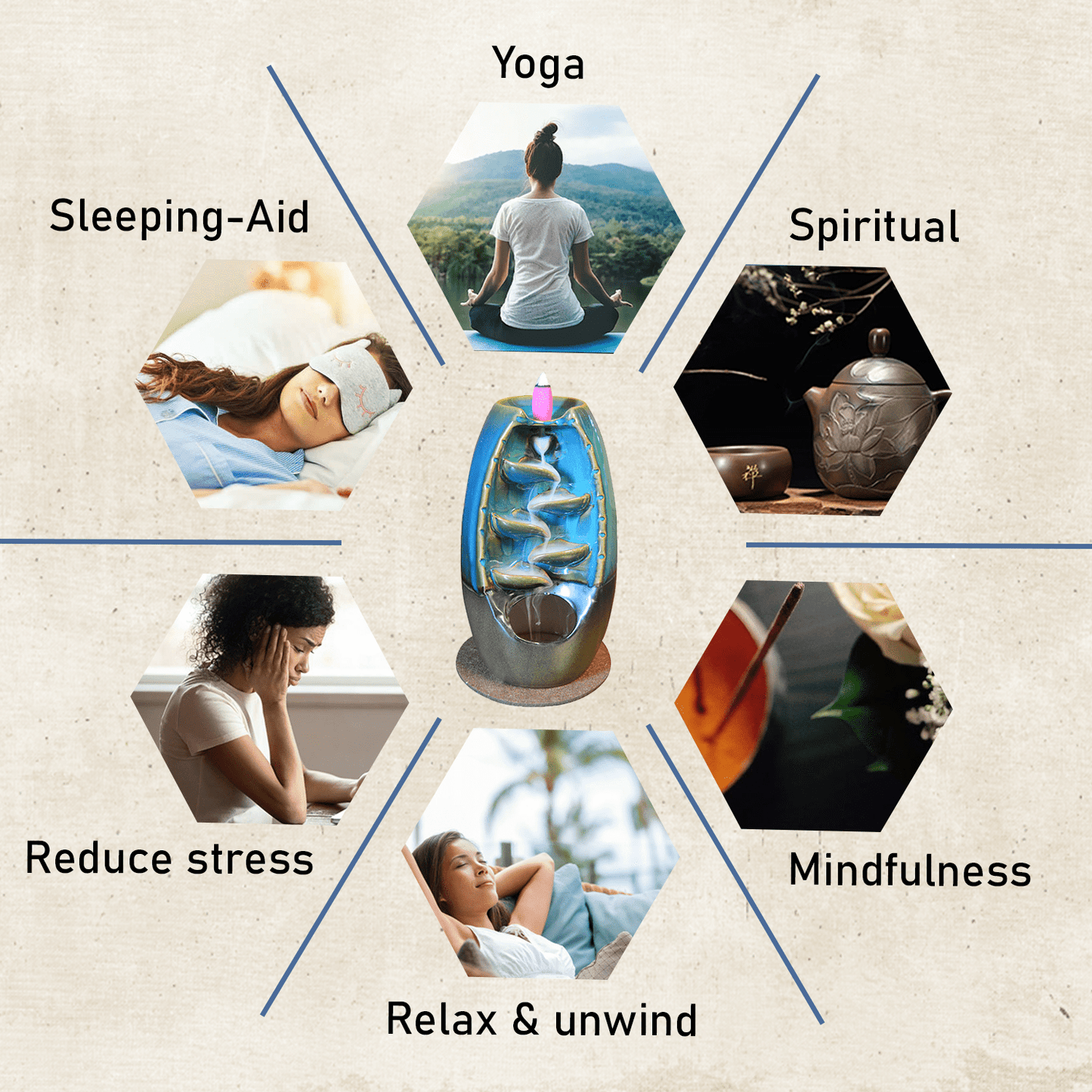 Customer Reviews
Write a Review
Ask a Question
Filter Reviews:
aroma
packaging
fragrance
cones
incense burner
burner
sticks
delivery
anxiety
scent
02/11/2021
Nichole G.

United States
Very pretty
Very pretty, also you get SO many incense cones and sticks with it, I will be set for a very long time. The only reason I took one star off is that the hole where the cone is supposed to sit is in a spot where its so close to the edge that I cannot get the cones hole to line up with it very well. Also I would suggest some clearer instructions, I don't even know what the little metal piece is for and I am not sure how to use the sticks in this(?) It's is pretty when it works right!
12/28/2020
PeterChristina

United States
I recommend this product
pretty good
A well-received waterfall burner such a beautifully designed decorative piece. It is not small, nor too big, perfect size. Great to enhance an oriental style decor. Recommend this article to all fans of incense. So I would buy it again as a gift overall. It's a very nice thing.
12/28/2020
StephenJack

United States
Nice scent
Just received the ceramic incense burner - Great article! I love the scents of different candles and the waterfall effect displaying the mesmerizing looks. Perfectly suitable to gift someone or to decore any desired place. The packaging is so pretty, nice look. So yeah, a big yes to your product.
12/28/2020
PaulBetty

United States
NICE burner
Hey, I have used the smoke waterfall burner and it has done wonders!! It smells too good. It gives fresh fragrance, good sleeping, relieve anxiety, and much more. It actually works. The waterfall effect is just breathtaking. The packaging was super cute with 120 cones of incense and scented sticks. Love the little mat, it comes with it too. I Will shop again. Very much appreciated.
12/28/2020
Anthony

United States
I recommend this product
LOVE THE PRODUCT
I just wanted to let you know that I tried the nice little organic burner that smells so amazing from other fragrances I used. The 120 incense burner as promised comes with beautiful colors and packaging that is enough to last for 2-3 months. It was absolutely wonderful. This is the best decoration item that gives a pleasant atmosphere through organic fragrance. Perfect for stress reduction and meditation. Totally loved it.
12/28/2020
Daniel

United States
I recommend this product
LOVE THE PRODUCT
Hey, I am obsessed with your products. It comes with the best packaging. I have tried a lot of fragrances but the aroma of this ceramic burner is just wow. This is the best organic product that I can feel the awesome results. It gives a pleasant environment for my room. They smell so good and it's really cool to see waterfall action. This is the best thing you can gift to your loved ones. LOVE IT!!
12/28/2020
Charleskaren

United States
I recommend this product
GOOD PRODUCT
The product I receive today ceramic waterfall burner is lovely that came along with the packaging of cone sticks with different colors. I really appreciate the scented sticks. It gives a relaxing and very soothing effect to release any stress and anxiety. It gives comfort to your mood. It works like a charm. Totally recommended!
12/28/2020
Thomas

United States
I recommend this product
Great burner
Received the ceramic waterfall incense burner which is used for decoration at home, kitchen, and offices. The scent is very calming and stays for a long time to enjoy the sweet fragrance. The AROMA made me very relaxing and satisfied. I recommend buying it!
12/28/2020
Joseph

United States
I recommend this product
FANTASTIC
Received the backflow incense burner. Am very impressed and attracted by the fragrance of the incense cones including in the package which emits a beautiful scent that helps in uplifting our mood. It is very ideal for home decoration, bedroom, and gift items. I would recommend this for anyone looking for an incense burner that does a little more than just burn incense. Works like magic!!
12/28/2020
Ryandavid

United States
I recommend this product
True ART
Only used it once and it worked as advertised. Very well made. Packaged beautifully! Looks and smells great. Very cool and relaxing to watch. Highly recommended!
12/03/2020
Lucy G.

United States
I love it
I am loving it.
12/03/2020
Stephen B.

United States
Amazing
In my opinion, nothing can beat this device in running time and variety of aroma selection. You do not need liquids to operate this. In Aroma diffuser , we need essential oils and water but not in this case. Incense burner has variety of aroma sticks and cones and very easy to operate and runs for longer time. Highly recommended!
12/01/2020
Tifany

United States
Outstanding Product
Just unboxed my 2nd burner. Next day delivery and product itself forced me to write this review. First burner i ordered was other designed listed on this web store. I was quite happy with the performance especially its running time. My mother came this thanksgiving day to visit us. She liked the incense burner and she took away with her. So, i ordered this design which is even better. Box also contains variety of incense sticks, and cones. It keeps the room filled with different and unique aromas.
12/01/2020
Chiki M.

United States
I will order more soon
This aroma burner has made me quite happy and satisfied. It has beautiful look and long running capacity. Aroma sticks in the package are of pretty cool quality. I will surely reorder soon.
12/01/2020
Jackie

United States
Top Quality Incense Burner
Exactly as described. And same as in Picture. I received complete package. Speedy shipping and delivery was impressive. This company deserves 5 star ratings for the services and product quality.