Henna Hair Dye - 5 pc Brown Bundle with Shampoo & Conditioner
Regular price

$ 70.00

Sale price

$ 54.97

Unit price

per
This bundle contains our most frequently bought together items for people with brown hair,
1. Choose up-to 3 henna hair dyes from Dark Brown, Medium Brown, Light Brown, Auburn, Pure Henna & Indigo Powder.
2. Select one color-safe, sulfate-free shampoo of your choice (12 fl. Oz)
3. Select a conditioner of your choice (12 fl. Oz)
Price Comparison
Here is your savings comparison when buying these as bundle vs individual
Retail Price of the individual items in this package online.
Amazon.com = $77
Walmart.com = $74
thehennaguys.com = $70
Price as a bundle: $59.95
YOUR SAVINGS: $11
Share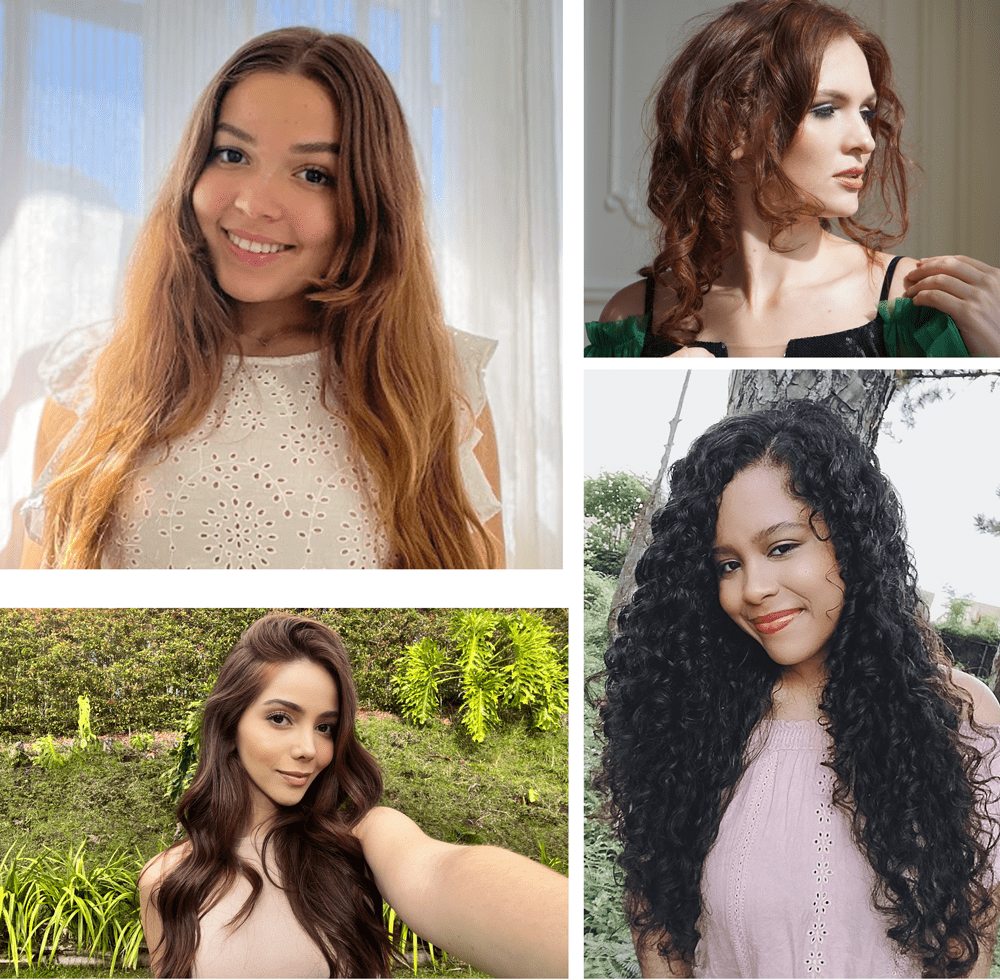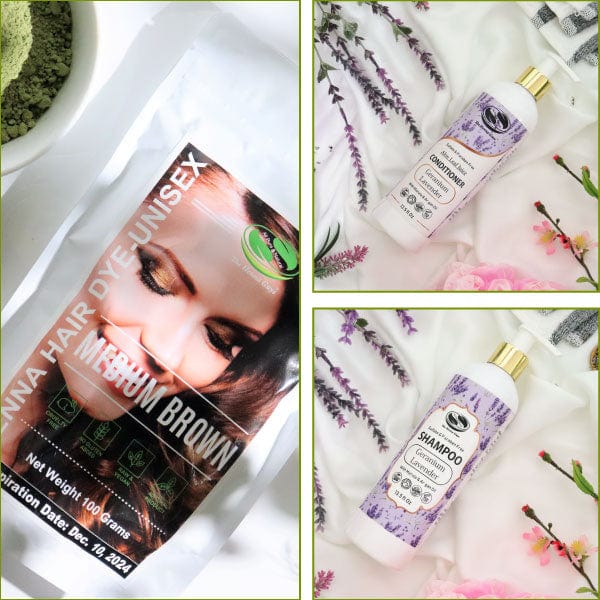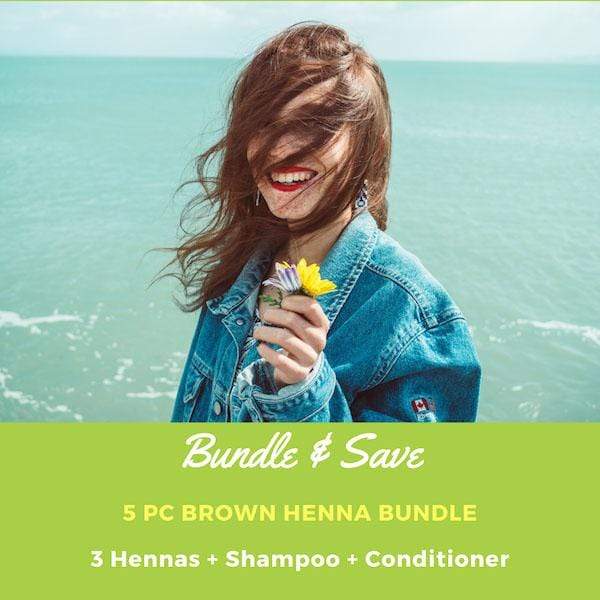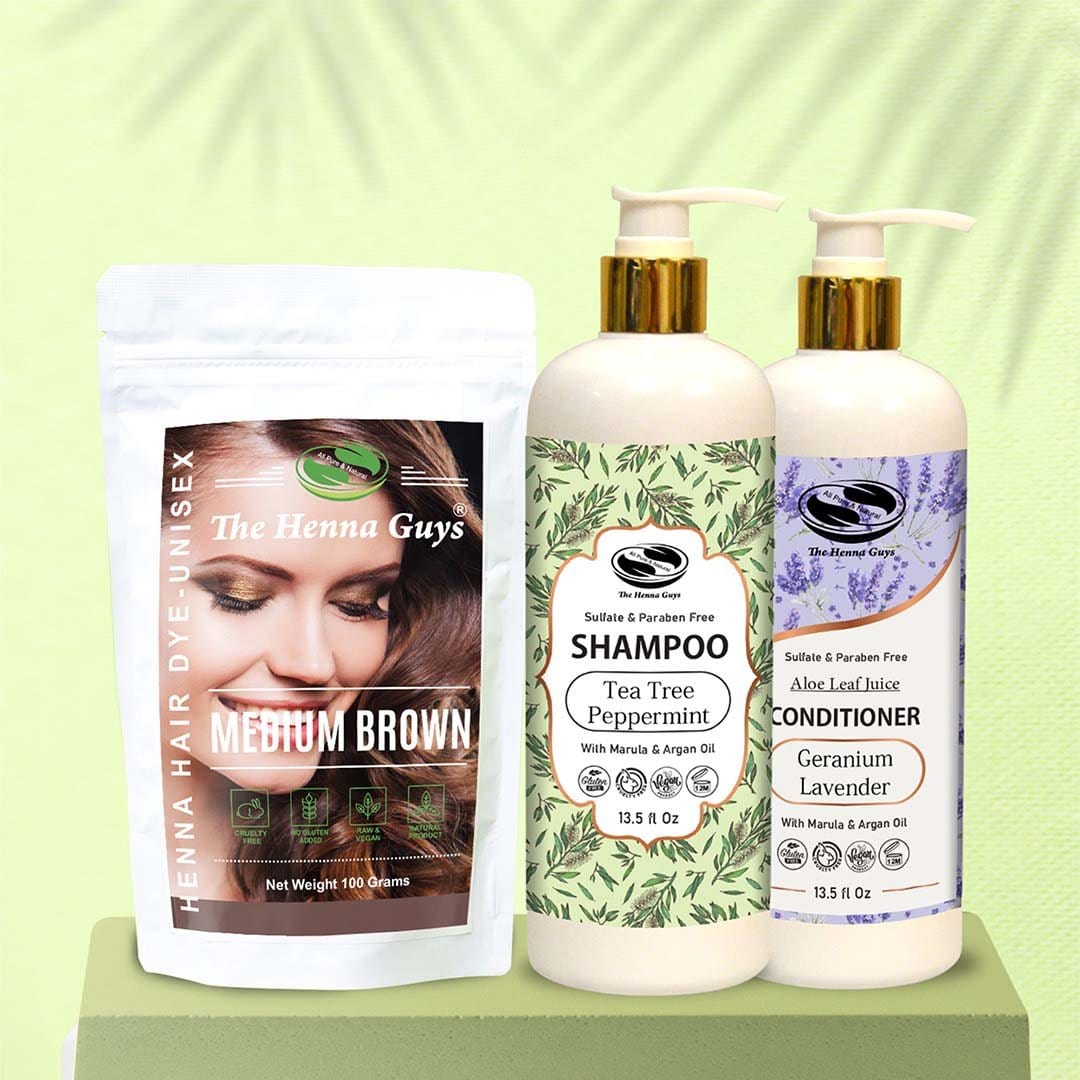 Customer Reviews
Write a Review
Ask a Question
Filter Reviews:
henna
hair
tone
auburn
color
results
grays
three
parts
body
09/04/2019
Angela S.

United States
Good Products!
My overall experience with the products was very good. The products left my hair soft, manageable, and extra body I don't normally have. I love the color of the dark brown henna. I gave four stars because the henna did not completely cover my hairline grays. But I did the one step application since I did not have the time to do two step. Next time I will try two step as recommended for better results with the stubborn gray hairs. Overall, I really like the products and would recommend to others.
09/02/2019
Kassandra V.

United States
My hair is now awesome!
My hair is showing its age with dye resistant grey and thinning. I felt older than I am. As a last effort, I decided to try henna. It worked! The greys got covered. The rest of it got some life to it. I mixed the three shades, 4 parts light brown, 3 parts dark brown, and 1 part auburn. The henna took about 10 years off my face. My husband couldn't get over the dramatic difference. He said he'd put up with the Creature from the Black Lagoon wounded in our bathroom in sight and smell if it made my hair this nice. I do recommend getting a scented shampoo to help with the henna smell if that bothers you.
Love Henna
I've been doing Henna for a couple of years now, started because I didn't want any harsh chemicals going on my scalp. After Cancer, I am really paying attention to what goes on my body as well as what goes in. I applied Henna Light Brown on my newly grey hair growth and just like that...I'm in Love with Henna!
07/29/2019
Colleen H.

United States
never going back to chemical dyes
I've been using the henna for over 1 year now. The auburn is a bit too bright for my hair, so I mix 1 part auburn, 3 parts medium brown and the color is perfect. The product is very cost effective because you can use just the amount of powder you need and save the rest for later. It is a bit time consuming, however I just plan to do stuff around the house while waiting. Three hours works best for me. And I believe the color is permanent because I only notice the grays coming back from the roots as they grow. I have not had to reapply product to my entire hair (only the gray roots). The color effect is not even as is stated by the manufacturer. My grays end up a slightly different tone than the rest, resulting in a nice highlighted look.
06/21/2019
Irene Y.

United States
good product
It is first time to use henna hair dye. I bought the brown bundle and used the medium brown color. The result is good and better than I expected. The instruction is clear and simple but the process is kind of long (almost whole day from mixing the powder and waiting). it is expected per other people review. So, be patience but it is worth to use nature and chemical free product. I will try it more and introduce to my family.
Excellent Quality Products
Absolutely love the brown bundle henna dye and the aloe shampoo & conditioner. Fully covered my grays & left my hair silky & shiny. I love that my grays look like I highlighted my hair with chocolate/auburny tone. My sister in law is a hair dresser & she applied the product, she was very impressed with my results. I will definitely be a repeat customer. Thank you Henna Guys for your spectacular products & excellent customer service, you have exceeded my expectations.
Related Products
Good combination of products with discount great...
Highly Recommended
5 Star Product...
Excellent transaction
Very happy with this bundle. Quality, shipping and price all fine.
Best ..
To be honest this bundle posses everything for a proper hair treatment in order to drive the best results. Simply great products. And in very low price as compared with the quality. Speedy delivery. I would say best services all in all. Lavender and Geranium Shampoo and Fragrance-free conditioner by The Henna guys are at the top. Buying more.
Five Stars by a repeat customer.
Pure and natural Henna hair colour and herbal shampoo at a very economical price. Natural conditioner powder has made my hair too soft and healthier. I really love the whole natural treatment.
Super natural and economical
Value package. nice quality as well
Worth the time and money spent
I am very very happy and have no words to describe the satisfaction level. Absolutely Great! What a beautiful colour and moreover the shine. I have always been searching for this kinda henna quality. But after an extensive search and worst experiences reached The Henna Guys' brand. They have magical products. I will surely stick with them. Especially with the discount price. Highly recommended!
Wonderful
This bundle saves no less than $20, which is a big discount. And wonderful Henna quality. Could not find anywhere else.
Love the Brown Bundle
I bought this for my sister. She is really happy with the result. Going to buy more. She will write a detailed review soon.