Argan Shampoo - Sulfate & Paraben Free
13.5 fl. Oz Marula & Argan Oil Shampoo - Natural, Premium, Sulfate-free, Paraben-free - an excellent remedy for henna dyed hair- The Henna Guys. It helps nourish everything from the ends of your hair to your scalp. Marula oil is enriched with Vitamin C and Oleic acid combines to help protect and beautify hair. Argan Oil helps promote new hair growth, but also will help you grow healthy, thick looking hair. It can be a Great Moisturizer for the scalp to help fight dandruff and dry scalp.
Soak Your hair before you shampoo your hair, make sure you fully soak it. Apply shampoo and avoid scrubbing your hair, be gentle, and Cleanse your hair thoroughly with water. Towel dry your hair. 
We source the finest quality ingredients from ethical producers around the world. Our product line is developed using the finest natural ingredients. We take pride in delivering a high standard quality of the Shampoo. We guarantee you 100% satisfaction with our product. Claim your money back if you are not fully satisfied with the results.
Water (Aqua), Cocamidopropyl Betaine, Decyl Glucoside, Cetearyl Alcohol, PEG-40 Castor Oil, Stearalkonium Chloride, Caprylic/Capric Triglyceride, Glyceryl Stearate, Phenoxyethanol, Xanthan,  Tetrasodium Glutamate Diacetate, Geranium Essential Oil, Lavender essential oil, Marula Oil, Argan Oil.  
 For external use only. Avoid any contact with eyes. Please stop usage if redness or irritation occurs and consult a doctor. Keep out of reach of children and consult a doctor if you are pregnant.
We know you love what we sell, so why not get paid for sharing our brand? We actively seek passionate people to help promote our products, and in return we provide an extremely generous commission program which pays up-to 27% commission that provides an excellent, continuous, and attractive source of additional income. We will provide access to your own software that tracks every lead, sale and commission payment due to you. Everything you need to start is available right now...
Sign up below to become an ambassador to our awesome brand.
Already an affiliate? Click here to log into your dashboard.
Customer Reviews
Write a Review
Ask a Question
Filter Reviews:
shampoo
hair
scent
conditioner
lather
Lavender shampoo
weight
hair problems
solution
environment
11/24/2020
Elizabeth L.
United States
Argan Shampoo
It feels good and has a nice scent.
10/03/2020
Lilibeth s.
United States
Great product
It's pretty pricey, but it works !
09/05/2020
Heather A.
United States
HIGHLY RECOMMEND!!!
I have fine hair and live in a dry, windy, and at time harsh environment. This is WONDERFUL! Adds moisture without weight, has a clean refreshing scent and I will be purchasing this again!
08/09/2020
Sarah B.
United States
Natural and effective shampoo
This shampoo smells nice and I appreciate the safe and natural ingredients. I do seem to need a lot in my hair to get a good lather, but I like knowing that it's actually good for my hair. Would recommend and purchase again!
07/04/2020
Rebecca B.
United States
My new favorite shampoo
I have thin, fine hair and it's hard to find a shampoo that works for me. This one is great and quality ingredients, too,
06/19/2020
Debra R.
United States
Nice
Great shampoo but it does make my hair a little greasy after a day or two of using it.
06/03/2020
ERIN L.
United States
5 stars for the way my hair feels
I got henna to cover grey but mostly cuz i was thinning out too much.Well) I wanted burgundy and it came out neon rust ugh I was si embarrassed.1 week after I love the way my hair feels so full and healthy and the rust color is kinda cute now..I think i made alot of mistakes user error..I probably let it rest too long like 30 lol gonna try again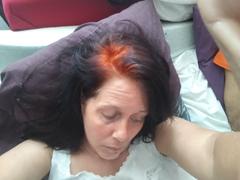 06/02/2020
Dorothy B.
United States
Must Have Shampoo.
I got both Shampoo & conditioner they are really good. Left my hair feeling nice, soft & healthy. I applied conditioner after washing out the henna. Amazing!
04/17/2020
Deby
United States
Lavender shampoo awesome
Lavender shampoo awesome!!! got the lavender shampoo in the mail yesterday used it this morning didn't even use the conditioner with that just the shampoo and OMG!!! I think I will use the shampoo forever
Say no to Dandruff
This Henna Guys shampoo is all in one solution for all hair problems. My friend suggested me to use it for dandruff and it is very effective.
Amazing results
I am very choosy when it comes to buying hair products as I love my hair. This shampoo is all I needed to bring my dull hair back to life. It nourished my hair and removed scalp dryness effectively.
Shampoo
I love the shampoo for it leaves my hair clean & soft feeling along with not having to use cream rinse. Love the scent.
Youzza!
Henna takes commitment. It's messy and it's a long process. The deep red is very bright. I'm enjoying I mixed it with some medium brown, and it really did not tell on it down at all. A lot of people are commenting on how bright my hair is. I will keep working on getting the right color but generally I like this brand the best so far
Absolutely wonderful
I'm happy to write the first review. To be very honest, this Argan oil and marula oil shampoo have got everything you can expect from a natural originated shampoo. A class of its own. You may find cheaper brands in the market but this one is all unique and different. I can't really describe in words. Before I was a regular user of Pure henna and essential oils by The henna guys. A complete beauty and aromatherapy shop for me from now on. Fast shipping and speedy delivery too. What else can one ask online?