Medium Brown Henna Hair Dye
Experience Rich, Luxurious, Natural-Looking Color. Whether you're looking to restore a more natural hair color or you're looking to go bold and beautiful by going brunette nothing beats the color quality found in The Henna Guys Medium Brown henna hair dye.

Formulated with a proprietary blend of henna, indigo, amla, neem, and natural herbs this henna hair dye brings out rich colors and lustrous shine for stunningly even results with just the right balance of uniformity from root to tip.
🌿 Colors and Covers your Grey Naturally
🌿 Works Best on grey, light brown & medium brown
🌿 Conditions & Adds Shine to your Hair
🌿 Adds Manageability & Promotes Hair Growth
🌿 Continuous use Improves overall Hair health
🌿 No more irritation, Bruises or Burns 
Ingredients and how They Work
🌿 

Henna (Lawsonia inermis): The base of our medium brown henna hair dye starts off with pure henna, milled into a super fine powder from natural henna leaves. This bright red-toned powder is then mixed with other ingredients to create different shades.
🌿 

Indigo (Indigofera tinctoria): Blue toned indigo powder is mixed with henna powder, a red tone, in specific ratios to help create this rich medium brown henna hair dye. Indigo powder also comes from a plant and enables the creation of shades of browns and blacks when mixed with henna.
🌿 

Myrobalan (Terminalia bellirica): To enhance the color of henna, myrobalan is added into the product. This ingredient comes from the nuts of a specific tree and the natural color of the dye is a faint yellow. It helps in fine-tuning the medium brown color.
🌿 

Amla (Phyllanthus Emblica): Brighten your color and help keep it intact with the amla powder, a derivative of the Indian gooseberry. It works wonders with its natural properties to help you achieve better color results.
🌿 

False Daisy (Eclipta alba): Minerals in false daisy cover your hair with gorgeous sparkle and leave your hair shiny and gleaming.
🌿 

Neem (Azadirachta indica): Neem helps pull together the final results by leaving your hair and scalp flake-free and deeply conditioned. 
Allergy Warning: Although our henna hair dye is made with natural ingredients, sensitivities and allergic reactions to even natural products are possible. If you do not know your allergies, Always start by doing a strand/skin test before applying any henna.
Disclaimer: Individual results may vary. These are 100% natural products, and benefits are not guaranteed. Outcome may be affected by other factors like the type of shampoo or conditioner being used, as well as any other chemical hair treatments in the present or past that may affect results. 
 * These statements have not been evaluated by the Food and Drug Administration and are not intended to diagnose, treat, cure, or prevent any disease or health condition.
Why Its Time to Make a Bold Change

The best factor behind this medium brown henna hair dye is that it allows you to capture the perfect light brown sheen you're looking for or go bigger and bolder with a richer, deeper brown with unimaginable depth.
Superior Color Quality
The reason our medium brown henna hair color offers a more natural look is that it's made with plant-based herbs that are gentler on your hair but still give you that bold, vibrant look you cherish.
In fact, our hair dye is specially formulated to be:
🌿 Perfect for those looking for a soft light brown or medium brown hair color
🌿 Natural, raw, and gluten-free to be safer and gentler for all hair and skin needs
🌿 Supportive of those with color-treated, African, Indian, Asian or ethnic hair types
🌿 Better at covering gray hair and restoring lustrous shine without drying out roots
🌿 A smarter choice for those with sensitive skin or chemical hair dye allergies
Includes Shower Cap, Gloves, and Application Instructions
Formulated as a triple-sifted powder that turns into a smooth, easy-to-apply paste, our henna dye for hair provides superior color richness and evenness you won't find in those hair dye boxes at the store. More importantly, it's free of the harsh chemicals that dry out your hair, irritate your skin, and leave your hair feeling "fried" when you're finished.
Natural, Allergy-Free Ingredients
Common hair dyes can dry out and damage skin and hair, which is why plant-based henna hair color provides a more vibrant color while being safer overall. Our ingredients are designed to nourish your hair from root to tip and include the following:
Pure Henna and Indigo
Milled into a super fine powder from natural henna leaves, we mix this bright, red-toned powder with other plant-based ingredients to create a well-balanced shade coloring. We add the indigo powder to help create the specific rich, medium brown henna hair dye ratios to give you deeper, richer, more vibrant color clarity for that optimal look.
Color-Boosting Ingredients
We've enhanced our hair dye formula with myrobalan, amla, and false daisy that work to help enhance overall color quality with brighter tones and a deeper finish. What's more, it leaves hair shinier and more lustrous while ensuring the color lasts far longer than common chemical-based dyes.
Nourishes and Conditions Hair
Henna For Hair, unlike standard box dyes, also nourish and hydrate your hair from the follicles to the tip. This means less flaky scalp, dryness, brittleness, or split ends for clearer, healthier hair that's far more manageable. This makes it perfect for those with skin allergies or dry hair.
Here are the detailed application instructions
🌿 Colors naturally
🌿 Promotes hair growth
🌿 Helps improve manageability 
🌿 Conditions hair and adds shine 
🌿 Continuous use helps improve overall hair health
Here is why we're the top-selling henna brand in North America. Our products are:
🌿Ethically produced
🌿Triple-sifted powder for a smooth paste
🌿A blend of henna, herbs and other natural ingredients
🌿 Made in small batches for maximum freshness
🌿Gluten-free, natural, raw vegan and 100-percent natural
🌿Shipped with shower cap, gloves and application instructions 
We know you love what we sell, so why not get paid for sharing our brand? We actively seek passionate people to help promote our products, and in return we provide an extremely generous commission program which pays up-to 27% commission that provides an excellent, continuous, and attractive source of additional income. We will provide access to your own software that tracks every lead, sale and commission payment due to you. Everything you need to start is available right now...
Sign up below to become an ambassador to our awesome brand.
Already an affiliate? Click here to log into your dashboard.
Customer Reviews
Write a Review
Ask a Question
Filter Reviews:
hair
color
brown
results
henna
shade
smell
dyes
chemicals
grays
11/01/2020
Christa P.
United States
Excellent Prodict
My hair turned out as shown on the picture online. I used the medium brown and it covered the grays perfectly it made them look like highlights! I will be purchasing in the future! So, so happy !!!
10/24/2020
Jo P.
United States
Great color! Covers grey
Easy to use. Very happy with result.
10/19/2020
Ricardo B.
United States
Once you go HENNA GUYS you always go back
Product does the job, service knows it's job. Customer satisfied. I like their way of doing business.
10/15/2020
Vilmania G.
United States
Great Product
I have had an excellent experience with this product and the customer service.
10/07/2020
BARBIE M.
United States
Love it! Love it! Love it!
I honestly have to say that I have been using other Henna products and the Henna Guys' Product is the best thus far. Covers gray really well and gives hair lots of shine!
10/04/2020
Johnsy A.
United States
I really love the color
I love the color as well as how easy the product is to mix and use. It makes my hair shiny and the color seems to last about a month. I have also added both rosemary, lavender and apple cider to the mix and love the results.
09/29/2020
April A.
United States
Great, natural, hair color
So, I was a little skeptical when I considered dying my hair with henna as a week earlier I tried dying my hair with coffee and I got zero results. I followed the very simple instructions and added apple cider vinegar for stubborn greys just like they suggested and even wrapped my hair in a towel for awhile during the process. After 3 hours, I rinsed in cold water and my hair was a very nice medium brown with copper and red highlights and the color has gotten richer with time just like they said. So I am definitely going to be using henna for my coloring needs....I am hooked! Thank-you henna guys!
09/25/2020
Lisa C.
United States
Great gray coverage and color
I have used henna for years, and this brand gave me the best gray coverage ever. I had an email conversation with them on how to best cover gray. In addition to the coffee and ACV which I already used, they suggested a pinch of salt. The combination worked.
09/16/2020
Robin R.
United States
First time using Henna
Since this was my first time using henna, I found it a bit difficult doing it myself. Not so bad that I wouldn't try again! I think my hair came out looking alright. The directions were easy to follow. I'm that person who can't put a simple braid in the back of my own hair LOL so more practice will help. Smell was not awful. Earthy, dirt kind of smell to me. I had essential oils but decided not to use any. I think next time I will prepare a little bit more product as I think that was part of my problem in applying. I'd rather have a bit too much but be able to really massage in all over before wrapping. Looking forward to the next use. Will be trying the auburn color.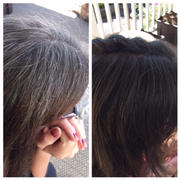 09/14/2020
Laura N.
United States
Beautiful
What a perfect color. The smell is a bit earthy and it takes a lot more time but the result is beautiful. The only drawback is that you are not able to color over the henna, even with highlights because it WILL burn your hair. When i asked a professional colorist they expalined that it IS metallic and they wouldn't touch it till it grows out. Did not completely cover grays.
09/09/2020
Virginia S.
United States
henna medium brown
well worth the time and effort of application. color is rich and natural. the added coffee really brings out the richness of the color and after 3 days it looks so good. never going back to chemically colored dyes again. Henna Medium brown is it for me.
09/05/2020
Esmeralda S.
United States
Love it!
It covered my grays and my hair feel softer! Thank you henna guys!
08/16/2020
Laurel B.
United States
It's amazing!
This is my 3rd time I've used the medium brown and it actually covers my grey. I was skeptical since I've been using color with developer for over 10 years. I'm very happy with the results and won't be going back to the chemical hair coloring.
08/10/2020
Annette Z.
United States
Best Henna Covers Gray
To date, this is the best Henna that I have used to cover grey hair. I first colored my roots with the medium brown henna, which I mixed with dark brewed coffee instead of water. After processing, rinsing and drying my hair, I applied the medium brown henna again to my entire hair. Amazing this time I didn't have orange roots. It covered my hair evenly. This is my third attempt to use henna, trying 2 other brands. I guess the third time was a charm for me.Thank you Henna Guys!