Light Brown Henna Hair Dye
Natural beauties, this hair dye is for you! Yes, you can keep your light brown color while covering grays naturally. Want to go from blonde or dirty blonde to a soft shade of brown? Try our light brown henna hair dye. Enjoy the subtle shimmer of this cool brown hue with hints of warm gold. 
This natural hair color proves that you don't need harsh chemicals to get the color and shine you've always wanted. It's a timeless shade that flatters faces with its warmth and golden-brown tones.
Light Brown Henna Hair Dye from The Henna Guys:
🌿 Conditions and adds shine
🌿 Means no more irritation, bruises or burns
🌿 Covers grays and colors your hair naturally
🌿 Boosts manageability and promotes hair growth
🌿 Improves overall hair health with continuous use
Ingredients and How they work
🌿 Henna (Lawsonia inermis): Pure henna, milled from plant form into a powder before undergoing a triple-sifting process, forms the base of our henna hair dyes. We create different shades by blending henna with other natural ingredients.
🌿 Indigo (Indigofera tinctoria): Blue-toned indigo powder is mixed with henna powder, a red-orange tone, in specific ratios to help create this rich medium brown henna hair dye. Indigo powder, a plant-based hair dye, creates shades of browns and blacks when mixed with henna.
🌿 Amla (Phyllanthus Emblica): Amla powder, a derivative of the Indian gooseberry, brightens and helps preserve your new color. Amla also assists with hair growth and stronger roots.
🌿 Bhringraj (Eclipta alba): Also known as false daisy, this herb promotes hair growth and conditions the hair and scalp. 
🌿 Neem (Azadirachta indica): The ground leaf of the neem tree helps strengthen roots. Neem is an excellent cleanser and conditioner for the scalp and hair. 
Allergy Warning: Although our henna hair dye is made with natural ingredients, sensitivities and allergic reactions to even natural products are possible. If you do not know your allergies, Always start by doing a strand/skin test before applying any henna.
Disclaimer: Individual results may vary. These are 100% natural products, and benefits are not guaranteed. Outcome may be affected by other factors like the type of shampoo or conditioner being used, as well as any other chemical hair treatments in the present or past that may affect results. 
 * These statements have not been evaluated by the Food and Drug Administration and are not intended to diagnose, treat, cure, or prevent any disease or health condition. 
How to Apply Light Brown Henna Hair Dye
🌿 Boosts manageability
🌿 Promotes hair growth
🌿 Colors your hair naturally
🌿 Conditions hair and adds shine 
🌿 Continuous use improves overall hair health
🌿 No more irritation, bruises or burns
Here is why we're the top-selling henna brand in North America. Our products are:
🌿Ethically produced
🌿Triple-sifted for a smooth paste
🌿 Made in small batches for maximum freshness
🌿A blend of henna, herbs and other natural ingredients
🌿Gluten-free, natural, raw vegan and 100-percent natural
🌿Shipped with shower cap, gloves and application instructions 
We know you love what we sell, so why not get paid for sharing our brand? We actively seek passionate people to help promote our products, and in return we provide an extremely generous commission program which pays up-to 27% commission that provides an excellent, continuous, and attractive source of additional income. We will provide access to your own software that tracks every lead, sale and commission payment due to you. Everything you need to start is available right now...
Sign up below to become an ambassador to our awesome brand.
Already an affiliate? Click here to log into your dashboard.
Customer Reviews
Write a Review
Ask a Question
Filter Reviews:
hair
color
henna
results
time
water
coffee
brown
highlights
shade
11/22/2020
Michelle M.
United States
Natural hair dye, it's a great find!
FANTASTIC!!! Sooooo I did a lot of research and reading up on this natural dye, read reviews etc. Felt confident, so I ordered it. WOW!! I'm very impressed and will definitely reorder! And I've told my mom and sister to order as well.
11/16/2020
Felicia T.
United States
Good product
The directions were clear and the color was good. Good gray coverage,
11/05/2020
Katie N.
United States
11/03/2020
Sophie
Canada
Really covers gray hair
My sister in law recommended this brand of henna. I wasn't sure what color to use so I followed the advice found on the site, ie. ordering in the lightest shade of the color you're interested in. I had breast cancer last year and after losing my hair to chemo, when it grew back it was white practically all over. I couldn't stand how it aged me, especially after feeling like 150 years old while on chemo. But I also knew I didn't want any chemicals on my hair, so Henna was the easy choice. I tested a small amount inside my elbow to make sure I wouldn't have any reaction and on a small strand of hair. The day after I applied the henna on my hair (added the coffee and the apple cider vinegar as per recommendation). I was really surprised how well it covered the grays. Now I am not completely happy with the color, probably because I have so much white hair around my face and this type of hair really became orange. I'm going to reapply the henna as it should darken with more applications, and if need be, I will order the medium brown for next time, but again, for personal preferences, not that there's anything wrong with this light brown shade.
11/02/2020
Susan S.
United States
First Application
This was my first application. This will take some practice. My hair is long & frizzy. The color turned out okay for the first time but didn't cover all the grays around my forehead & ear areas, the shower cap tore putting it on and the gloves were too weak so I am glad I had extra on hand. Overall I am happy.
10/29/2020
Lisa H.
United States
A must buy
Love the results and easy to use I am definitely a customer for life
10/26/2020
Meleana H.
United States
Very happy
I forgot to add the vinegar as suggested to cover the grey but it still worked to slightly change them to blonde looking strands. My hair feels great and looks nice. The only thing I wish is that I didn't have to wait 3 hours to wash it out and 2 days to wash it but hey, small price to pay for healthy hair with color! I've had it in my hair a week now with no change so I'll see how long it lasts, or just buy again when my hair grows out to see grey again, and next time I'll use the vinegar!
10/26/2020
Toni T.
United States
Great Experience
My color came out great. I was a little nervous to use Henna after reading blogs about it. However, Henna Guys colored my gray and my hair is a beautiful warm golden brown with slight variations where my hair was already lighter from previous highlights. Thanks, I will use it again.
10/26/2020
Karyn J.
United States
Great results!
I was nervous to try henna as I have used box dyes for many years and I am about 1/3 gray.  The process was easy!  It felt great on my hair - no burning or strong chemical odor.  The color is so rich and natural.  The best part is how thoroughly it covered my gray hair!! Light brown henna is my new go to.  Never going back to box/ chemical dyes.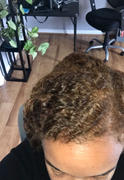 10/24/2020
Rosa S.
United States
Great products
I mixed all of the products ordered and got a very good result. I'm happy and would recommend the Henna guys . Thank you!
10/21/2020
Elizabeth M.
United States
My First Henna Experience
I've not used henna before so my experience is based on this product with no comparison. I had about 3 inches of grey growth before application. I bought the 2 pack expecting to need to do a second round which was needed on my greys. I did the first round without the apple cider vinegar. After the second round, the color was suitable. I plan on using this long term. I love the color and the way my hair feels. Although it was time consuming, I enjoyed the process. I thought it would be more messy than it was.
10/08/2020
Vicki R.
United States
09/17/2020
Yelena G.
United States
Great results
I haven't used this product before, but the results exceeded all my expectations. I had some highlights and was nervous that the color wouldn't come up uneven or patchy. To my surprise, the color turned out even while I can see a bit lighter areas where my highlights were but look amazing. Most definitely will recommend it to anyone!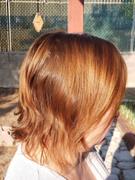 09/02/2020
Adrimartinez
United States
Wonderful!!!
I just finished my first henna application, as my hair dries and I can see the color I got, and I LOVE IT. Easy to follow instructions, other than just water, I added 2 tablespoons of Amla Poder and 2 tablespoons of the Hibiscus Powder, and a few drops of rose oil to the henna mix. I bought the Soften and Condition Combo. My white hair looks like natural highlights and the rest of my hair has a rich caramel brown color. I am very happy with the results. (I was thinking that the color was going to come out reddish.) I will definitely keep using these natural products.
08/30/2020
Eagle S.
United States
Excellent!!
I have been using henna for approx 12 years. I started going gray in my early 20s, more gray into my 30s. Hair loss due to chemical hot me to use henna. I have used many henna Products over the years not finding anything pure until now. The henna product is amazing! I don't have to try to mix my own color to get close to my original hair color anymore!! My hair came out beautiful, after letting most of my henna wash out during COVId, I was able to use the Light brown, yay! I added 2 tbs of dry aloe Vera, 2 tbs brahmi, 4 tbs ACV, 1cam of coconut milk. My hair tends to dry out a lot with henna so I super moisture. Did not rinse with conditioner as I usually do and my hair is super hydrated. Thank you guys!! I will be back ...
08/09/2020
Darin H.
United States
Great Product!
My wife used this product and she was very pleased with how soft it left her hair. I expect her to order again. To boot, the communication from The Henna Guys and concern for their customers was great. Thank you!