The rich luster of Deep Red Henna, one of our best-selling henna hair dyes, will turn heads wherever you go. Not for the shy, this vibrant red hue offers cool, bright claret tones and unbelievable shine. Our Deep Red henna for hair may be loaded with glorious color, but it's missing everything you don't want - PPD, metallic salts and other harsh ingredients.

Made with 97% pure henna powder and 3% red clay, Deep Red works best with light-to-medium hair colors. Like our other natural henna hair dyes, its deep red hue usually does not show on dark hair. Instead, it gives brunettes beautiful red undertones that are especially noticeable in sunlight.
Natural Red Henna Hair Dye from The Henna Guys:
🌿 Conditions and adds shine
🌿 Means no more irritation, bruises or burns
🌿 Covers grays and colors your hair naturally
🌿 Boosts manageability and promotes hair growth
🌿 Improves overall hair health with continuous use
Ingredients and How They Work
🌿 Henna (Lawsonia inermis): Pure henna, milled into powder form before undergoing a triple-sifting process, forms the red-orange base of our henna hair dyes. We create different shades by blending henna with other natural ingredients.
🌿 Red Kaolinite Clay: Red clay purifies the scalp and helps boost hair volume, softness and shine.  
Allergy Warning: Although our henna hair dye is made with natural ingredients, sensitivities and allergic reactions to even natural products are possible. If you do not know your allergies, Always start by doing a strand/skin test before applying any henna.
Disclaimer: Individual results may vary. These are 100% natural products, and benefits are not guaranteed. Outcome may be affected by other factors like the type of shampoo or conditioner being used, as well as any other chemical hair treatments in the present or past that may affect results. 
 * These statements have not been evaluated by the Food and Drug Administration and are not intended to diagnose, treat, cure, or prevent any disease or health condition. 
🌿 Colors naturally
🌿 Promotes hair growth
🌿 Helps improve manageability 
🌿 Conditions hair and adds shine 
🌿 Continuous use helps improve overall hair health
Here is why we are the top-selling henna brand in North America.
🌿 Gluten-Free, Raw & Natural Deep Red Henna Hair Dye

🌿 Blend of Henna, Indigo, Red Clay & Herbs

🌿Triple Sifted Powder for Non-Clumpy Paste

🌿Always a Fresh Batch, Ethically Produced

🌿Made in Small Batches Using Natural Ingredients

🌿Includes Shower Cap, Gloves & Instructions 
How to Apply Deep Red Henna Hair Dye?
Find application instructions here 
We know you love what we sell, so why not get paid for sharing our brand? We actively seek passionate people to help promote our products, and in return we provide an extremely generous commission program which pays up-to 27% commission that provides an excellent, continuous, and attractive source of additional income. We will provide access to your own software that tracks every lead, sale and commission payment due to you. Everything you need to start is available right now...
Sign up below to become an ambassador to our awesome brand.
Already an affiliate? Click here to log into your dashboard.
Customer Reviews
Write a Review
Ask a Question
Filter Reviews:
hair
color
henna
results
Instructions
shade
quality
application
Deep Red
brown hair
11/25/2020
Ron K.
United States
Red henna
Beyond expectations. Love the rich auburn color. I use 1/3 red henna and 2/3 regular henna. Will be ordering again next month.I give it 5 stars. No more orange. I get compliments from strangers. I will send a pic when I figure out how to attach a photo to my emails.
11/25/2020
Laquonda M.
United States
I love this henna
I have tried other henna and have been pleased, but this has been my favorite so far!!
11/22/2020
Pati J.
United States
Deep red henna
Spectacular I used a two deep red to one brown mixture. I let it set up for eight hour. I applied it to my roots with a color bottle instead of brushing it on.
11/10/2020
Sarah F.
United States
Great color
It was a little difficult to prepare, but the color came out great!
11/04/2020
Jessica P.
United States
Great product as usual
This is my second purchase from The Henna Guys and just like last time, it's a great product, I had no issues with shipping/delivery, the color is pretty much how it's supposed to look, and my hair always feels incredible after dying with this.
11/02/2020
Lauren
Australia
The best red henna I've found!
When my local (Australian) supplier changed their dark red henna mix I was devastated. It went from a vibrant bright red to a dark brown with red tint. I searched high and low for a replacement and finally found this Deep Red colour from The Henna Guys. It's exactly the colour I was looking for. I used to take it to a hairdresser to apply, but in the past year I've been applying it myself. My hair is about 80% grey and it covers it beautifully. Also because of the salt and pepper undertone, there is a lovely natural colour variation once it is dyed. Like getting natural highlights! I re-do mine every 4-6 weeks. Every second application is roots only. Tips for new players: 1. Expect to take at least half a day on this (my long hair still takes me 2hrs to apply properly) 2. Wear the supplied gloves under a pair of latex (or hypo allergenic equivalent) for extra protection 3. vaseline everywhere around your hairline and ears!! Don't be stingy with it. (Olive oil will also work in a pinch) 4. Have a cup of hot water (or a kettle) ready to add to the bowl if it starts to dry out 5. put tissues or cotton wool around the hairline when wrapping with saran wrap. This will prevent any drips 6. If you can find a vintage table top hood dryer (popular in the 60's) buy it and sit under that for 90 mins. The heat activates the colour better than just waiting 3hrs. 7. buy some colour stain remover to help clean up the hairline after application 8. If you don't have saran wrap, you can use aluminum foil If you'd like to see a timelapse of my application process, check it out here: https://www.instagram.com/p/CGuZ6_LjTzz/?
10/28/2020
Anna V.
United States
10/22/2020
Sarah W.
United States
Deep red on dark hair- YES
I wanted red but don't want to bleach my hair. I've used this before on lightened hair and it worked great. Tried it on my natural hair and it's a very subtle red and I love it. It's healthy and application was easy. Used hibiscus tea to help with the smell and color instead of water.
10/19/2020
Donna D.
United States
Awesome Red Henna Results
Excellent...You provided excellent instructions on using the product and I loved the results...I have used Henna for decades but never received the proper education for great results. I will definitely continue to support your business. Thanks for your great customer service!! Peace & Blessings!
10/15/2020
Ciji
United States
Lovely shade of red - 1 whole pack
I followed the instructions always erring on the side of caution and doing the longer time suggestions. Unfortunately because my natural hair is black it had no effect on my hair there but my previously bleached tips turned a lovely shade of deep red. I really like it and will keep using this product. The picture was taken immediately after thoroughly rinsing the henna out of my hair. Thank you, Henna Guys.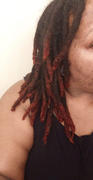 10/05/2020
Jasmine W.
United States
Love it!
Exactly what I wanted!
09/30/2020
Rachel S.
United States
Wonderful Product
I never went through so much preparation before using a product to color my hair however I am very pleased with the results. I would definitely use this product again because of the henna quality, it covers grey very nicely, the directions were very clear for preparation/use, and because it shipped pretty fast. Here are my before and after styling photos;
09/26/2020
Kat
United States
The colors I have been looking for
Ok to start off I have envy hair. As it I can color my hair and it fades to beautiful tones as it fades. That was with chemicals. Curl my hair and the curl stays for a couple days from a medium curl to a loose curl. I can wake up brush my hair and be on my way normally. No, I do not use Hair product either. Only on special occasions. I bought this a few months ago due to going stir crazy over quarantine. Ah!! Well the love of my life can't handle the smell of chemical dyes and I was tired of them not being healthy overall. So, I switched. Omg!! I love this color!! It ombréd beautifully as it fades. Right now it's like fire!!! But the red when I first did it was gorgeous too. So while my review is late I wanted to see what my hair was going to do. Well here are most of the steps. I am missing the now color. I'll post those when I do the next phase. Don't hesitate to buy this it's wonderful!! Oh and I use cold coffee to mix my henna!! I'll be doing another review here soon with my next purchase. It'll be a doozy!!! Middle picture is just after it dried after rinsing the henna out. It bled orange for about a month but I think that was because of the blonde. Don't care color is worth it. Dark pillow cases are awesome!!
09/25/2020
Alena R.
United States