Deep Red Henna Hair Dye
Regular price

$ 12.97 USD

Regular price

Sale price

$ 12.97 USD

Unit price

per
The rich luster of Deep Red Henna, one of our best-selling henna hair dyes, will turn heads wherever you go. Not for the shy, this vibrant red hue offers cool, bright claret tones and unbelievable shine. Our Deep Red henna for hair may be loaded with glorious color, but it's missing everything you don't want - PPD, metallic salts, and other harsh ingredients.

Made with 97% pure henna powder and 3% red clay, Deep Red works best with light-to-medium hair colors. Like our other natural henna hair dyes, its deep red hue usually does not show on dark hair. Instead, it gives brunettes beautiful red undertones that are especially noticeable in sunlight.
Natural Red Henna Hair Dye from The Henna Guys:
🌿 Conditions and adds shine
🌿 Means no more irritation, bruises, or burns
🌿 Covers grays and colors your hair naturally
🌿 Boosts manageability and promotes hair growth
🌿 Improves overall hair health with continuous use
Ingredients and How They Work
🌿 Henna (Lawsonia inermis): Pure henna, milled into powder form before undergoing a triple-sifting process, forms the red-orange base of our henna hair dyes. We create different shades by blending henna with other natural ingredients.
🌿 Red Kaolinite Clay: Red clay purifies the scalp and helps boost hair volume, softness, and shine.
Allergy Warning: Although our henna hair dye is made with natural ingredients, sensitivities and allergic reactions to even natural products are possible. If you do not know your allergies, always start by doing a strand/skin test before applying any henna.
Disclaimer: Individual results may vary. These are natural plant-based products, and benefits are not guaranteed. The outcome may be affected by other factors like the type of shampoo or conditioner being used, as well as any other chemical hair treatments in the present or past that may affect results.
 * These statements have not been evaluated by the Food and Drug Administration and are not intended to diagnose, treat, cure, or prevent any disease or health condition.
🌿 Colors naturally
🌿 Promotes hair growth
🌿 Helps improve manageability
🌿 Conditions hair and adds shine
🌿 Continuous use helps improve overall hair health
Here is why we are the top-selling henna brand in North America.
🌿 Gluten-free, raw, & natural Deep Red Henna Hair Dye

🌿 Blend of henna, indigo, red clay, & herbs

🌿 Triple-sifted powder for non-clumpy paste

🌿 Always a fresh batch, ethically-produced

🌿 Made in small batches using natural plant-based ingredients

🌿 Includes shower cap, gloves, & instructions
🌿 9+ exciting shades for Henna lovers
Share
Customer Reviews
98
reviewers would recommend this product
Write a Review
Ask a Question
Filter Reviews:
color
hair
henna
results
shade
brown hair
application
quality
Instructions
The Henna Guys
I recommend this product
Absolutely the best!
Words cannot express how amazing my experience has been with this company. They are extremely knowledgable and informative. Their products are simply the best and the quality you can't find anywhere else. I've been using this products for awhile now and it has never disappoint. This dye has helped my hair to grow, and is much stronger and no breakage. I've recently done a big chop because I'm going natural. My hair has grown so much already. I'm grateful and thankful for your products. Keep on making these quality hair dyes and the rest of your amazing products.
07/05/2022
Emma J.

United States
I recommend this product
Color As Pictured on Grey
I was skeptical whether this henna mixed with red clay would really give the pictured color, as I had read on another vendor's site that there was nothing you could mix with henna to vary the shade to this extent. I was surprised and REALLY delighted that my hair came out this lush red. None of the orangey tones I was getting with my old product. That one I had to mix with indigo to deepen the color, and it was very hit and miss how good the result was. This kit did a much better job. My grey/white sections are this gorgeous deep red, and even the darker areas glow in the sunlight again. VERY impressed and will always use this brand from now on.
06/22/2022
Cait M.

United States
I recommend this product
Great
I've washed my hair several times and not much color has been lost. I don't know about in a few months. But it looks really pretty. I used coffee and small amount of green tea. I recommend acidic liquids instead of water for mixing to retain better color.
06/18/2022
B c.

United Kingdom
I recommend this product
red henna
This is really intense and long lasting and gives your hair great condition.
05/24/2022
Carolyn L.

United Kingdom
I love the colour,how long it lasts & the condition it leaves my hair in.
05/22/2022
Donna D.

United States
I recommend this product
RED HENNA HAIR DYE
My experience is always great utilizing your product.
05/06/2022
Doris M.

United States
I recommend this product
Love the product
I have used the red Henna for years ... and I love the natural color red it gives me ... what I don't like is the product changing the face packaging so often ... With the color reds added and a different package front I am never really comfortable knowing I have ordered what I have been using all along ... it is nerve wracking ...
05/02/2022
Alison J.

United States
Henna guys are the best
Excellent
04/24/2022
Sarah N.

United States
I recommend this product
My hair feels healthier than ever.
This is my 2nd application of a henna dye. The first try was a different brand and wish I went with this one. My hair still had recent chemical dye in it before the first application so this second application didn't quite get to the color I'm aiming for but I'm confident it will with a 3rd or 4th because I'm never using chemical dye again. This brand-henna guys-did get a lot more of the color in though. It definitely repaired and replenished my hair so much that my hair feels softer and smoother than it's been since I was a kid. Previously I had been using chemical dye way too much and often since I was a teen. I'm stoked to have found this option.
04/05/2022
Maritza D.

United States
I recommend this product
Excellent product!
Good! I tried another brand but yours is better……it colored my grays the other brand did not! Recommended 100%. Thank you Henna Guys!
03/04/2022
Amber

United States
I recommend this product
Color is more Auburn than Fire-engine
I didn't use coffee in my first application, are used a concentrated brew of hibiscus tea and I suppose the results were not as acidic as needed, because my hair came out very orange. Not the worst, nor the most flattering on me. Thankfully, I had a second package and used coffee this time because my hair is a little longer and I was worried about having enough, and even that, while a deep cherry-cola on my natural brunette up-top, still darkened the orange to a more flame-color where I'd previously bleached. Will be trying again with this shade to see if I can get that vibrant red next time. Hair is definitely loving this though! Super shiny and thicker.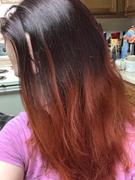 02/11/2022
Darlene C.

United States
I recommend this product
Deep Red Henna Dye
I think the Henna is Fantastic ! I put it on the day before yesterday and left it on 3 1/2 hours. I had mixed it the night before. I have some gray hairs which are resistant to regular hair dye, but the henna dyed them. I have stopped using regular hair dye,rollers & heat as my hair is in bad shape and won't grow. I feel the henna is the answer to my hair problems. Thanks ! Darlene
01/18/2022
Lexy B.

United States
I recommend this product
Great color, healthy hair!
Updating my review*** my first application came out with the deep red color I was hoping for with a hint of my natural color. However, my second application (1 month after) made my hair such a vibrant red I love it! People are so shocked when I say it's henna and not professional chemical dyes. I posted before and after, I was a dirty blonde and after 2 applications I have this gorgeous red color.
01/17/2022
Lexi

United States
I recommend this product
Love this product
The customer service here is wonderful. I have been using this henna for about a year and I mix the deep red and burgundy together with hibiscus tea and a multitude of other powders on this site for hair growth/thickness/smoothness and it always turns out super vibrant and beautiful and I love that I only have to touch it up every few months because the color stays nicely
I recommend this product
Love this product
First of all I love The Henna Guys. Their customer service has always been spot on, friendly and helpful. Also, their henna products as well as the shampoo/conditioner are great quality. I've been using this color mixed with burgundy for about a year now. It stays multidimensional and vibrant even when it fades. I'm never disappointed after every touch up I do, it just keeps getting better. My hair has improved overall since I started using the henna, it feels a lot healthier.
01/03/2022
Alexis B.

United States
I recommend this product
Great color!
Color is exactly what I was hoping for. This was my first time using henna and I only needed one application. However, I use all natural hair products so that might be why it worked so well with me. The color changes depending on lighting, which is fun! My natural hair color is dirty blonde.