Dark Brown Henna Hair Dye
Rich color ranging from chestnut to espresso can be yours with all-natural Dark Brown henna hair dye from The Henna Guys. Made from a blend of henna, indigo and other herbs, it works with your hair's natural color to provide impressive chocolate tones.

One of our most popular natural hair colors, our Dark Brown henna darkens lighter hair and enhances brunette shades. You may see subtle red undertones, especially in natural lighting. Henna conditions hair while coloring it naturally. 
*Please note that we recommend following the instructions for a two-step application process for best results, especially if you're new to henna.
Dark Brown Henna Hair Dye from The Henna Guys:
🌿 Conditions and adds shine
🌿 Means no more irritation, bruises, or burns
🌿 Covers grays and colors your hair naturally
🌿 Boosts manageability and promotes hair growth
🌿 Improves overall hair health with continuous use
Ingredients and How They Work
🌿 Henna (Lawsonia inermis): Pure henna, milled into powder form before undergoing a triple-sifting process, forms the red-orange base of our henna hair dyes. We create different shades by blending henna with other natural ingredients.
🌿 Indigo (Indigofera tinctoria): When applied alone, pure indigo powder imparts a green- or blue-tinged tone to darker hair and is colorless on white and gray hair. When mixed with henna powder, indigo creates various shades of auburn, brown or black. However, red undertones usually appear in all colors but black.
🌿 Amla (Phyllanthus Emblica): Amla, a type of Indian gooseberry, boosts overall hair and scalp health when used as a hair mask or as an ingredient in henna hair dye. It promotes scalp circulation,  helps strengthen roots and the scalp,  enhances color, encourages hair growth, reduces the chance of premature graying and pigmentation loss, and helps improve manageability.

🌿 Bhringraj (Eclipta alba): Also known as false daisy, bhringraj promotes hair growth and helps reduce thinning. Bhringraj has antifungal and antimicrobial properties and helps boost scalp health. It softens and conditions hair, reduces the likelihood of hairfall, and helps prevent early graying.
🌿 Neem (Azadirachta indica): This natural antiseptic is packed with nutrients to help ward off hair and scalp dryness, dandruff, premature graying and poor scalp circulation. Neem is thought to stimulate hair growth and help reduce environmental hair damage.
Allergy Warning: Although our henna hair dye is made with natural ingredients, sensitivities and allergic reactions to even natural products are possible. If you do not know your allergies, Always start by doing a strand/skin test before applying any henna.
Disclaimer: Individual results may vary. These are 100% natural products, and benefits are not guaranteed. Outcome may be affected by other factors like the type of shampoo or conditioner being used, as well as any other chemical hair treatments in the present or past that may affect results. 
 * These statements have not been evaluated by the Food and Drug Administration and are not intended to diagnose, treat, cure, or prevent any disease or health condition.
How to Apply Dark Brown Henna Hair Dye
Here are the detailed application instructions
🌿 Colors naturally
🌿 Promotes hair growth
🌿 Helps improve manageability 
🌿 Conditions hair and adds shine 
🌿 Continuous use helps improve overall hair health
Here is why we're the top-selling henna brand in North America. Our products are:
🌿Ethically produced
🌿Triple-sifted powder for a smooth paste
🌿A blend of henna, herbs and other natural ingredients
🌿 Made in small batches for maximum freshness
🌿Gluten-free, natural, raw vegan and 100-percent natural
🌿Shipped with shower cap, gloves and application instructions 
We know you love what we sell, so why not get paid for sharing our brand? We actively seek passionate people to help promote our products, and in return we provide an extremely generous commission program which pays up-to 27% commission that provides an excellent, continuous, and attractive source of additional income. We will provide access to your own software that tracks every lead, sale and commission payment due to you. Everything you need to start is available right now...
Sign up below to become an ambassador to our awesome brand.
Already an affiliate? Click here to log into your dashboard.
Customer Reviews
Write a Review
Ask a Question
Filter Reviews:
hair
color
henna
results
brown
process
Instructions
shade
chemicals
The Henna Guys
11/15/2020
Inessa A.
United States
Beautiful color and great coverage!
This is the best henna dye I've tried! Great color and coverage of grey hairs. I also love the detailed instructions and tips on how to prepare and apply. Will definitely be buying again!
11/04/2020
Marisela D.
United States
I'm Happy with the Results
It was a a little time-consuming but the results were nice. The color was a little lighter/reddish around the grays. I may try doing step one the night before and the following step the next day. My hair does feel softer. I will definitely be a continued user.
11/01/2020
Janice R.
United States
A long process, but nice results!
Some of the instructions were unclear in regards to how much of the added brown powder to use On the second application but otherwise straight forward. For the dark brown it's a LONG process. Two 3 hour sessions. Basically takes the whole day. But I do love the color. Very rich brown with just a hint of red undertone where my grays were. We will see how it lasts!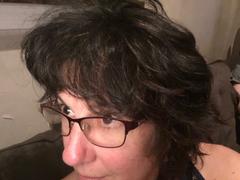 10/27/2020
Sarah G.
United States
Henna All Day!
I love the idea of staying away from harsh chemical hair dyes. I tried the dark brown henna about two weeks ago and followed the instructions to a tea, even using black tea as the mixing agent. The end result came out more red than I preferred or expected. It's looks brown but there is a definite undertone of deep burgundy to it. Especially in the sun. It's not terrible. I'll try it again in a few weeks as I have read that it may take a few tries to get it to the color you wish for. My hair is already a dark brown. I just wanted to run some color through it to enrich it. It always makes it feel healthier. Also, I have very naturally curly hair. This henna did not take any curl out whatsoever! I was scared to death it might. If anything it made it even healthier and the natural curl is looking even more lovely. I will definitely use again and again. 4 stars only because it's such a long long process and I wish there wasn't a reddish undertone after all of the work. But the product is fantastic!
10/26/2020
Samantha N.
United States
Amazing!
I'll start by saying I've used henna before and had just taken a break for a few years. I was letting my grays grow out , but after a few years I noticed that my hair was getting frizzier, losing its waves and curls, and breaking a lot. I realized it was the henna! Henna had been the thing keeping my hair strong and shiny and healthy and I needed to get some ASAP. I'm so glad I went with the henna guys. This was my first two step process with henna and it was not only easy because of the instructions but it worked AMAZINGLY. Highly recommended.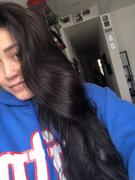 10/26/2020
Mary M.
United States
Dark Brown Henna
It was really messy and it took a very long time but my hair looks healthier and it did not feel so brittle and dry like some of the reviews stated. I just colored it yesterday, so it did state I need to wait 72 hours for the full color to process so lets see if there is any more changes to the color after the 72 hour wait.
10/20/2020
Paul D.
United States
Great Product
Worked well great color
10/19/2020
Lisa C.
United States
Great Grey coverage!
I get the best coverage for stubburn grey hair with this product, best of all that I've tried. Adding a 1/2 teaspoon of slat may help, plus using low heat during the 3 hour wait time. Love love love Henna guys
10/12/2020
Karen W.
United States
Best Henna products and instructions
I am allergic to conventional hair color and thankfully so. The ingredients of most conventional hair colorIng processes used in hair salons are damaging —chemicals that shouldn't be absorbed into our bodies through the scalp as the harsh conventional chemicals cause women and men internal harm. I have been using henna for over 25 years. The Henna Guys henna and most helpful instructions contained with the products (and made available on their website) are superior to the other henna products I've purchased in grocery and beauty products stores over the years. I have dark brown hair with increasing grey at the hairline (I'm 62) and Henna Guys Dark Brown Hair Color adds volume, shine and lovely rich brown color to my hair. I am also just starting to add/try their Amla Powder and other beneficial products they offer for my hair care. Thank you for all you do to help Henna Guys!
10/05/2020
Solara P.
United States
09/29/2020
Raven
United States
I'm Loving it!
Bought this product like two years ago. Finally decided to use it this week. Now I'm kicking myself for not using it sooner. I absolutely loved the results. Color came out perfect, my hair was so soft I didnt need to detangle which is unheard of with my hair. This will definitely become a staple in my house. Thank you!
09/23/2020
Liz J.
United States
Color
I've used this color several times, but just can't get the orange/red highlights to darken...it ends up looking like I have orange on the top of my hair and then brown/black on the rest...don't get me wrong I love all of your products and the only reason I'm giving it two stars is because of the color issues..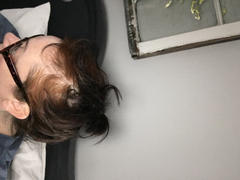 09/18/2020
Katelin S.
United States
I purchased this to cover up my ombre effect, so I could go back to being a full brunette. I have 3b/c curly hair, rather fine, that is down to my midback and I was able to get about 1.5 applications out of this product. I did this as a two step process -- the henna took very well to my hair, and did result in an incredibly bright orange (which was a little shocking), but the dark brown mix evened that out wonderfully (I was still nervous it would create a purple/red hued brunette but the color is a wonderfully dimensional and deep brown -- mostly I'm excited because this shade matches my eyebrows better than my natural hair color haha. I would say the color resulted in a shade close to Bella Hadid's hair -- not her darkest hue but definitely among the dark brown. The henna definitely gave my ends some of it's life back, and parts that used to be finer (due to the bleach) are almost as thick as my roots. I did two separate applications of the dark brown mix, because after the first time I found it faded a fair amount, even though the color was a beautiful auburn, I wanted to go for a darker hue, so I added a tsp of salt and brewed it with coffee the next time and that seemed to have helped. I will see how well the application lasts this time, but plan on doing another application in a few months (since I know that it can take time to gradually build up color with henna/indigo) and then think it will be perfect. Lastly, the indigo did result in my hair losing about a grade of curl, making them looser and now I'm closer to a 3a, but I'm not mad about it.
09/16/2020
Danielle T.
United States
Love it
The process is long but worth it. So grateful to have found a way to cover cray green hair without chemicals. My color is a bit more red that expected but I'm happy with it. Will definitely continue using this product; I think since it was my first henna process the color isn't as dark but next time will achieve the rich chocolate color I'm shooting for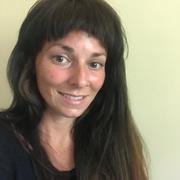 09/16/2020
ANITA J.
United States
Dark Brown Henna
I've been using this every 3-4 weeks for almost a year to cover grey. Covers but doesn't get dark even with 2-3 days of reapplying but my hair has never been healthier!
09/08/2020
Samira H.
United States
5 Star service
I'm very pleased with my order on the Henna Guys. I, for sure, will be ordering from you on regular basis. My sister-in-law is also interested. She'll be contacting your site. Thank you!