Looking for a hair color that goes with everything yet is too spicy to be called neutral? Gorgeous color, natural-looking depth, and face-flattering richness can be yours with a little help from nature. If you've been searching for an ethically produced, all-natural hair color in a stunning mix of warm brown and red tones, say hello to our Auburn Henna Hair Dye. 

Tinged with just the right amount of ginger color, this versatile hue lets you effortlessly achieve a timeless auburn look on light-to-medium locks. Unlock envy-inducing golden tones in your blonde hair, get rich, dark highlights as a classic brunette, or experience nutty depth on naturally red hair. 
Auburn Henna Hair Dye from The Henna Guys:
🌿 Conditions and adds shine
🌿 Means no more irritation, bruises, or burns
🌿 Covers grays and colors your hair naturally
🌿 Boosts manageability and promotes hair growth
🌿 Improves overall hair health with continuous use
🌿 Indigo (Indigofera tinctoria): Blue-toned indigo powder is mixed with henna powder, a red-orange tone, in specific ratios to help create this auburn henna hair dye. Indigo powder, a plant-based hair dye, creates shades of browns and blacks when mixed with henna.
🌿 Henna (Lawsonia inermis) Pure henna, milled from plant form into a powder before undergoing a triple-sifting process, forms the base of our henna hair dyes. We create different shades by blending henna with other natural ingredients.
🌿 Red Kaolinite Clay: Red clay purifies the scalp and helps boost hair volume.  
Allergy Warning: Although our henna hair dye is made with natural ingredients, sensitivities and allergic reactions to even natural products are possible. If you do not know your allergies, Always start by doing a strand/skin test before applying any henna.
Disclaimer: Individual results may vary. These are 100% natural products, and benefits are not guaranteed. Outcome may be affected by other factors like the type of shampoo or conditioner being used, as well as any other chemical hair treatments in the present or past that may affect results. 
 * These statements have not been evaluated by the Food and Drug Administration and are not intended to diagnose, treat, cure, or prevent any disease or health condition.
How to Apply Auburn Henna Hair Dye
Find application instructions here        
🌿 Colors naturally
🌿 Promotes hair growth
🌿 Helps improve manageability 
🌿 Conditions hair and adds shine 
🌿 Continuous use helps improve overall hair health
Here is why we're the top-selling henna brand in North America. Our products are:
🌿Ethically produced
🌿Triple-sifted powder for a smooth paste
🌿A blend of henna, herbs and other natural ingredients
🌿 Made in small batches for maximum freshness
🌿Gluten-free, natural, raw vegan and 100-percent natural
🌿Shipped with shower cap, gloves and application instructions 

We know you love what we sell, so why not get paid for sharing our brand? We actively seek passionate people to help promote our products, and in return we provide an extremely generous commission program which pays up-to 27% commission that provides an excellent, continuous, and attractive source of additional income. We will provide access to your own software that tracks every lead, sale and commission payment due to you. Everything you need to start is available right now...
Sign up below to become an ambassador to our awesome brand.
Already an affiliate? Click here to log into your dashboard.
Customer Reviews
Write a Review
Ask a Question
Filter Reviews:
hair
color
auburn
henna
shade
results
The Henna Guys
dyes
look
tone
11/19/2020
Holly N.
United States
Perfect color
Natural looking redish brown that I would call auburn.
11/16/2020
Cathy D.
United States
10/26/2020
Heather V.
United States
Good Stuff
It will work great once I figure out how to cover my grays better. They are very red, while the rest is auburn. Next time I will add Apple cider vinegar to help cover my grays. Any other suggestions would be greatly appreciated.
10/04/2020
Lori R.
United States
Auburn
This is the second time I have purchased the auburn henna and I love it. I started out with light brown and I love that one too. The auburn gives my hair a shiny, bright red hue in the sun, but it's a deep shiny brown in the shadows. The best of both worlds!! Perfect for autumn!!
09/25/2020
Erica V.
United States
Good
I really like that its an all natural product and does not damage your hair. It left my grey hairs red but I read that they'll darken up the more I use it so I'm hoping they'll become darker next time I use it. I left it on for almost 4 hours so its a bit of a long process compared to other hair dyes but I noticed that my hair actually feels softer now so its worth it!
09/16/2020
Liz C.
United States
Great color
ok i was a skeptic for sure, but the color is fabulous. Their henna product is the best out there. If you are on the fence i recommend their products for sure. Give henna a try its so much better for your hair all natural lasting color for a great price. Ohhhh and it covered my greys which i have alot of.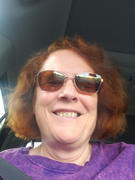 09/14/2020
Paula S.
United States
Auburn henna
Covered grey better than expected. Beautiful color. Hair feels healthy. Very curly hair has remained very curly. Will purchase again feeling better about using natural product.
09/13/2020
John B.
United States
09/11/2020
penafrancia s.
United States
Awesome product
I love it , makes my hair gorgeous the color is perfect.
09/02/2020
Pratima M.
United States
Good henna
Pleased with this purchase, it has worked well for my hair and hoping to see continued improvements to my hair.
08/02/2020
Judy N.
United States
Great natural hair dye
Loved the henna dye. My hair felt soft and healthy afterwards. I have black hair with some greys. The auburn dye gave it a an overall rich color, still dark with auburn over my greys.
07/15/2020
Kat C.
United States
Back to bold
Love my hair since I switched to henna. The color is rich amd refreshing! Gives me the salon quality result.
07/14/2020
Laura D.
United States
Beautiful Auburn Henna
Your henna product is so easy to use and the resulting color is rich and gorgeous. This was my first time using the auburn shade. I mixed it with the medium brown to give it a few more red highlights and it worked beautifully! Thank you so much!
06/15/2020
Jenna s.
United States
Auburn henna
Have not died hair in 5 years due to allergies and sensitive skin. Tried auburn and was easy and turned out excellent. I will be a customer for life. My hair feels so much healthier and soft. I never tried henna. But with no additives or fragrance which allergic too. Just awesome. Thank you
05/29/2020
Kat C.
United States
Beautiful color
It was my 1st time using henna. It was quite messy and I was very clumsy. The process itself was very simple and I was appreciative of this step-by-step directions. It did have quite a bit of odor so I did use some essential oil to help with the scent. I am excited to get a second pack of henna and do this again to refresh and re brighten my hair.
05/25/2020
Yvette V.
United States
Auburn henna hair dye
The henna hair dye is amazing. My hair felt healthier and looked healthier . I have been tinting my hair with salon hair dye and it's really dried out my hair and I was looking for a healthier alternative to using hair dye . A friend recommended Henna Guys and I was a bit nervous . However , it's worth a try . I did the Auburn and the light brown and mix some of the Amla henna and mix it up with organic lemon juice the night before and 12 hrs later , applied the henna dye and double the shower cap along with a hair towel wrap about 3 hrs of processing and wow I saw the difference after I rinsed . My hair looked and feel healthier and even the hair density is great . And after 3 days the color really looked better . Great product overall . I love my henna dye ❤️ Thanks Henna guys