Pumpkin Enzyme Mask - Excellent Remedy for Dark Spots
Regular price

Sale price

$ 11.97

Unit price

per
An Exfoliating mask, inspired by the nature-loving pumpkin enzyme, formulated with organic essential oils, herbal powders, and fruit extracts to improve your skin clarity. Face your worst skin problems with the goodness of nature and climb every stage of your skin renewal. It's our customer favorite for a reason!
Try our pumpkin enzyme mask which is loaded with pumpkin enzymes, glycolic acid & vitamin C for excellent skin renewal. It helps cleanse, clear and brighten skin by exfoliating, detoxifying, and closing skin pores. Formulated with natural & organic ingredients
🌿  Hydrates, Rejuvenates & Moisturizes Skin Naturally!
🌿  Pumpkin Enzymes are great at what they do! give it a go!
🌿  Brightens & Exfoliates Skin in 5-7 Mins
🌿  Easy to apply & rinse off. New you within 7 mins
🌿  Money-Back Satisfaction Guarantee
Pumpkin Enzyme mask suitable for
Dry Skin
Oily Skin
Normal Skin
Combination Skin
What the Pumpkin Enzyme mask can do?
Exfoliate skin with pumpkin fruit puree
Improve dullness and clarity
Improve your skin tone
Reduce oily skin and naturally hydrate it
Enzyme rich help reduce wrinkles and fine lines
Essential oils reduce congested skin, leading to healthy pores
It contains a cake batter-like consistency which is very easy to work with, fresh-cut pumpkin aroma.
Due to the presence of potent pumpkin enzymes, we do not recommend more than 2-3 applications per week.
How to use it?
Wash your face before the application process
Make sure your skin is free from environmental pollution and dirt
Open the jar cap and take out a substantial amount of the mask on your fingers
You can apply it with your fingers or a face mask brush
Spread a thin layer of mask on your skin and let it sit for around 5-7 minutes
Because this is pumpkin enzyme, it might tingle a bit for the first minute or two
Once the time is up, wash it off with cold water
Use our Goat milk cleanser for extra miniaturization
Use 2-3 times a week for the best result
Ingredients & Consistency
The ingredient is 95% pumpkin puree which is a rich source of antioxidants, vitamin C & glycolic acid all of which are excellent at what they do and adored by our skin.
pumpkin enzyme mask comes activated, simply apply as a thin layer on the desired area (patch test highly recommended)
Will have a mild burning sensation (don't worry, pumpkin enzymes are at work) wait for 5-7 mins and wash it off.
Warning: Avoid eyes, open cuts & wounds
Made With Pumpkin Fruit puree that comes packed with Vitamin C, Vitamin E & with 1-2% Glycolic Acid

Deep Exfoliation Leaves Skin Brightened, Replenished, and Smoothly Renewed

Creamy, Antioxidant, and Enzyme-Rich helps Reduce Wrinkles, Remove Dead Skin & Leaves Young Lookin

Excellent Glycolic Acid Peel mask, A Patch test is Highly Recommended Prior to Using
Ingredients: Pumpkin Fruit Purée, Water, Glycerin, Tetrasodium EDTA, Vitamin E, Sunflower Seed Oil, Phenoxyethanol, Citric Acid, Meadowfoam Seed Oil, Xanthan Gum, Glycolic Acid, Vitamin C, Organic Sugar Cane Extract, Organic Bilberry Fruit Extract, Organic Sugar Maple Extract, Organic Orange Peel Extract, Organic Lemon Peel Extract, Organic Cranberry Fruit Extract, Organic Neem Seed Oil, Organic Rosemary Leaf Extract, Organic Sunflower Seed Oil, Cinnamon Bark Powder, Ginger Root Powder, Allspice Powder, Nutmeg Powder, Organic Alcohol
Comes packed with excellent skin-loving nutrients, compounds like glycolic acid, vitamin C & E are almost everything your skin needs, you will see noticeable results even after your first application.
Here is what continuous use of our arista pumpkin masque mild peel can bring.
Brightened & healthy glowing skin

Softly renews & replenishes

1-2% Glycolic acid for excellent results

Naturally enriched with Vitamin C & E

Improves & evens skin tone

Fights aging & help prevent acne

Deep cleansing & correction

Closed pores
Share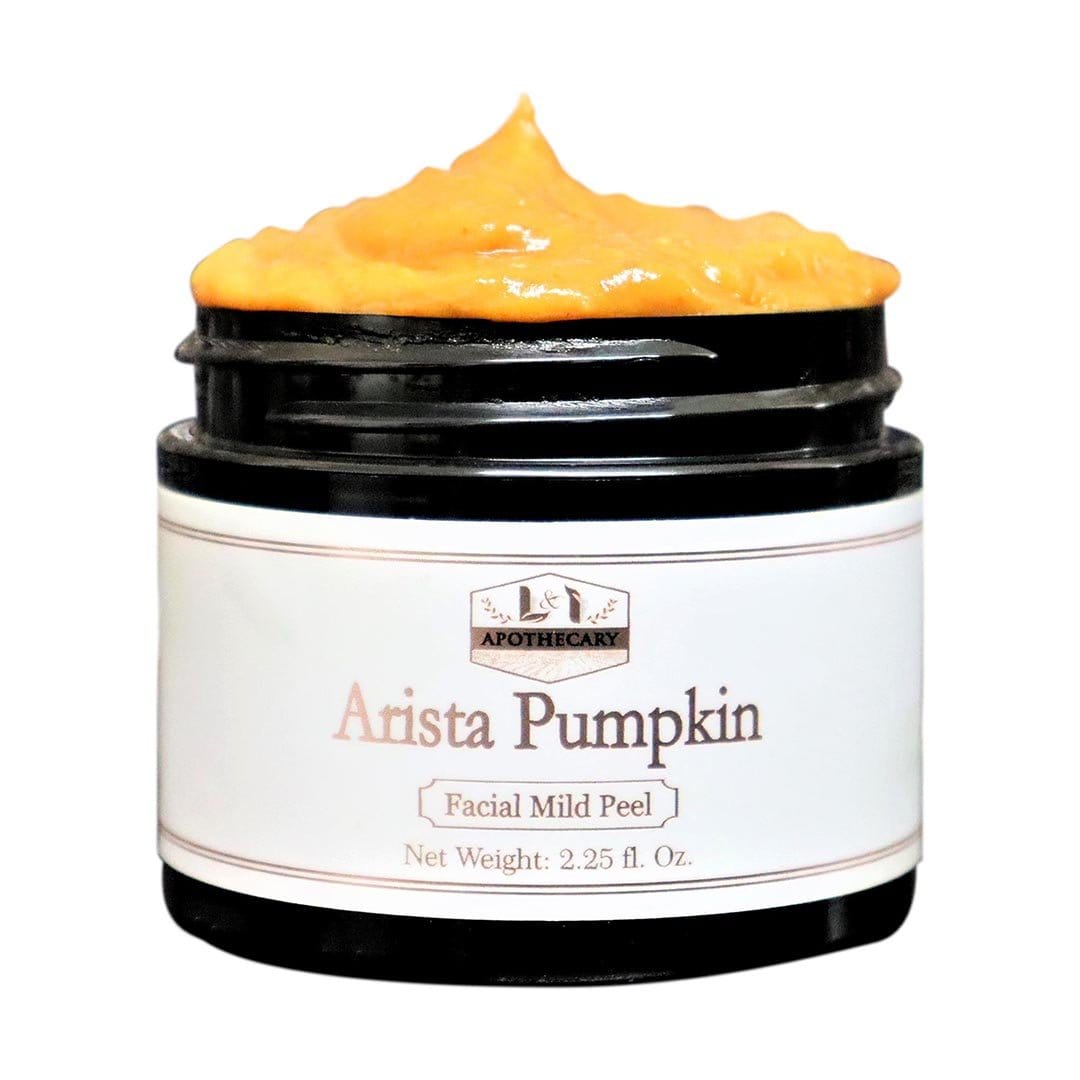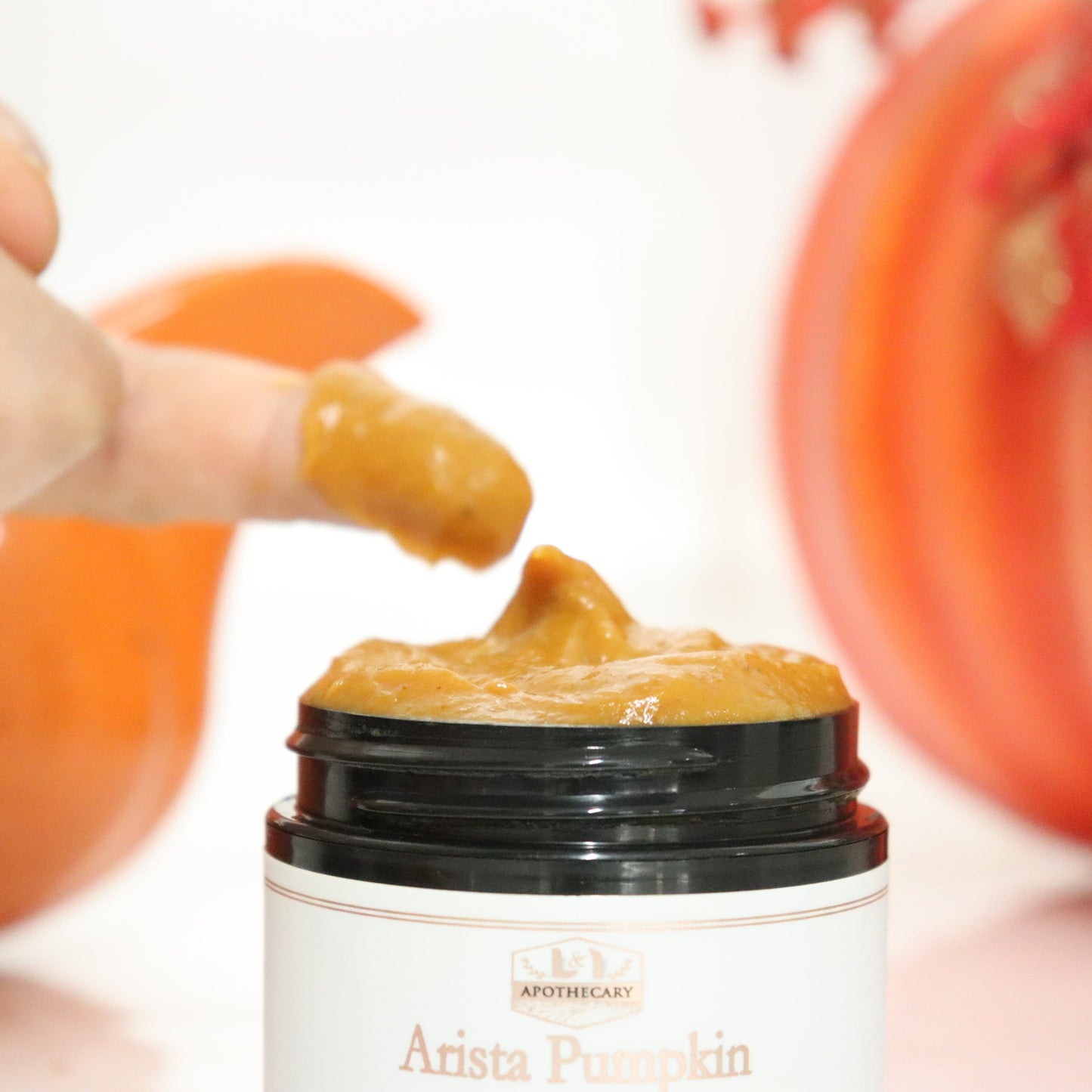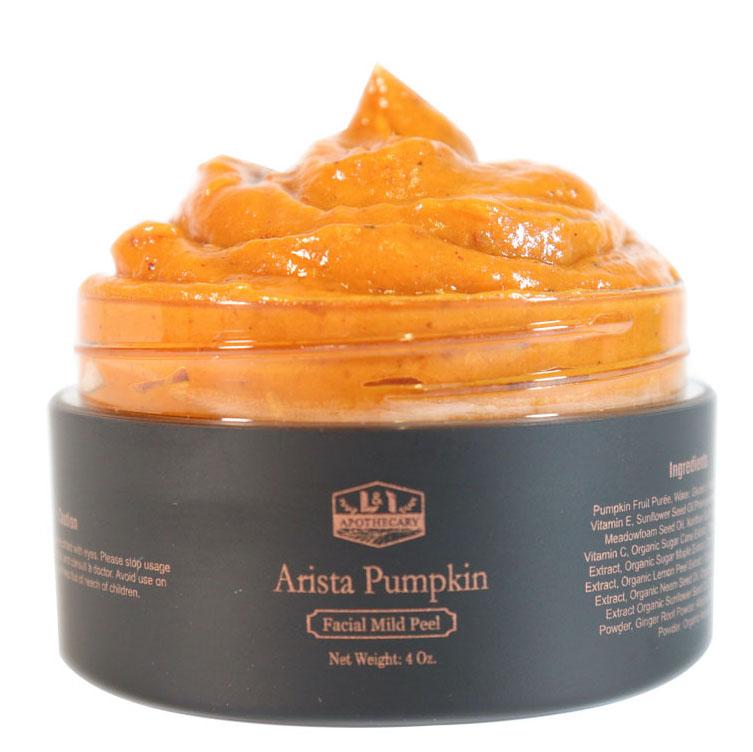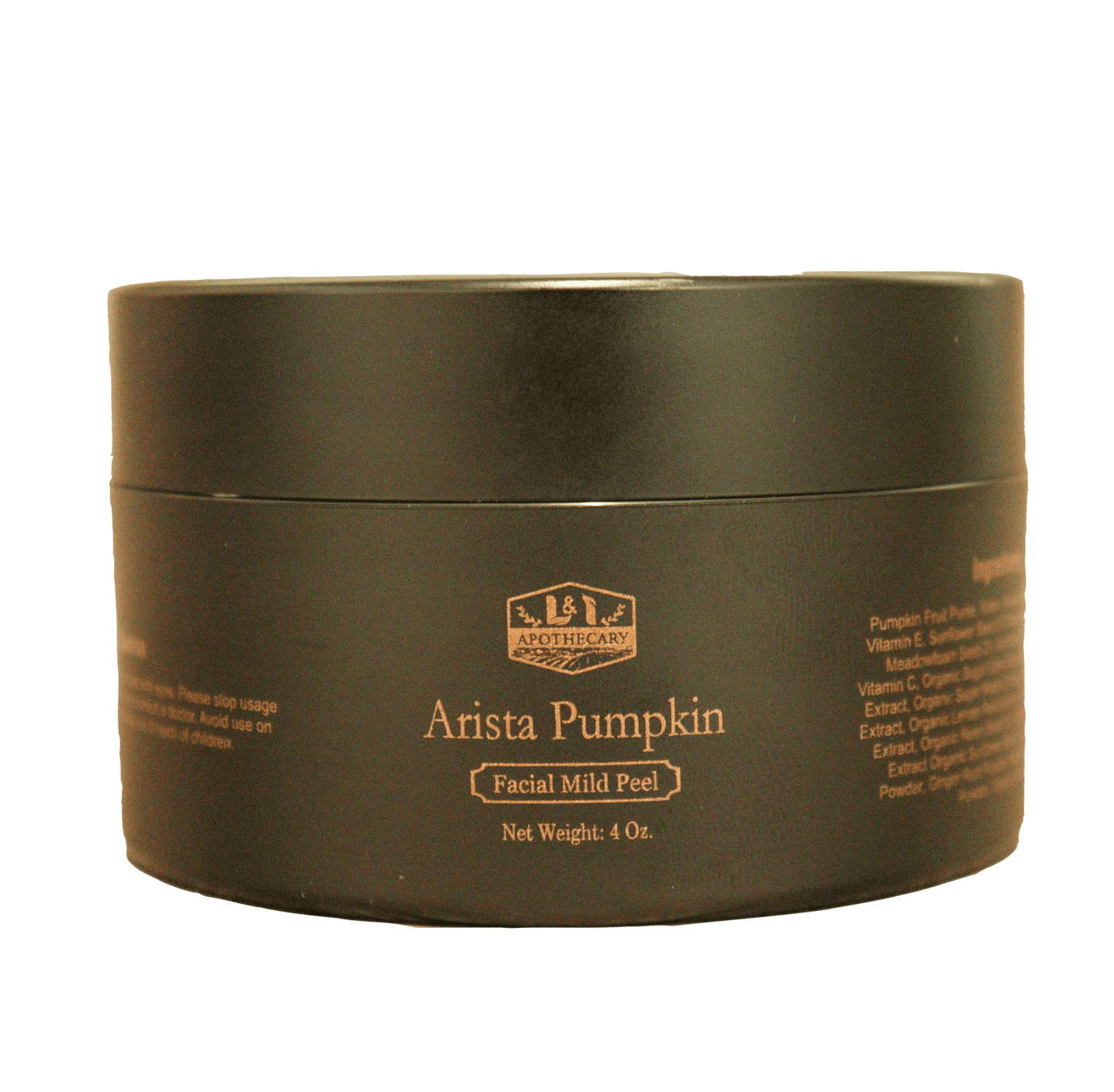 Customer Reviews
Write a Review
Ask a Question
Filter Reviews:
skin
mask
face
application
price
results
redness
skin cells
Henna Guys
something
11/29/2023
Janelle K.

United States
I recommend this product
Best mask
This is my favorite mask!!
07/21/2022
Courtney

United States
I recommend this product
My favorite
Love the pumpkin mask. It smells like pumpkin pie and leaves your skin glowing and youthful and no redness or irritation. Only problem I have with it, is the price they charge for the size of the jar. I only wish the jar was bigger so I could have more product for the price..other than that, it's worth it
10/21/2021
Chana G.

United States
Pumpkin Mask
I love using a Natural product for great results ☺ This works great
07/07/2021
Mary W.

United States
I recommend this product
Pumpkin Enzyme Mask
This product was easy to use, and I really liked how smooth my skin felt afterwards. To get it all afterwards I used a washrag and hot water. I had to do this several times to get it all off. I enjoyed following this with the goat milk lotion.
02/03/2021
Olivia M.

United States
I recommend this product
Delicious!
This smells just like pumpkin pie!! (Do not advise to eat it tho) It made my skin nice and smooth :) would recommend!
01/16/2021
Suzanne

United States
I recommend this product
Love this!
I love this mask! It may be my favorite of all time. It makes my skin so soft and smooth. I love knowing that it is safe and natural!
12/16/2020
Raj P.

United States
Pumpkin enzyme mask
Excellent mask. Completely natural. Delivers a youthful glow. Great value and quality! Rich nourishing natiral ingredients!
12/14/2020
CC D.

United States
amazing at-home mask!
You can feel it working! I love using a face steamer right before applying this mask because I feel like it makes it even more effective! def recommend!
12/12/2020
Maureen I.

United States
great
Skin felt soft and smooth after using it
11/16/2020
Linda M.

United States
Pure pumpkin
It worked so well! My face felt smoother and looked lighter but refreshed!!
04/24/2020
Pinkie

United States
Effective and Safe At-Home Pumpkin Enzyme Mask
I decided to try Arista Pumpkin Enzyme Mask current COVID-19 health crisis, as an alternative due to the inability to see my regular esthetician for my regular monthly facials - where she typically applies a different spa brand pumpkin enzyme mask to my face. Since it's been almost two months since my last facial I had to find something to exfoliate my sensitive skin. I'm so thrilled I found this product. It's natural, effective and does tingle a little the way an enzyme mask should. One bonus is that the glycolic acid in Arista Pumpkin is much lower what they use at my salon, do I felt safer and more comfortable applying this on myself with low risk of redness or irritation. I've had bad reactions in the last when the glycolic acid content percentage is higher. The only thing that is confusing about this product is that online the ingredient list indicates there is 3%-5% glycolic acid, but on the actual box that arrives it says it is 1%-2%. Which is it?
09/30/2020
The Henna Guys
Hi there! The Pumpkin Mask has 1-2% glycolic acid. We apologize for the confusion.
Instant way to rejuvenate the skin
It totally peeled off my dead skin cells and also targeted black heads all over the face. My skin got an impressive glow which remains unmatched with any other facial product. Loved it.
09/20/2019
The Henna Guys
We're glad to hear you liked it! Thanks for the review!
Quick way to help my skin
This product is a quick way to help my skin give boost when it needs it! I usually don't use skin care products to keep my skin away from chemicals as much as possible. But I must say that this mask gives me a feeling of being natural so I can use it as a quick way to refresh my skin when the time comes.
09/20/2019
The Henna Guys
Glad you like it! Thanks for the review.
Nourishing and drawing
Along with nourishing and drawing out impurities from my skin, this mask tightened and tonned my skin. It also soothed and hydrated it. I really had a very good experience with this product. I'll recommend this mask to everyone.
I'll call this mask
I'll call this mask as One-go. Only one application of this mask is required to rejuvenate skin! This is such a time saving product. As we all got busy in our daily routines and most of us couldn't find time to take care of our skins, this product is just perfect in this case to make the skin alive again.
Perfect for skin
Perfect for skin exfoliation! My skin cells had long been dead as I'd not treated my skin with any skin care product due to my hectic routine. But when I applied this peel-off mask on my face, it removed all dirt and dead skin from my face in just one application!