Amla Powder - Strengthen Hair & Boost Volume Mask
Amla Powder
This package contains finely milled amla powder for use as a hair mask or to be blended into the henna hair dye mixture as a color enhancer. Amla powder does not produce any color when applied to hair. Its many benefits include aiding in scalp and root strengthening and promoting hair growth. Amla also enhances overall hair health and manageability.
🌿 Aids in strengthening roots and scalp
🌿 Boosts volume and encourages hair growth 
🌿 Helps reduce premature pigment loss
🌿 Conditions your scalp and promotes manageability

🌿 Assists in gray prevention
🌿 Helps improve hair color tones
Use it as a hair mask:
Ensure that hair is clean and dry. Combine a small amount of amla powder and water in a bowl. Stir till the mixture forms a paste, and apply to hair roots. We recommend leaving the paste on for at least 20-45 minutes for best results. Wash with lukewarm water. 
Use in Henna Mixture:
Mix 2 tablespoons of Amla powder with henna hair dye and apply to hair.
🌿 No added gluten 
🌿 Cruelty-free, raw vegan

🌿 ZERO additives or preservatives

🌿 Chemical-free
🌿Triple-sift powder for a smooth paste

🌿100% money-back satisfaction guarantee 
Caution: For external use only. Avoid any contact with eyes. In case of irritation, discontinue use. Store in a cool dark place.



Individual results may vary.

Disclaimer:

Individual results may vary, These are 100% natural products, and benefits are not guaranteed. Outcome is affected by factors like the type of shampoo or conditioner being used. any other chemical hair treatments in the present or past will affect the end results.

* These statements have not been evaluated by the Food and Drug Administration and are not intended to diagnose, treat, cure, or prevent any disease or health.
We know you love what we sell, so why not get paid for sharing our brand? We actively seek passionate people to help promote our products, and in return we provide an extremely generous commission program which pays up-to 27% commission that provides an excellent, continuous, and attractive source of additional income. We will provide access to your own software that tracks every lead, sale and commission payment due to you. Everything you need to start is available right now...
Sign up below to become an ambassador to our awesome brand.
Already an affiliate? Click here to log into your dashboard.
Customer Reviews
Write a Review
Ask a Question
Filter Reviews:
hair
volume
henna
quality
amla powder
results
increase
Amla
hair mask
body
11/19/2020
Nadia M.
United States
Good product
Really made my hair soft and less shedding
11/02/2020
Cindi P.
United States
Amazing
My hair is so soft, full and shiny! I'll buy this again
10/31/2020
Angela
United States
Volumizing!
I have used henna for years, but never tried any of the other amazing powders and supplements that Henna Guys has. I LOVE the amla powder - after I use it my hair is noticeably more voluminous at the root, which as a curly girl is important to me! Will continue to buy this!
10/26/2020
Angela M.
United States
Smells great
Easy to use, great instructions, video helped, product delivers, hair looks great and feels great. Thanks Henna Guys
10/20/2020
Irina K.
United States
Alma Powder
Alma Powder is good. Thanks
10/18/2020
Adiala H.
United States
Great product
Amazing quality
10/16/2020
Elizabeth G.
United States
definitely see a difference
my ends feel silky instead of frayed and overall my tangles have decreased
10/02/2020
Jigna M.
United States
Great product
I had awesome results using the hair mask mixed with Amla powder. My hair become smoother. I mixed it with some yogurt to give my hair extra bounce. Thank you henna guys.
10/01/2020
Whitney G.
United States
Alma power
I use this as an addition to my henna masks and also a Shea butter moisturizer I make for my hair and body. Since using this product, I have noticed my hair is able to hold shape better( i have tightly curled hair that can sometimes look dull and weighed down). I also noticed the spots on the side of my hair line have bettered filled in where hair was once more sparse.
09/26/2020
Sarah B.
United States
Additives
I have used the wine red dye before and it comes out very vibrant and awesome. But when I added this product and the ones from the hair loss pack it came out almost like I had used the plain henna, red and pretty bit nowhere near the pigment I wanted. These additives change the color you get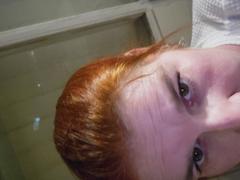 09/25/2020
Twyla C.
United States
Volume and Shine
Just after one use, I noticed the increase in the volume of my hair. And I noticed more shine, as well. This will definitely be a part of my hair care routine.
09/25/2020
Marsha S.
United States
09/16/2020
karin v.
United States
New user
I have tried henna in the past but got more orange than a nice copper. This was far the best product that gave me a nice natural copper. Only bad...wish the bags of product were zipper resealable as well.
08/11/2020
Pamela W.
United States
It does the job
Amla powder does add volume and cleans the scalp. I add a spoonful to my henna mixture. Sometimes l add it to a homemade hair mask. The powder blends well. A plastic spoon works better than a wooden spoon.
07/14/2020
Linda T.
United States
Henna Guys Products
I think that I love the products. I am giving some time to using them to really see their effectiveness. As you can see, I am a repeat customer. But is too soon to tell. I do love my henna hair color, though
07/07/2020
misty m.
United States
Awesome
I love the amla powder. Makes my hair feel great