Hair Thickening Combo - Henna Hair Dye
Thickening treatment:
Here is what continuous use of our products can bring 
Creates a fuller look
Strengthens hair follicles
Thickens your roots
Helps with split ends
Adds shine 
What's Included & How it works
How to use Brahmi & Katha Powder for your hair.
Use in Henna Mixture:
Mix 2 tablespoons of each powder in your henna hair dye mixture & apply on your hair, use it regularly.
Use it as a Hair Mask:
Use it as a regular hair mask up-to twice a week. (Mix powder according to your hair length (50% Brahmi & 50% Katha) with warm filtered water, make a pudding-like consistency, apply it all over your hair and wait for 30 minutes before rinsing) Regular use as a hair mask can bring said benefits.
Will it dry out my hair?
No, these specific powders help to reduce dryness when used as recommended
Will it affect my hair color?
It helps enhance color when mixed with henna but when applied individually there is no change in color
Will it cause hair loss?
No, these powders can help reduce hair loss when used as recommended
How much product do I need?
100 grams of product would be enough for shoulder length hair anything longer than that would require another pack
Is it safe to use while pregnant?
Contact your healthcare provider before use
Is it safe to have around pets and children?
Keep out of reach from pets and children
Individual results may vary
Customer Reviews
Write a Review
Ask a Question
Filter Reviews:
sister
hair
results
color
shampoo
salon
brown
Henna Guys
nothing
dyes
08/09/2020
Jihee K.
United States
Best purchase made for hair color!
I was hesitant because I had to have this wrapped around my head for long time, but boy it was worth it! Not sure if it's the type of hair I have but it covered my greys, came out very light light brownish-gold tone... but it has stayed much longer than even getting a touch up at a salon. I did get the hair thickening with the dye, and definitely will purchase again in few months for sure. My hair feels so much healthier than when I did the regular dyes at the salon as well as the store bought ones. Love you, Henna Guys!!!!!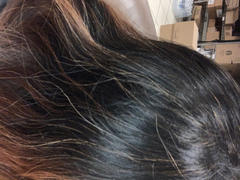 07/31/2020
Melissa H.
United States
Excellent product!
I've been using henna in my hair for over 5 years and this product may be my new favorite. Purchasing online was easy and the product arrived quickly. Directions were easy to follow and results were amazing. I will definitely be buying again!