Orange Red Henna Beard Dye
Regular price

Sale price

$ 14.95

Unit price

per
Our plant-based Orange-Red Henna Beard Dye will cover up those sneaky greying hair on the beard and mustache. The bright tones of this dye come from pure henna powder, which is the only ingredient used in this product. Organically grown and untreated henna leaves are carefully examined so that we can hand-select what leaves to turn into powder. The unprocessed and chemical/additive-free henna powder is then put through cloth sifts three times to get rid of any clumps or impurities. In the end, the user gets a very high-quality product that works effectively and leaves you with conditioned and sleek facial hair. The Orange-Red Henna Beard Dye works best with light tone hair and is not optimal for darker tones.
Here is why our Orange Red Henna For Beard is a highly reviewed and hot natural beard dye.
✅ Gluten-Free, Raw, & Natural Hair Dye
✅ Chemicals Free & Gluten Free
✅ 100% Natural & Plant-Based
✅ Triple Sifted Powder for Non-Clumpy paste
✅ Always a Fresh Batch, Ethically-produced
✅ Comes with Shower Cap, Gloves, & App Instructions
Ingredients and how they work: 
The sole ingredient of the product, the powder is created from high quality and fresh henna leaves. Our henna hair dye will leave your facial hair with natural orange and red tones while the henna also acts as a natural conditioner to leave behind healthy-looking, and smooth facial hair.   
Click below for application instructions.
Helpful Tip: You can use color-safe, sulfate & paraben-free shampoo after 48 hours of rinsing henna. It helps with getting the color stick to hair better and prevents color wash up.
Important Note: Henna hair dyes are different than conventional hair coloring products, it does not contain chemicals that are required to change the color of your dark hair, or develop color faster, with that being said, it takes around 2-3 hours minimum for the application process. Please reach out to us before placing an order if you have any questions about the application process.

Allergy Warning: Although our Orange Red Henna Hair Dye is made with 100% natural & plant-based ingredients, some people may still be allergic to plant-based products. To rule that out for our dark brown henna, please do a strand/skin test before full on application.
Share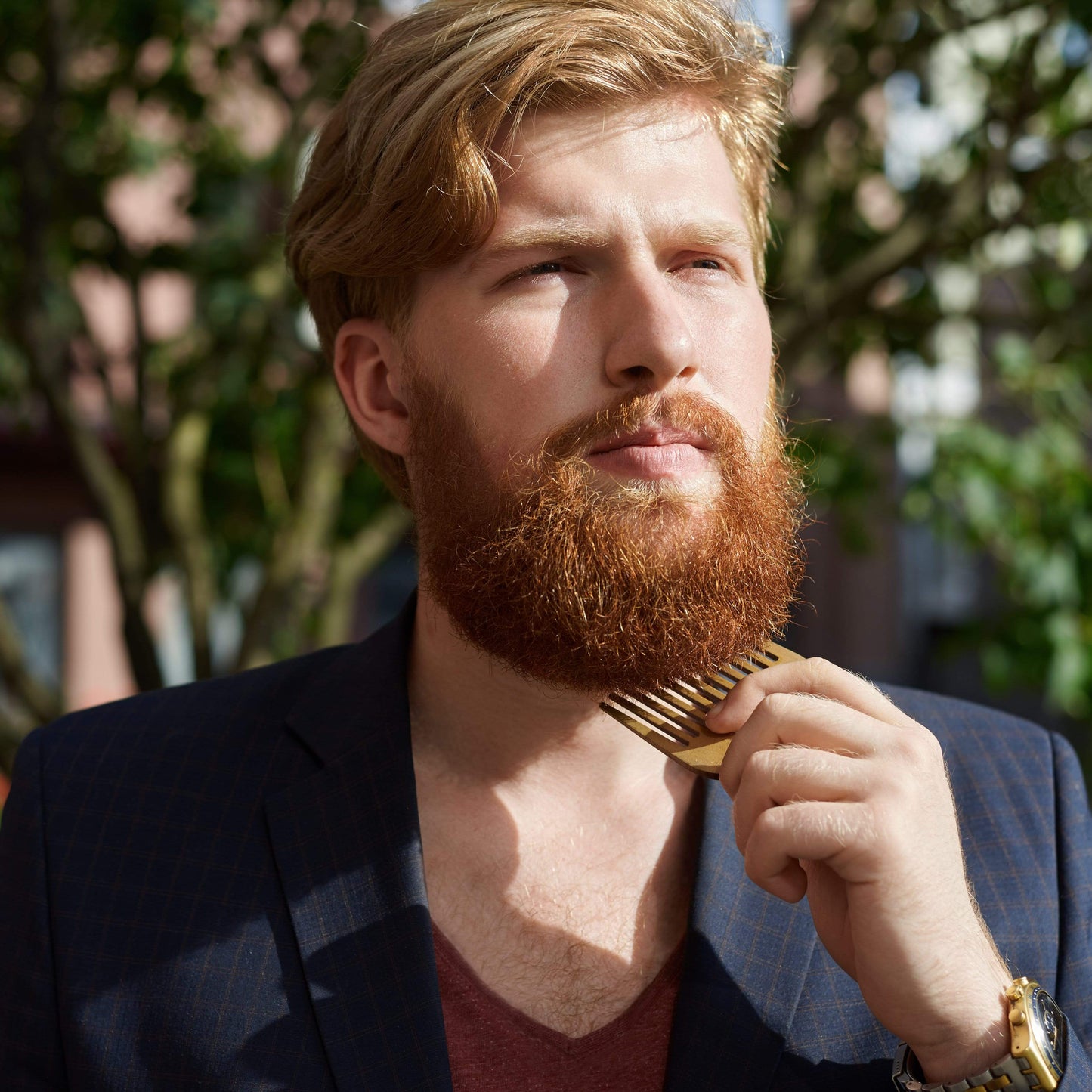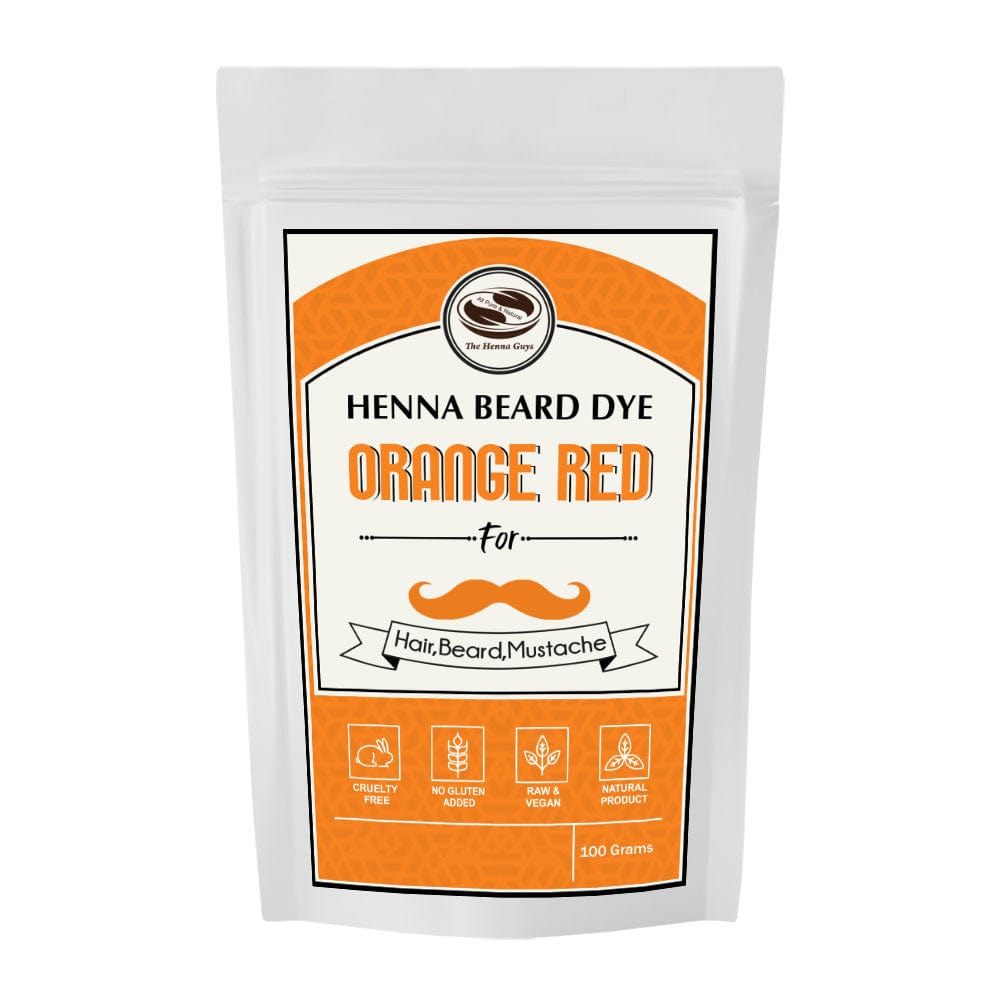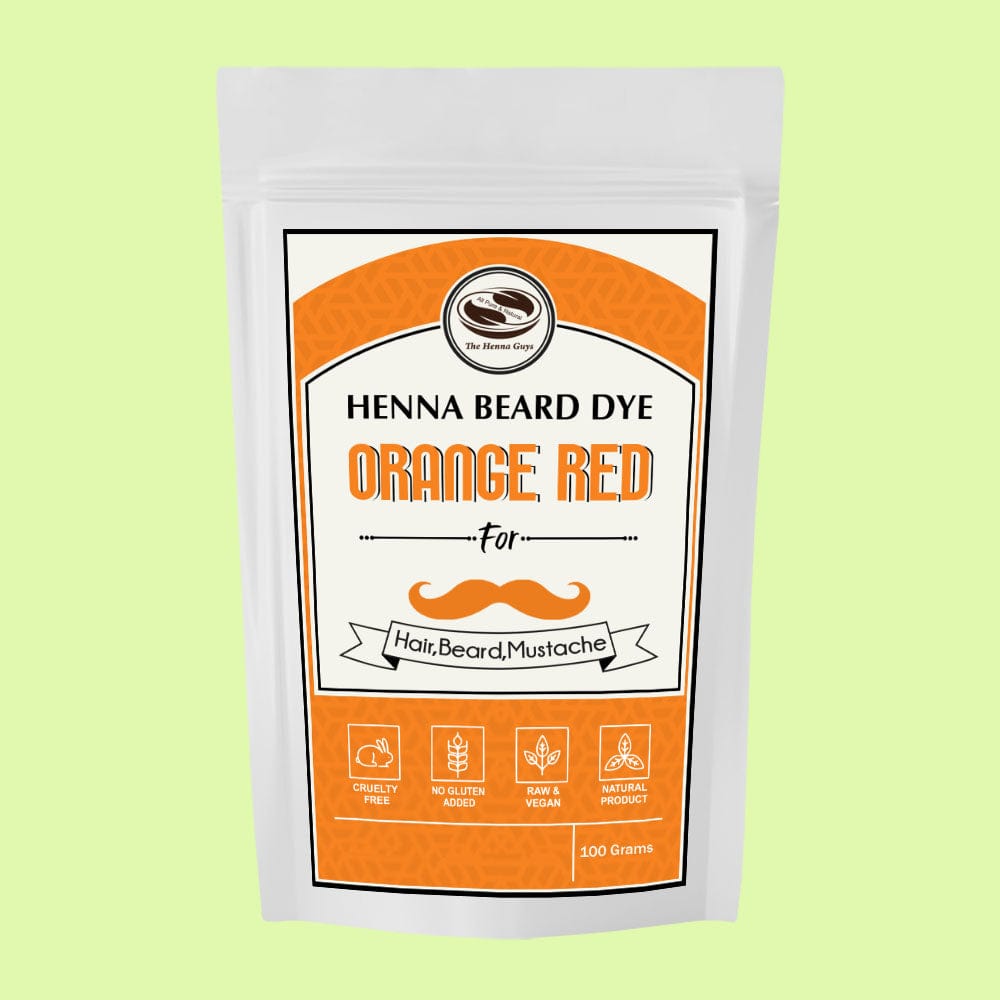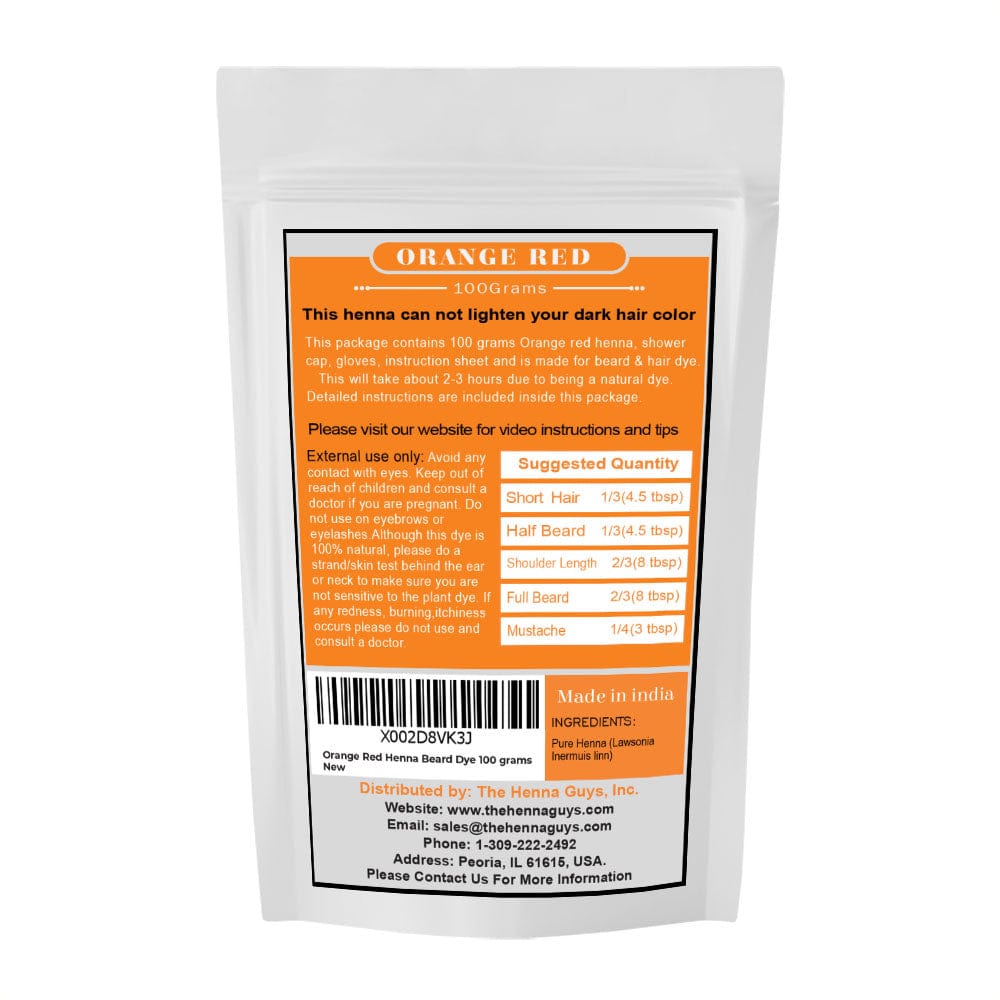 Customer Reviews
Write a Review
Ask a Question
Filter Reviews:
color
beard
results
hair
Henna Guys
skin
problem
henna beard dye
quality
look
12/03/2023
Greg B.

United States
I recommend this product
Hooked
Amazing product. Especially for a unique beard color.
09/24/2023
HazMatt O.

United States
I recommend this product
Go Red!
Just as described Henna Orange Red delivered the results they promise! Thank you.
01/05/2023
mark r.

United Kingdom
I recommend this product
Orange Red Henna Beard Dye
Great product, and got rid of the grey hairs but why cant you buy in the UK?
11/18/2022
Steve W.

United States
08/04/2022
Jason

United States
I recommend this product
You Want This
This dye is outstanding. While it does take a little prep time-nothing at the Batman level. It's well worth it. Excellent color that lasts. Moreover, using this beard dye doesn't leve ybou wondering if you've just chem-burned your face! I'll be using this stuff for a long time to come. Thanks, and have a glorious life!
01/24/2022
Michael W.

United States
I recommend this product
Orange Red beard dye
I am a natural red head. At this point my hair is about half grey and my beard is 70%grey. This product is amazing. It looks completely natural.
01/10/2022
jeromej j.

United States
I recommend this product
unhappy
does not work for me color not good do not like the process
12/31/2021
Tim G.

United States
I recommend this product
Grey No More
Originally red, my beard is naturally grey these days. My hair was an auburn that would lighten in the summer. After seeing myself on Zoom way too often, I set out to color my beard and have been doing my head as well for over eight months. Whether because of my dying skills or my hair and beard's reaction, I get a much better coloring now than I did at the start. (It was a little too orange the first few times.) I use coffee and apple cider vinegar to mix my henna. I usually try to dye it the night before a day off, so it looks more natural when I am in public. Also, any skin staining is gone by mid-day after dying. I have found the beard needs reapplication every week to ten days. I've found the dye lasts longer by washing my head in cool or lukewarm water. My head hair could go longer between dying than my beard, but I tend to dye it when I do the beard because I'm into the mess anyway. The effort it takes to maintain it is frequently affirmed by the comments of strangers.
11/16/2021
Alex Q.

United States
I recommend this product
Great Color
Even thought it is a lengthy process of application, it is worth it. The color comes out great!
11/03/2021
Stacey A.

United States
I recommend this product
Women love my beard
I have had so many compliments on my beard. Women and my wife love the color. I even get a few compliments from fellas. I use the orange red beard dye. The color stays a long time. Great product.
01/11/2021
Shaun H.

United States
I recommend this product
Excellent!
Wonderful. It's always hard finding the right red. We are all different. I had been using the auburn because at the time, it was the closest to my color... But was always a little dark. This is much better for my color.
08/05/2020
James P.

United States
Amazing for men
The reason I gave this five stars is that it lasts Long as everyone expects it to be. Also, if you eat something that is messy and have to wipe your mouth a lot, you do not wind up losing some of the coloring as you usually do with other brands. This product is really like good water resistant dye. I would buy it again. Will recommend this to others.
Great for sensitive skin
I bought this product primarily because chemical dyes irritated my skin to the point that I could no longer tolerate it. The Henna Guys was said to be good for sensitive skin, and it is. There has been no pain or rash from this product. It is easy to use and dries very quickly. In many ways, it is much easier to use than other Brands. I opted for the orange-red shade as it suits me the most and I am loving it.
A fine Product
It has restored the youthful look and manly appearance of my beard, no doubt. It is also a great product for thickening individual hairs to fill in patchy areas. At times, it has the tendency to form small clumps on the hairs themselves that need to be pinched out. Quite trivial, actually, but will get your fingertips stained. Amazing results indeed.
Quick and easy to use
I have been using this product for several months now and am very happy with it. I have vitiligo (white spots) on my face where my facial hair comes in white. This does a great job of covering it up, and is easy to apply. Just make sure the hair is completely dry first. The product does make your beard feel different ( as soft as it were before) and does have a matte sheen, but chances are that you will be the only one who notices.