Enhance Hair thickness & Growth Combo - Henna Hair Dye
What're Included & Ingredients
This combo includes a henna hair color of your choice, 30 ml Organic Lavender Essential Oil, and 30 ml Organic Rosemary Essential Oil
Here is what each individual herbal oils bring for your hair
Lavender Essential Oil: (Lavandula angustifolia)
🌿Promotes hair growth
🌿Prevents breakage
🌿Help reduce hair loss
🌿Helps thicken hair
🌿Moisturizing 
Rosemary Essential Oil: (Rosmarinus officinalis)
🌿Conditions hair
🌿Anti-dandruff
🌿Hair cleanser
🌿Adds shine
🌿Stimulates hair growth
With regular use, you will notice your hair become fuller, longer, and shinier than before
How to use Lavender & Rosemary Essential Oils for your hair.
Use in Henna Mixture
Mix 1-2 drops of each oil in your henna hair dye mixture & apply on your hair
Use it as a Hair Mask:
Use it as a regular hair mask up-to twice a week. Mix 1-2 drops of each oil with a carrier oil and massage to the scalp. Regular use as a hair mask can bring said benefits. You can safely use up to 5 drips od essential oils in 1 fluid ounce of carrier oil of your choice. Do not exceed 5 drops since it is highly concentrated.
Will it dry out my hair?
No, when used as recommended it helps prevent dryness.
Can I ingest these oils?
These essential oils are certified organic and 100% pure, but we do not recommend ingestion.
Will it cause hair loss?
No, when used as recommended these oils help reduce hair loss and promote growth.
Do I need to dilute the oil before applying it to my scalp?
Yes, when applying these oils directly to your scalp its required to dilute them with a carrier oil. (Argan Oil, Jojoba Oil or any other carrier oil of your choice)
Is it safe to have these oils around pets and children?
Use with caution and keep out of reach from pets and children.
------------------------------------------------------------------------------------------- 
This is a Natural Product, Individual results may vary
Customer Reviews
Write a Review
Ask a Question
Filter Reviews:
hair
results
color
hair dye
hair color
time
process
hair growth
concern
05/08/2020
Crista R.
United States
Enhanced hair thickness and growth formula, Wine red & natural red.
I used this hair dye today for the first time and I love the results! I used 4TBSP natural red , 4TBSP wine red & mixed it with distilled water and about 1/8 cup lemon juice then I added the Organic rosemary essential oil and organic lavender essential oil. It came out exactly how I wanted!! I left the mix sit out overnight and applied it as directed this morning then put a shower cap on and wrapped my head in a terrycloth wrap. Waited 3 hours then rinsed with cold water until the water ran clear, I used conditioner to help get the dye out.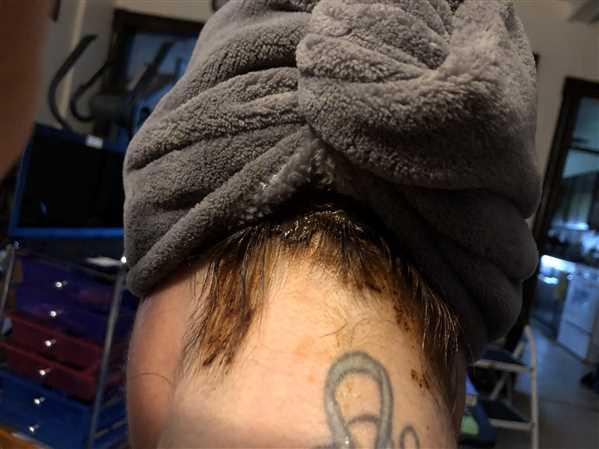 01/17/2020
Joan J.
United States
Very pleased
4c hair type. Process takes a while. Very pleased with results. Color came out black as expected. Hair looks healthy. No need for second apllication of indigo as a first time user of henna hair color. Love the fact that it is all natural! Can't wait to use it again in 4 -6 weeks.