Boost Your Hair Growth Combo - Henna Hair Dye
What's Included & How it works
This package includes a henna hair dye of your choice, Bhringraj Powder, and Brahmi Powder
Here is what each individual Ayurvedic powder brings for your hair
Bhringraj Powder: (Eclipta Alba)
🌿Naturally Helps Prevent hair loss
🌿Helps with itchy scalp
🌿Anti-dandruff
🌿Promotes hair growth
🌿Helps Restore natural color
Brahmi Powder:(Bacopa monnieri)
🌿 Helps Reduce split ends
🌿 Helps Strengthen hair follicles
🌿 Support scalp blood circulation
🌿 Helps Reduce hair loss
🌿 Helps Thicken roots
With regular use, you will see the difference in hair growth, manageability, and scalp dryness.
 How to Use Brahmi & Bhrinjrag Powder for your hair.
Use in Henna Mixture:
Will it dry out my hair?
No. Brahmi Powder is known for reducing dryness for skin and hair.
Will it affect my hair color?
It helps enhance color when mixed with henna but when applied individually there is no change in color.
Will it cause hair loss?
When used as recommended it promotes hair growth, but it does not cause hair loss.
How much product do I need?
100 grams of product, 1 pack, would be enough for shoulder length hair, any longer than that would require another pack.
Disclaimer:
Individual results may vary, These are 100% natural products, benefits are not guaranteed, it depends on different factors like the type of shampoo or conditioner being used, any other chemical hair treatments in the present or past will affect the end results. 
Customer Reviews
Write a Review
Ask a Question
Filter Reviews:
hair
results
color
water
thought
hair growth
ginger
Henna Hair Dye
questions
insecurity
05/24/2020
Ashley M.
United States
Great natural option
The hair dye took SO well. I was AMAZED at how well it did for a natural dye. I'm still in the process of utilizing the bhringraj powder but have found numerous pleasant reviews and have made a weekly hair mask out of it. The dye and the hair powders do have a bit of a rough smell if you aren't used to the earthly scents. The henna dye did smell a little like latex gloves to me but wasn't that bad especially for getting such amazing results that have lasted as well as this has. You will more than likely have some run off even after several washes, my hair still runs a little bit of an orange tinted water when washing and there will be a residual of the smell on your hair for a few days(especially if you have curly hair like me and use water to refresh your curls in-between wash days) but products that are scented mask it well. No one else noticed the smell even if I did while refreshing my hair In all, you get a whole lot of bang for your buck and I am super satisfied that something natural worked so well and 8 have an alternative for my curly hair so I don't have to put so much chemical nonsense in it just to get a change in color.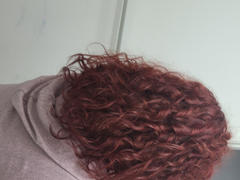 05/21/2020
Becky A.
United States
Hair bundle
Now that I learned how to properly use henna powder, I've had a great experience with this company. Products come quickly & questions are answered promptly. The color turns out beautiful, soft, shiny & vibrant. I used a white vinegar/water mix with cool water to make rincing easier. My only issue is that I wish more detailed instructions were provided as I am a new henna user. I used ginger to help neutralize the odor & that worked far better than essential oils. Overall I really like the products from The Henna Guys & I will continue using them to maintain healthy hair. I should add that I have scalp psoriasis & since switching to henna rather than chemical dyes I no longer have a problem with it! That's huge for me! Henna all the way now!